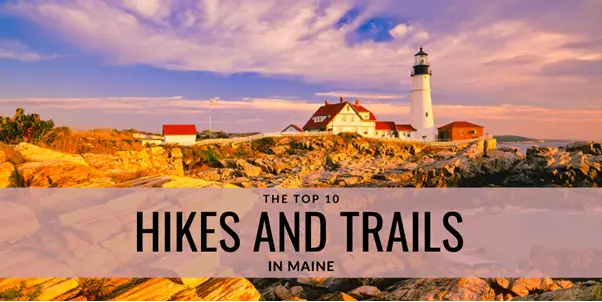 Maine is a place that inspires adventure. No matter what sort of hike you want, ocean, lake, mountain, Maine has it all! That is why it can be hard to pick a trail. However, with this list of the top 10 best hikes and trails in Maine, you will be sure to find something that meets your skill level.
Home to Acadia National Park and some of the most beautiful ocean views in the world, there's no better place to hike! 
That's why we're bringing you our list of the top 10 hikes and trails in Maine—ranked from easy to hard—that will make your next trip to the Pine Tree State unforgettable! 
---
Maine is a great place to view leaves in the fall. Check out our list of fall leaf viewing areas!
---
1. Ocean Path Trail  
Hiking the Ocean Path in Acadia National Park is an easy and rewarding hike that takes an average of 1 h 39 min to complete. The route offers quintessential Acadia cliff views and definitely deserves a spot in our top 10 best hikes and trails in Maine.  
The trail begins near the south end of the upper Sand Beach parking lot. It is mostly flat and runs through beautiful scenery all the way to Otter Point. 
There are exciting stops to be made along the way, like Sand Beach, Thunder Hole, and Otter Cliff. You can even go out onto the rocks lining the trail and hike a significant portion of them. 
If you start this trail early or late in the day, you'll most likely have the shoreline to yourself. 
Difficulty: Easy  
Length: 7.2 km  
Family-friendly 
Dogs Allowed  
2. Step Falls Preserve Hiking Trail  
Our second entry is an experience unlike any other. This Maine trail is rated easy and is perfect for families with children, taking an average of 33 minutes to complete. 
And, if you're looking for a waterfall hike, this one won't disappoint! Previous visitors say it feels just like a nature-built water park! 
The trail winds up through the trees, with amazing views of cascading falls. The route is well marked and traveled, and there are lots of swimming holes and natural waterslides to enjoy along the way! 
Kids love this trail, which is well worth a visit for a fun and unforgettable day out! 
Difficulty: Easy  
Length: 1.8 km  
Family-friendly 
Dogs Allowed  
3. Harraseeket and White Pines Trail Loop  
This next easy trail is another of the best coastal hikes in Maine, it takes an average of 45 minutes to complete and is perfect for beginners or families with children.  
Wolfe's Neck Woods State Park is just five minutes from the center of Freeport and offers a coastal hike featuring everything you could want. 
The trail is a beautiful blend of forest and coastline, with water views on both sides and amazing rock formations for shoreline rock hopping or sitting spots to enjoy the views. 
Make sure to bring along your trusty binoculars as the park is a favorite among wildlife enthusiasts. It is best known for its Osprey population.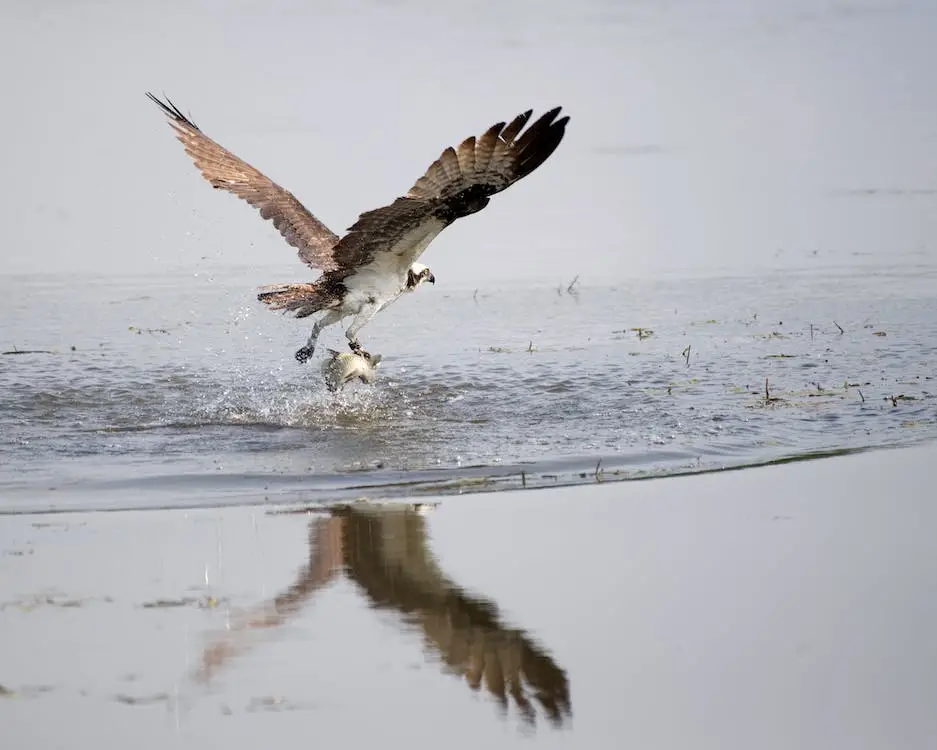 The trail is well maintained and well marked, with facilities including bathrooms and picnic sites. Previous visitors recommend bringing a pole to aid stability, as there are a lot of tree roots along the trail. 
Difficulty: Easy  
Length: 3.2 km  
Family-friendly  
Dogs Allowed  
4. Moxie Falls  
For our final easy-rated trail, we're heading back to a waterfall setting that's sure to impress.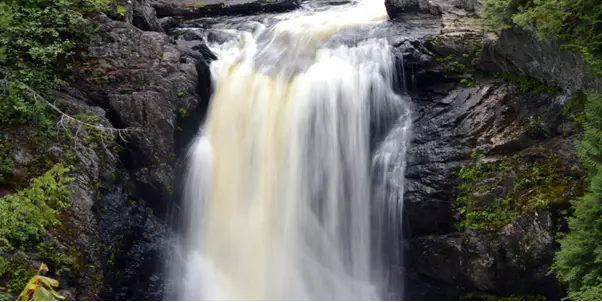 The 90-foot Moxie Falls which plunges between Lake Moxie and Kennebec River, one of Maine's highest waterfalls, is a beautiful sight to behold. You gotta have some Moxie for this trail! Not really but Moxie is so fun to say!
The trail to the falls has some stairs near the end, but it's otherwise pleasant and leads to an overlook with excellent views. 
Swimming is allowed both above and below the falls. A huge pool at the base of the main drop makes an excellent swimming hole, but you have to make a steep descent to get there. There are more easily accessible swim holes along the creek upstream of the falls, too. 
For an added adventure, you can even climb on some of the rocks that surround the falls. 
Difficulty: Easy 
Length: 3.4 km  
Family-friendly  
Dogs Allowed  
---
Don't forget these hiking first aid skills as we dive into harder hikes and trails in Maine
---
5. Gulf Hagas Rim Trail and Pleasant River Tote  
This is a moderately challenging hike that takes an average of 3 h 20 minutes to complete. 
Gulf Hagas is known as the Grand Canyon of Maine and the holy grail of waterfall swimming holes. 
It has several viewpoints of the rocky gorge, as well as several other overlooks looking over the Pleasant River. You will find opportunities for scrambling down to get a closer look at some of the falls and to have a swim. There are also several streams you can rock-hop across to the other side. 
Hikers who have traveled this trail say the waterfalls are amazing, each one more spectacular than the last. So don't stop at the first one!
Difficulty: Moderate  
Length: 13.2 km  
Dogs Allowed  
6. Gorham Mountain Loop  
This trail takes about 1 hour and 30 minutes to complete and is one of the most popular moderate hikes in Acadia National Park. 
It really epitomizes what Acadia has to offer, beautiful vistas, and amazing rocky shorelines varying in height and nature! 
It takes you on a journey through the mountains, along the shore of the Atlantic, and across Sand Beach. 
The path is mostly rocky with climbing involved making it moderately challenging, but the outstanding views along this trail are well worth the effort that hiking it requires. 
Even in the middle of winter, this is a gorgeous hike boasting some of the most scenic views you'll ever see. 
Difficulty: Moderate  
Length: 4.8 km  
Dogs Allowed 
7. Beech Mountain Trail  
For our next moderate hike in Maine, we're sticking with Acadia National Park.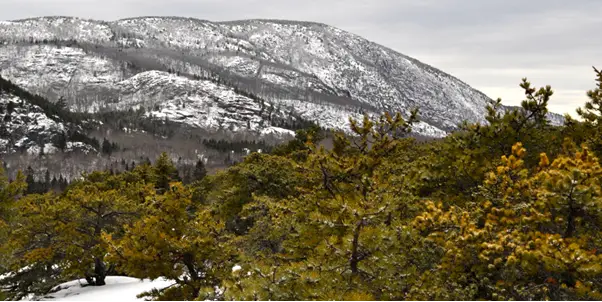 The Beech Mountain Loop Trail takes approximately 43 minutes to complete and hikers who make this trek will enjoy spectacular views and a visit to one of the area's few remaining fire towers. 
After beginning at the Beech Mountain Trailhead, hikers pass through a forested area before entering open terrain, which offers scenic views of Long Pond and Mansell Mountain. 
The trail is relatively quiet and a good hike for the whole family. 
Many hikers recommend hiking this trail clockwise to take advantage of the amazing views of Long Pond on the descent. 
Summiting Beech Mountain for a sunrise or sunset hike is a beautiful experience, but you will need appropriate layers and a headlamp. 
Difficulty: Moderate  
Length: 1.9 km  
Family-friendly  
Dogs Allowed  
---
Since you will need layers, you should probably review our guide to layering!
---
We are getting into the more challenging trails now that offer some of the state's most spectacular hiking experiences. 
Beginning with, Old Speck Mountain: 
8. Old Speck Mountain Trail  
This out-and-back hike up Old Speck Mountain takes 5 h 9 minutes on average to complete. Our favorite part, the trail is near and easily accessible from the Appalachian Trail.
You will find the mountain is Maine's fourth highest! Actually it has a summit elevation of 4,170 feet. It is the highest and most northeastern peak in the Mahoosuc Range of the White Mountains. 
The summit of Old Speck Mountain is crowned by an old fire tower that, if open, provides a 360° view of the Mahoosuc Range.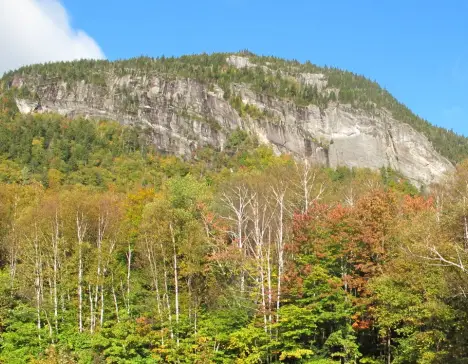 However, the majority of the trail is a steady incline through the woods, with sufficient flat areas to rest, and several look-out points along the way. 
Hiking the trail in winter will require crampons for the icy sections. This is a more technical type of hiking, so make sure that you are prepared!
Difficulty: Hard  
Length: 11.9 km  
Dogs Allowed  
9. White Cap Mountain  
This out and back trail is one of Maine's best hikes and also one of the hardest, it takes approximately 4 hours and 12 minutes to complete. 
It is a well-maintained hike that follows a spectacular piece of the Appalachian Trail. Why is it fantastic? Well, it takes hikers through the woods, along a brook, and past some small cascades. 
The trail is moderate until you reach a shelter used by Appalachian Trail hikers. Beyond it, the climb gets difficult; however, the trail is well marked with stone steps that make climbing easier. 
The peak of White Cap offers 360-degree views of surrounding mountains and lakes, on a clear day, Mount Katahdin can be seen in the distance. So, this is another place to bring along those binoculars!
Visitors have reported seeing lots of moose tracks as well as wild blueberries growing in the area. 
Hiking up this mountain in autumn is the ideal time to see all of the colors in the meadow below! 
Difficulty: Hard  
Length: 10.9 km  
Best for: Backpacking & Camping 
Dogs Allowed  
10. Fire Wardens, Horns Pond, and Appalachian Trail Loop  
Last on our list of the best hikes and trails in Maine is this challenging loop trail near Stratton. However, don't feel scared to take it on!
Taking an average of 7 h 32 minutes to complete, it is an outstanding ridge traverse that will lead you to the summits of two notable peaks. 
You will first head up the Fire Warden's trail and then take a left up the Horns Pond Trail. After exploring Bigelow Ridge, you'll return back again via the Fire Warden's trail. 
The trail is beautiful, with views of ponds in the first mile or two, alpine terrain, and Flagstaff as you hike. 
If you want to camp, there are plenty of spots to do so along the trail. There are clean outhouses and camping platforms, however, water sources are limited, so fill up on the way in if you are planning to stay. 
As one of the most difficult backpacking trails on our list, we do not recommend this journey to novice hikers. But if it is within your capabilities it's an experience you won't soon forget, with gorgeous vistas all around. 
---
You may want to consider bringing this inexpensive gear with you on your backpacking adventure.
---
Difficulty: Hard 
Length: 19.6 km  
Best for: Backpacking & Camping  
Dogs Allowed  
Final Thoughts on the 10 Best Hikes and Trails in Maine
So there you have it, our list of The Top 10 Best Hikes and Trails in Maine From Easy to Hard.  
We've reached the end of the 10 best hikes and trails in Maine. We hope you've found some to add to your bucket list! While they range from easy to hard there is something for everyone. From the rocky coastline to the interior mountains, you should explore them all. In fact, why not make a tour through Maine on just these 10 hikes?! You can start off easy and then challenge yourself as you take in all the beauty that Maine has to offer.
Now that you've read about these hikes, we want to know: Which is YOUR favorite? Are there any on this list that we missed? Let us know by commenting below, on our Facebook, or on Reddit!
We hope you enjoyed our list, and that you'll use it to find your next great adventure.