Finding the most suitable cookware set for your camping needs can be tricky. You have to think about the cookware you will need. Then you must consider other types of cookware that could be convenient. Finally, you must prep your meals around the utensils you chose. You may want to find a cookware set with the most amount of pieces included to cover your trip! Now you have to balance that with how much weight you can take when backpacking. Confused yet? Well, these top 11 reliable camp cookware sets are sure to make this easy on you!
---
You need more than just the cookware. Find out the best camp stove to use that cookware on here.
---
Reliable Camp Cookware Sets Considerations
What kinds of things should you consider when selecting your reliable camp cookware sets? There are a few important characteristics. If you consider each of these things then you do not have to purchase many cook sets. Instead, you can focus on buying for quality. In this case, we want quality over quantity! But how do you decide what to look for in a cook set? Well, consider the following: 
What am I cooking while camping?  
What resources do I know I will have? 
How much space do I have to store my cook set? 
In what ways can I wash and dry my cook set? 
How much do I want to spend on this cook set? 
How many people do I need to cook for?
By answering these questions, you will be able to narrow down the many options. It will also be a helpful guide for you to see what you could potentially purchase if you ever want to upgrade the cook set later.  
Okay, let's dive into the Top 11 Reliable Camp Cookware Sets
The Pinnacle Camper Cookset is a great solution that covers your basic needs for cooking and eating while camping. It includes plates, mugs, bowls, 2 pots with 2 strainer lids, a frying pan, a washing basin, and a handle that folds.
The best part of this cook set is it also has a nesting feature. This allows all of these pieces to store in a convenient manner. It also conveniently has a color coding on the dishware so you always know which dish goes to which person.
Each part of the kit is made of durable materials, the cookware is nonstick and all pieces are built to withstand any situation you may come across while on your adventures. 
A quick warning that the pot gripper does become warm when cooking. While the pans are extremely non-stick, they are made with Teflon which requires medium-low heat.
Overall, this great cook set will benefit your adventures.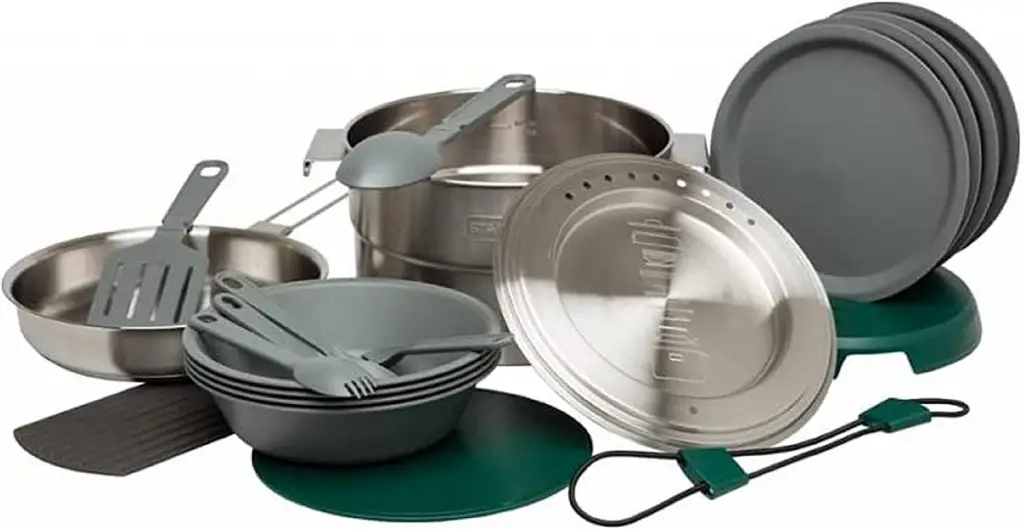 The Base Camp Cook Set of 4 is another fantastic solution to bring along a mini kitchen for your camping vacation. It includes a pot with a vented lid, a frying pan, a cutting board, a spatula, a serving spoon, plates, bowls, sporks, a dish drying rack, a trivet, and a locking bungee. It is also a bit more traditional in its simple camping design.
One additional bonus to this particular cook set is that each piece is easy to store and clean. This set also has an amazing nesting ability. I enjoy items that make it easy to store and keep contained. This makes it so easy to find each piece at your next meal. It is clear to see how this manufacturer clearly had families in mind when they were creating this set.  
The X-Set 32 from Sea to Summit is a convenient and simple pot and pan cooking set made for the outdoors. The set includes a pot, a kettle, and a pan. This set is best suited for couples camping. However, it can also be a great resource for a family that is camping.
It does not have a nesting feature, however, the kettle and the pot collapse, making them easy to store and pack as needed. The pan and kettle are silicone for heat resistance. No need to be concerned though. It does not take away from their ability to heat up water, food, or anything else you may need.
Additionally, the X-Pan is non-stick making it easier to clean food off of. As a starting kit for campers who aspire to venture regularly, this is a fantastic start to a consistent and reliable cooking set. The price is a little steep though. Just remember you are going for quality to last here.
Seasoned campers know that having durable and reliable camp cookware sets is a must. This is why many campers lean towards having cast iron skillets and dutch ovens rather than stainless steel.
While they are heavy, they are meant to last even in the most extreme circumstances. They are also easy to clean and extremely versatile. Many cooks are intimidated by cast iron when they are not used to it. Not to mention you have to season them regularly. However, once you get the hang of it, it makes all the difference.
Since they can be used in almost any heated cooking situation, it eliminates the need for having other pieces of cookware. With all that said, we suggest using the Lodge Dutch Oven Combo Set, which has a nonstick frying pan and a deeper cast iron pot. Both are already seasoned, ready to use, and from a universally trusted cast iron company.  
Due to weight, it is not recommended to take these cast iron pans backpacking. Instead, use these for car or RV camping!
---
Need to know what to cook with your reliable camp cookware sets? Look no further with these recipes!
---
The GSI Stainless Troop Cooking Set is a set of 3 stainless steel essential pots and pans sizes. With 2 different-sized pots and a large frying pan, this set will cook anything you want. One major draw to this set is each of the lockable handles on the pots, so they may be hung over a fire if needed.
They are also easy to clean as they are dishwasher safe and are made to withstand the heat of the flames as needed. As a part of the GSI Outdoors lineup, this reliable brand makes it a difficult resource to turn down.  
Also from the trusted brand, GSI, the Infinity Deluxe Table set. While this is an eating set you have to get the food from pan to mouth somehow! This is a convenient way to keep organized with each person's tableware. The set contains 4 plates, 4 bowls with lids, 4 mugs and 4 drinking glasses.
While this reliable camp cookware set does not include any actual cookware, it is a perfect resource for families who need to be organized when keeping track of whose items are whose. One of each utensil is either the color blue, orange, red, or green. This way, you can assign a person a color, so everyone always knows what is theirs.
Specifically, with storing leftovers this set allows each person to have their own designated lid to their bowl. This added feature is great when your kids want to keep their meal for later. For RVs the bowls work as a great Tupperware system without taking up much space. No more pulling everything out of the fridge after putting it all away.
The other great thing is that this set of tableware is environmentally friendly as they are made of recyclable material, and they are easy to store in the fridge or cooler.
Be careful with the lids as they do warp in extreme heat.
The Terra Hiker Camping Cookware set is a great way to have all your needs out in the wilderness with you. Containing a kettle, a pot, a pan, a cleaning sponge, a bamboo spoon, a bowl, and a ladle, you don't have to worry about forgetting anything at home.
This set is really well suited for a backpacker, as each utensil was made to be lightweight. It also comes with a mesh bag to attach to your backpack. The cookware is nonstick and made of aluminum.
The Terra Hiker Set comes with a nesting feature! By collapsing the handles against the pan and pot, the utensils, kettle, and pot all fit inside the pan. Cleverly engineered to fit snugly, you will not need to worry about storing this cookware and damaging it.  
The G4Free Outdoor Camping set is perfect for a single or couples camping trip. This cookware set's main focus is its pot, pan, and 2 bowls. What makes this product different is also its nesting feature. The handles on all 4 items are collapsible and fit into one another, so the pot and pan are keeping bugs out of where your food goes.
It also includes a mesh bag to carry and is easy to attach to a backpack. This is a great resource also because it is also made of aluminum. It makes this cooking set durable enough and lightweight enough for any one person to carry in their backpack. It certainly leaves more than enough space for other essentials.  
---
Consider these other low-cost backpacking items for your next adventure.
---
The Sea 2 Summit X-Pot is another great product that will save you space, and money. While not technically a set it is so versatile you will feel like you have more than one pot. It is perfect for being outdoors. This pot comes in many awesome colors and perfect sizes for any group of people.
It is made of silicone and aluminum, causing it to have a great distribution of heat. The pot's lid also comes with a side that acts as a strainer, making this an incredibly versatile pot. Its long handles are also handy for keeping your hands safe.
While this is not a set, I think this product would pair perfectly with the other Sea 2 Summit products that were previously mentioned. You likely won't need them though with its versatility. Between its convenient size for storage, easy-to-clean material, and reliable brand, this reliable camp cookware would be hard to pass up.  
The SnowPeak Personal Cooker contains 6 vital pieces all made from stainless steel. This set includes 2 pots, a frying pan, a lid, a plate, a bowl, and a carrying case. While this only contains one plate and bowl, which is suitable for one person, this would be a great start as a camping kitchen for a family.
The pots and pans all have collapsible handles, making them easy to store on their own. But the real star of the show is the carrying case. Putting a whole kitchen into a dinner plate-sized case is perfect for those who are ready to camp at a moment's notice or backpackers. This is truly a showstopping cooking set. 
The Odoland Camping Cookware set is another great kit that would be specifically beneficial for backpackers. The 9-piece camping cookware set includes 1 mini stove, 2 aluminum non-stick pots, 1 spoon, 1 fork, 1 knife, 1 stainless steel cup (16oz), 1 silicone insulated cup protector, and 2 Carry bags.
This kit is the best of both worlds when it comes to having enough cookware and tableware for a backpacker. Of all of the options on the most reliable camp cookware sets, this is the only one that also comes with your mini stove! Making this a no-brainer for planning your backpacking trip.
Better yet, each piece fits inside the pot, with a smaller collapsible handle, and clips together making it easy to grab and get on the trail. These items will last you throughout your adventure and the next.  
---
Become an expert at cooking while camping with these great tips.
---
Final Thoughts on Reliable Camp Cookware Sets
While there are literally hundreds of options out there to create a convenient camping kitchen, there are definitely a few that stick out among the others. Remember to consider each of the questions above before making a selection. The options that were provided are a great starting place to find the reliable camp cookware that you need. Please take time to consider each of these options carefully before you purchase.
The great thing about this is, if you find you are not a fan of one kit, there are many others to choose from. You do not need to stick with the one you think works at first. Find the one that fits your family's camping needs and build from there. Better yet, consider a set for car and RV camping and another for backpacking! In any case, you are set up to act as a camping gourmet. Happy Camping! 
Have you experienced any of this cookware? Tell us in the comments below, on our Facebook, or on Reddit!