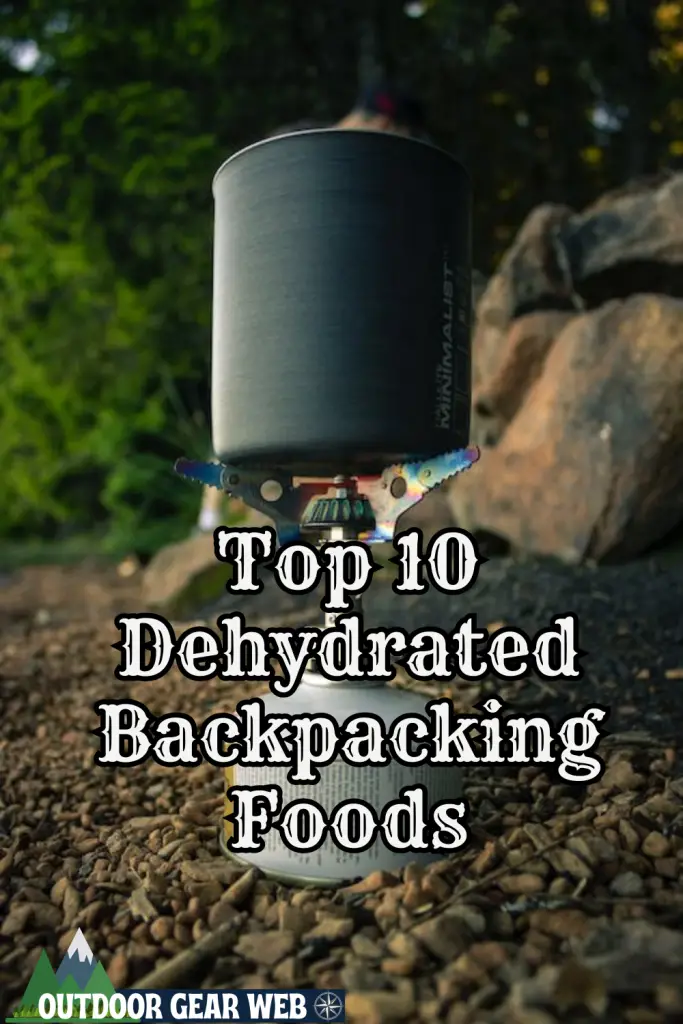 From the rocky terrain of the Appalachian Trail to the shimmering lakes of the Sierra Nevada, backpacking is a challenging yet rewarding pursuit. However, packing the right sustenance plays a quintessential role in ensuring the journey is enjoyable. You don't want your trip to turn into a test of endurance because of hunger pangs. Dehydrated backpacking food offers a dual advantage. First, it is lightweight and easy to carry. Second, you won't have to sacrifice on flavor. That is why it comes as a godsend for every hiker out there. Companies like the Mountain House Adventure, Good To-Go, and Harmony House are revolutionizing this market with their exciting range of dehydrated meals. They are captivating taste buds across the hiking community. Let's embark on a culinary journey to learn about the top 10 dehydrated backpacking foods.
---
Take a look at our guide to dehydrated foods for the trail
---
Mountain House Adventure Meal Packs
Mountain House Adventure Meal Packs: A Backpacker's Best Friend
Backpacking can be one of the most thrilling experiences. It's the ultimate testament to our ability to adapt to circumstances and survive in unusual conditions. One of the biggest challenges faced by backpackers, especially when the journey spans over a few days, is food. Finding the energy to prep a meal after a day of grueling trekking is a herculean task. Enter Mountain House Adventure Meal Packs – the answer to all meal woes on the trail.
Mountain House Adventure Meal Packs are specially designed keeping in mind a backpacker's needs. These meals are lightweight, yet satisfying, fitting perfectly into the challenging backpacking lifestyle. After a long day on the trail, when you are eagerly looking forward to a hot, fulfilling meal, these packs promise to satiate your hunger. Surprisingly they will in the most delightful way possible.
Variety is Key
One of the most impressive aspects of Mountain House Adventure Meal Packs is the variety they offer. Backpacking food does not have to be boring and repetitive. These meals let you enjoy various delicious entrees, from the comfort of a homely beef stew to everyone's favorite biscuits with gravy. The flavors are so pleasantly familiar that they bring back the comforts of home. They will make you feel indulgent even amidst the harsh trek.
Just in Case
Another standout feature is their 'Just in Case' packs. This option helps in eliminating the concern of packing and portioning separate meals. The 'Just in Case' packs come loaded with meals for a few days, allowing you to have a worry-free backpacking experience. This convenience is crucial, especially when you are backpacking without the guarantee of daily resupply points.
While the convenience and variety offered by Mountain House Adventure Meal Packs are incredible, the taste and quality of the food remain par excellence. The meals stay true to their promise of providing hot, fulfilling, and most importantly, delicious food. They are an impeccable solution to your backpacking meals. With these packs, you can rest assured that your culinary needs on the journey are well looked after.
If you're planning your next backpacking trip, don't forget to pack Mountain House Adventure Meal Packs. They take care of the most pertinent issues faced by backpackers. That is lightweight, delicious, and fulfilling meals that are easy to carry and prepare. So, whether you're a seasoned backpacker or embarking on your first trail, give these meal packs a go. You will certainly not be disappointed.
---
Check out these ultralight stoves to cook your dehydrated meals.
---
Good To-Go Dehydrated Meals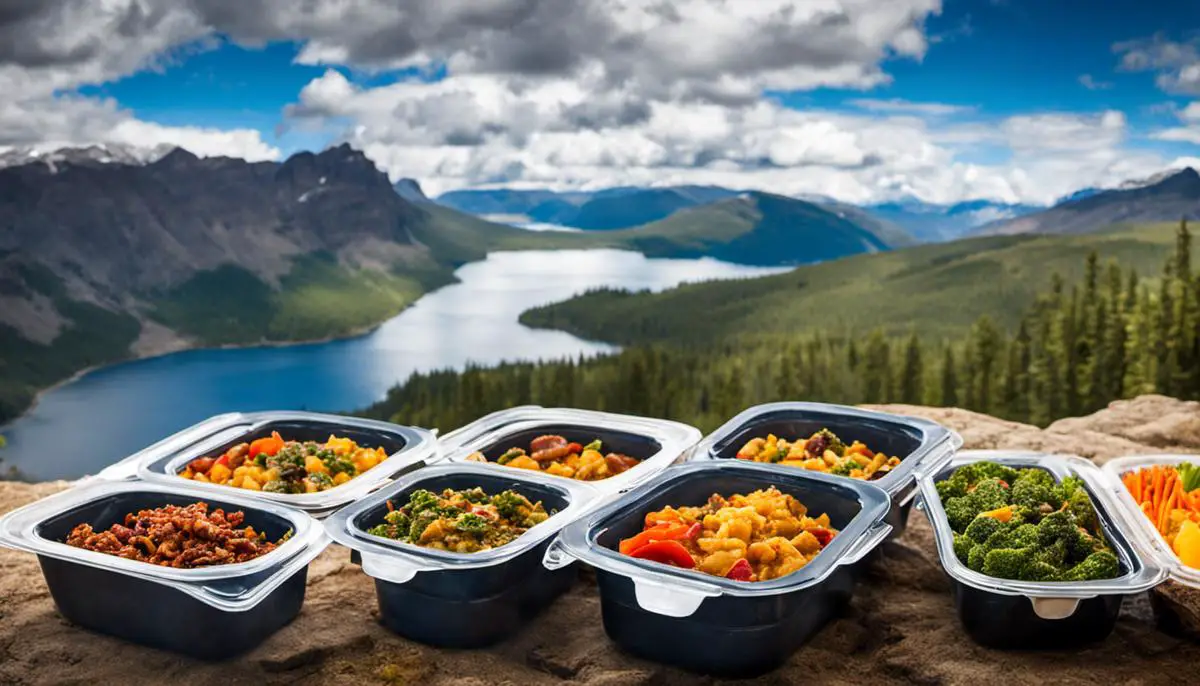 Healthful Adventure Cuisine
For those seeking nutritious options even while embracing the adventurous outdoor life, Good To-Go Dehydrated Meals come as a welcome addition to the backpacking food scene. Specially designed for the health-conscious voyageur. You will find these meals are not your typical high sodium, preservative full fare. Delightfully gluten-free and commendably low in sodium, Good To-Go meals have no preservatives or additives – perfect for wilderness adventures that demand you to stay fit and active.
Flavors of the World… in the Wild!
Imagine savoring the warm flavors of Thai Curry or the comforting hominess of New England Corn Chowdah nestled within a woodland camp. Good To-Go brings a selection of global cuisines right to your outdoor picnic table, offering culinary surprise and variety as a side dish with its healthful entrees. You no longer need to compromise your taste buds for nutritional goodness while traveling outdoors!
Dehydrated vs Freeze-Dried Foods
Unlike the common freeze-dried meals, Good To-Go meals are dehydrated. The difference lies in the preservation method. Freeze-drying involves freezing the food and then reducing the surrounding pressure before removing the ice by sublimation. In contrast, dehydration involves evaporating the water content from the food. While dehydrated meals may take a little more time to prepare than their freeze-dried peers, the taste and texture they deliver are far superior, closely resembling the food's original state.
Backpacking with Good To-Go
Journey into the wild with Good To-Go Dehydrated Meals, where the food complements the adventure. The convenience of lightweight carrying, the assurance of nutritional sustenance, and the surprising delight of global flavors are all packed into one meal. They are a perfect accompaniment for the thrill seeker who values healthful and delicious dining under the open sky.
---
Need to pack all that food on the trail? Check out these backpack options.
---
Harmony House Backpacking Kit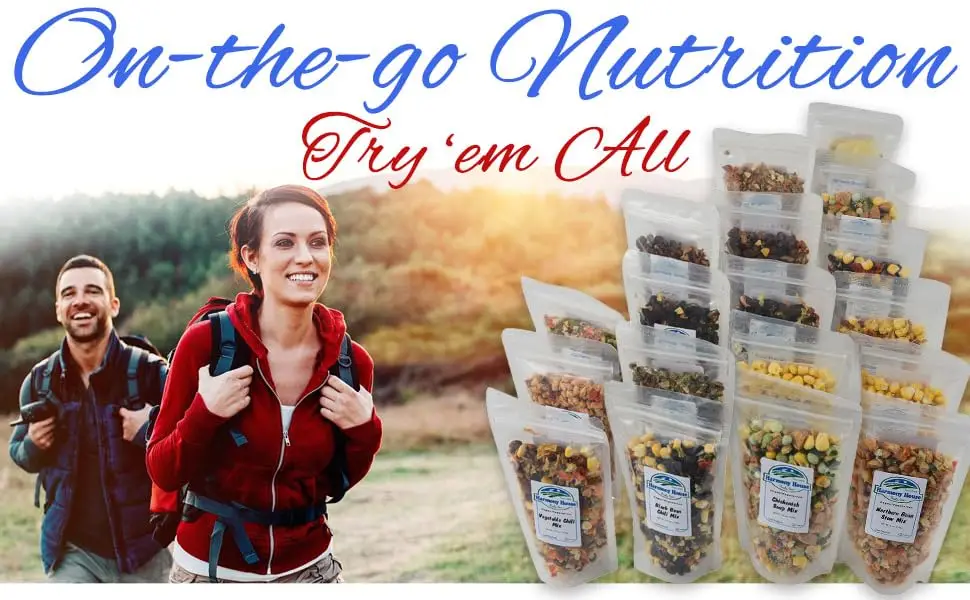 Dehydrated Deliciousness with Harmony House Backpacking Kit
Being in the great outdoors certainly helps to work up an appetite. So meet your new best friend on the trails, the Harmony House Backpacking Kit. This kit is a game-changer for those individuals who love to customize their meals. That is why it is on our top 10 list of dehydrated backpacking foods. It comes with 18 zip pouches of dehydrated vegetables and beans that have been carefully selected to add flavor and nutrition to your camping cuisine.
All-Natural and Allergy-Friendly
What sets the Harmony House Backpacking Kit apart is its adherence to non-GMO and gluten-free ingredients, making it ideal for those with dietary restrictions or who simply prefer natural food sources. From savory beans to colorful veggies, the choices are plenty, and promise to take your trail cooking to new levels.
Savor Your Favorite Meals, On the Go
One of the main perks of this kit is that it offers the convenience of preserving your favorite recipes, even in the middle of nowhere. The dehydrated vegetables and beans provide a convenient base that can be used to whip up anything from a hearty vegetarian chili to a simple bean soup. The possibilities are practically endless.
Effortless Prep and Clean-Up
Exhausted from a long day of climbing or hiking? No worries. The Harmony House Backpacking Kit requires no cooking, merely boiling water. So you can easily rustle up a warm, delicious meal without having to fumble around with complicated cooking equipment. What's more, the easy prep means minimal cleanup, so you can get back to enjoying the crackling campfire and star-filled sky in no time at all.
Stay Nourished and Satisfied on Your Adventure
Wherever you wander, the Harmony House Backpacking Kit makes sure you never have to compromise on taste or nutrition. It's a fine balance between convenient, nutritious, and delicious – all packed into one handy kit. For your next backpacking adventure, consider this kit as your ticket to delectable, worry-free meals even when you're miles away from your kitchen.
---
Backpacking isn't all about eating all the time! Consider these other activities while camping.
---
Final Thoughts on the Top 10 Dehydrated Backpacking Foods
We have highlighted three brands in our top 10 dehydrated backpacking foods list. So will you you choose Mountain House Adventure's robust, hearty meal packs? How about Good To-Go's globally inspired dehydrated meals offering a health-conscious choice? Or will it be the DIY freedom provided by Harmony House's Backpacking Kit? No matter which you choose backpackers truly have a smorgasbord of choices when it comes to satisfying their hunger on the trail. Each offers its unique spin on dehydrated meals, ensuring adventurers don't go to sleep on an empty stomach. As technology and cooking methods continue to evolve, it's likely that we'll see even more exciting changes coming to dehydrated backpacking food – meaning that food will become an even more delightful part of the grand adventure that is backpacking.