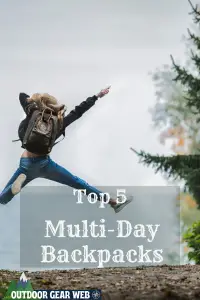 Whether you're embarking on a short hike in the mountains or planning a weeks-long adventure, having the right equipment is absolutely crucial. Fortunately, with over two decades of hiking experience, I've had the opportunity to try out numerous amazing hiking packs. And now, I'm excited to share my Top 5 multi-day backpacks with you and help you find your perfect pack!
For me, trekking is the ultimate passion when I travel. Escaping the hustle and bustle of the city to immerse myself in the serene beauty of forests and mountains is a must. It's not only a way to recharge my batteries but also a chance to reconnect with nature! As a budget-conscious traveler, I've spent countless hours camping and trekking in the mountains.
The internet is flooded with outdoor companies, all claiming to offer the "best" hiking backpacks. However, I've come across some truly disappointing options along the way. That's why, in this post, I'll be sharing my thoughts on each of the hiking backpacks mentioned. My goal is to provide you with an objective review of the finest hiking packs available and introduce you to my favorite outdoor gear brand.
Are you eager to learn exactly what to look for when choosing the perfect backpack for your hiking adventures? Look no further, as I'll be guiding you through the process step by step. These are not just any backpacks; they are my top picks for hiking, and I can't wait to share them with you. Let's dive in and find the ideal companion for your outdoor escapades!
---
Check out these 3 tips for selecting a backpack!
---
Top 5 Multi-Day Backpacks Quick Look
If you're in the market for a reliable and budget-friendly multi-day backpack, look no further than Amazon's best-selling internal-frame backpack. This top-notch backpack has all the features you need for your next adventure, whether you're a teenager or an adult heading out on a short, day-long backpacking trip.
With a generous volume of 3400 cubic inches (55 L) and a weight of only 4.5 ounces (2 kg), this backpack strikes the perfect balance between spaciousness and portability. One of its standout features is the adjustable torso, making it suitable for various body sizes and shapes.
The backpack is equipped with a dedicated sleeping bag compartment, compression straps, and strategically placed outside pockets, allowing you to pack your gear efficiently and access essentials with ease. For added comfort during those long treks, it boasts a durable open-cell foam lumbar cushion with molded channels, ensuring optimal support, ventilation, and a pain-free experience.
Don't just take my word for it; this hiking backpack has garnered hundreds of verified 5-star ratings, attesting to its exceptional quality and design. So, if you're looking for a reliable companion for your multi-day adventures, this backpack has got you covered!
Pros:
Long-lasting open-cell foam lumbar pad
Molded channels
Bungee stash storage on the front and top
Torso adjustment in many positions
Cons:
Heavy weight cannot be supported.
This high-quality backpack has a fashionable, sleek, silky nylon exterior with gold-plated zippers. The inside compartments are lined with a printed tear-resistant polyester lining to withstand everyday usage. The rear compartment is entirely cushioned to protect and provide support to your back. While this may seem like an odd choice for a top 5 multi-day backpacks list you would be right for an adult. However, for children just getting into backpacking it is a great starter backpack. This way you younger backpackers can put one on their back while you carry the majority of the bigger items.
This Kenneth Cole REACTION Sophie nylon 15.0-Inch backpack has various accessory pockets and compartments to organize your travel items. The top handle is simple to grasp. The backside has a mesh back panel, a trolley tunnel that fits over most upright trolley handles for hands-free carrying, and adjustable, cushioned shoulder straps.
A full-length zippered accessory pocket, a pen loop, an open-top slip pocket, and an RFID-protected flap over the accessory pocket can be found in the front gusset organizing compartment. The front main compartment has a cushioned tablet pocket, two open slip pockets, and space for extra essentials. A secret zippered stash compartment on the front top outer facing stores and protects items.
Pros:
Fashion Forward Quality
Large Storage Area
Comfortable and functional
RFID blocking technology
Cons:
Average Quality
Limited space for large item
Really only best for children multi-day beginners
---
What about cooking on the trail? Check out these backpacking kitchen needs now.
---
The Parkview 63 Liter is on my top 5 multi-day backpacks list for its lightweight optimal comfort and support with a fully integrated suspension system and all the features required for long hikes.
A hybrid frame combines a molded back panel with an aluminum perimeter frame for optimal support. The curved shoulder straps and hip belts are completely adjustable and work as a fully integrated suspension system. The pack is easily adjustable to accommodate three different torso lengths.
Further, a top-loading main compartment with a spin drift collar adds 10L of capacity. The retractable lid contains accessory compartments with zippers. Hydration sleeves, stretch mesh side pockets, front stash pocket, and front zip pocket are among the other pockets. Two retractable hip belt pockets provide convenient storage.
Moreover, an easy-to-adjust compression mechanism keeps loads stable inward and upward. Weight distribution may be fine-tuned using load lifter straps, and hip stabilizer straps control lower weights. There are attachment points for hiking poles, a haul handle, bottom lash loops, and daisy chains.
To reduce its negative environmental effects, the Recycled Ripstop Nylon was made to be puncture- and tear-resistant. It was also colored using a solution-based process. The accompanying Trash Can accessory stores waste and trail trash conveniently.
Pros:
Sustainability
Lightweight
Eco-friendly
Cons:
High cost for beginners
The Granite Gear Blaze 60 has truly been a standout performer for me, and it's no surprise that it consistently ranks high on Amazon's list of the Top 5 best multi-day backpacks. What's even better is that this fantastic backpack comes in both men's and women's styles, catering to everyone's needs.
With an impressive capacity to comfortably carry 50-pound loads and weighing a mere 3 pounds, the Granite Gear Blaze 60 is a game-changer, especially when compared to traditional camping packs that can be much heavier.
This backpack is jam-packed with features that will make your camping experience a breeze. Not only does it offer adjustable hip belt width and torso length, but the shoulder straps and hip belts are also generously padded for ultimate comfort. The ventilated back panel adds just the right amount of padding to ensure wearing this pack is an absolute pleasure.
When it comes to storage and accessibility, the Granite Gear Blaze 60 has you covered. It boasts a flexible mesh front pocket and a convenient roll-top main compartment. Plus, you can access the main compartment from the front of the pack through a zipper, making it super easy to grab what you need without any fuss.
But that's not all – this backpack comes equipped with spacious hip belt compartments and adjustable water bottle pockets that you can access without even taking the pack off. How convenient is that?
If you're looking for a versatile, comfortable, and feature-packed backpack for your multi-day adventures, the Granite Gear Blaze 60 is an excellent choice that won't disappoint.
Pros:
It is quite light for its size.
Feature-packed
Comfortable
Cons:
Small buckles are difficult to use when wearing gloves.
---
Learn more about backpacking and camp food storage now.
---
Your expectation will be exceeded by the TETON Sports Hiker 3700 Ultralight Internal Frame Backpack. It's a tough, lightweight internal frame backpack that's both high-quality and reasonably priced. This is why I have added it to my top 5 multi-day backpacks list.
With a completely adjustable torso fit and waist belt. The split wishbone waist structure allows for a more customized fit, and wide cushioned shoulder straps with upper load adjustment let you comfortably carry items for extended periods.
The long-lasting open-cell foam lumbar pad and molded channels provide maximum ventilation. The Hiker 3700 is a 60-liter pack composed of 420D 2MM double-line ripstop and 600D Oxford canvas that can withstand years of rough adventure.
A big sleeping bag pocket, two lower compression straps for hanging a sleeping bag, tent, or pad outside, and multi-directional compression straps are among the design characteristics. There are also many compartments and pockets for effective packing. It's excellent trekking gear at a reasonable price.
Pros:
Ultralight
Exceptionally Comfy
Quality You Can Believe In
Design Innovation
Cons:
The chest strap is too small.
Top 5 Multi-Day Backpacks Buying Guide:
The following buying guide is a summary of my full buying guide to give you a synopsis of the things to consider and look at when purchasing. For more information, you should visit our full buying guide.
Top 5 Multi-Day Backpacks Size:
The size of your backpack will be determined by the kind of trekking you will be undertaking and the duration of your journey. If you want to go on any difficult or overnight journeys, the size of your backpack should match the amount of stuff you'll need.
Backpack sizes are measured in liters and vary from modest 30L daypacks to huge 80-85L backpacks. If you need help determining what size of backpack to purchase, phone your local outdoor gear shop and ask them.
Top 5 Multi-Day Backpacks Expansion:
Sometimes you need a little more space. Making sure your selected backpack has an expansion option will help ensure that all of your stuff fits in your bag.
Top 5 Multi-Day Backpacks Features:
Hiking backpacks nowadays have a plethora of functions. Consider pocket placement, strap modifications, the fabric of the backpack, zippers vs. velcro, hipbelts, and water bottle compartments.
Top 5 Multi-Day Backpacks Load Distribution:
For hiking comfort, nothing is more important than how your backpack distributes weight. If you need help determining how your top backpack will spread the weight, go to your local outdoor outfitting shop and try on a few backpacks. Your hips, not your shoulders, should carry the most weight.
Top 5 Multi-Day Backpacks Ventilation:
Always check the ventilation system of the backpack you're considering before purchasing it. Check the back panel of the backpack and the straps for the presence of mesh.
Top 5 Multi-Day Backpacks FAQs:
What Is The Price Of A Hiking Backpack?
Varying backpacks have different prices due to their sizes, range, features, etc. A good backpack usually costs between $50 and $200. However, certain things cost more than $200 and, in rare cases, more than $300. It all depends on how much perfection you want.
What Should The Weight Of A Hiking Backpack Be?
Hiking backpacks should be light in weight since the weight inside (which you will put in it) will make it heavier. As a result, a heavyweight backpack will be nothing more than a burden. They should be at most 20% of your body weight to function properly.
What Dimensions Should A Hiking Backpack Have?
Hiking backpacks have various purpose straps such as the chest, shoulder, etc. Please don't rush through things; instead, maintain them smoothly. Tighten the straps until they are snug over your hips and up your chest, then fine-tune the fit at the shoulders and waist.
Top 5 Multi-Day Backpacks Conclusion:
The best multi-day backpacks provide essential functionality without adding unnecessary weight or extraneous features. We hope you found the information in this review useful, and we wish you the best of success when purchasing your next pack!