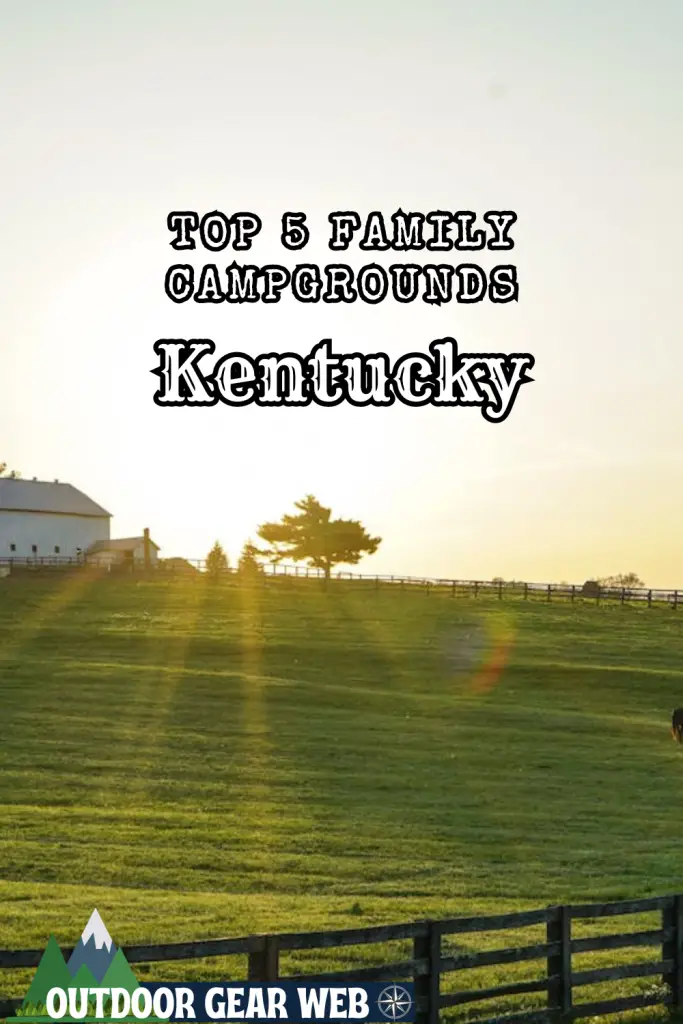 In the heart of the Bluegrass State, plentiful adventures await families eager to embrace the great outdoors. Kentucky, with its diverse natural beauty, caters to families looking to create lasting memories amongst lush forests, enchanting caves, and vast bodies of water. We will highlight outstanding family campgrounds such as Mammoth Cave Campground, Carter Caves State Resort Park, Daniel Boone National Forest, Lake Cumberland State Resort Park, and Natural Bridge State Resort Park. Each of these family campgrounds in Kentucky offers unique experiences that cater to various interests.
---
These camping hacks will make your trip to one of these family campgrounds in Kentucky easier!
---
Explore Mammoth Cave National Park: Discover Underground Wonders
The Mammoth Cave National Park is home to the largest known cave system in the world. It presents an excellent adventure opportunity for families visiting Kentucky. The vast expanse of this underground marvel draws visitors from all across the globe. This makes it a must-visit site for nature lovers.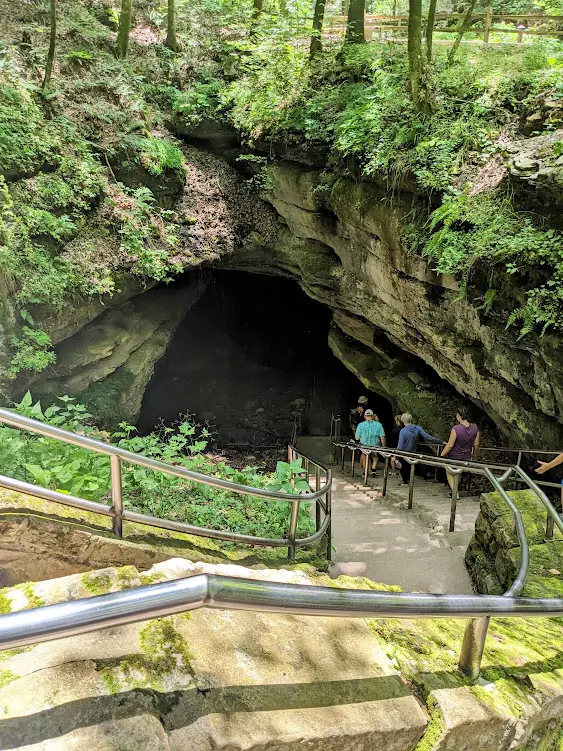 Family-Friendly Camping: Make Unforgettable Memories
Right in the vicinity of this natural wonder, you have the chance to strengthen your connection with nature. Not to mention making unforgettable memories. The campground located near the National Park is designed with families in mind. The campsites are amply spaced for a restful night's sleep under the stars.
Campground Facilities: Enjoy Traditional Outdoor Activities
Each campsite is set up with a fire ring and picnic table. This brings traditional outdoor activities to your doorstep. The facilities cater to all your camping needs. It creates a warm and homely environment in the midst of a spectacular natural landscape.
Outdoor Activities: Engage in Nature's Best Adventures
The campsite isn't just a place to sleep; it's your hub for daytime adventures. The lush surroundings of the campground beckon for adventurous hiking, wildlife watching, and horseback riding. Children and adults alike will love interacting with nature in such an engaging way.
Cave Tours: Embark on an Exciting Journey
While at the campground, families have the opportunity to join guided tours around the cave system. This illuminates the beauty and secrets of the underground world. Whether you are brave enough to venture deep into the caves or simply wish to acquaint yourself from a safe distance, this family-friendly activity is a highlight of any stay. The campground's proximity to Mammoth Cave National Park makes it an unrivaled base for such an exciting journey. Just make sure you register early for the cave tours. They do tend to fill up quickly.
Through every aspect, this campground near the world-renowned Mammoth Cave National Park represents a perfect blend of comfort, adventure, and exploration. It promises an unforgettable outdoor experience for families ready to venture into the wonders of Kentucky.
---
Check out these great family tents to take with you.
---
Adventure in The Depths of Kentucky: Carter Caves State Resort Park
Subterranean mysteries and untouched wilderness await curious explorers at Carter Caves State Resort Park. Nestled in the heart of Kentucky, this capacious park is a paradise for adventure-seeking families. It boasts over 20 mesmerizing caverns teasing adventurous family members with their hidden depths and secrets. These range from narrow crawl spaces that ignite the thrill of exploration to massive caves waiting to stun visitors with their natural beauty.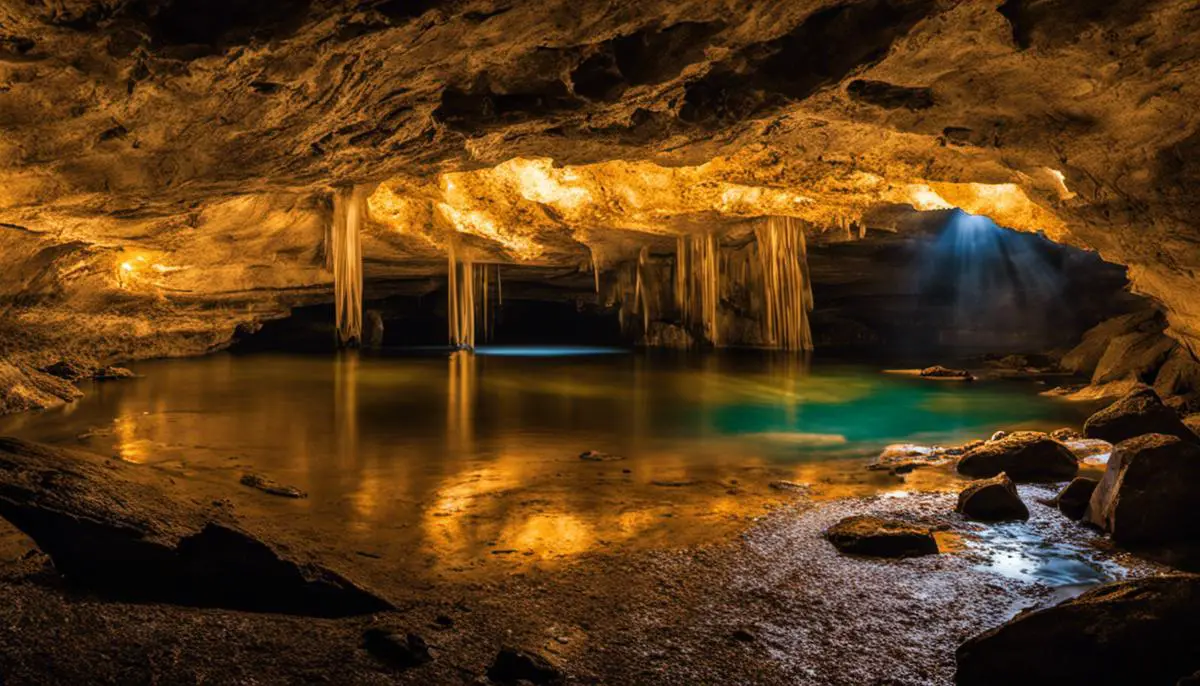 Hiking Trails for the Nature Lovers
But, the underground wonders are just one part of the story. Above ground, the park offers a multitude of hiking trails that unravel Kentucky's untouched wilderness. As families navigate these trails, they'll be privy to the breathtaking landscapes, abundant wildlife, and the beautiful orchestration of nature sounds—a treat to the senses that makes all the trekking worthwhile.
Camping in the Heart of Nature
Beyond adventure and exploration, the park ensures a comfortable camping experience with its well-equipped family campgrounds. Easy-to-access utility hookups make accommodating traveling vehicles a breeze, while three central service buildings ensure all basic amenities are within close reach. Families can enjoy a cozy night under the stars, a warm campfire dinner, and the unparalleled serenity of nature just outside their tents.
Convenience on site: A Local Grocery store
What sets Carter Caves State Resort Park apart is the forethought to convenience. To make the camping experience hassle-free, the park houses its own grocery store. This means families can cut down on bringing excess supplies and instead focus on creating memorable experiences.
Outdoor Activities Galore
This outdoorsy destination is a haven for a family with a shared love of nature's bounty. Besides the caverns and hiking trails, Carter Caves State Resort Park is home to fishing lakes, picnic areas, and a myriad of outdoor recreational opportunities, promising an unforgettable Kentucky adventure.
---
Get your family prepared for camping in Kentucky.
---
Daniel Boone National Forest – More Than Just A Campsite
Venturing into the heart of Kentucky, you'll find the enigmatic Daniel Boone National Forest. Here, the Red River Gorge campground presents a wild and exhilarating retreat, bursting with outdoor activities that would pique the adventurous spirit of any family.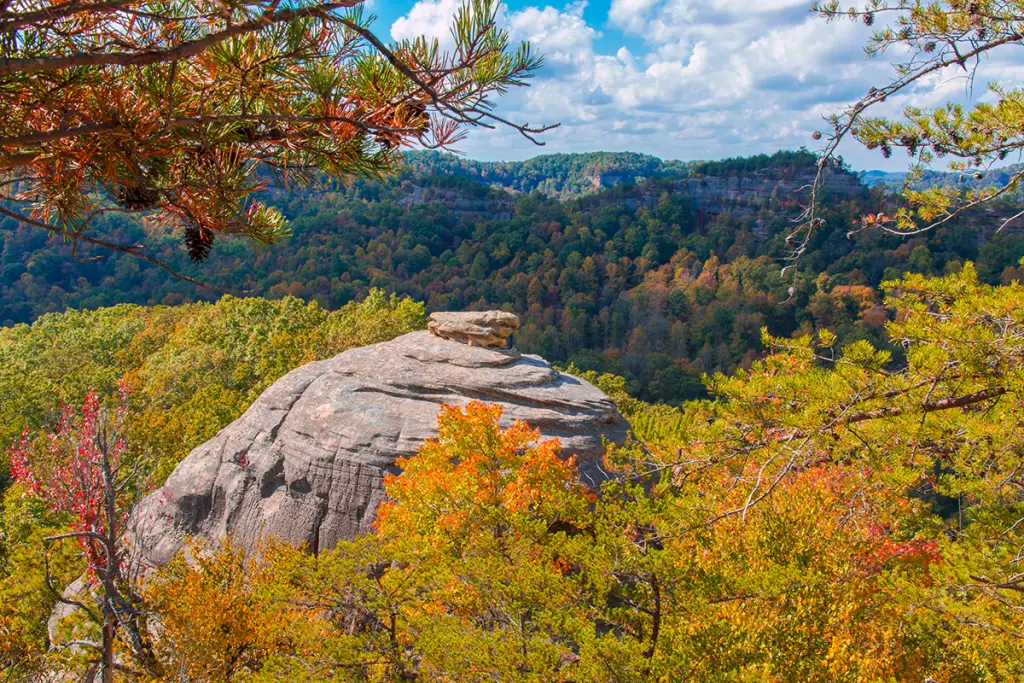 The Allure of the Great Outdoors
Equally loved by nature enthusiasts and thrill-seekers, this campground urges you to don your climbing gear and scale the captivating rock structures that it is famous for. Whether you're an expert climber or a beginner, the sandstone cliffs offer varying levels of difficulty, ensuring a rewarding experience for all. The hiking trails that wind through the forest give you a chance to soak in the lush environment, and for the ones who revel in tranquility, fishing in the placid rivers becomes an escape.
An Oasis of Amenities
Taking into account the needs of every family, the campground comes with comprehensive facilities, adding comfort to your wilderness experience. Restrooms and grills are available, ensuring that your time in the great outdoors mimics the convenience and comfort of home. The presence of these facilities makes the campsite not just an ideal place for experiencing untamed nature, but also for spending quality time with your loved ones as you roast hot dogs or marshmallows over the grill!
Red River Gorge Geological Area – A Sight to Behold
What sets this campground apart is its location within the famous Red River Gorge Geological Area. Often described as a natural amphitheater, this region is adorned with striking sandstone formations. With its awe-inspiring arches, bridges, and cliffs, it offers snapshots of nature that are sure to leave an indelible imprint on your memory.
Notably, every visit to this campground brings a unique exploration opportunity, as it constantly reveals new facets of its matchless beauty, making it an irresistible camping spot for families in Kentucky.
---
If this is your first trip in the RV you better learn these tips for setting up your RV site.
---
Lake Cumberland State Resort Park: A Water Activity Paradise
Nestled in the heart of Kentucky is the famous Lake Cumberland State Resort Park. This location is a regular go-to for families seeking a scenic and satisfying camping experience. The park is renowned for its expansive marina and extensive options for water recreation.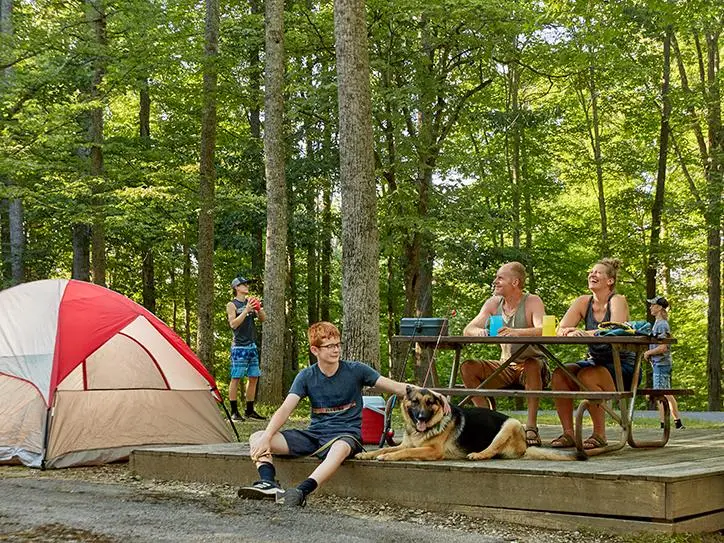 One of the park's unique selling points is the exquisite view it offers. Campers are treated to a breathtaking vista of the lake, which sets a picturesque backdrop as they unwind from their everyday routines. The camping area is well-equipped with picnic tables and fire rings, offering a comfortable and cozy environment for all its visitors.
Water Activities
The allure of Lake Cumberland State Resort Park is further boosted by its diverse assortment of water activities. The park is not just a haven for those who prefer the tranquil pleasure of going for a swim or gently paddling a canoe. It is also a paradise for adventure enthusiasts who revel in the thrill of jet skiing or windsurfing. The park's large marina facilitates these activities, making it a magnet for water sports aficionados.
Fishing is another beloved activity at Lake Cumberland State Resort Park. The lake is teeming with a variety of fish species, making it an angler's delight. Whether you're a seasoned fisherman or a beginner dipping your line for the first time, fishing at Lake Cumberland is an experience to remember.
One of the Well Rounded Family Campgrounds in Kentucky
Lake Cumberland State Resort Park offers an all-rounded family camping experience. Its combination of natural beauty, recreational activities, and camping amenities make it a top contender among Kentucky's family campgrounds. It provides the perfect opportunity for families to bond over shared experiences and create lasting memories amidst awe-inspiring landscapes.
---
Use this camping checklist before you head out on your adventure.
---
Nestled deep in the verdant Appalachian Mountains, the park beckons families with its promise of adventure and tranquility. Not just any park this is one of the best family campgrounds in Kentucky. Why, you might ask? Well, this gem overflows with activities designed to captivate every generation. The crown jewel of the park, the Whittleton Campground, offers unrivaled facilities for families seeking a blissful blend of nature and convenience.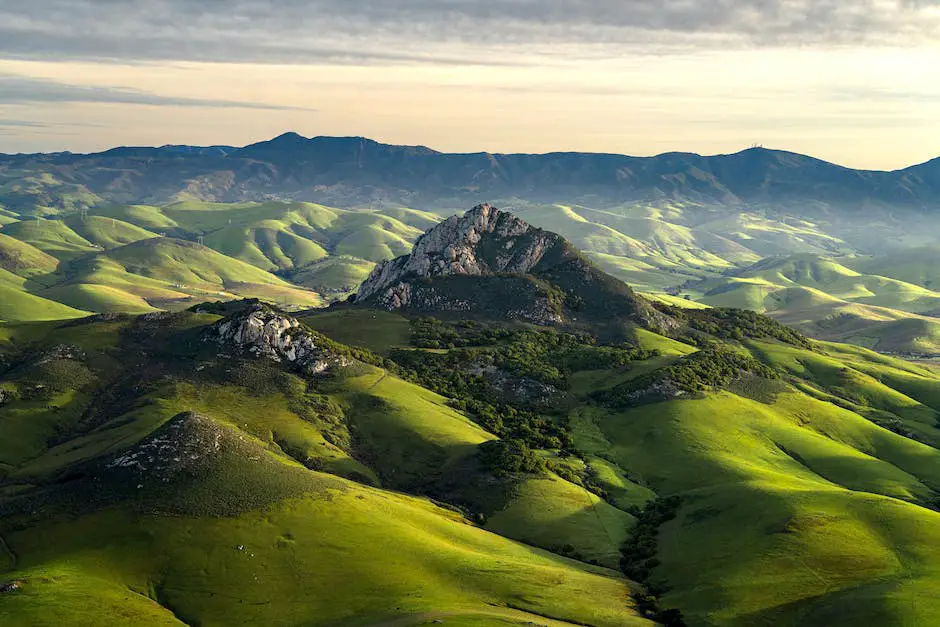 Experience the Appalachian Bliss: Whittleton Campground
Whittleton Campground, the heart of the park, is an ideal base camp for families. It is fully equipped with essential facilities, ensuring a comfortable and secure experience for all ages. Whittleton's abundant campsite options can accommodate varying family sizes and preferences, whether you crave the coziness of a well-appointed cabin or the refreshing simplicity of a tent under the stars.
A stroll away from the campsite, a sweeping natural bridge begs exploration. Time has sculpted this awe-inspiring formation, whispering tales of geology and time through its vast span. For those adventure seekers in the family, the bridge also presents a thrilling opportunity for climbing.
Engage with Nature: Hiking and Wildlife
For those who prefer walking boots to climbing ropes, the park provides an array of hiking trails. These carefully curated pathways lead adventurers through dense forests, past trickling streams, and towards majestic vistas. Each trail presents its unique challenges and rewards, ensuring an engaging activity for everyone from energetic toddlers to mildly ambivalent teenagers to fitness-conscious parents.
Wildlife aficionados in the family will delight in the variety of creatures that call the park home. The rich ecosystem of the Appalachian Mountains harbors a diversity of birds, mammals, and insects. Observing these creatures in their natural habitat can be both an exciting and educational experience for children, sparking interest in nature and science while fostering a love for the environment.
In the whispers of the wind through the towering trees, the serenity of the murmuring streams, and the buzz of wildlife, this park in the Appalachian Mountains is not just a playground for families but a sanctuary. It is the perfect setting for those cherished moments of laughter, discovery, and tranquility. Whether your family seeks adventure or relaxation, the park and Whittleton Campground offer an experience that's sure to create lasting memories.
---
Check out our best car camping kitchen items to take with you on your family trip.
---
Final Thoughts on the Top 5 Family Campgrounds in Kentucky
Experiencing the vibrant ecosystems and breathtaking views across Kentucky's camping grounds imbues an appreciation for nature's magnificence. The remarkable opportunities at Mammoth Cave Campground, Carter Caves State Resort Park, Daniel Boone National Forest – Red River Gorge, Lake Cumberland State Resort Park, and Natural Bridge State Resort Park offer so much more than just a fun-filled family getaway. These family campgrounds in Kentucky provide an immersive journey into the state's rich natural heritage. Each site holds a world of discovery filled with unforgettable landscapes, thrilling outdoor activities, and ample relaxation, making Kentucky the perfect destination for families yearning for an extraordinary camping adventure.