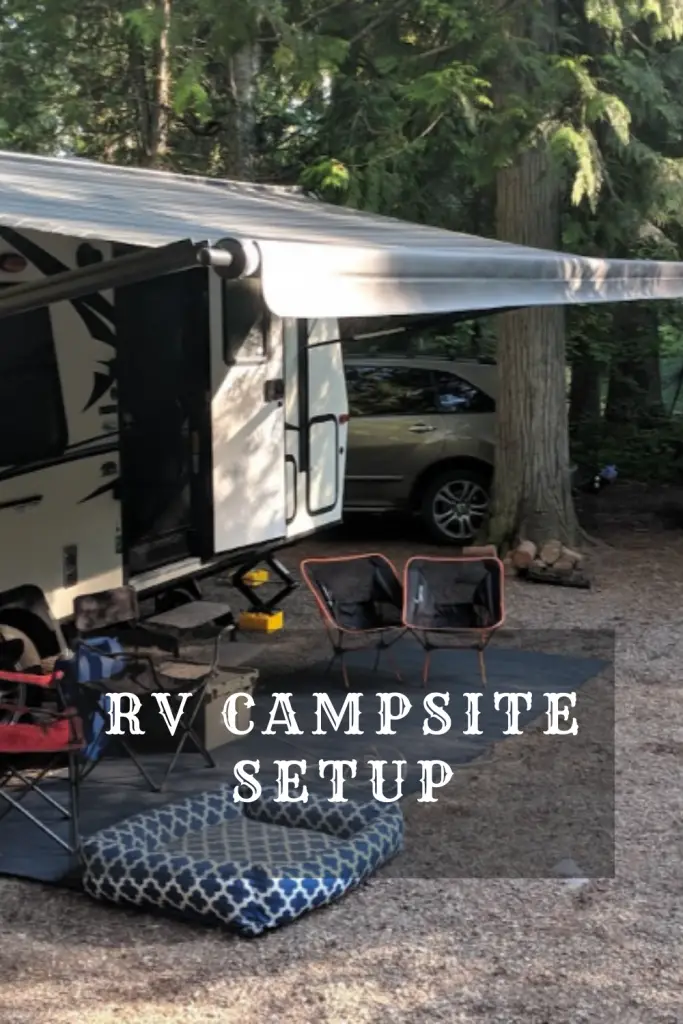 I can't say that we have all been there. However, there are some of us RVers who have come across that terrible situation where we forget to do something heading to the campsite or leaving it. It is okay we can't see you, but go ahead and raise your hand if you left the steps down before driving off. It is easy enough to forget to take an easy step, pun intended, like that. That is why it is important to always have a mental or physical checklist on how to camp in an RV. This will prevent you from skipping a step in the setup or tearing down at the campsite. Trust me you don't want your $50,000 investment rolling backward down a slope! So consider these eight easy RV campsite setup steps to find and camp in your new RV.
1) Get the right RV Campsite to Setup
First off we need to reserve the campsite. With more and more people taking up the camping lifestyle you will need a reservation. One thing Covid has taught us is that people love to be outdoors away from other people. However, this means that campgrounds are getting busier.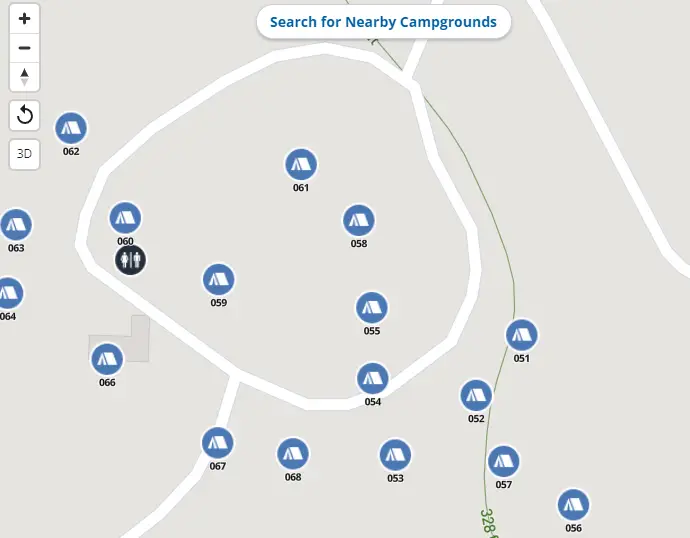 So how do you know where best to stay? Well there are lots of websites that cater to providing campsite information and reviews. Generally, to make life easy in your RV try to find spots that are wide and flat. A little privacy with the trees goes a long way to making the campground feel more remote with people around. Also, you should know your back-up capabilities as you may want to reserve a pull through spot.
My preference is to go to state and national park campgrounds. These are generally less expensive, less populated, and they make RV campsite setup a breeze. You can find many of these sites at Reserve America and Recreation.gov.
Make sure that as you select you also take into consideration the electrical service that you need. Not all campgrounds provide 50AMP services. If you RV requires this then it won't be the right site for you!
---
Find the right camping spot for you with these tips!
2) Backing into you RV campsite to setup
As I mentioned above, if you are going to a campsite you are going to need to know how the campground is laid out. Many campgrounds now post their maps online. If you are not practiced in backing into a site, you may want to consider a pull through site.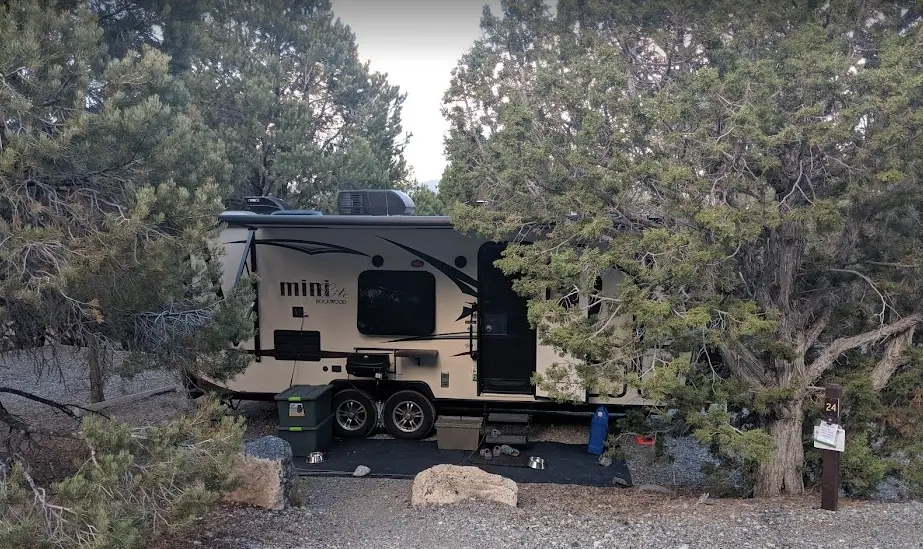 Practice makes perfect though! When we first purchased our travel trailer I went to a large empty parking lot with some small cones. Yes I borrowed these from my children's soccer bag! Practice with your spotter in a low stress environment until you are comfortable backing in.
So what does backing in take. Well you need a spotter who knows how to use mirrors. Agree on a set of hand signals so that you know which way you need to go. Having a set of walkie-talkies helps tremendously for long rigs. Sometimes words convey what you need much quicker. Make sure your spotter isn't just watching the sides and back of the RV. Have them look up as well to watch for low hanging branches. Now that we are backed in we can start the true RV campsite setup!
3) What next in RV Campsite Setup?
The next steps are going to depend on the type of RV that you have. I am going to break step three into a few sub steps. RV campsite setup for a travel trailer will vary from a class A and even other travel trailers so make sure that you know what you specifically need for your rig! Check your options and pre-installed accessories.
3a. Left to right leveling
When you first get your RV into the spot it is important to check the side to side level. There are lots of great options for trailer leveling. I opted to have a spirit level attached to my trailer that I can see from my mirror. However, My in-laws decided to carry a two foot level with them! In either case you want to check your level from side to side. Not all campsites are level and you may need some leveling blocks to assist in gaining elevation on one side or the other. Set your side to side first.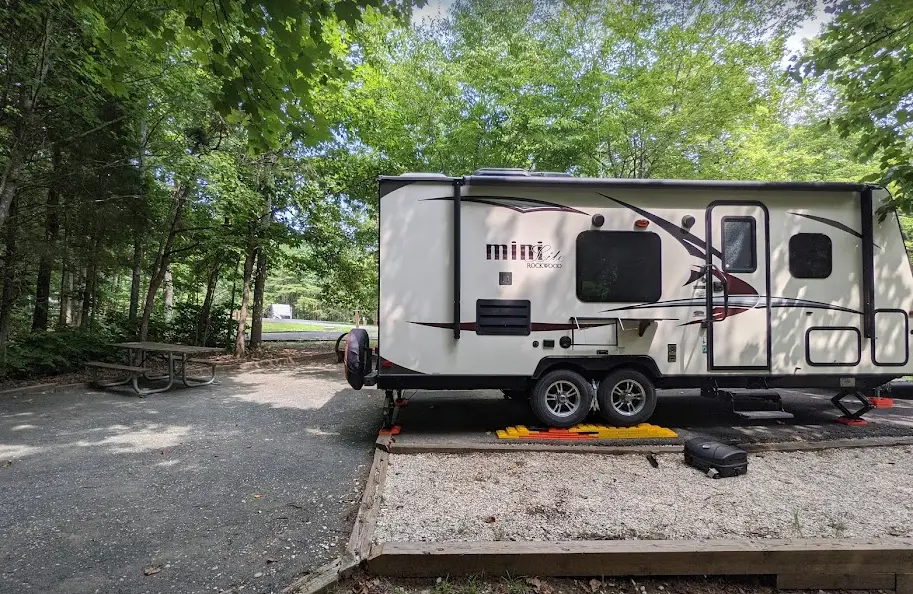 Now more modern and upscale RVs have self leveling systems. If you are lucky enough to have this option, then step inside your coach and press the leveling button!
3b. Block and brake
The next step, after side to side leveling is to make sure that you block your wheels. This is especially critical for a travel trailer. You do not want to roll out of your campsite when you disconnect the hitch or as you are pushing a slide out. Your method of blocking is going to depend on a few factors. If you have a single axel you may want to use a simple tire chock that is a wedge. With a dual axle my preference is to use the X-chocks. If you are in a motorhome you have the benefit of a parking brake so set that brake!
3c. Trailer specific steps
If you are in an Class A, B, or C motorhome go ahead and move on to step 4 of this RV campsite setup aid. For us travel trailer owners we aren't quite done yet!
After chocking the wheels you will want to disconnect from your hitch. Depending on the weight distribution setup you have or if you have a fifth wheel vs. a bumper pull this is going to vary. I highly recommend that you do a walkthrough with your RV dealer. Have them show you on your vehicle specifically how to come off and on the hitch. Practice a few times with them right there during the walk around.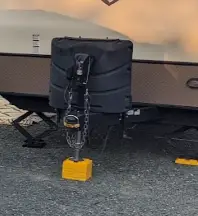 Which ever kind of travel trailer you have, this is your opportunity to level front to back using the tongue jack. If you haven't already save yourself some effort and invest in a powered tongue jack. Your arms will thank you! Anyways, use the jack to level your trailer front to back.
Finally, secure your trailer wiring cable, brake away cable, chains, and any components of the weight distribution hitch. After a few years of not protecting these components I realized that they were getting some unnecessary damage. So I invested in this tongue jack cover. It isn't necessary but it does help to keep everything looking nice and clean! Just make sure you purchase the one for your jack. It comes with connection points and covers for your cables!
4. Hook up The Electricity and Water
Now that we are set and level in the site, we continue our RV campsite setup with connecting the electricity and water. As you selected your site, you hopefully took into consideration the Amperage requirement of your coach. There are adapters if necessary so you could invest in those. As you go to connect the electricity make sure to check the breakers above the plug and make sure that they are turned on. The next thing to do is to attach your surge protector. The one I have has a service tester included to make sure that there are no reverse polarity or other issues. This will help prevent damage to your RV's electrical system. Once you have this plugged in, you can go ahead and plug your power cable into the surge protector first and then to the RV.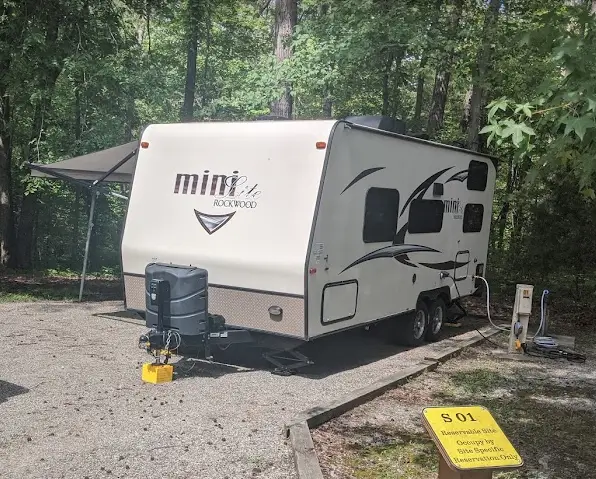 Next lets hook up the water line! Have you connected a hose before? If so, then you are an expert in this task. However, there are a couple things to consider at this step. You will want to place an inline water filter onto your line. This will help to filter water as well as catch any contaminants that may be in the water service. Additionally, you will want to purchase a water pressure regulator. This device protects your RV's plumbing from spikes in water pressure that do occur with campground water services. Both of these accessories screw right onto the hose in line which makes setup a breeze.
Once done connecting both, go ahead and coil the excess hose and power cable up under your RV.
5) RV Campsite Setup the Hot Water Heater
Most RVs with bathrooms are going to come with an instant hot water heater. It is important to turn this guy on at the water heater itself. I can't tell you how frustrated I was the first trip out when I forgot that there was a switch on the water heater itself I had to turn on! So make sure that you open up the protective cover and flip that water heater switch!
Next move around to the propane tanks, if you are in a travel trailer, and open it up so that you have propane flowing to the accessories in the camper.
6) RV Campsite Setup Entering the RV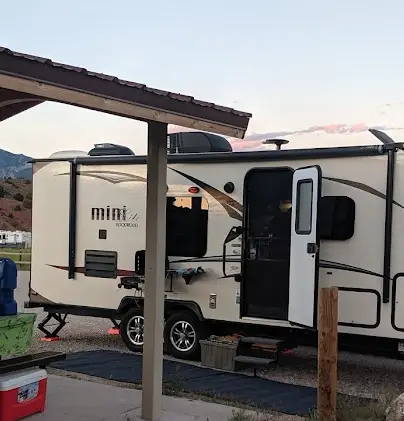 Now that all of our external connections are made and we are level, we can move on to the next step. Unlock your RV door and pull the steps out, if required. Step on inside. Once there check your electrical and make sure that your electrical is working correctly. If the lights come on you are golden, well maybe a golden glow.
The next step is to bleed air out of your plumbing lines. For the water lines my preference is to go to each of the sinks and the shower as the highest points in the line and open them until they no longer sputter. For the propane lines, I light the stove and all three burners on my cooktop per the manufacturers instructions. You should familiarize yourself with this process before you head out on your first trip. This is another great time to practice with the RV dealer during your walkthrough.
Taking these steps when you first enter the RV will ensure that you can check for leaks before getting any of your gear out. I would also recommend tag teaming this effort to save some time on setup!
7) Time to Spread Out!
With all of the maintenance type items done it is time to spread out and start enjoying your site! First extend your awning. This one is weather permitting and you should consider pulling it in at night time in case a sudden storm arises.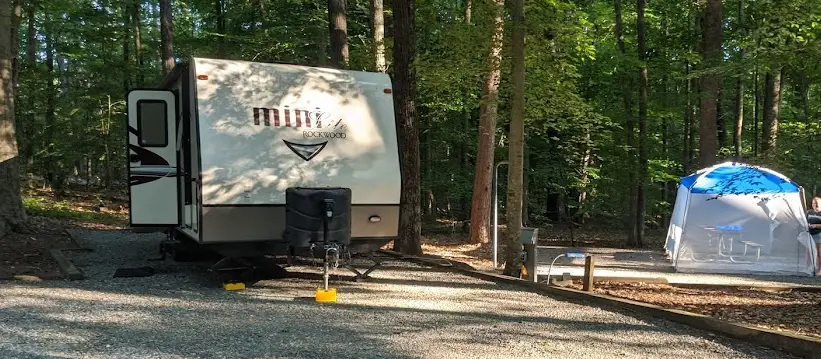 If allowed, my next step is to lay out a ground cover. This provides a place to wipe shoes, set items down, and extends the living space of the RV to the outside. It also helps to control the amount of interior sweeping I have to do from little feet tracking mud and dirt in!
If you have an outdoor grill or kitchen then now is the time to set it up. Go ahead and setup your picnic table as well. We love adding a little flair to the campsite with special table cloths and minimal decorations. There are some unwritten decoration rules with RVs so don't get caught with the wrong decorations, I am looking at you pineapples! Also, you will want to make sure that you keep your campsite organized.
Don't forget to put out some camp chairs as well for some more comfortable seating around the campfire. Make sure you take care of your furry companions as well in the proper manner.
---
Check out these camping storage hacks now!
---
8) Kick Back and Relax After your RV Campsite Setup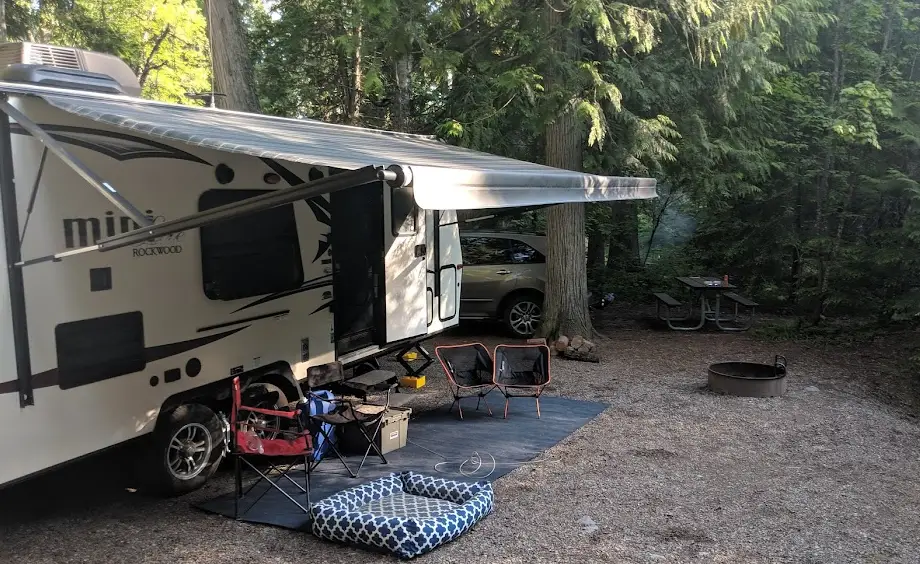 The final thing to do is enjoy the fruits of your labor. Well almost. As you crack your cold beverage and settle in make sure to review the items the camp office provided to you. It is important to know about their safety protocols as well as any fun things they may have going on. Take some time to read through this information as it will also help you know where all of the amenities are as well as the emergencies contact information.
Most private campgrounds also include some advertising with specials in this material. If you don't have your camping activities planned this can be a great starting point to determine what to do on your weekend or week away!
Final Thoughts on RV Campsite Setup
In only eight easy steps you now have your RV campsite setup and ready to go for your adventure. Your home away from home will be nice and comfortable for your whole family. Now, you can simply sit back and enjoy the sounds of summer. Well maybe, or it is time to hit those trails so you can come back to your RV ready for some rest. No matter how you choose to enjoy your RV, you will be confident knowing that it will not roll backwards out of your campsite as you sleep!
Have any other beginner RV Campsite Setup Tips? Tell us in the comments below, on our Facebook, or on Reddit!