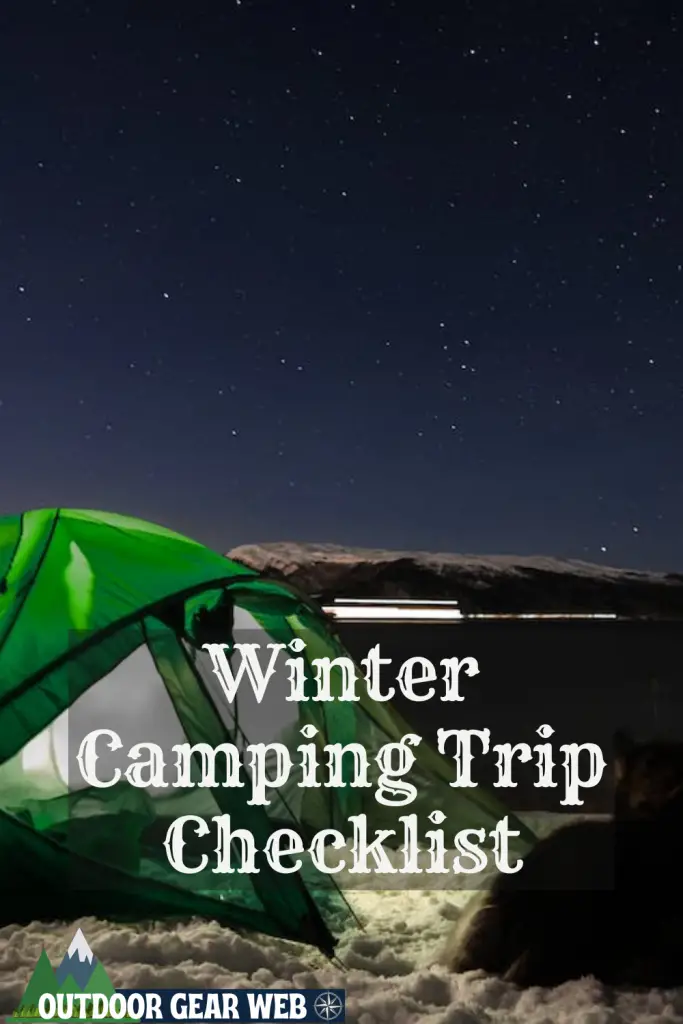 What are you going to pack on your winter camping trip? Preparation for packing to stay warm on your next winter camping trip is of the utmost importance. You do not want to be cold and wet on your trip. Clothing keeps your body warm and dry while you are out in the cold. This is a necessity when you are heading out on a winter camping trip! So, what type of clothing should you bring with you to keep warm, dry, and happy? Prepare for your winter camping trip and start your checklist now. I will go through each necessary item in a little more detail. Make sure to read on till the end to find our winter camping trip clothing checklist.
---
Not quite winter yet? Check out our Fall Camping Checklist Now!
---
Winter Camping Requires Socks!
Let us start at the bottom and work ourselves up. Socks are key, but which type is better cotton or wool? Wool socks are a better option when packing for your winter camping trip. They are lightweight but pack a punch in heat. Wool options include Merino Wool, Alpaca Wool, and even Bison Wool.
The softest and most popular wool is Merino Wool. Cotton socks retain moisture, leaving your feet potentially wet, leading to colder feet and toes. With the cold weather camping trip coming, there are many merino wool socks to choose from. Merino wool socks make a great gift for the members of your winter camping trip as well!
Shoes for Your Winter Camping Trip?
Once your socks are packed, you need warm, waterproof shoes to keep your socks dry. With so many shoes to choose from, let us dive into what you need to look for in a winter camping shoe. A winter camping shoe that you should be considering will be breathable, weighted for your activities, and waterproof.
---
There is more to boots than just winter activities. Learn all about hiking boots here.
---
Depending on your activities during your winter camping trip, you want to be sure your shoe has the right usability, for example, hiking, ice fishing, and light or heavy walking. You want your shoe to be lightweight, durable, waterproof, and within your price range. Teva tends to be the brand name that most campers look for in a camping show, Teva has many options to choose from and has great reviews.
In addition to shoes, you may also want to consider some external add-ons. For instance, if you are looking to complete deep snow hiking then snowshoes may be helpful. Additionally, you may want to also consider the use of YakTrax. These will help you gain traction on an icy trail. In any case, consider ways to help you stay upright when out on a snowy trail.
What pants should you wear on your winter camping trip?
Now that socks and shoes are taken care of for your winter camping trip, what about winter camping pants? With winter camping pants, you want to look to see what type of insulation or lining the pant includes. While winter camping, you want to stay warm and keep your body heat in and close to your body. Find pants that have fabrics such as fleece and flannel.
Speaking of pants, make sure you have good thermals! Thermals should have the same fabrics as your pants, as merino wool is the best for socks it is best for thermals as well. Merino wool is made of natural fiber, it keeps moisture away from your body and will not add too much volume under your clothes.
The key to staying warm is with layers. So make sure that you are layering your pants and your shirts for maximum warmth.
Shirts, sweatshirts, and sweaters -what should you bring?
Shirts, sweatshirts, and sweaters, what should you bring with you on your winter camping trip? On cold, winter camping trips, the more clothes, and layers that you can bring the better. Start with thermals as the first layer, sweatshirts are good, but they can be bulky and not as warm, as you guessed it, a merino wool sweater! Merino wool is again, warm and moisture-resistant.
The fact is that when it comes to tops you are going to be packing a lot. Trust me on this one. You will want to have at least three layers. Your inner layer should help to wick moisture away. Make this a thinner shirt, not cotton. The second will act as an insulator. The third layer will help to keep moisture out. So you will need to make sure that you have plenty of options for each layer. It is best to stay bundled up to start and then remove as the day heats up.
---
Layering in winter is critical. Find out more on how to properly layer in winter.
---
With winter camping, bring layers upon layers! From your thermals to extra wool socks to more than one hat. You never know what weather you will encounter on your trip.
Outerwear
Outerwear is essential on your winter camping trip. A heavy, puffy down coat or a synthetic insulated jacket, or a fleece jacket is recommended. There are varied sizes of down coats, so make sure you choose the right jacket weight. If wearing a fleece jacket, make sure it is a heavyweight fleece, and do not get wet! Fleece is not always waterproof, if you are going to a place where there is snow, be prepared with outwear that is waterproof.
The other piece of outerwear that you are going to need is gloves. This is another spot where you can layer up. Or you can find a solid pair of gloves that provide the warmth you need. In either case, you will want to ensure that you are keeping those digits warm. My preference in very cold temperatures is to wear mittens as you will receive added warmth by having the fingers together. You will lose out on some dexterity though. So, consider this if you are expecting to have active hands.
Hats, Hats, and more hats – how do you choose?
The warmth starts at your head, make sure it is properly covered during your winter camping trip. With so many choices regarding hats, it can be hard to choose. A warm hat covers both your head and your ears. You want the hat to be breathable, warm, and waterproof, in case it snows or rains. Merino wool hats are better than fleece, in that fleece is not always waterproof.
Winter Camping Trip Tents
Now, what is going to house you and your warm clothes during the evening? If your winter camping trips include winter weather, a four-season tent is recommended. Four-season tents are for high winds and heavy snowfall. These tents are specifically built for winter conditions, and they tend to be much warmer than three-season tents. Four-season tents tend to be double-walled to hold in the warmth.
---
Check out these Top 5 Affordable Four-Season Tents
---
It is important to have the right tent for any weather that you may expect. There have been times I have camped in the winter and a freak snowstorm has come upon me. Having a tent made to withstand snow and wind is critical to survival. So ensure that you are picking one with the best winter rating. Four-season tents can get pricey. You don't need the most expensive tent, however, you do want to make sure that you are purchasing quality even if it is second-hand.
M/center>
Winter Camping Trip Checklist
Make a checklist a few weeks before you leave on your camping trip. Make sure that you are including your layers! Always keep ahead of the weather, we all know that the weather changes quickly. Make sure to check weeks before and the night before, and prepare for sun, rain, wind, and snow. Some things to add to your list are the following:
Two pairs of shoes in case one gets wet.
Socks, Socks, and more socks!
Layers, and thermals for chilly weather both lower and upper body.
Two pairs of gloves.
Pants, and outwear pants for wintry weather.
A heavy and lightweight coat.
Hats for keeping your head warm
Tent specific to size and weather.
All of your food
Camp Kitchen
Activities
Sleeping bag and mat
Lighting (flashlights and lanterns)
Winter camping can be fun at any point during the cold season. However, if you are going over a holiday do not forget the special items to bring, such as your holiday dinner, gifts, and any decorations for your camping grounds!
Final Winter Camping Trip Thoughts
Winter camping trips can be safe in cold environments if you are prepared for the weather. It is critical that you learn how to layer in the winter. If you are not prepared there could be serious consequences. However, buying layered clothing in winter does not have to be expensive or difficult. Packing the right warm-weather clothes and wearing layers that are waterproof/moisture-proof is key. Most importantly leave those cotton products at home.
You and your tent should be able to withstand the weather conditions you are entering during your winter camping trip. You will enjoy extending your camping season through proper preparation. Enjoy your winter camping trip and stay safe!
We would like to hear about your winter camping trip go-to items in the comments, on our Facebook, or on Reddit!