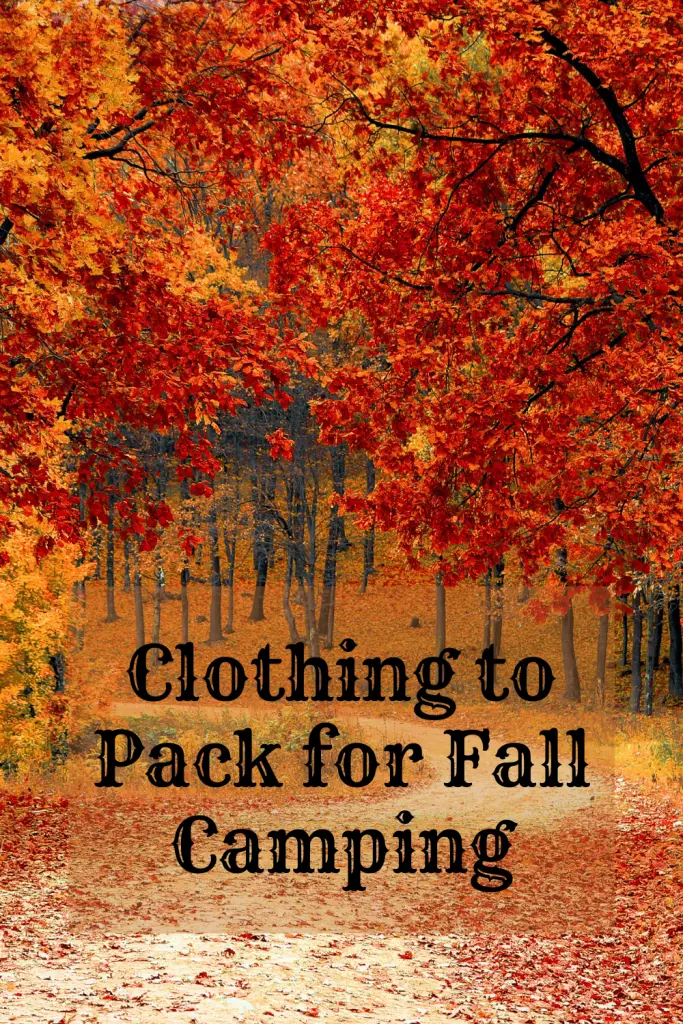 Just because the summertime comes to a close does not mean that you need to stop camping. Worse don't end your outdoor activities altogether. The fall brings cooler weather and more opportunities to experience nature in a different way. If you have never gone camping in the fall then you may be a bit nervous. You needn't worry any further though. In this post, I am going to share what clothing to pack for fall camping. There are some slight modifications to clothing that you will need to take into consideration. Hopefully, this quick guide and checklist will help to make sure that you have the clothing you need.
---
Missed fall camping but want to try winter camping? Check out these winter camping tips!
---
Why Camp in the Fall?
You may be thinking, "Ugh back to school and the daily grind after summer. Why would I want to plan on camping in the fall?" There are actually many reasons.
Summer is fantastic because you can take long trips to more remote locations with the whole family. However, nothing breaks up the monotony of settling into school and work in the fall than a camping trip. The weather starts to cool down. The night sets in earlier. Both of these together mean that campfires can be enjoyed more and for longer. Who doesn't want more quality time with the family?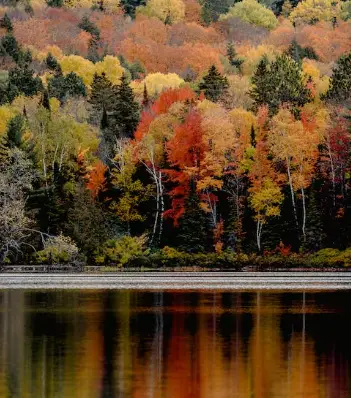 The fall season is also prime time for some activities in nature. Animals are out more frequently in the cooler weather. Not to mention that the bugs start to taper off. If you are anything like me that is blessing enough. I get absolutely eaten alive! Just as a quick tip, get the Bug Bite Thing, it is amazing at stopping those itches! If animals aren't your thing, then the fall foliage may be. No other time of year sees the trees painted with bright oranges, yellows, and reds. No two fall foliage gazing will be the same and each year is special.
With these added activities there is really nothing quite like camping in the fall. However, you still need to be prepared for anything that can happen. This is because the fall sometimes brings quickly changing weather. So you can be prepared by knowing the clothing to pack for fall camping.
Weather Preparedness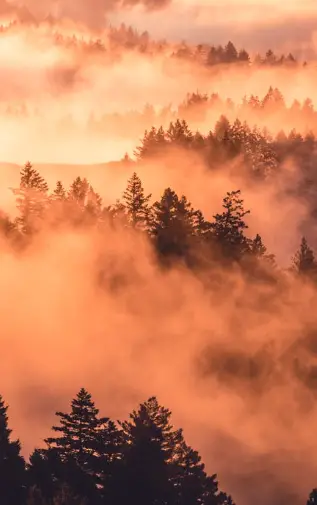 As I mentioned above, fall weather can change quickly from warm and sunny to cool and wet. While you won't always be able to predict how the weather is going to change, you can stay prepared. The first step in this preparation is checking the weather (I like NOAA) and doing it before heading out. It may be beneficial to take along a weather radio with you to make sure that you know what the day's weather holds.
This is not a post on gear though. However, knowing the weather can ensure that you put on the right layers so that you can adapt to any weather condition and stay comfortable.
It is very clear that the more clothing that you have on the better you are going to be able to regulate your body temperature. However, it is important to know what the layers are and how to best apply the layering system. If you put the wrong type of material next to your skin you are going to have a bad trip! There are three basic layers that you are going to want to have in your pack.
Each of these layers should work together and not hang or catch. Make sure to try your layers together to ensure that they do not interact poorly with each other or make a tight fit. These layers are the base layer, the mid-layer, and the outer layer and are essential to the clothing you pack for fall camping.
Base Layer Clothing to Pack for Fall Camping
This is the layer that is going to be the midweight material generally. It will be what is touching your skin and is the first set of insulation to the outside world. Generally, this is going to be your underwear layer. Its main intent is to help wick water away from your body. This layer includes things like long underwear, fleece pants, and some thicker type shirts.
So you will start with a base layer made of your choice in a light and breathable fabric. The goal is to keep your body warm and insulated. You will want to find a comfortable base layer made from wool, polyester, fleece, nylon, or silk. These types of materials help to wick water away and dry quickly. Never wear cotton clothing for your base layer. Cotton sucks heat away and is going to make you feel colder.
Mid Layer Clothing to Pack for Fall Camping
The Mid layer includes things like fleece pants, thicker shirts, and puffy pants/jackets. This is your real first chance to add some hefty heat collection through proper insulation. If the base layer is wicking moisture away from the skin then the mid-layer is in charge of doing the heavy lifting. This is the layer that will keep your body heat in. For the mid-layer, you want to choose products with proper insulation that are comfortable to wear. For the mid-layer think MTC or Material, Thickness, Coverage. Without one of these three pillars, you will likely not be retaining heat.
Since it is fall time you want to pack a few different options. This will help you to adjust to the changing temperatures that you will likely face. Not to mention that as evening sets in and things cool off you will have clothing to keep you warm. In most instances during the fall your mid layer will become your outer layer.
Don't forget your feet! If you are like me they can get cold quickly so make sure to have warm socks. Consider wool or synthetic materials for your socks so that your feet stay dry.
---
Check out these National Park guides for you Fall Camping Trip!
---
Outer Layer Clothing to Pack for Fall Camping
As mentioned above in most cases your mid layer will become your outer layer in the fall. This is because you will still have the benefit of mostly warm days. You may not need heavy outer clothing. However, if you are car camping having a heavy waterproof jacket and pants could help. These make up the bulk of this layer.
In the fall you will be getting some insulation factor from this layer, however the prime function is a bit different. Here you want to keep the water from outside penetrating all the way to your skin. Rain and fog can set in quickly in the fall. So this layer should not only be warming but also waterproof. Rain gear will be your fall time friend, trust me!
Aside from being waterproof, you will also want to make sure that it also provides wind protection. It is fairly normal to see wind/waterproof together on apparel today. You don't want to forget your hat, gloves, and sunglasses though as well. Remember that heat can escape through your head and on chilly evenings you may want to cover up with your favorite beanie. So toss it into your camping bag!
So, make sure that you are packing your rain gear or at the very least a poncho. Again don't forget your feet! Make sure that your hiking boots are waterproofed, or even consider a second pair.
Kid's Clothing to Pack for Fall Camping
In general, the clothing to pack for fall camping with children will fall in line with the layers mentioned above. However, children grow quickly. So you may be tempted to have them just pack their normal clothes. This may be fine but be cognizant of cotton clothing. You certainly want to make sure that they have a waterproof jacket and a warm base layer.
There is a huge market for used hiking gear and gear for children is no exception. You can likely find a lot of the gear you need for kids as second hand. You can also pass along the favor by donating or reselling this gear, if in decent condition. A little tip: check out thrift stores and they sometimes have some great way to find fall gear for children.
---
Find all your camping gear and clothing for less this fall.
---
Checklist: Packing Camp Clothing for Fall
[frontend-checklist name="Fall Clothing Checklist"]
[frontend-checklist name="Fall Clothing Checklist" type="pdf" title="Fall Clothing Checklist" linktext="Download the Checklist Now"]
Final Thoughts on Clothing to Pack for Fall Camping
Fall is one of my favorite times to go camping. I really enjoy having warm days to adventure out into the wilderness. On the trail I live for the cool evening where I get to circle around the campfire with my family. Those crisp evenings are everything to me. If you haven't tried camping in the fall it is certainly worth the experience. If you use this guide on clothing to pack for fall camping you are sure to experience an amazing fall adventure.
Use my checklist to make sure that you have the clothing you need. Don't forget that having a few extra items will ensure that if things get wet you can stay warm and safe. The evenings may be crisp and inviting but having those extra layers at night time will be good. You can always double up late at night in your tent where no one can see! In any case, enjoy those fall days and evenings.
What are your favorite parts of fall camping? We would like to hear about them in the comments, on our Facebook, or on Reddit!