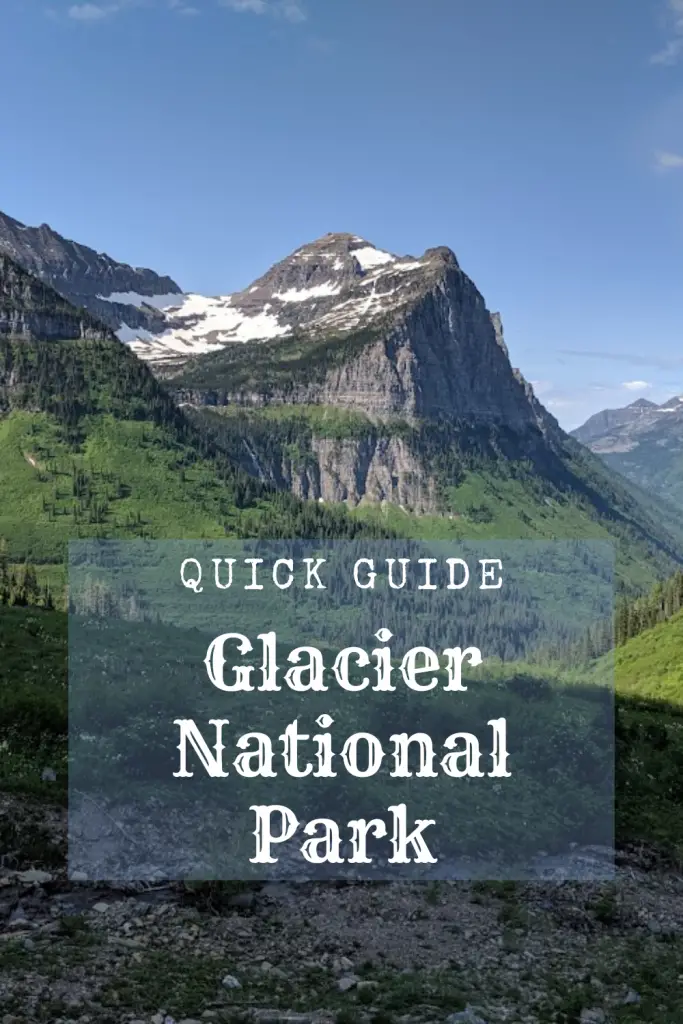 In northwest Montana, near the Canadian provinces of Alberta and British Columbia, is where you'll find Glacier National Park, an American national park. More than 130 named lakes, more than 1,000 distinct types of flora, and hundreds of diverse animal species are all found inside the park's more than 1 million acres (4,000 km2) of land. It also contains portions of two mountain ranges (subranges of the Rocky Mountains). Glacier National Park draws an average of 3.08 million tourists to Montana each year because of all the many attractions it holds. It is also one of the few places in the world where visitors can see glaciers that have existed for millennia. However, the park stands as a reminder of the changes we are causing in our ecosystems through climate change.
---
Check out these other National Park Quick Guides and plan your trip now!
---
Activities at Glacier National Park
At Glacier National Park, there are practically endless fun activities for single people, families, or especially your kids. The majority of these activities are:
Touring zip lines
Rock climbing
Rafting and kayaking
Mountain biking
Fishing
Golfing
Road biking
Horseback riding
Boat tours and rentals
Hiking
The Most Important Places to Visit at Glacier National Park
Apikuni Falls:
We advise taking the exciting and entertaining waterfall climb to Apikuni Falls. Although it is a shorter hike—2 miles roundtrip—there is some elevation gain. It's all worthwhile because of the secluded waterfall at the very end, and there's also provision for a tiny pool for the kids to play in.
Grinnell Glacier Lake:
It stretches both 5 miles long and wide. It is named after George Bird Grinnell. Surprisingly, the lake's opaque turquoise appearance is from rock flour. This material is transported to the lake via Grinnell Glacier. It is quite chilly to take a swim there.
---
Stay entertained even if it rains with these activities for your next camping trip.
---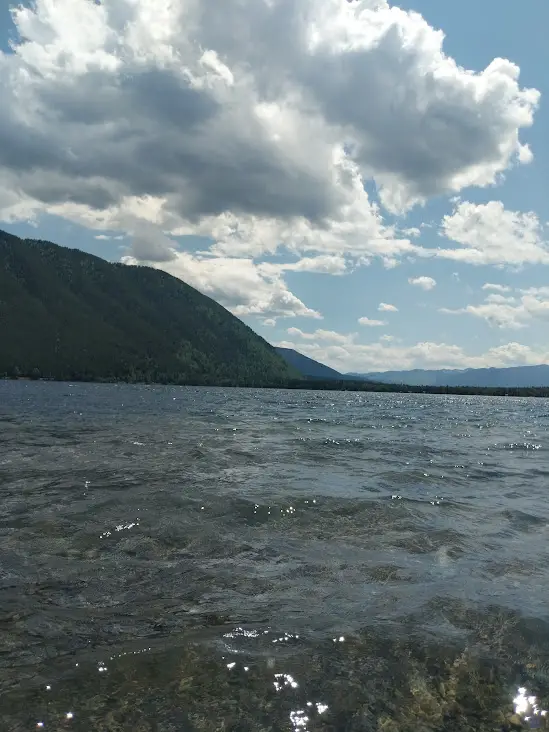 Iceberg Peak Towers Lake:
More than 3,000 feet above the lake, Iceberg Peak rises. Iceberg Lake, a well-liked day-hike location, is located 4.8 miles away from the Swiftcurrent Auto Camp Historic District. The water is wonderful and has a stunning shade of blue. If you're at Glacier National Park's Many Glacier Area, you must visit it. Regular hikers say that, for some reason, it is difficult to hike the iceberg, so if you're up for some challenge, there you have it.
Virginia Falls:
This is a spectacular waterfall and is a must see if visiting the glaciers on the St. Mary's side. From the parking lot, it is roughly one mile. Although Saint Mary's Falls is as lovely and where most people stop, this one is more magnificent and less crowded.
The Salamander Glacier:
At an average height of 7,200 feet above sea level, the Salamander glacier is located on a shelf on the east side of the arête, which is a component of the Pacific Coast. It is a great view, especially for taking the most memorable pictures.
Going to the Sun Road:
This is one of the most popular attractions at the park. You will wind back and forth up the mountains getting stunning views of the whole park. Don't forget to stop and enjoy the waterfalls and overlooks along the way. Just make sure to time your trip correctly as the road does not open at the same time as the park due to snow-clearing activities.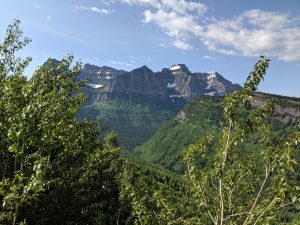 The Best Trails in Glacier National Park
The number of trails at Glacier National Park is practically limitless; they range from those that take you to the calmest waters to those that take you to the slopes for mountaineering. However, we carefully chose the following routes because they are mostly kid-friendly and convenient to navigate. Also bear in mind that most of the park's trails are off-limits to pets, so you might want to leave them behind before setting out on your excursion.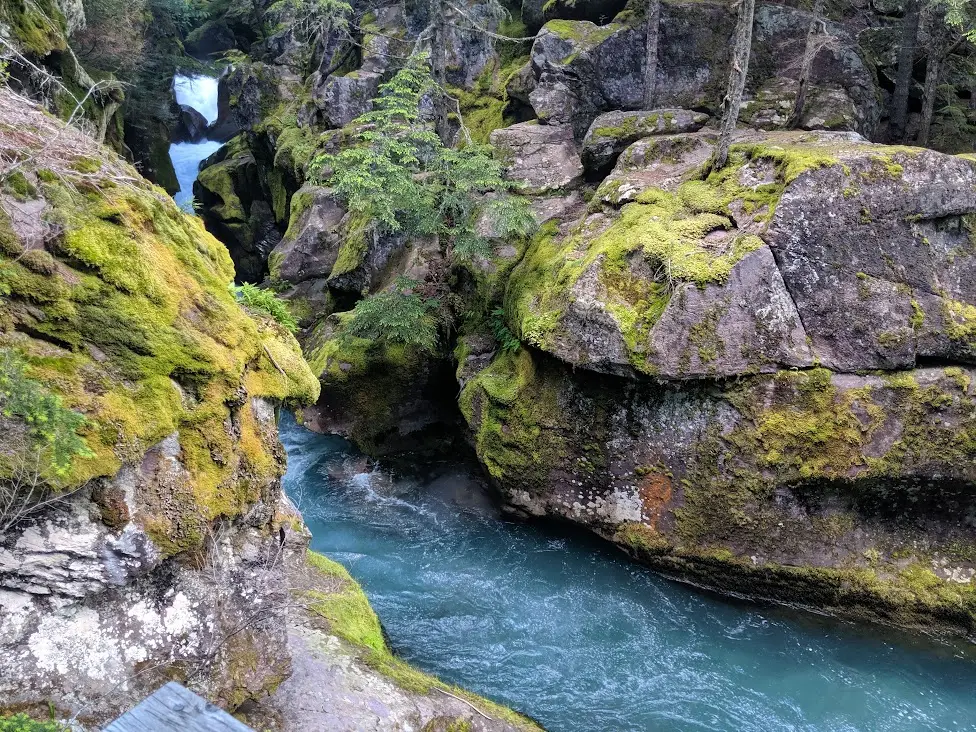 Trail of the Cedars:
This 0.5-mile loop route is located close to Lake McDonough in Montana. It usually takes 18 minutes to finish and is a simple hike. You'll probably run into other visitors while exploring because this is a highly popular location for camping, birdwatching, and hiking.
Redrock Falls via Swiftcurrent:
Take advantage of this 3.6-mile out-and-back track close to Siyeh Bend, Montana. It typically takes 1 hour and 16 minutes to exhaust this route. Hence it is thought of as one of the easiest routes to explore.
---
Which trail is right for you? Find out now!
---
Grinnell Lake Trail:
View this 7-mile circular route that is close to Babb, Montana. It typically takes 2 hours and 23 minutes to make this trip. Though long it is another simple hike. The months of June through October are ideal for hiking this trek. The park management states that dogs are not allowed on this trail, so obey park rules and leave them behind.
Johns Lake Loop:
It takes 44 minutes, on average, to accomplish this easy trek. The route is excellent for hiking, equestrian riding, and bird-watching. The route is best between April and October due to temperatures being perfect.
Upper McDonald Creek Trail:
This horseback riding path typically covers a distance of 5.6-miles. It takes an average of 1 hour and 53 minutes to complete. We didn't let you down on this one. It is also an easy route!
Lodging at Glacier National Park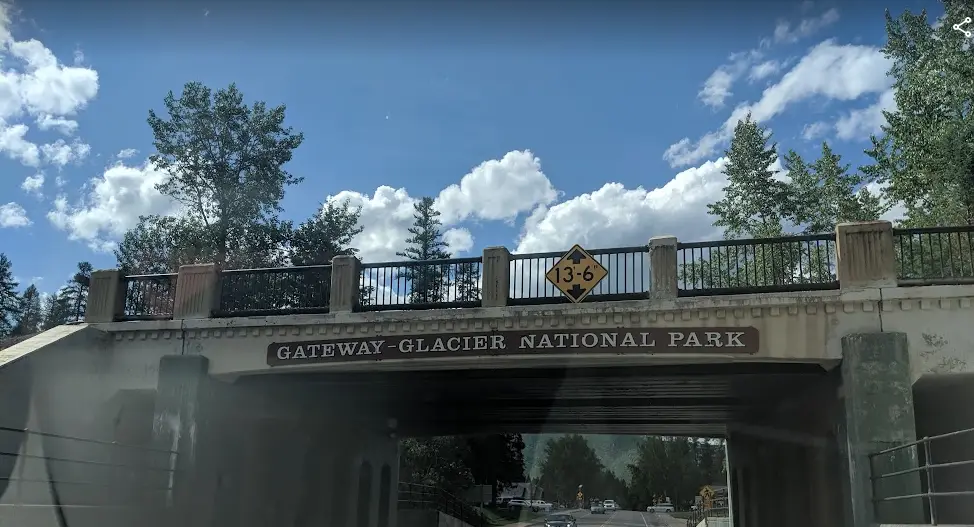 When you need a place to stay while exploring by yourself or with your family, don't stress yourself out trying to figure out where to stay since Glacier National Park provides housing options with all the necessary amenities and luxury to meet these demands. Here are a few:
At the entrance to Glacier National Park and the Going-to-the-Sun Road, West Glacier Village offers affordable lodging in a prime location, along with some of the greatest eateries and souvenir stores in the park.
These full-service cabins offer contemporary conveniences and space for up to four people. They can be located along the peaceful walk that leads into West Glacier Village and are nestled among a stunning pine and bear grass forest.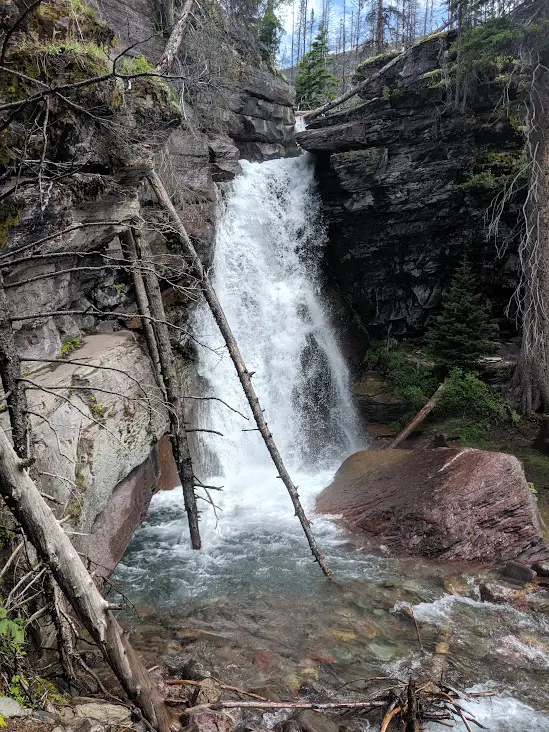 You might feel more at ease in an environment such as that of a recreational vehicle. The West Glacier RV Park is discretely nestled away behind the bustle of West Glacier Village. These fully furnished RV sites and cabins, which debuted in 2019, come with everything you need to feel at home while visiting Glacier National Park.
Glacier Basecamp Lodge, which is situated on 7 acres and offers a variety of physical activities and stunning mountain views, is only 15 miles from the most thrilling excursions in Glacier National Park.
The Belton Chalet, the first of the famous lodges constructed by the Great Northern Railroad, has been the original entrance to Glacier National Park for more than a century.
---
Set up your RV right when you pull into one of these campgrounds!
---
Apgar Village Lodge & Tents offers modest lodging situated on one of the nicest sites in Glacier, right in the center of Apgar Village, inside Glacier National Park. Steps from your hotel, you can rent a bike, go swimming in Lake McDonald, kayak on the tranquil lake, or trek through the forest.
The Motel Lake McDonald is tucked cozily close to the beaches of the largest lake inside the park and is situated 10 miles inside the west entrance of Glacier National Park on the Going-to-the-Sun Road. Cute and cozy, the guest rooms offer basic conveniences and a distinctive accommodation experience inside the park.
The Best Campgrounds in Glacier National Park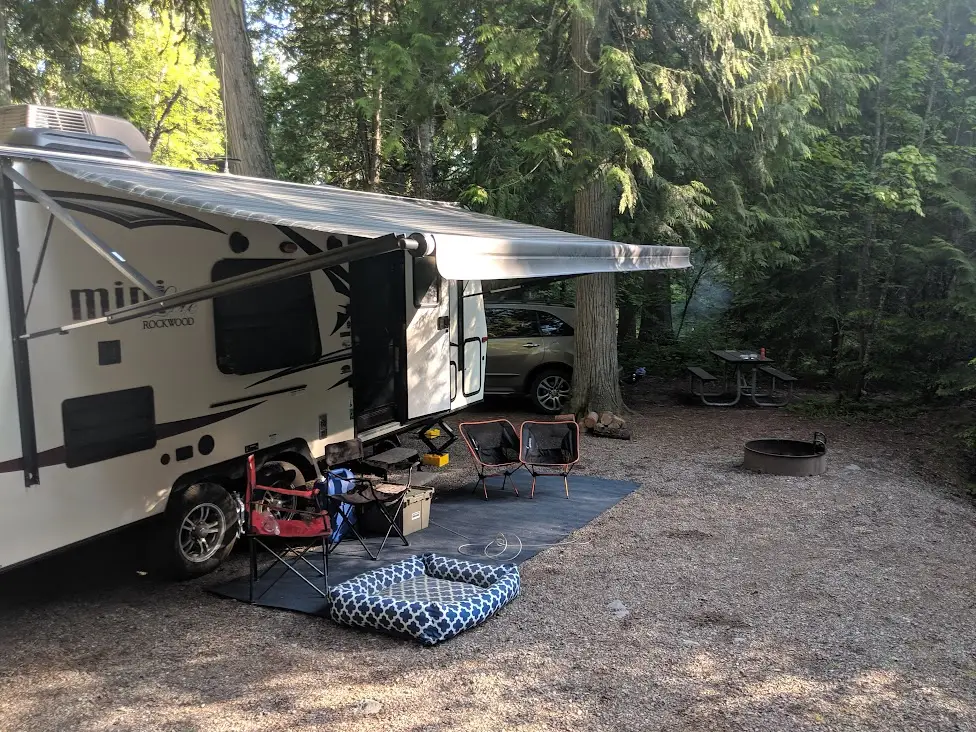 Here are a few famous campgrounds out of the many to choose from.
Fish Creek Campground
Apgar Campground
Rising Sun Campground
St. Mary's Campground
Also keep in mind that while in this park, using your car is the easiest method to get about the park. If you don't have one, there are several automobile rental choices available for you to get a feel of this breathtaking environment.
Final Thoughts on the Glacier National Park Quick Guide
Glacier National Park is one of my favorite parks. This is because there are soaring mountains coupled with crystal clear lakes. Kayaking out on the lakes makes me feel small every single time. I would be remiss if I didn't also mention the amazing hiking and animal viewing that is available within the park as well. Glacier is one of the few remaining places in the world where you can experience glaciers. It is a stark reminder that human-caused climate change is real and the effects will be devastating to this wild and cherished environment. So when you head to the park, remember to be respectful of nature. Take care of it so future generations can also experience the grandeur of this amazing park. Importantly though, connect with your family and be comfortable finding yourself in the outdoors. Gear up yourself and your family and await the most enjoyable experience ahead.
What is your favorite part of visiting Glacier National Park? Tell us in the comments below, on our Facebook, or on Reddit!