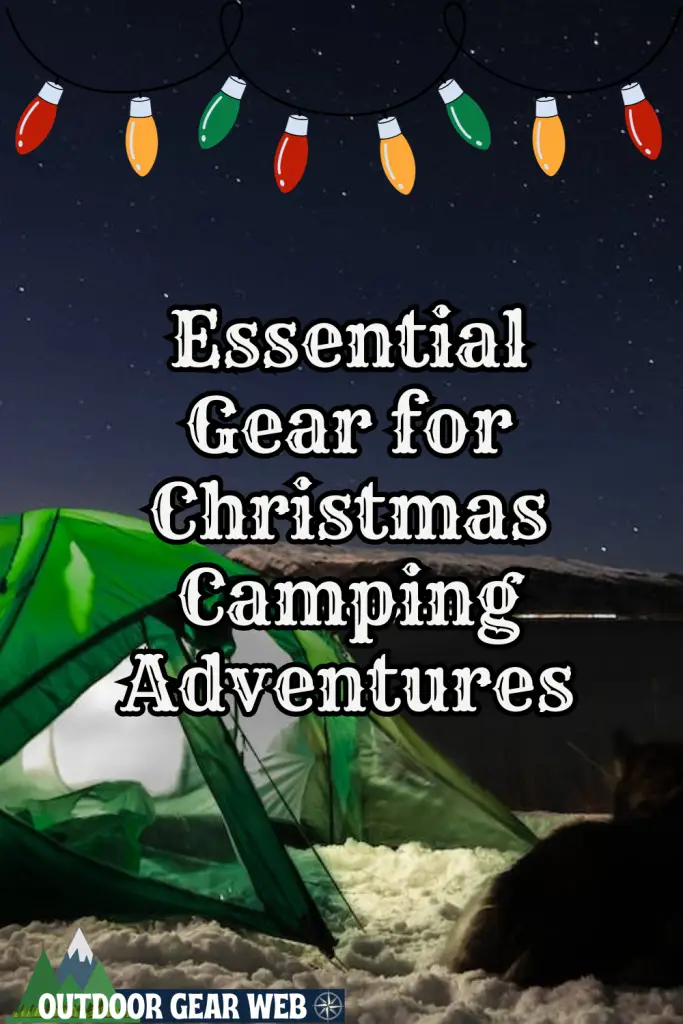 As the holiday season approaches, many folks find themselves drawn to the cozy glow of a fireplace, the comforting aroma of freshly baked cookies, and the warmth of home. But for a different kind of holiday spirit, there's a unique and adventurous tradition that's gaining popularity: Christmas camping. Picture celebrating the most wonderful time of the year amidst snow-covered landscapes. You will be under a starlit sky, with the crackle of a campfire and the scent of evergreen. To make your Christmas camping adventure truly magical, we've curated a list of essential gear for Christmas camping. This gear will ensure comfort, festivity, and unforgettable memories under the open sky. So, grab your warmest layers and your holiday spirit, because it's time to embrace the great outdoors this Christmas season!
---
The Best Outdoor Gifts for Christmas
---
Unleashing the Holiday Spirit Through Camping: A Gear Guide
Dreaming of hot cocoa by the fire? How about enveloped by the calming ambiance of a snowy night sky amid tall evergreen trees? If you're seeking adventure and looking to make this festive season phenomenal, then a Christmas camping trip may be your cup of tea. With the right gear, every frosty morning can give way to the joy of exploring nature's winter wonderland.
The most crucial camping item is a sturdy, four-season tent. A three-season model might seem adequate, but it's not equipped to withstand winter's harshest conditions. Bringing a four-season tent ensures stability and warmth. It will protect you from snow, hail, or icy winds that might seek to invade your cozy space.
Thermal sleeping bags are another must-have. Sure, snuggling under a regular sleeping bag with layers of blankets might seem like a good idea. That is until the temperature drops below freezing while you're in the heart of winter wilderness. Choose a sleeping bag designed to withstand temperatures even lower than you expect. A down-filled bag offers superior insulation, but if wet weather is a concern, a synthetic filled bag would be a more reliable choice.
Speaking of wet weather, a waterproof backpack will come as a boon. Camping in the snowy landscape is no joke, and the last thing you want is soaking clothes or gear dealing a blow to your holiday spirit. A backpack with waterproof features will keep all your belongings safe and dry. It is a perfect choice if snow or rain surprise you during your expedition.
Insulated clothing is essential. Stay warm, dry, and comfortable with quality thermal underwear, waterproof boots, down jackets, and gloves. Opt for materials like wool, synthetic or down, which stay insulative even when they are damp. And remember, layering is key to maintaining your body heat.
---
---
Despite the cold weather, a Christmas camping trip can turn into an amazing journey with the right set of equipment. A backpacking stove will be your best friend. Whether it's warming up some hot cider, melting snow for drinking water, or preparing a hearty, hot meal to finish the day, it's the tool you came to know you wouldn't survive without.
Do not miss out on lighting either. The winter nights are longer, and having good portable light sources besides the campfire is important. Lanterns, headlamps, and flashlights can illuminate your tent and trail, providing safety and comfort.
Lastly, let's add a sprinkle of holiday spirit to the gear list. Christmas decorations, festive snacks, camping-friendly gifts, and of course, plenty of holiday cheer are essential for this season. You're already stepping out of the box by going camping for Christmas. Why not go above and beyond by bringing the holiday spirit along with you?
Sure enough, packing for a winter camping trip might require a bit more preparation compared to your summer escapade. But with the right gear and festive mood, you'll experience a unique and thrilling adventure that will undoubtedly leave a mark. So, embark on this journey, equipped with the essential tools, Christmas spirit, and an ardent love for nature, and let the winter wilderness be your wonderland. Happy Camping!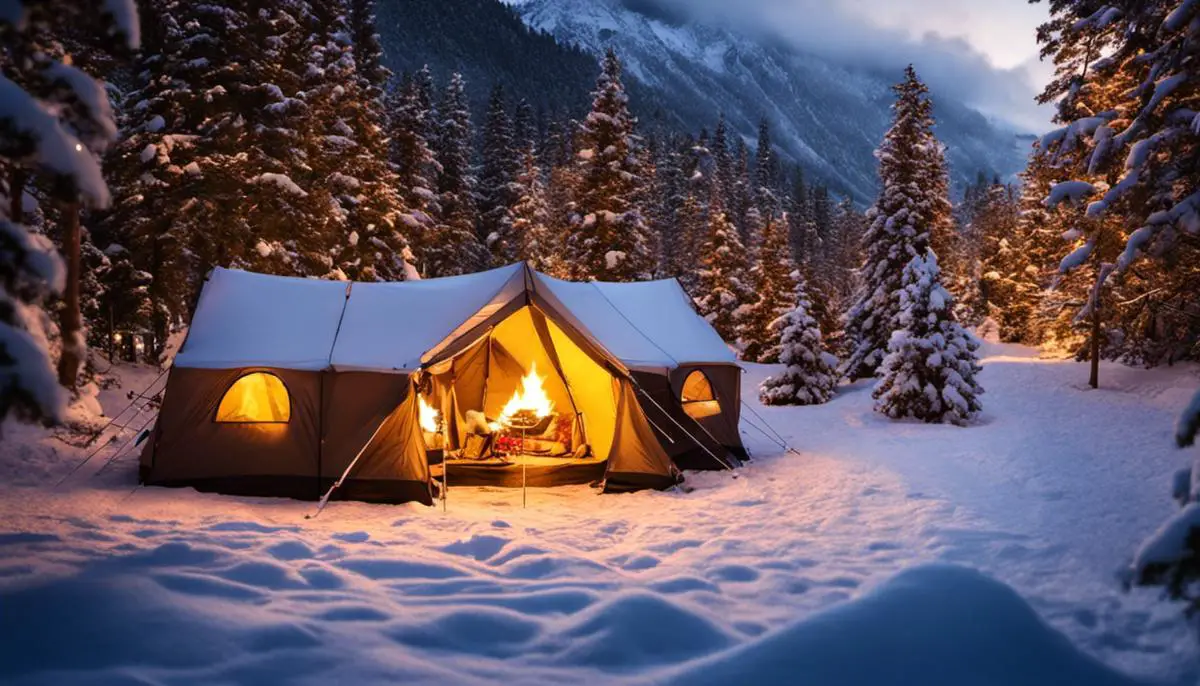 ---
Christmas Campsite Decorations
---
Essential Gear for Christmas Camping Activities in Nature
Venturing off the beaten path to uncharted territories like Joshua Tree National Park in Southern California or Olympic National Park in Washington state can be thrilling during the holiday season. Instead of a traditional Christmas tree, imagine the breathtaking sight of towering cacti embellished with twinkling holiday lights. Better still the majestic spruces of the Hoh Rainforest dusted with a sprinkle of snow.
In theory, it's alluring, but making it festive requires a bit of preparation and flexibility. It all starts with the right camping tools. Picture yourself unwinding in a hammock, its breathable material allows airflow while offering crucial insulation, thus being perfect for winter camping. Topped off with a thermal blanket, it turns into a cozy haven in the middle of the wilderness.
Hydration packs are another must-have. Unlike regular water bottles, these won't freeze in harsh winter conditions, and the insulated drinking tube ensures a steady flow without the inconvenience of ice clogs. Also, opt for moisture-wicking thermal underwear to stay dry and warm as you explore.
A battery-powered string of LED lights is lightweight, durable, and bright — ideal for draping around the tent or stringing in nearby trees. These electronic candles add warmth and ambiance, creating a magical atmosphere that complements the Christmas spirit.
An all-in-one camp kitchen set that includes a pot, pan, mugs, plates, and utensils can help prepare that hearty Christmas meal. Combined with a camping spice rack, stocked with festive favorites like cinnamon and nutmeg, it brings back memories of holiday treats. A portable outdoor propane heater is also great for those chilly nights, providing cozy warmth while kicking back to the sounds of nature.
Speaking of sounds, remember to bring speakers with a holiday playlist to keep the Christmas spirit alive. Songs like "Jingle Bells" or "Deck the Halls" echoing into the night will add a festive touch.
Opt for non-traditional Christmas decorations that are lightweight and serve a dual purpose like bandanas or scarves with holiday prints. They add cheer to the campsite but can also be used as a blanket, or tied around your backpack for a pop of holiday color. Similarly, consider decorating your tent with removable decals of snowflakes or reindeers.
Being in the great outdoors doesn't mean one has to forego the rituals of gift-giving. Small, useful items that are easy-to-carry are ideal camping gifts. Small LED flashlights, foldable cutlery, biodegradable soap, or inflatable pillows – with a bit of wrapping, they turn into thoughtful presents.
Indeed, camping during Christmas can be a unique experience. Away from the typical hustle and bustle, one can truly enjoy the serenity of the natural landscape, breathing in the crisp winter air, and celebrating the holiday spirit in a distinctive yet memorable way.
---
The Best Outdoor Gifts for Christmas
---
Final Thoughts on Essential Gear for Christmas Camping Adventures
As we wrap up our exploration of essential gear for Christmas camping adventures, we hope you're inspired to embark on a holiday experience like no other. Camping during this festive season offers a chance to create unique traditions, find solace in nature's beauty, and bask in the joy of togetherness under the winter stars. From cozy sleeping bags and twinkling lights to festive decorations and warm campfire meals, the right gear can elevate your Christmas camping trip into an unforgettable journey. So, as you prepare to venture into the great outdoors this holiday season, remember to pack these essentials and embrace the magic of a Christmas camping adventure that will fill your heart with warmth and your memory bank with cherished moments. Merry camping, and may your holidays be merry, bright, and filled with the wonder of nature!