Most of the time we get stuck in a rut making the same old main and side dishes when we go camping. To be fair there are only so many times that you can eat canned beans and hot dogs. When I am out camping I crave fresh ingredients too. I know, I know. You are thinking about the means to keep it fresh. I have the benefit of an RV refrigerator to help with that. However, the roasted ranch broccoli does very well in a cooler with some ice also. There is something about ranch and broccoli together that speaks to me. It has such a fresh flavor that I really enjoy. On top of that, it is super easy to put together and cook.
How's that old saying go? "So easy a caveman could do it!" I am not sure about that, but it is a quick prep and cook that I get the children in on. Sometimes I enjoy eating my roasted ranch broccoli as a full vegetarian meal. So let's dive in!
---
Check out our other recipes to go along with this delicious side dish!
---
Roasted Ranch Broccoli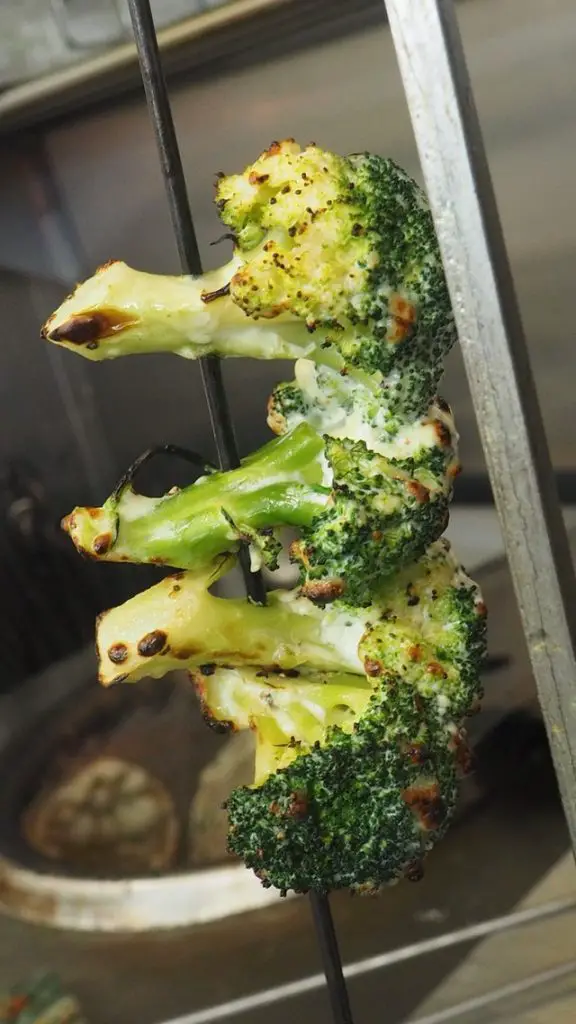 I won't belabor the point here too much. There really isn't much I can say about this dish. There are three simple ingredients. These blend together over the fire or grill to become a wonderful addition to your camp meal. I generally have the children help me mix the butter and ranch powder together. Then they skewer the broccoli onto the skewers. Finally, they do the basting and the turning as they cook! It is that simple. Sometimes simplicity creates deliciousness!
Substitutions
I wouldn't necessarily say that there are a lot of substations available for this recipe. However, you know me, I love to give you some options! I have tried this with cauliflower with similar success. The cauliflower does take a bit longer to cook through so pay attention to that. I have not yet tried it, but as I write this I am thinking it might be good to try this with some Brussel sprouts. If I did that I might also swap the butter for bacon grease.
If you are looking to stay true to the recipe with your veggie choice. Then you may want to also consider spreading some cheese. In the past, I have used cheddar, American, and pepper jack cheeses. I love how easy the American cheese melts. However, the cheddar and pepper jack cheeses add a whole new dimension of flavor. Plus who says no to cheese?
The Tools
This is a super easy recipe. That means that the cooking tools necessary are fairly limited. For starters, you can cook these over a fire, a camp stove, or a grill. For me using the grill hooked to the travel trailer is the easiest. It heats fast, and the food is sure to cook evenly. However, if you are looking for a real campfire roast then make sure you follow our Expert Campfire Cooking Guide to start and maintain your campfire.
Once you know how you are going to cook the roasted ranch broccoli, we need to decide on skewer type. For me, I love the reusable nature of metal skewers. I can simply wash them and have them for another meal. However, there is something to be said about wooden skewers going right into the fire when you are done. It is really up to preference as both have their positives and negatives. For instance, metal skewers can be more of a safety hazard for children. They do help to prevent rolling though with unique shapes. A wood skewer makes clean-up a breeze but may not be the most ecologically friendly option. They also require time to soak to prevent lighting on fire! Take your skewer choice into consideration before you head out camping. Here is a good user thread on preferences for both to help you decide.
---
If you need to build up an appetite then you should take a hike! Find your best trail with these tips!
---
Roasted Ranch Broccoli
Another delicious campfire side dish that is super quick to make. In fact, this is so easy that I often get my children involved in the making of it. I bet you can guess what this whole meal entails! That is right, it is a tangy ranch with fresh broccoli. This is a classic mix any day of the week but is especially delicious around the campfire.
Equipment
Skewers

Basting Brush

Campfire, Campstove, or Grill
Ingredients  
1

head

broccoli

split into florets

1

pkg

ranch dressing mix

1/4

cup

melted butter
Instructions 
Prepare a campfire for direct heat, or warm your camp stove/grill to medium heat.

While warming skewer individual broccoli florets onto the skewers.

Mix the melted butter and ranch seasoning packet together in a bowl.

1/4 cup melted butter,

1 pkg ranch dressing mix

Use the basting brush to baste the broccoli evenly with the melted butter mixture

Cook over the campfire, grill, or camp stove for 10-15 minutes depending on your heat level.
Notes
Camp Hero Notes:
If cooking on the campfire these can cook very rapidly and burn. Make sure to keep your eye on them.
If cooking on a camp stove or a grill I find that laying foil down first helps protect the stove or grill but is completely optional.
You can prep these at home and transport it in a zip-top bag. This will give the ranch seasoning a chance to combine with the butter.