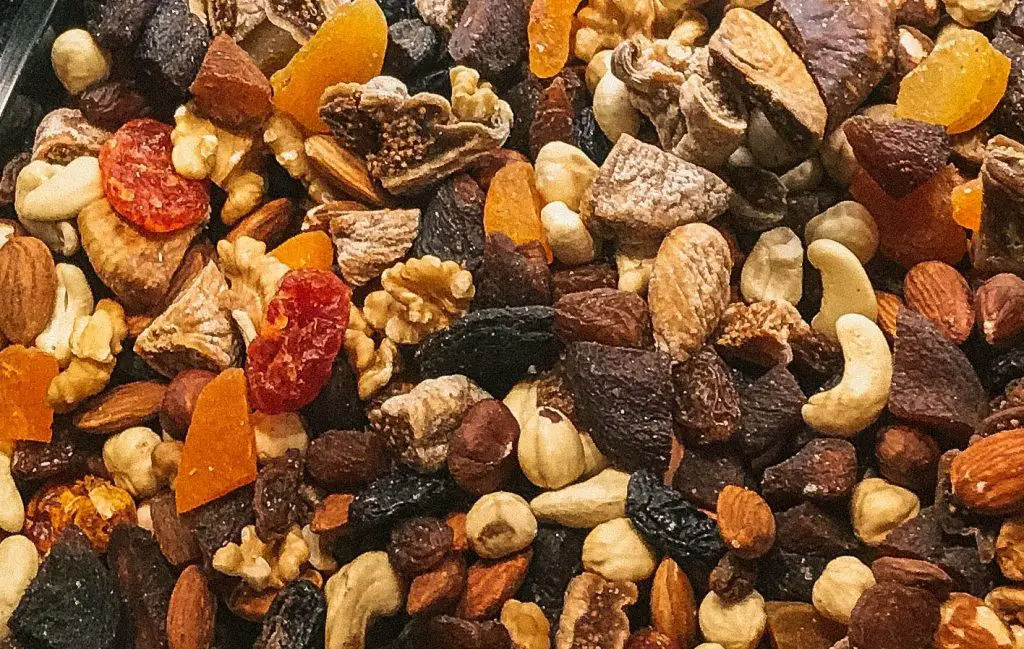 Get ready to head out onto the trails with this delicious mix. In fact, do I dare say you will be blazing some trails with it? Okay, I probably shouldn't have been that corny but luckily there is no corn in this blazing trail mix! You will find a delicious mix of nuts, dried fruits, and grains though. These ingredients are mixed with some spicy flavors so you will truly be blazing more than a trail. It should give you the giddy-up and go you need after a few miles of slogging down a wet trail.
I know that growing up I always had the traditional GORP at hand when I was out hiking. You know the stuff. A mix of Grains, Oats, Raisins, and Peanuts. This is the base for most of the trail mixes that you find in stores today as well. I have to be honest. I love GORP. I think it is delicious and hits the spot especially with some added M&Ms. However, it just seems so plain Jane the older I get. Now I want food that keeps me engaged as I eat it. I need something that wakes my taste buds. This blazing trail mix does just that. So, I always keep some on hand in my cupboard ready for my next hike.
---
Which hiking trail should you eat your Blazing Trail Mix on
---
Prep and Storage
Because I enjoy eating this mix so much I keep it on hand. That means that there is quite a bit of prep that is necessary almost on a near-weekly basis. Unless you are out hiking as much as I am or like having some trail mix around the house, you may want to know how to best store it for long-term use. Many may think that long-term storage of trail mix is okay. However, they would be wrong. The fact is that nuts do have a shelf life and will go rancid after about a month (conditions dependent). The dried fruits are also not shelf stable for an eternity. This pdf from UC Davis can help you better understand the storage requirements and impact. You will want to make sure that you are using up your mix in a timely fashion to prevent illness.
So how should you store it so that you are prepared for your trip but not rushing to make it the day before you leave? Well, you have a few options! I employ both. If I know that I am heading out to hike in the next week or two I will store it in a gallon zip-top bag. If I know that I am a couple of weeks out and going to be in the RV then I will use Mason Jars. In either case, I will portion out my blazing trail mix the night before into smaller zip-top bags so that I can reduce weight before the hike. I have not tried using a vacuum sealer to preserve the mix but this could be another option if you already have one on hand.
The Tools
I always like to have the tools that are necessary to make recipes. Especially, with camping recipes where you will be out in the wilderness and may not have access to your kitchen drawer. This is one of those instances where everything will be made and generally portioned at home. Therefore, there are really no tools to include. Now you could go the route of using a bowl and spoon for mixing which I have included in the recipe below. However, what I like to do is pour all of the ingredients right into the zip-top bag and then allow the littles to shake the bag to their heart's content. It gets them active in the kitchen and makes cleanup a breeze!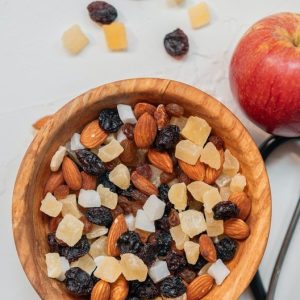 Blazing Trail Mix
Looking to blaze some trails? Well if you don't have a machete handy then this Blazing Trail Mix may ease that urge. With a little kick from the seasoning and the sweet from the dried fruit you are sure to have a little pep in your step out on the trail!
Ingredients  
1

cup

Almonds

1

cup

Cashews

1/2

cup

Dried Pineapple

1/2

cup

Walnuts

1/2

cup

Rolled Oats

1/2

cup

Raisins

1/2

cup

Dried apples

Chopped

1/4

cup

Honey

2

tbsp

Curry powder

1/2

tsp

Ground Coriander

1/4

tsp

Cumin

1/4

tsp

Paprika

1/4

tsp

Ground red pepper
Instructions 
In a bowl, combine all of the nuts, oats, and dried fruits.

1 cup Almonds,

1 cup Cashews,

1/2 cup Dried Pineapple,

1/2 cup Walnuts,

1/2 cup Rolled Oats,

1/2 cup Raisins,

1/2 cup Dried apples

Warm honey for about 10 seconds in the microwave so that it has a thinner consistency.

2 tbsp Curry powder,

1/2 tsp Ground Coriander,

1/4 tsp Cumin,

1/4 tsp Paprika,

1/4 tsp Ground red pepper

Pour warmed honey over the nuts and fruit and mix to have an even coating.

Once coated add spice mix to the bowl and stir to coat.

Allow to cool and then evenly distribute into ten snack size zip-top bags that are easy for carrying on the trail.
Notes
Camp Hero Notes
This includes the nuts and the dried fruit that I prefer. However, there are endless opportunities to customize this trail mix. The main part here is the mix of spices coupled with the dried fruit. So get creative!
Having individually portioned trail mix makes hiking easier. However, you could also store this in an air-tight container if you are going RVing!