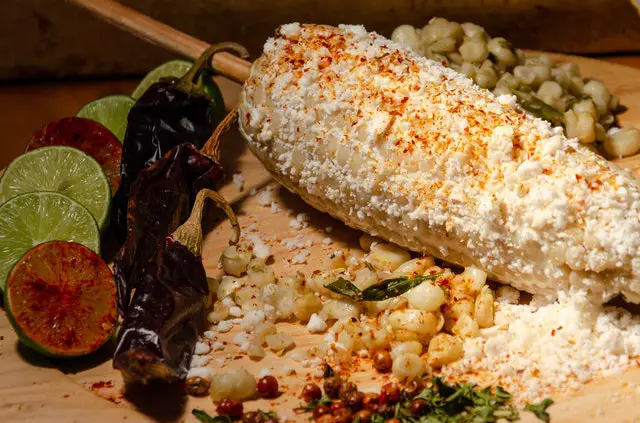 Are you looking to do something new around the campfire but can't get food trucks out of your head? Well, this campfire elote is going to knock your socks off! The elote is a classic Mexican street food. You may think that corn on the cob all on its own is not very filling. However, in this case, you would be wrong. In fact, this is one of the best Mexican-inspired dishes that I have made around the campfire and no one goes to the tent hungry! There is just something about the mix of sweet corn, creamy cheese, and spices that will get your campfire sizzling. Even the kids enjoy adorning their campfire charred corn with their favorite toppings. Trust me on this one you are going to want your Campfire Elote even when you get home! So dive into our simple five-step campfire recipe below.
Customize Your Campfire Elote
Here I go again! If you have been following with our recipes you know how much I adore having meals that are versatile. Not only does it make it easy to change things up but it helps with picky eaters as well. The campfire elote is no different in this regard. In fact, there are so many ways that you can make the elote your own. Here are a few different combinations that I have tried. As I do more around the campfire in the coming season I will add some more in. So make sure to come back! Please feel free to add your topping choices in the comments as well!
Wets
Mayonnaise
Butter
Sour Cream
BBQ Sauce
Spices
Chili Powder
Tajin
Salt
Pepper
BBQ Seasoning
Dried Rosemary
Cheeses
Cotija
Queso Fresco
Feta
Ricotta Salata
Cheddar Cheese
Goat Cheese
Blue Cheese
Other
Lime Wedges
Garlic
Cilantro
Parsley
Endless Options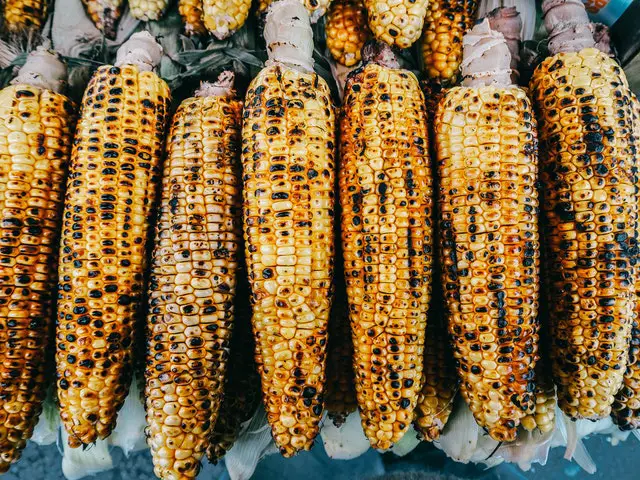 As you can see there are many different options provided in the table above. Now, obvi you wouldn't want to combine all of these at once. So here are the variations that we have tried.
Standard Campfire Elote: Follow the recipe below. Cotija Cheese, Sour Cream, Mayonnaise, Chili Powder, and Cilantro.
Hon Hon Hon Campfire Elote: Want to go a little French? Try making the recipe below but swap the ingredients for a Garlic Mayo, Goat or Blue Cheese, dried rosemary, and parsley!
Not so far south Campfire Elote: How about heading south but stopping before you hit Mexico? This BBQ inspired elote will make you feel like you are in a backyard BBQ with your favorite BBQ sauce, cheddar cheese, and a light dusting of your favorite BBQ rub. So will you make it Carolina, Kansas City, or Texas-inspired BBQ Elote?
The Tools
The great thing about this recipe is that there are really no tools that are necessary. All you really need to have a successful meal is corn and a campfire. However, you can make life a little easier depending on how you would like to cook the corn. You can use a campfire grill grate prepared with or without tinfoil. You could even use some roasting sticks and let the kiddos roast that corn themselves right over the flames. If you go this route make sure the sticks are sturdy as corn cobs can be heavy! Finally, and this is completely up to you, but you may want some corn cob holders to make eating your delicious elote a little cleaner. But hey, your camping so dig in and get a little messy!
---
Better learn to be an expert campfire chef for this one!
---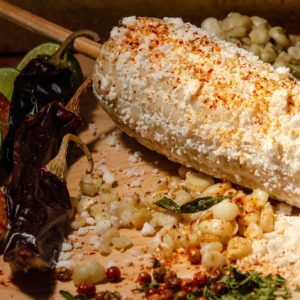 Campfire Elote
Nothing screams summertime like tasting delicious corn on the cob. Now you can make it an entire meal with our campfire Elote. This Mexican Street Corn is sure to kick your campfire meals up a few notches with a mix of sweet corn and spicy toppings!
Ingredients  
4

Ears of corn

shucked

Kosher salt

Cotija Cheese

Finely Chopped

1/4

cup

Mayonnaise

1/4

cup

Sour Cream

1/4

cup

Cilantro

chopped

1/2

tsp

Chile Powder

1

Clove of Garlic

Minced

1

Lime

in wedges
Instructions 
Start campfire and generate coals for high heat or preheat campfire or grill to high

Add corn and cook, turning often, until charred all over, about 10 minutes.

While cooking combine the cheese, mayonnaise, sour cream, cilantro, chile powder, and garlic into a large bowl. Stir until evenly mixed.

Cotija Cheese,

1/4 cup Mayonnaise,

1/4 cup Sour Cream,

1/4 cup Cilantro,

1/2 tsp Chile Powder,

1 Clove of Garlic

Remove from fire to tin foil. Salt the Corn with the cosher salt.

Top with Cotija Cheese mixture, serve with lime, and enjoy!