After an enjoyable day out on the lake, it is always nice to have a quick meal that can be made by the open campfire. This campfire foiled fish dinner will provide you a way to use that fresh catch of yours to its fullest. Recently after trying out some of Orcutt's Advantage lures that were provided to us we gave this recipe a shot. Feel free to check out our fishing expedition and review! We found that the sweetness from the white wine mixed with the tomatoes, dill, and garlic really complemented the bass that we had caught. Luckily, you can cook this campfire foiled fish dinner with any white fish that you catch! Also, as you start to get more comfortable with cooking fish explore other seasoning combinations. Tell us in the comments below the types of seasonings that you would add to the meal to make it your own. So don't let the enjoyment of fishing stop with the catch and release. Take some of those fish back to your campsite and enjoy a delicious meal. Then you can show off the picture of the catch and your delicious meal.
We obviously recommend taking time to catch your own fish. However, if you have a bad day or are feeling lazy you can substitute store-bought fish for this recipe. Don't be afraid to try fishing even if it is your first time. We have you covered with which lures work best to land your first or hundredth fish! In either case, you are going to have a delicious meal!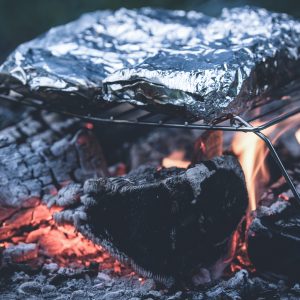 Foil fish
After a successful day of fishing there is no easier way to treat your fish then to quickly steam it over a set of hot coals. For the moistest and most delicious catch of the day try this on your next camping trip!
Equipment
Campfire Coals

Heavy Duty Aluminum Foil

Heat Resistant Gloves or Long Tongs
Ingredients  
4-8

Fish Filets

Use whatever fish you caught that day!

3

tbsp

Butter

5

Cloves of Garlic

1

cup

White Wine

20

Cherry Tomatoes

cut each tomato in half

4

Sprigs

Dill

Salt and Pepper to taste
Instructions 
Start your campfire early and make sure that you have enough coals to cook.

If you haven't done so already, filet your fresh fish. You can also do this with a whole fish but make sure to descale first!

Lay out four equal pieces of foil on your work space. Approximately 10-12 inches in length or at least long enough to cover your food.

Fold the sides of the foil up to create a bowl. Once you have your bowl evenly divide the White Wine between the four foil bowls.

Salt and Pepper Both Sides of the fish filets

Lay the flat side of cut tomatoes down into the foil bowls. This will create a sort of table for the filet to rest on and provide a gap to allow for steaming and prevent direct contact with the cooking surface.

Set fish on top of tomatoes. Then evenly divide Butter, Garlic, and Dill across all packets.

3 tbsp Butter,

5 Cloves of Garlic,

4 Sprigs Dill

Seal the foil packets by folding the two short ends to the center and then bringing the long ends together. Roll the long end down towards the fish and crimp. Be careful not to puncture the foil.

Cook over campfire coals or charcoal briquettes until the fish flakes easily with a fork (about 10 minutes.)
Notes
Camp Hero Cooking Tips:
You are steaming the fish using this method. While normally with a foil packet we would tell you to flip it, try to avoid that here.
Your cooking time is going to vary depending on the size of your filet. Try to avoid opening the packet as you will let the much needed steam out, but you do want he fish cooked so that it just flakes when you break it with a fork. 
Use the even heat of campfire coals instead of the direct heat of the campfire flames. Gentle and easy does it with this recipe!
Don't forget your heat resistant gloves or long tongs at home!