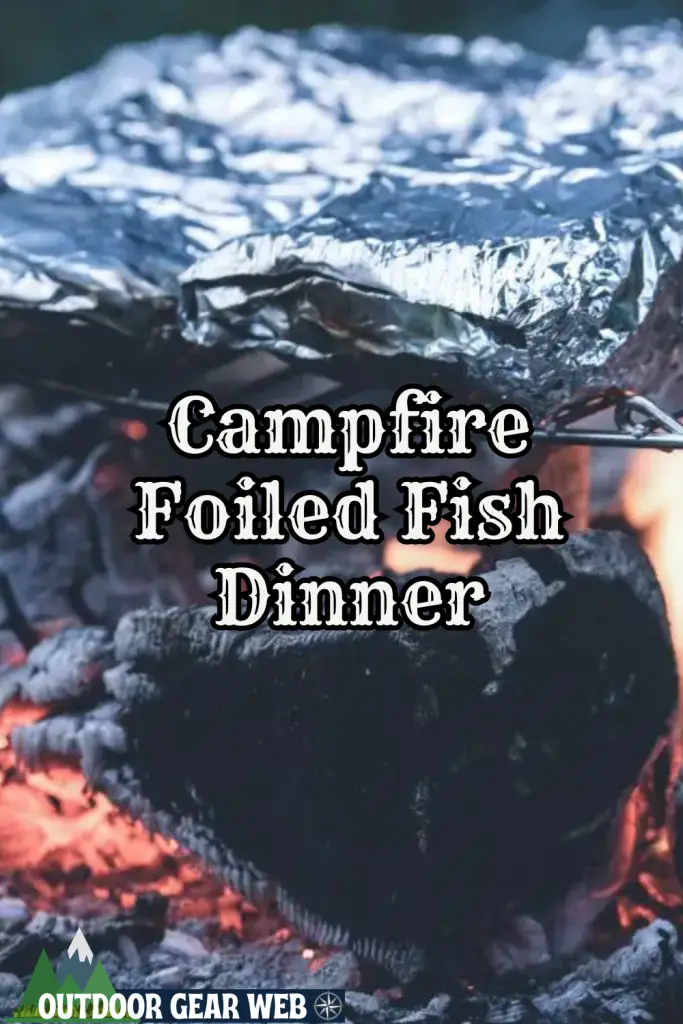 After an enjoyable day out on the lake, it is always nice to have a quick meal that can be made by the open campfire. This campfire foiled fish dinner will provide you with a way to use that fresh catch of yours to its fullest. Recently after trying out some of Orcutt's Advantage lures that were provided to us we gave this recipe a shot. Feel free to check out our fishing expedition and review! We found that the sweetness from the white wine mixed with the tomatoes, dill, and garlic really complemented the bass that we had caught. Luckily, you can cook this campfire-foiled fish dinner with any white fish that you catch! Also, as you start to get more comfortable with cooking fish explore other seasoning combinations. Tell us in the comments below the types of seasonings that you would add to the meal to make it your own. So don't let the enjoyment of fishing stop with the catch and release. Take some of those fish back to your campsite and enjoy a delicious meal. Then you can show off the picture of the catch and your delicious meal.
We obviously recommend taking time to catch your own fish. However, if you have a bad day or are feeling lazy you can substitute store-bought fish for this recipe. Don't be afraid to try fishing even if it is your first time. We have you covered with which lures work best to land your first or hundredth fish! In either case, you are going to have a delicious meal!
The Foiled Adventure Begins
So, there I was, embarking on yet another outdoor adventure with a heart full of excitement and a backpack stuffed with foil. Yes, foil, that magical kitchen companion that never gets the credit it deserves. You see, I have a secret love affair with foil packet meals, especially when it comes to campfire cooking. On this particular occasion, I was determined to make the best campfire fish dinner ever. Armed with a fishing rod, a can-do attitude, and a profound love for all things foil, I ventured into the wilderness.
A Fishing Tale with a Twist
Now, I must confess that I'm not exactly an expert angler. Picture me, with my fishing rod, looking like I'd watched one too many fishing shows on TV. But hey, I was all in for the experience. So, there I stood by the river, practicing my casting technique with mixed results. After several entertaining attempts (and perhaps a few fishy witnesses laughing underwater), I finally caught a decent-sized fish. Triumph! It was a 'reel' moment, pun entirely intended.
The Foiled Fish Masterpiece
Back at the campsite, it was time to turn this fresh catch into a culinary masterpiece. My trusty foil came to the rescue. I laid out a sheet, placed the fish in the center, and started piling on the deliciousness. Lemon slices, fresh herbs, a dash of butter, a sprinkle of salt, and a pinch of pepper. But wait, the real genius touch was the addition of some colorful bell peppers and a handful of cherry tomatoes. As I expertly folded the foil into a neat packet, I couldn't help but feel like a culinary superhero preparing to save dinner.
The Campfire Conundrum
With my foil packet masterpiece ready, I approached the campfire with all the confidence of a Michelin-star chef. What could possibly go wrong? As it turned out, campfire cooking isn't always as easy as those cooking shows make it look. My fish packet met a bit of turbulence when it decided to become an impromptu firecracker, sparking quite the spectacle. It was a comedy of errors, with me hastily rescuing my dinner packet from the flames, looking like I'd just starred in my own action movie.
The Foiled Fish Miracle
Despite the fiery mishap, I wasn't about to let this adventure end in defeat. With a few adjustments and a little less bravado, I gave my fish another shot. This time, it was a success, and when I unfolded that foil packet, the aroma that greeted me was nothing short of heavenly. The perfectly cooked fish, infused with all those campfire flavors and a hint of smokiness, was a taste of victory.
In the end, my foiled fish dinner turned out to be a story of resilience, laughs, and a truly memorable meal. It just goes to show that sometimes, the most fantastic adventures are the ones seasoned with a little humor and a touch of foil. So, if you're ever feeling adventurous by the campfire, don't forget your trusty foil—because, with a bit of courage and a dash of creativity, you can turn any camping mishap into a delicious memory. Happy foiled fish feasting!
The Tools
The tools that you will need for this recipe are fairly straightforward. In fact, there really isn't much to it at all. You will need to build up a great campfire to get some hot coals ready. As your fire is getting ready you will need to pull out your aluminum foil, prepare your fish as below, and then place it on the grill grate that you have brought. So in total, you will need aluminum foil, tongs, and a grill grate. Pretty easy if you ask me! Feel free to use other safety accessories as well like fire-resistant gloves or an oven mitt. Better yet, if you are like me, you will have your trusty camp wine glass to enjoy a little more of the white wine as you cook. In any case, you will really enjoy this easy meal!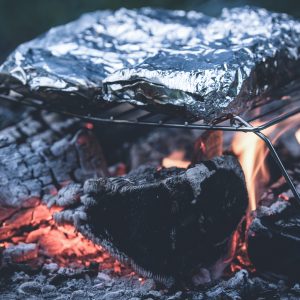 Foil fish
After a successful day of fishing there is no easier way to treat your fish then to quickly steam it over a set of hot coals. For the moistest and most delicious catch of the day try this on your next camping trip!
Equipment
Campfire Coals

Heavy Duty Aluminum Foil

Heat Resistant Gloves or Long Tongs
Ingredients  
4-8

Fish Filets

Use whatever fish you caught that day!

3

tbsp

Butter

5

Cloves of Garlic

1

cup

White Wine

20

Cherry Tomatoes

cut each tomato in half

4

Sprigs

Dill

Salt and Pepper to taste
Instructions 
Start your campfire early and make sure that you have enough coals to cook.

If you haven't done so already, filet your fresh fish. You can also do this with a whole fish but make sure to descale first!

Lay out four equal pieces of foil on your work space. Approximately 10-12 inches in length or at least long enough to cover your food.

Fold the sides of the foil up to create a bowl. Once you have your bowl evenly divide the White Wine between the four foil bowls.

Salt and Pepper Both Sides of the fish filets

Lay the flat side of cut tomatoes down into the foil bowls. This will create a sort of table for the filet to rest on and provide a gap to allow for steaming and prevent direct contact with the cooking surface.

Set fish on top of tomatoes. Then evenly divide Butter, Garlic, and Dill across all packets.

3 tbsp Butter,

5 Cloves of Garlic,

4 Sprigs Dill

Seal the foil packets by folding the two short ends to the center and then bringing the long ends together. Roll the long end down towards the fish and crimp. Be careful not to puncture the foil.

Cook over campfire coals or charcoal briquettes until the fish flakes easily with a fork (about 10 minutes.)
Notes
Camp Hero Cooking Tips:
You are steaming the fish using this method. While normally with a foil packet we would tell you to flip it, try to avoid that here.
Your cooking time is going to vary depending on the size of your filet. Try to avoid opening the packet as you will let the much needed steam out, but you do want he fish cooked so that it just flakes when you break it with a fork. 
Use the even heat of campfire coals instead of the direct heat of the campfire flames. Gentle and easy does it with this recipe!
Don't forget your heat resistant gloves or long tongs at home!