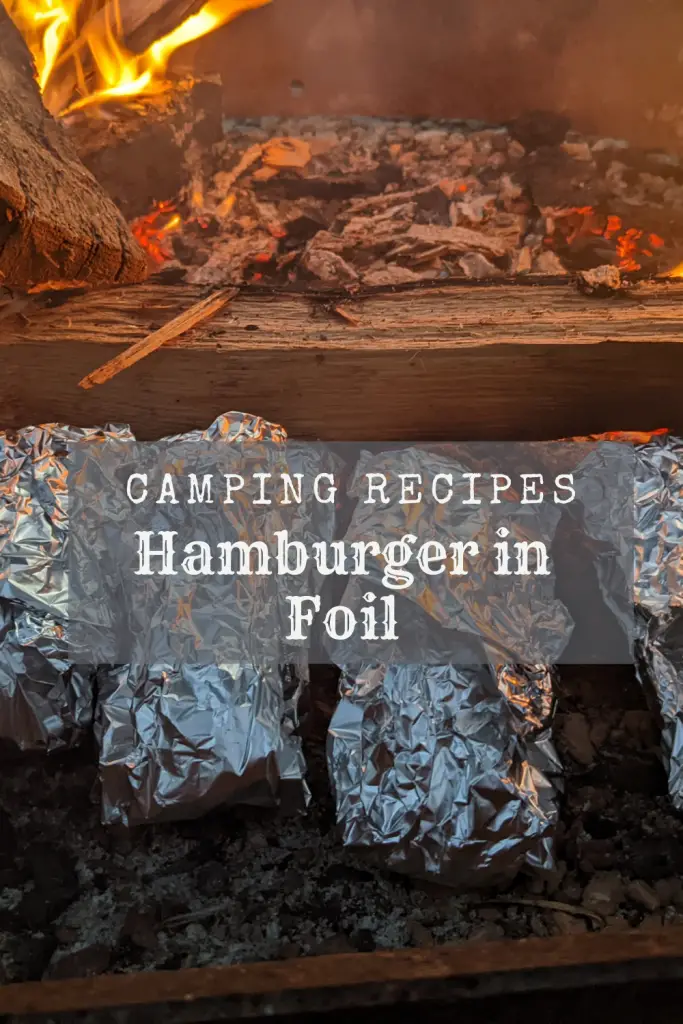 After an enjoyable day out on the trail, it is always nice to have a quick campfire-made meal. While cooking hamburgers on a grill would certainly be easier it is not always the case that you will have a grill handy. That is where these hamburgers in foil come in. It allows you to still enjoy a customized hamburger right from the campfire. Additionally, you don't have to worry about trying to clean and use a grill over the fire pit! This hamburger in foil recipe provides you with a way to quickly fill your tummy with good food. Let's be honest, you may not even want to wait until after hiking for this one. I love that I can allow my children to customize their burger after it is done cooking.
You don't have to stick with just hamburgers in a foil meal! Check out our foil chicken dinner which provides a ton of options for changing up foil meals!
Between you and I, the first night of hitting the campsite is always the hardest to rally cooking motivation. After driving, sometimes hours, to reach the campsite, then taking the time to set everything up, I am not really looking to cook. However, starting a fire while we get camp set up is a low-difficulty task. In fact, the coals are ready when I am ready to start cooking. This coupled with the fact that I can do the prep at home makes this a no-brainer for a first evening meal. So, let's roll up our sleeves and prepare this easy Hamburger in foil!
Hamburger Variations
As mentioned above, there are limitless variations to the foil pack meal. I have some great options for changing them up with the Foil Chicken Dinner. However, there are tons of options just for this hamburger in foil recipe alone. This is evident in the fact that you can find hundreds of different burger options at any restaurant you go to! Want to see some really interesting things? Check out these burger options from around the world on Imgur by user crypto! My mouth is already watering! So if you need something a little more than a burger and bun give these additions a try. They will change the cook times and prep that you need to do, but let's be honest, a custom hamburger will set the camping trip off to a great start!
Not to mention it will get picky eaters involved so they get exactly what they want! So get children involved by allowing them to make their own creations!
This is a small list of all of the creations. Seriously if you didn't check out that Imgur link above use that for some ideas! The worldwide creativity is amazing!
Protiens/Cheese
Bacon
Ham
Pastrami
Egg
Sausage
Should I list every cheese? There are too many so pick your favorite they will all taste great!
Vegetables
Peppers
Onions
Mushrooms
Jalapenos
Tomatoes
Lettuce
Pickles
Avocado
Sauces and Seasonings
Salt and Pepper
Garlic
Onion
Premade Season Mixes like Montreal Steak Seasoning
Ketchup
Mustard
Mayo
Teriyaki Sauce
Worstershire
Barbeque Sauce
The Tools
Luckily since this is a foil pack recipe there are not many tools that are necessary. In fact aside from a few mixing utensils you really only need a campfire. You will want to make sure that you prepare your campfire appropriately following our expert campfire cooking guide. This will give you a leg up on making sure that you have the right level of heat and intensity available for cooking your foil chicken. Additionally, make sure that you have proper precautions in place to ensure you are safe around the fire. Things like fire gloves and tongs will save you from singing your hair or worse.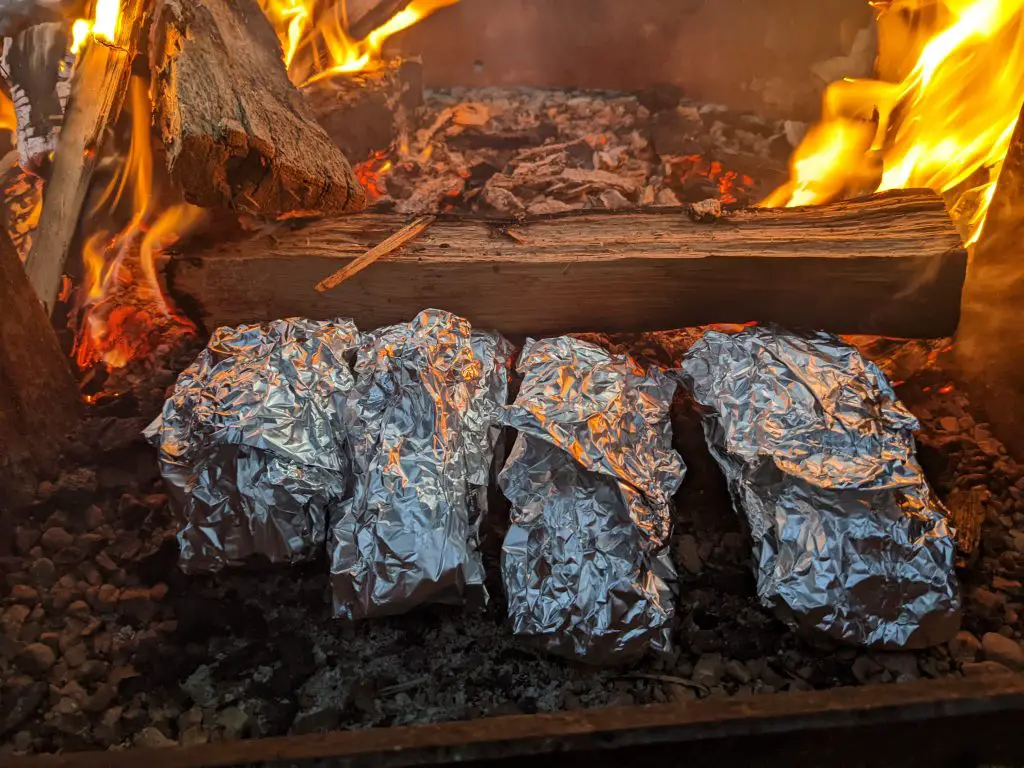 I like recipes like this that use minimal tools. They are put together quickly and I welcome the easy cleanup. Just crumple up the foil and toss it into the trash bag! Especially after a long day of hiking, biking, or kayaking.
---
Want a different kind of campfire meal? These top 8 campfire meals will wow your camping crew!
---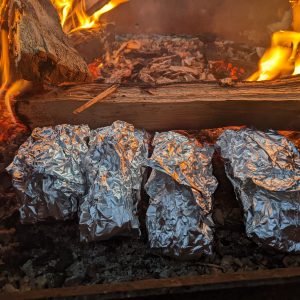 Burgers In Foil
A quick hamburger meal right from the fire. Yes, please. While cooking over a grill is easy you may not have a grill and these foil hamburgers will be just as amazing. So get these burgers in your belly!
Equipment
Foil

4 -16-inch squares of foil
Ingredients  
4

Hamburger Patties

Frozen or thawed. Add more if you are extra hungry!

2

sm

Green bell peppers

chopped

1

sm

Onion

Worcestershire sauce

Salt & pepper

To Taste

Hamburger Buns

Cheese of Choice

Condiments

Ketchup, Mustard,
Instructions 
Prepare campfire to cook over indirect heat

2 sm Green bell peppers,

1 sm Onion

Trim foil to the appropriate length and add the hamburger patties to the foil.

Top with equal portions of chopped onion and peppers.

Add Worcestershire sauce (2-3 tsps or a few shots from the bottle), salt, and pepper, to taste, to the top.

Worcestershire sauce,

Salt & pepper

Seal foil, checking for leaks.

Place on hot coals for 10 to 15 minutes per side.

Remove carefully and eat right from the packet or add to buns. Feel free to add your favorite cheese and use you favorite condiments!

Hamburger Buns,

Cheese of Choice,

Condiments