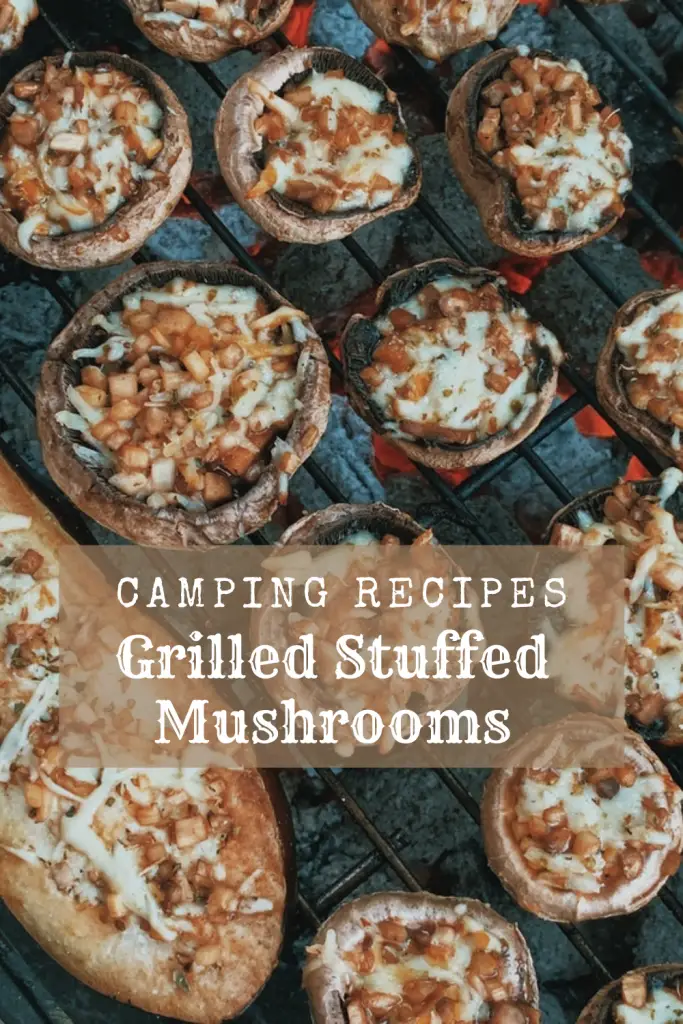 Nothing screams summer camping like grilling hot dogs and hamburgers over an open fire. These camping classics are sure to please everyone. However, not every camping trip has to be littered with simple food like this. Instead, why not try something a little different that will become your new favorite grilled food. Why do I think that these grilled stuffed mushrooms will become your new favorite? Well, they are crazy simple to make, they can be prepped ahead of time, and they are full of flavor! So it is time to transform your grill game with this delicious recipe!
---
Want to try another fresh vegetarian meal? Check out our Mediterranean Camp Mix!
---
A Vegetarian Cookout
Okay, I know that the grill is the traditional home of red meat and dry rubs. However, I promise that you are going to thoroughly enjoy this vegetarian cookout even if you are a carnivore. The reason for this is portabella mushrooms are extremely meaty in texture. Not to mention that they will have delightful crispiness just like the crust on a good brisket.
It isn't just the texture though that will remind you of your summer cookout. No, these are stuffed with creamy goat cheese and melty mozzarella cheese. Not to mention that the caramelized onions just take the whole flavor profile to the next level!
One of the hardest parts about grilling is all of the waiting that you have to do in order to get that delicious meat into your mouth. Luckily, this recipe is a quick one from prep to cook to eat. However, you can speed this process up even faster by completing your prep at home before you head to the campsite. Simply bag in a zip-top bag or some Tupperware and add to the cooler. The mushrooms will be ready for the grill as soon as you have the campfire built!
Vegetarian Meal or Vegetarian Appetizer?
Well, I think that I hit the mushroom mark on this meal and showed that it has a lot to offer from the grill even if it isn't meat. Is it a full vegetarian meal though? Yes! Using large portabella mushrooms will ensure that you have a full delicious meal to serve your camping partners. Large portabella mushrooms can be upwards of 3-5 inches in diameter! That with the stuffing makes this a very filling meal.
If you simply must grill other things then this can be easily ported into an appetizer. Luckily, most supermarkets now carry baby portabella mushrooms. In most cases, they are already cleaned for you! Which saves even more time in prep. Using smaller mushrooms makes these great as finger food as you are tooling around the campsite. So even if you need to make a meat-filled meal you can still enjoy the taste and experience of something a little different as an appetizer!
Substitutions
Ok, here I go again! I always have to give a couple of options on these recipes. Let's face it I have children and they can be picky little monsters sometimes! The good kind, like Cookie Monster. While they will adamantly swear that they hate mushrooms they actually eat them quite a bit. However, on those times when it is suddenly not cool to eat mushrooms, I have a secret weapon!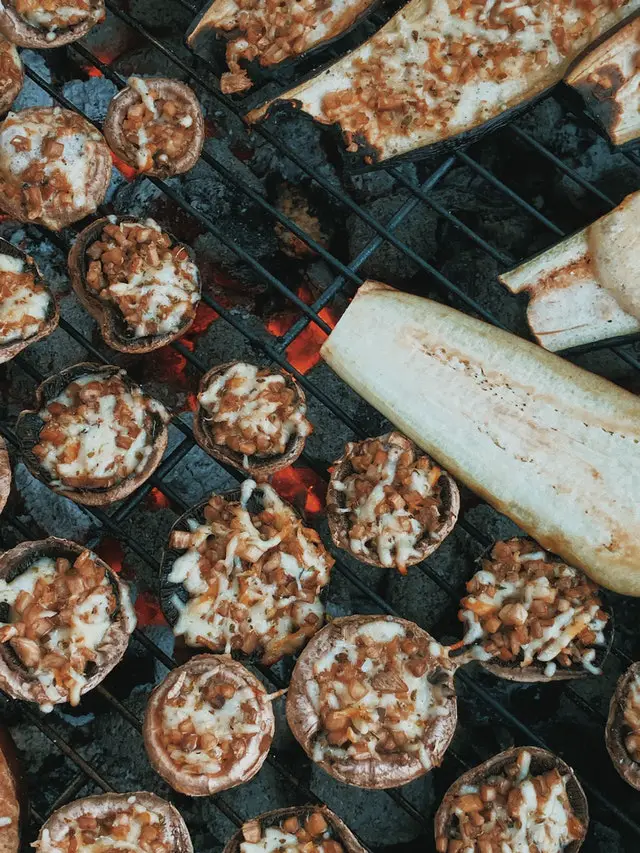 You will notice in the picture of these grilled stuffed mushrooms that there is also an eggplant on the grill. The stuffing that I use for the mushrooms also pairs well with eggplant. The cooking time does vary with the eggplant as it is thicker. So if you would like to give the eggplant a try then make sure to add time to your grilling!
Another delicious addition to this vegetarian meal is sun-dried tomatoes. Let's face it goat cheese and sun-dried tomatoes are just meant to live together in harmony. They also serve to freshen up the flavor a bit and are quite nice on a summer's day! If you choose to add sun-dried tomatoes to the recipe then I would recommend reducing the rice by half!
The Tools
The whole prep process for this recipe is only ten minutes and is extremely simple. Likewise, the tools that are necessary are also simple and straightforward. You will need to prepare a campfire and ensure that you have a grill grate. Most campfire rings have these but if not consider carrying a grill grate with you when you camp. This particular model allows for swiveling the food away from the fire. This is incredibly handy when it comes to these mushrooms as you can test doneness without cooking your hand!
Aside from that, you will need some basic kitchen utensils like a spoon and some tongs. Having a bowl handy to mix all of the ingredients together is also a must. You will find that even with a simple set of tools you can have an amazing flavor explosion!
---
Learn how to become an expert campfire chef now!
---
What would you stuff your mushrooms with? Let us know in the comments below or on our Facebook, or on Reddit!
Grilled Stuffed Mushrooms
You may think that this is a fancy meal when you are done cooking it. At least your campmates will think so. The meatiness of the mushrooms will completely hide the fact from those mea- eaters that this is a vegetarian dish! Stuffed with grilled onions, a blend of cheeses, and a little rice you are sure to come away filled!
Equipment
Campfire with Grill Grate

Pan

Bowl

Spoon

Tongs
Ingredients  
4

large

Portobella mushrooms

1/2

cup

Goat Cheese

1/2

cup

Mozzerella Cheese

2

Large Onions

Diced

1

cup

Prepared Rice

2

Tbsp

Olive Oil

1/4

tsp

Salt

1/4

tsp

Black pepper

Cooking Spray
Instructions 
Prepare campfire for grilling over medium heat.

Heat the pan and 1 tbsp of the olive oil over the campfire coals.

Saute the diced onions until they are brown but not burned. If you have time I prefer to completely caramelize the onions.

In a bowl combine the cheeses, cooked onions, remaining olive oil, salt, pepper, and rice until completely mixed. It is okay to smash everything together in the bowl in this step.

1/2 cup Goat Cheese,

1/2 cup Mozzerella Cheese,

1 cup Prepared Rice,

2 Tbsp Olive Oil,

1/4 tsp Salt,

1/4 tsp Black pepper

Clean mushrooms removing the stems if still attached. Place on a flat surface and spray with the cooking oil.

4 large Portobella mushrooms,

Cooking Spray

Spoon the filling mixture into the mushrooms.

Place the mushrooms, stuffed side up, directly onto the grill grate. Cook for 10 mins over the coals or until mushrooms are tender.
Notes
Camp Hero Notes
All of the prep work and stuffing for these can be completed ahead of time saving you even more time at the campsite.
The children love doing the mixing of the stuffing. Especially because I always allow mine to really mash everything together.
You will notice in the picture stuffed eggplant as well. Some in my family are not fans of mushrooms and we found that the filling is just as good in eggplant!
You can use baby portabella mushrooms to make this an appetizer, or if you just prefer bite-sized morsels!