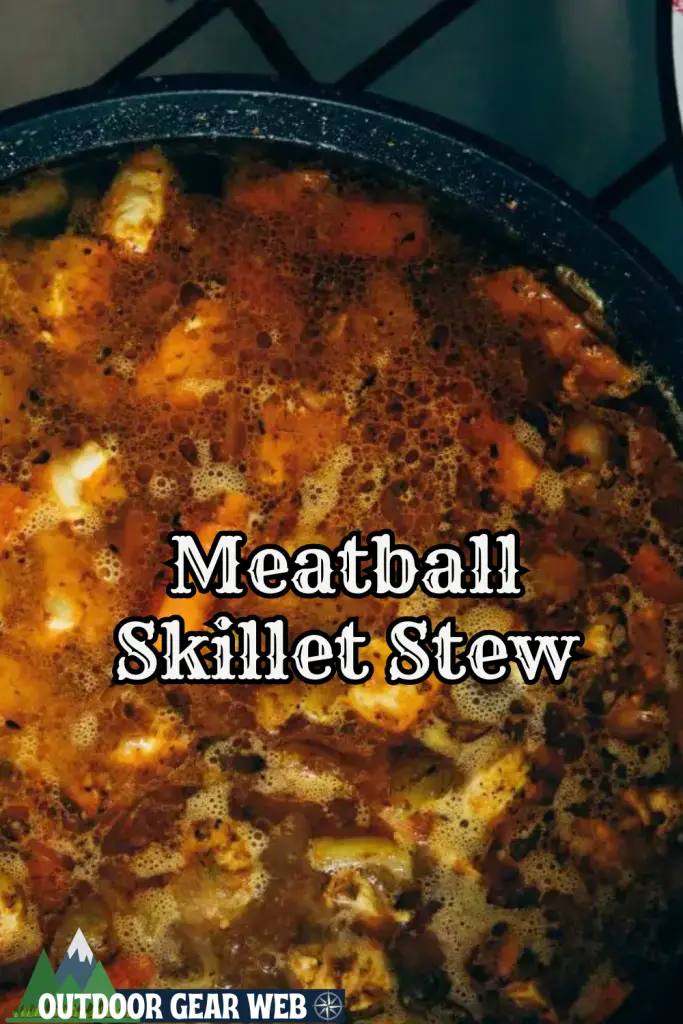 If you are ready for a hearty meal on your fall camping trip then look no further than this meatball skillet stew. The recipe is very fast to make when out at the campsite on your camp stove and is sure to warm you up. If you have an RV and access to a cooktop then this is especially a meal for your fall camping trip. With a mix of hearty vegetables like carrots and potatoes and seasonings like thyme and bay leaves you will want to go back for seconds! The great thing is you don't have to tend to a campfire all day to get the same delicious stew flavor. Plus you can pair the leftover wine with your meal. So after a long hike in the chilly fall air give our meatball skillet stew a try on your next trip!
---
Try this meatball skillet stew out at one of these campgrounds in Hawaii.
---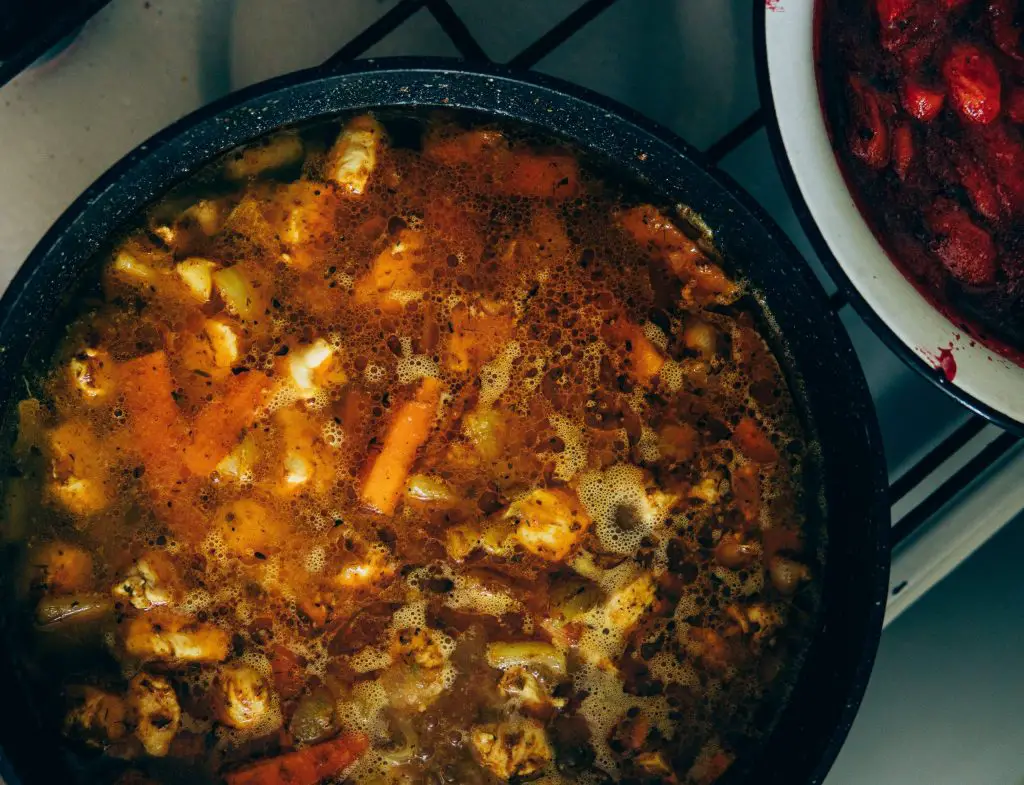 A Campfire Legacy
There's something about a campfire that ignites a sense of wonder and nostalgia in me. Growing up, our family's annual camping trips were the highlight of the year. They always revolved around the campfire. This was our place where stories came to life, laughter filled the air, and unforgettable memories were forged. However, one tradition that stood out among all the campfire-cooked delights was our beloved Meatball Skillet Stew. We had it almost every time that we went camping. It's quick, easy, and delicious.
The Camping Ritual
As soon as our rustic campsite was set up, my parents would get to work on preparing our first meal. Undoubtedly it was the Meatball Skillet Stew. At the time my sisters would always complain about having the same thing. Looking back with fond memories, I would say it wasn't a camping trip without it. This hearty dish was more than just a meal. It was a family ritual. My siblings and I eagerly helped assemble the ingredients, from the plump, seasoned meatballs to the colorful medley of vegetables. The cast-iron skillet sizzled over the open flame, infusing the air with the mouthwatering aroma of simmering stew.
---
This meal is delicious on a rainy day. You may still need some waterproof pants to block the rain though.
---
The Crackling Campfire Symphony
As the stew bubbled away, our campfire roared to life, casting dancing shadows on the surrounding trees. The sound of crackling wood and the warmth of the flames were mesmerizing. While we often complained we still huddled around the fire. We eagerly anticipate the moment when the stew will be ready. The taste gracing our lips. With the sun down and the autumn chill in the air. We were ready. The stars above twinkle like diamonds in the night sky. Our campsite was bathed in the gentle glow of lantern light. It was a canvas for family togetherness. Core memories that I look back on in fondness now.
Moments of Connection
As we gathered around the campfire, our bowls filled with steaming Meatball Skillet Stew, conversations flowed effortlessly. We shared stories of our day's adventures – hikes to hidden waterfalls, wildlife encounters, and the thrill of exploring uncharted territory. A ghost story here or there was always welcome. It is probably why I always tie my horror stories to food now. The stew brought us closer together. Its rich flavors and heartwarming essence serve as a backdrop to the bonds we cherish.
A Recipe for Lifelong Memories
To this day, whenever I prepare Meatball Skillet Stew, I'm transported back to those cherished camping trips. It's more than just a dish; it's a recipe for lifelong memories. Indeed the taste of the tender meatballs, the vibrant vegetables, and the savory broth takes me back to the crackling campfire, the starry skies, and the warmth of family. It's a reminder that the best moments in life are often the simplest. A warm meal is shared with loved ones by the campfire. Where the flames flicker like the memories we hold dear.
The Tools
The great thing about this recipe is that in general, it is going to use tools that you have available in your camping gear already. A camp stove is the biggest piece of equipment you will need. If you are just starting your camping career or need advice on upgrading your camp stove check out our camp stove as essential gear guide. This will help you learn all you need while also providing some insight into potential camp stoves you may want to purchase.
Additionally, you will need standard kitchen tools like a deep-sided skillet, knives, cutting boards, melon ballers, a mason jar, and a mixing spoon. The fantastic thing about this recipe is that you can do all of your prep at home. That way you can use your kitchen for a controlled environment. Placing the meatballs into one zip-top bag and the veggies/spices in another will save space in your cooler. Then you also only need to pack your pan and a spoon saving space in your pack.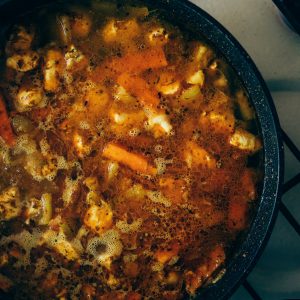 Meatball Skillet Stew
This delicious stew will keep you warm on those cool camping evenings. It is only a twenty-minute recipe which means that you will be warming by the campfire both inside and out in no time. While this recipe does have some prep involved, more than a can of soup, it is fantastically delicious. With fall just around the corner start planning your camping menu with this recipe.
Equipment
Skillet with deep sides

Spoon

Camp Stove

Melon baller

Mason Jar
Ingredients  
1/4

lb

Ground Beef

1

lg

Onion

Thinly sliced

4

Carrots

Thinly sliced

2

Potatoes

Peeled and sliced thinly

3

sticks

Celery

Thinly Sliced

1

cup

Beef Stock

2

Bay Leaves

1/4

tsp

Dried Thyme

2

tsp

Garlic Powder

1/4

cup

Red Wine or Tomato Juice

2

tbsp

All Purpose Flour

Salt

To taste

Pepper

To taste
Instructions 
Use Melon Baller to shape the meat into tiny meatballs

Place Skillet on the camp stove and set around medium heat

Brown meatballs in skillet

Stir onion into skillet and cook till translucent

Add beef broth into skillet and bring to a boil

Add the remaining veggies to the skillet as well as the seasonings

4 Carrots,

2 Potatoes,

3 sticks Celery,

2 Bay Leaves,

1/4 tsp Dried Thyme,

2 tsp Garlic Powder

Cover the skillet and cook on low heat, 15 mins or until the veggies are tender.

Combine wine (or tomato juice) and flower in a covered jar and shake until combined

1/4 cup Red Wine or Tomato Juice,

2 tbsp All Purpose Flour

Pour the thickened wine into the skillet and stir until the sauce is thick, about four minutes
Notes
Camp Hero Tip – Complete all of your prep work at home for this recipe. Melon ball the hamburger, cut all the veggies, and prep your wine and flour. Use individual gallon zip-top bags to keep the meat separate from the veggies. This will save you time and space in your cooler.
This recipe goes great with some dutch oven biscuits!