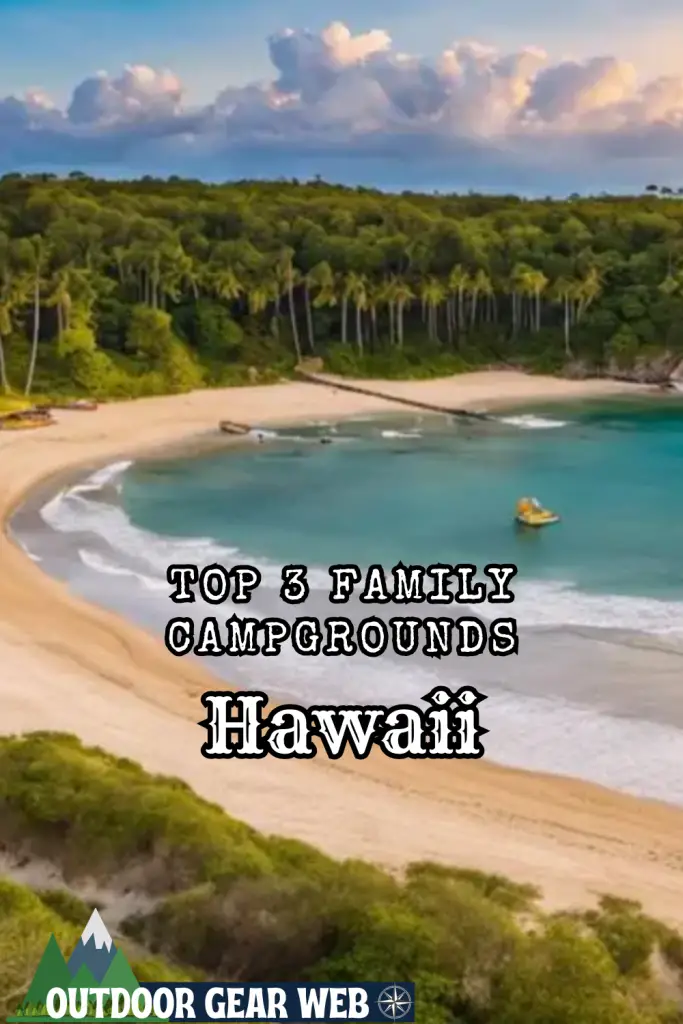 When it comes to a quintessential tropical getaway, Hawaii arguably stands apart. This is because of its gem-like islands, lush greenery, and pristine beaches. However, beyond the luxurious resorts and bustling cities, Hawaii's campgrounds provide a great avenue for families to experience nature at its finest. Offering a unique blend of beachside fun and adventurous exploration, campgrounds such as Malaekahana Beach Campground, Volcanoes National Park, and Bellows Field Beach Park provide an unforgettable camping experience. Each location possesses unique characteristics, including spectacular wildlife viewing and water sports, that can make a family adventure even more exciting. So let's dive into the top three family campgrounds in Hawaii.
The Ideal Setting: Malaekahana Beach Campground
Located on the picturesque North Shore of Oahu, Malaekahana Beach Campground presents an idyllic setting for a family camping experience. The campground expands over a large area. It provides ample space for families to set up their tents and revel in the beauty of the lush Hawaiian surroundings. This is why Malaekahana Beach Campground is on our list of the top five family campgrounds in Hawaii.
Family Friendly Activities Nearby
Camping at Malaekahana is not just about sleeping under the stars, it's about creating memorable family experiences. Right outside your tent, a plethora of exciting activities awaits. You can enjoy a refreshing swim in the crystal clear waters or participate in thrilling water sports such as bodysurfing. Rentals for kayaks and paddleboards are readily available, which further amplifies the aquatic fun for your family.
Nature Exploration: Forest for Hiking and Wildlife Viewing
For nature enthusiasts, the proximity of the campground to a beautiful forest enhances the appeal of Malaekahana Beach Campground. Within a short walk, families can plunge into the green expanse for an adventurous hike. Here they can appreciate the exotic flora and potentially spot some of Hawaii's unique wildlife. This encounter with nature adds an educational and exploration aspect to the camping trip. That way you can transform it into a comprehensive outdoor experience.
Easy Accessibility to Amenities
Despite its secluded and serene locale, Malaekahana Beach Campground is not removed from essential amenities. Convenience stores and eateries are within close vicinity, ensuring that families can readily obtain supplies or grab a quick meal. This will also help in case you have forgotten any of those camping necessities!
Vacationing with Safety in Mind
Last, but not the least, the safety of campers is a priority at Malaekahana Beach Campground. Staff are always available to address any concerns or provide assistance, ensuring that your family's getaway remains enjoyable and worry-free. Moreover, the campground is known for its cleanliness, providing a safe and hygienic environment for families to enjoy their vacation in Hawaii's great outdoors.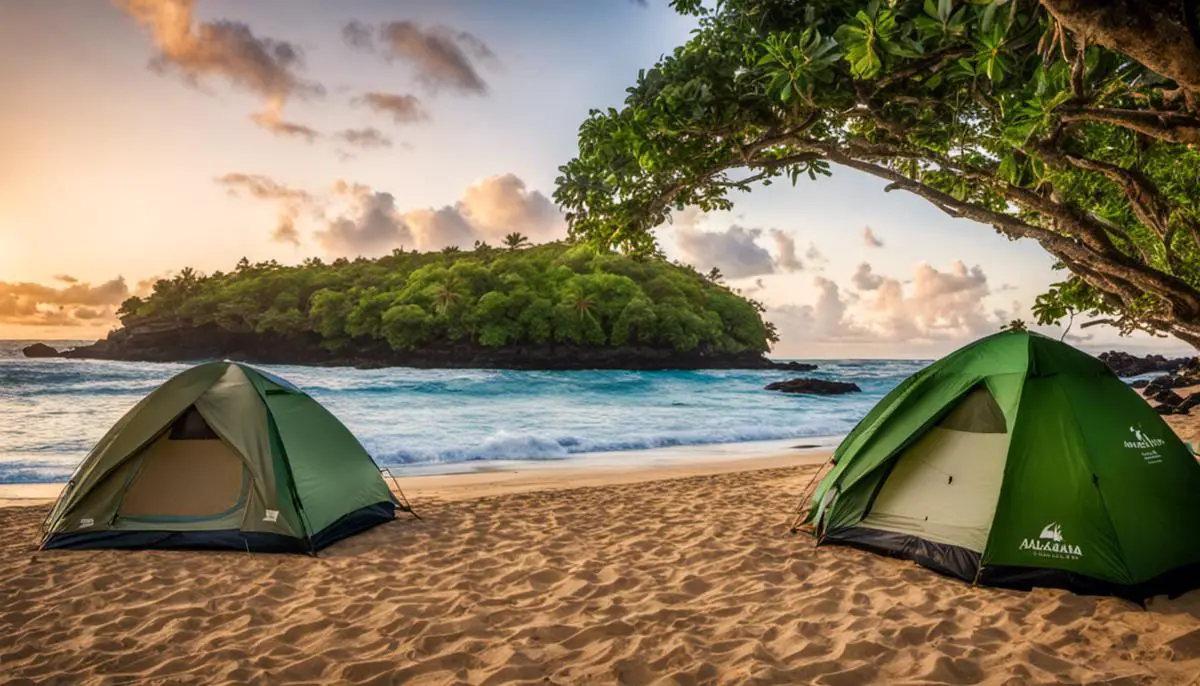 ---
Check out these great family tents to take with you.
---
Quintessential Hawaiian Natural Wonder: Volcanoes National Park
Imagine camping on the same ground that brims with the heat of an active volcano. That's what awaits you at Volcanoes National Park on Hawaii's Big Island. This remarkable campground allows families to have a close view of one of the most amazing natural phenomena on the planet.
The park offers two drive-in campgrounds: Namakanipaio and Kulanaokuaiki. Enveloped by a serene sense of wilderness, these campgrounds offer a unique harmonization of convenience and adventure. The Namakanipaio campground is nestled amidst a eucalyptus grove at a cool 4,000 feet elevation, offering cabin and tent camping facilities. The more remote Kulanaokuaiki is a tent-only campground that immerses its visitors in wilderness solitude.
A visit to this National Park is akin to an interactive geology lesson. You'll be mesmerized by the surreal beauty of the petroglyphs, the ancient rock carvings that hint at stories untold. But, the headline-stealer of the park remains the shocking spectacle of the active lava lake that you can explore during the day.
Flora and Fauna at Volcanoes National Park
Volcanoes National Park isn't just about geology, though. The park's diverse wildlife and flora give you a wonderfully multi-sensory experience. Forest birds, with their striking colors and invigorating songs, offer a great chance for bird-watching. Explore the park on a brightly lit day, and you might also encounter wild orchids and hibiscus flowers. The little ones will especially enjoy this, turning what could be a simple walk into an exploration of the wilderness.
Visiting the Volcanoes National Park presents a unique opportunity for your family to be incredibly close to natural wonders. It's not just about setting up a tent and roasting marshmallows over a fire pit; it's about being at the heart of the earth's grandeur. This park showcases nature in its most raw and powerful form, securely wrapped in the comfort and safety of family-friendly amenities. Volcanoes National Park is truly a lesson in the humbling power and mesmerizing beauty of our planet.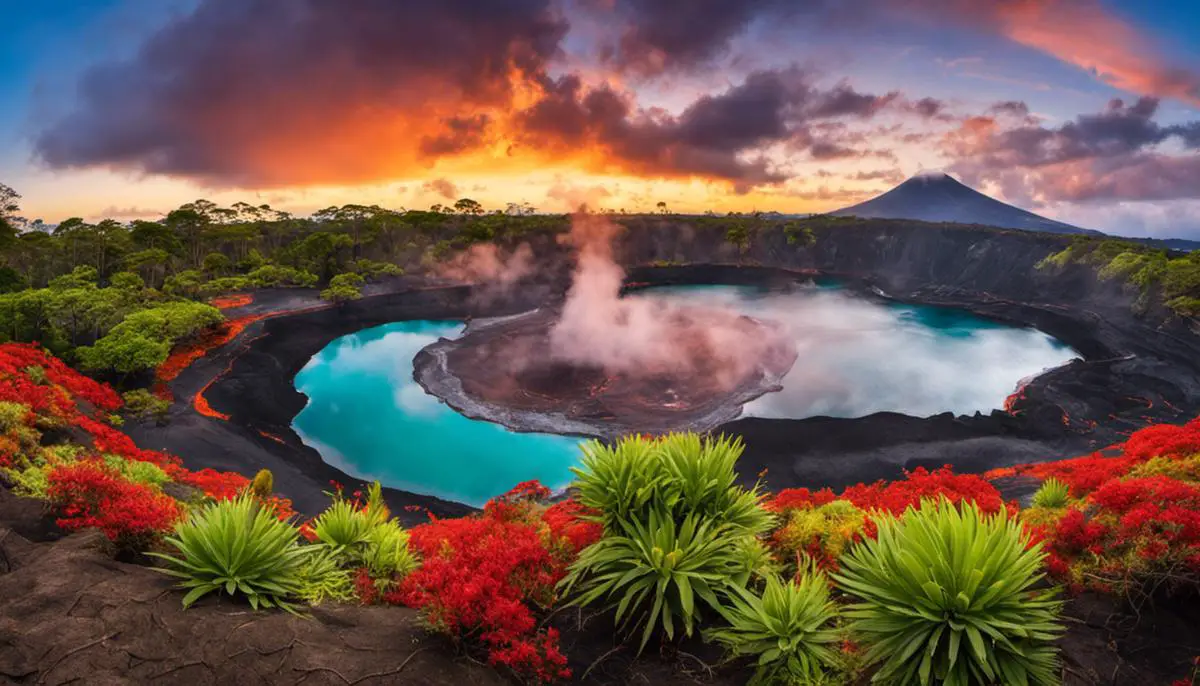 ---
Get your family prepared for camping in Hawaii.
---
The Ultimate Family Getaway at Bellows Field Beach Park
Digging your toes into the warm sand and feeling the rush of the ocean waves can be your next camping experience at Bellows Field Beach Park. The location, on the windward side of Oahu, is not just a campground – it's a natural treasure. However, number three of our family campgrounds in Hawaii list is not always open. Check the website before heading out to ensure there are no restrictions. For instance, if the sea turtles are actively laying or hatching eggs then access will be restricted.
It offers families a kit and caboodle of fun with its sandy shores that make for a perfect day of sunbathing or creating sandcastles with your little ones. Swimming in the majestic Hawaiian waters adds to the enjoyment.
Embrace The Surrounding Wildlife
Camping goes beyond just pitching a tent. It's about connecting with the natural world around you, and at Bellows Field Beach Park, there's plenty of nature to go around. From the beautiful, rare Hawaiian Monk Seal to the fascinating Green Sea Turtles, campers get a first-hand glimpse of Hawaii's unique wildlife. Remember though that the sea turtles are protected. So, you must be respectful of nature and give her the distance she deserves. The best way to do this is to take pictures home with you.
Planning Your Trip
Before packing your tents and heading off to the park, keep in mind that camping at Bellows Field Beach Park is allowed only from Friday through Tuesday. So plan your trip accordingly and take full advantage of this idyllic Hawaiian camping spot over the weekend.
Don't forget the sunscreen and make it a journey to remember!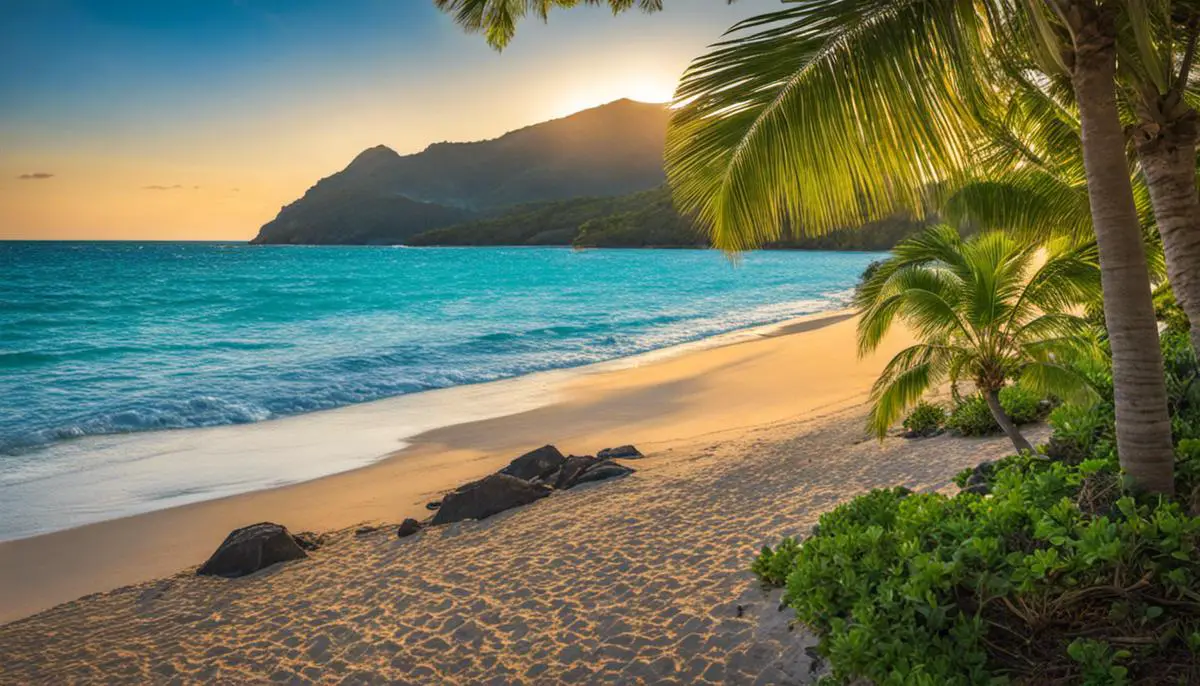 ---
Use this camping checklist before you head out on your adventure.
---
Final Thoughts on the Top 3 Family Campgrounds in Hawaii
Hawaii's stunning campgrounds provide families with an exceptional opportunity to bond, explore, and create lasting memories. From the captivating North Shore of Oahu at Malaekahana Beach Campground to the volcanic landscapes in Volcanoes National Park, these spots offer a camping experience like no other. Bellows Field Beach Park rounds out the top picks, offering both a beautiful sandy beach and unique wildlife encounters. Hawaii's family campgrounds not only expose you to awe-inspiring nature but also provide numerous means to enjoy it, promising a wonderfully distinctive vacation. So experience more than just Hawaiian resort life. Instead, hit the beach and the mountains and get the true feel of paradise.