Are you an adventurous soul? Are you always ready to hit the trails, come rain, hail, or shine? If so, waterproof hiking pants are a vital component of your gear to ensure you stay dry and comfortable. Especially during your outdoor expeditions. This comprehensive guide to waterproof hiking pants will provide you with a deep understanding of the waterproof technology used in hiking pants. It will also help you make an informed decision when purchasing your own pair. We hope that it will advise you on how to care for your gear effectively. Finally, we will highlight some of the top-notch waterproof hiking pants available on the market.
---
Pair your new waterproof hiking pants with one of our top-rated fleece jackets.
---
Guide to Waterproof Hiking Pants: Understanding Waterproof Technology
Understanding Waterproof Technologies for Hiking Pants
Waterproof hiking pants are engineered with sophisticated technology that can keep hikers dry for their outdoor adventures. The technology works by weaving a distinctive, water-repelling barrier into the fabric's structure. This is generally achieved through the use of conducting polymers. These are a type of plastic that offers both breathability and waterproof properties.
The efficiency of waterproof hiking pants is influenced by the weather conditions and the type of physical activity. They perform admirably in light rain or snow. However, during torrential rain or in exceedingly wet conditions, water may sneak through seams or zippers. To circumvent this issue, many brands often integrate fully sealed seams and water-resistant zippers to enhance their products' waterproof capabilities.
Waterproofing Technologies
It's crucial to recognize the three main types of waterproof technologies utilized in hiking pants. These are Durable Water Repellant (DWR), waterproof breathable fabrics, and waterproof non-breathable fabrics when assessing different types.
Durable Water Repellant (DWR) is a water-resistant, not completely waterproof, coating applied to fabrics. It forms a barrier that promotes water beading and rolling off the fabric, hence keeping the wearer dry.
Waterproof breathable fabrics marry breathability with waterproofing. These pants are favored by hikers because they inhibit water from seeping in while still permitting sweat to evaporate. Materials such as GORE-TEX or eVent, which offer the necessary durability and comfort for hiking, are typically used to make these pants.
Conversely, waterproof non-breathable fabrics are completely waterproof but lack breathability. They are typically produced from PVC or nylon, and while they completely block out water, they can cause sweat accumulation and discomfort due to their lack of breathability.
Different brands generally employ distinct, proprietary technologies. Some might couple a DWR finish with a waterproof breathable fabric. While others might incorporate a completely separate layer of a waterproof material.
When purchasing waterproof hiking pants, it's critical to consider the conditions you expect to encounter and possess a clear understanding of the different waterproof technologies which will aid in making an informed buying decision.
---
We aren't all about pants. Check out how to elevate your camp cooking while wearing your new hiking pants!
---
Guide to Waterproof Hiking Pants: Choosing the Right Waterproof Hiking Pants
Selecting the Ideal Fit for Waterproof Hiking Pants
Choosing waterproof hiking pants that fit perfectly is key. They should provide a comfortable fit, neither too restrictive nor too loose. You should try on numerous styles and sizes to find a pair that fits snugly whilst permitting flexible movement. Features such as articulated knees or a gusseted crotch enhance movement freedom and minimize discomfort by providing additional space for bending and stretching.
Emphasizing Breathability
Equally important to consider is breathability. While waterproof pants can effectively shield you from rain and snow, they might also trap sweat and heat, especially during strenuous hikes. To avoid this discomfort, look for pants that are both waterproof and breathable. This combination of features ensures that while water can't get in, vapor from your body can get out. Many hiking pants incorporate advanced fabrics or technologies, such as GORE-TEX, that deliver both of these features.
Durability in Waterproof Hiking Pants
Furthermore, durability is a critical factor. Hiking often involves navigating rough terrain, and you don't want your pants to tear or wear out quickly. Waterproof hiking pants made of materials like ripstop nylon or polyester are more durable. Reinforced patches on high-wear areas, such as knees and the rear, can also add to longevity.
Importance of Range of Motion
Your hiking pants should not restrict your range of motion. Look for pants that allow freedom of movement, particularly in the knees and hips. Features such as stretch material or articulated joints can be beneficial. Trust us on this one. You do not want to have movement restrictions. Especially, if you come to rocks that you need to scramble over.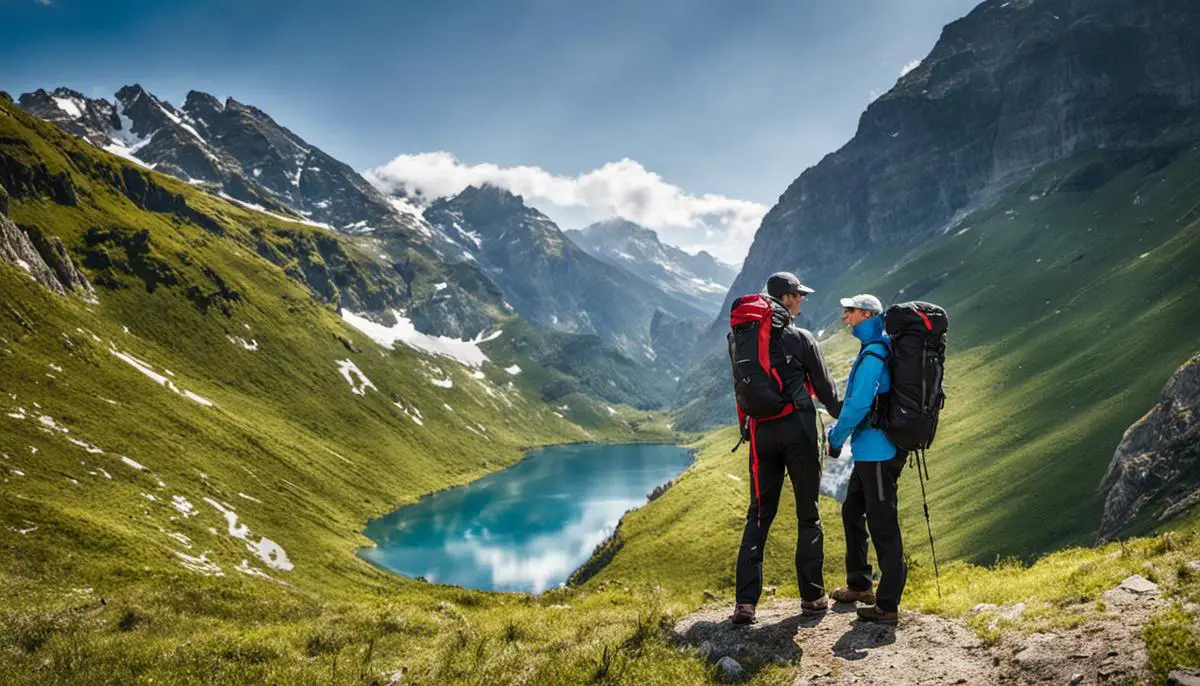 Essential Extra Features
Practical features can enhance the utility of your hiking pants. Pockets are essential for carrying maps, snacks, or other small items. Zippers on the bottom of the legs can make it easier to put on or remove the pants without taking off your boots. Similarly, adjustable waistbands can ensure a comfortable fit regardless of how many layers you're wearing underneath.
Additionally, some hiking pants come with a built-in belt or include belt loops so you can add your own. Ankle zippers or drawstrings allow you to adjust the fit around your boots and prevent debris from entering. Some pants also feature built-in gaiters for added protection against water and debris.
Purchasing waterproof hiking pants may seem straightforward, yet the process involves an array of considerations. Aspects such as fit, breathability, durability, range of motion, and additional features play an integral role in selecting the perfect pair. By fully understanding these features and their implications, you can ensure that you identify pants that not only meet your requirements but also prove beneficial during your outdoor adventures.
---
When the rain lets up and you have a clear night sky check out these great stargazing locations in the US!
---
Guide to Waterproof Hiking Pants: Caring for Your Waterproof Hiking Pants
The Importance of Correctly Cleaning Your Waterproof Hiking Pants
Despite their design to endure extreme weather conditions, the effectiveness and longevity of waterproof hiking pants can be significantly reduced by incorrect care and cleaning practices. To preserve their quality, it is crucial to heed the manufacturer's care instructions prior to washing them. You will want to wash most pants safely in a machine using cold water and a gentle cycle. Regular detergents, bleach, and fabric softeners should be avoided. These can damage the waterproof membrane. Instead, use a tech wash or a dedicated detergent compatible with technical garments. Additionally, steer clear of dry cleaning as the chemicals used can erode the waterproof coating.
Drying Tips for Waterproof Hiking Pants
Drying your waterproof hiking pants properly is crucial in maintaining their water resistance capabilities. Air drying is often the best method to ensure the longevity and performance of your hiking pants. Lay them flat to dry and avoid direct sunlight which can deteriorate the fabric over time. If you are in a hurry, you may use a dryer on a low heat setting, but be cautious not to overheat the pants as this can damage the waterproof coating.
Reproofing Your Waterproof Hiking Pants
Over time, even the best waterproof hiking pants may start to lose their water resistance. When this happens, it's time to reproof them. Reproofing essentially means reapplying a durable water-repellent (DWR) coating to the outer fabric layer, restoring its ability to shed water. Start by washing the pants according to the manufacturer's instructions to remove dirt and oil. Afterward, apply a reproofing agent, available in spray-on or wash-in forms, following its specific directions. Once the reproofing treatment is complete, drying the pants using a tumble dryer with a low heat setting can help reactivate the DWR coating.
Storage of Waterproof Hiking Pants
Storing your waterproof hiking pants properly when not in use will help prolong their lifespan. Keep them in a cool, dry place away from direct sunlight. Never store them while they are still damp, as this can lead to the growth of mold or mildew. Using a hanger can help prevent creasing and maintain the pant's shape.
---
Are you heading on a winter trip? Better learn how to layer your clothing!
---
Routine Care to Extend Lifespan
Routine care is crucial to extend the lifespan of waterproof hiking pants. After each use, lightly brush off dirt and debris and then hang them to air out. Occasionally washing and reproofing them will maintain their water and wind resistance functions. Regular inspection for damage or wear and tear allows for timely repairs, preventing small issues from becoming major problems.
Taking to the trails can be a rewarding experience, particularly when you're outfitted in proper attire. An important part of your ensemble are your hiking pants, specifically, waterproof ones to suit varying terrains and weather conditions. With the correct care, cleaning, and maintenance regimen, a quality pair of waterproof hiking pants can not only enhance your hiking adventures but can also serve you faithfully for many years.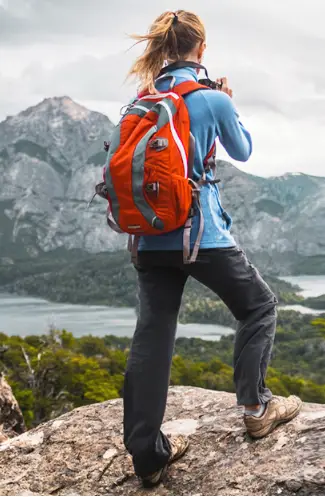 Guide to Waterproof Hiking Pants: Top of the Market
A top choice among many outdoor enthusiasts for waterproof hiking pants is the Columbia Men's Silver Ridge Convertible Pant. These hiking pants stand as a testament to excellent outdoor attire, crafted from a unique blend of robust nylon and comfortable elastane. A standout feature of the pants is their advanced wicking fabric. This keeps hikers dry by pulling moisture away from the body. They also come with built-in sun protection, in the form of UPF 50 fabric, shielding hikers from harmful UV rays. Another impressive aspect is, that if the hike heats up or the weather varies, the pants can easily be converted into shorts! This further attests to their versatility and practicality.
The Outdoor Research Foray Rain Pant is another waterproof hiking pant for serious hikers. These come with a high rating for those who often encounter unpredictable weather. These pants are made with Gore-Tex fabric. Therefore it is not only waterproof but also breathable, ensuring comfort in various weather conditions. The fully taped seams further boost the waterproof protection on offer. In addition to its superb waterproof features, the pants are very lightweight and easy to pack, which is especially convenient for long trips.
Renowned for their dedication to eco-friendly practices, Patagonia boasts the Torrentshell 3L pants, made from 100% recycled nylon. These pants are not just waterproof but also feature a three-layer construction design for added protection and durability. They boast taped seams, scuff guards, and ankle zippers for added convenience. A distinguishing quality of these pants is the adjustable waist and near full-length side zippers, allowing easy on-and-off even over muddy boots.
Marmot offers the PreCip Full-Zip Rain Pants, providing high-quality waterproof protection ideal for hiking or backpacking. The NanoPro fabric technology is waterproof and breathable, designed to keep you dry and comfortable. Moreover, these pants feature full-length side zippers, allowing you to regulate temperature and easily put on or take off the pants. With an additional advantage, the pant legs can be rolled up and snapped into place, offering more versatility.
Lastly, the Helly-Hansen Voss Waterproof Pant is another fantastic option for hikers seeking dependability in wet weather. These pants are constructed with PU fabric featuring a Helox+ technology that provides full weather protection and full stretch for ease of movement. Its adjustable snap bottom hem and quick-dry inside liner both serve to improve overall user comfort and convenience.
Every mentioned waterproof hiking pant is designed to provide optimum protection and convenience, but each offers a unique set of features. It is important to consider factors like breathability, flexibility, weight, and eco-friendliness when choosing the right waterproof hiking pants for your needs.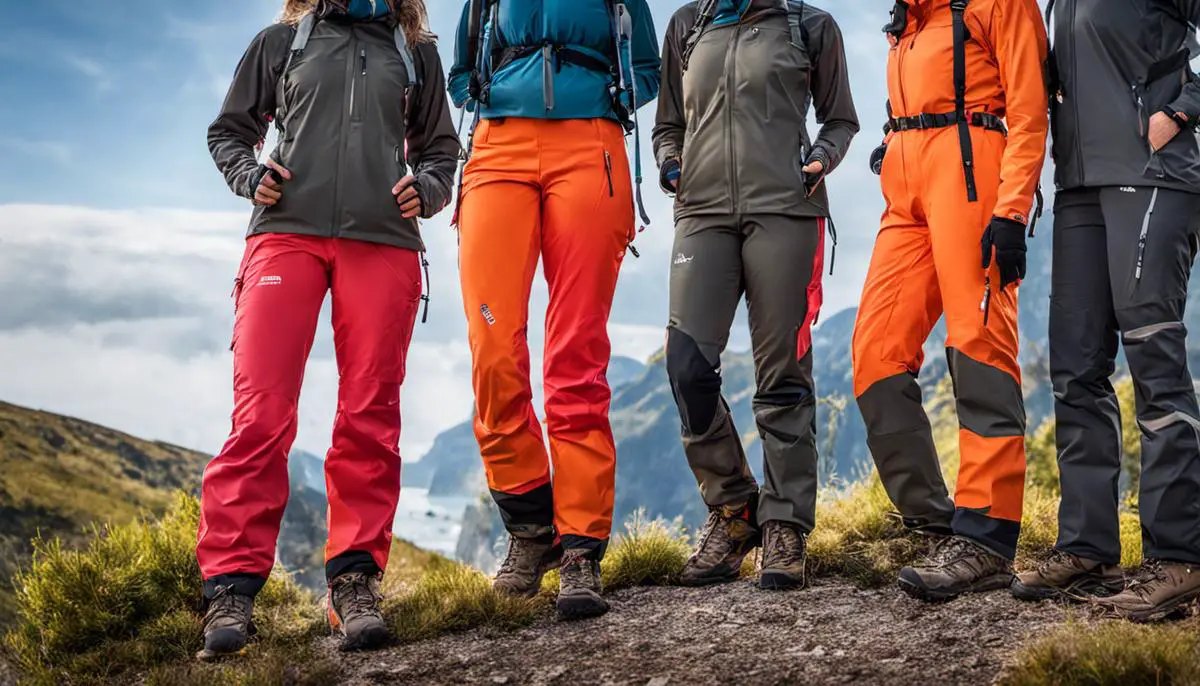 ---
Learn these fun activities for your next camping trip.
---
Final Thoughts on the Ultimate Guide to Waterproof Hiking Pants
Having invested time and effort in picking out your ideal pair of waterproof hiking pants, it's just as important to know how to maintain them so they can serve you for plenty of hikes to come. Remember to consider factors like fit, breathability, and durability while making your choice, and don't forget about those bonus features that can elevate your hiking experience. With the right pair of waterproof hiking pants, and the knowledge to care for them to keep them in optimal condition, every hike can be a dry, comfortable journey, regardless of the weather. Happy trails to you!