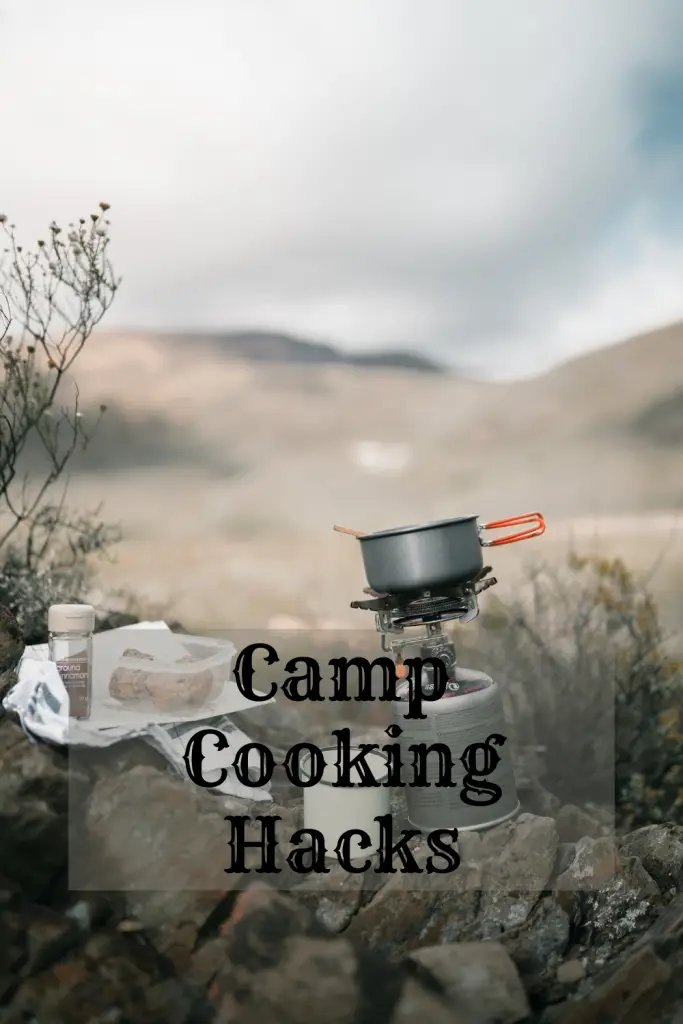 Cooking and camping are two activities that can either be incredibly therapeutic or overwhelming to any one person. This can be due to past experiences, not being prepared properly, having too high of expectations, or letting the elements get the better of you. Each of these stressors can be prohibited, or solved with preparation. That is why having some quick camp cooking hacks is so important.
Today, we are going to specifically talk about the cooking hacks you can use while you are camping. This will ensure you better prepare yourself for cooking in the great outdoors. It is vital that you find ways to make this easier because there is nothing worse after a long day of hiking than a three-hour-long cooking session! You will need to either prepare or purchase items for these hacks ahead of your camping trip. So take these into consideration, and try what you think will work out best for your next trip.
You may find this a unique list. We are going to mix cooking prep hacks with some storage. It isn't just about one or the other. Instead, we wanted to share a whole list of things to make your life easier. So make sure to read them all to know exactly how camp cooking hack makes it simple as pie.
---
You may want to also consider these outdoor cooking tips.
---
1. Prep Pancakes in a Condiment Bottle
Having a special pancake breakfast is a great way to celebrate your camping vacation. But making the pancakes out of the box, or even from scratch can make a big mess and can be frustrating. If you already know you are going to make pancakes, prep the batter before you leave home, and pour the batter into an emptied ketchup bottle. This way, all you have to do is store the batter properly, then when you are ready squirt the batter onto your griddle and cook them like you would at home. Need a pancake recipe? We got you with these Mason Jar Pecan Buckwheat Pancakes.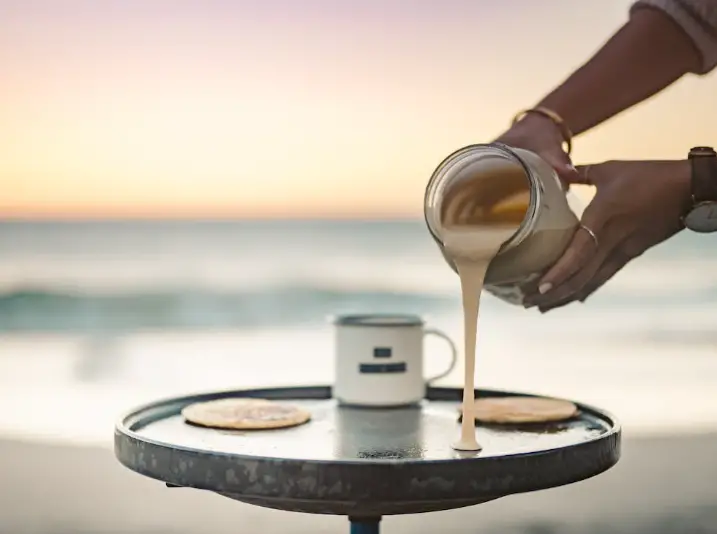 2. Prep Snacks in Bags for Each Person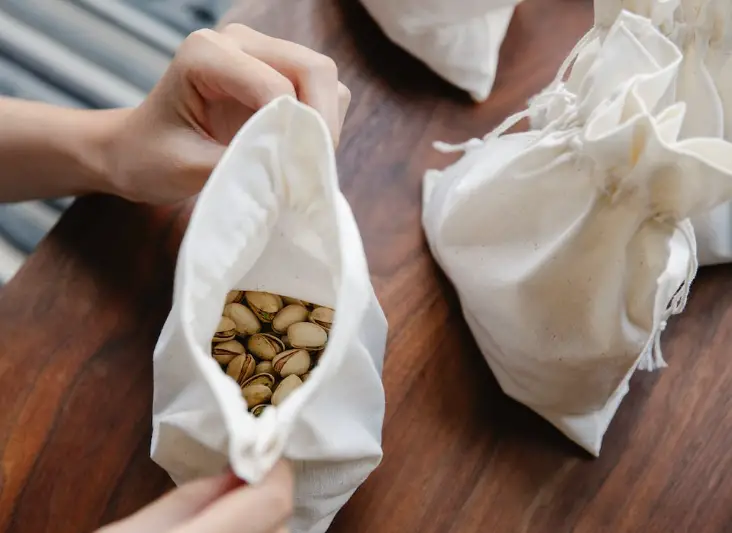 If you have children, or picky eaters, having snacks on hand is a must. Prep them before you hit the road! Additionally, this hack would be perfect for those who have allergies in your traveling party. If you have prepared a meal in a plastic bag for the whole group, make a bag that is separate for the person with allergies. Make sure to write their names on the bags and any instructions you may need.
I also find that using cloth bags for larger dry goods works well. This prevents having to carry waste out. Additionally, they are easier to access out on the trail. I especially like taking pistachios and other nuts on the trail with me.
3. Tic Tac Container for Spices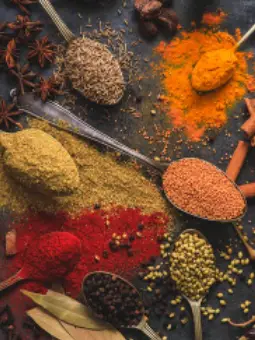 Save your Tic Tac containers so you can store your necessary spices in them. That way, you can bring the amount you need, and be able to measure out how much you need while also keeping it separate from your home spices. Additionally, for you more consistent campers, you can keep and refill these tic tac containers to keep having a spice collection designated for your adventures. Just make sure to label each tic tac container.
4. Aluminum Foil for Cleaner Cooking, and More Consistent Heating
Another form of cooking that is also a great way to prep your meals, is cooking in aluminum foil. There are many recipes online to choose from, which means there are options for everyone. Once you find the one you want, prep all the ingredients at home, and store them in a zip-top bag at the proper temperature. Bring them along for your travels so that once you are ready for your delicious meal, put the ingredients in the foil to cook and then on the fire to cook properly.
---
We have some foil-pack meals to get you started.
---
5. Use Mason Jars for Storing
Mason jars are an incredibly safe and easy way to store food for your travels. It is also a great way for you to organize your foods in a space-efficient way in your cooler, or your backpack. Additionally, their air-tight abilities will keep anything out of any of the ingredients. Especially, if they are out in the open for long periods of time.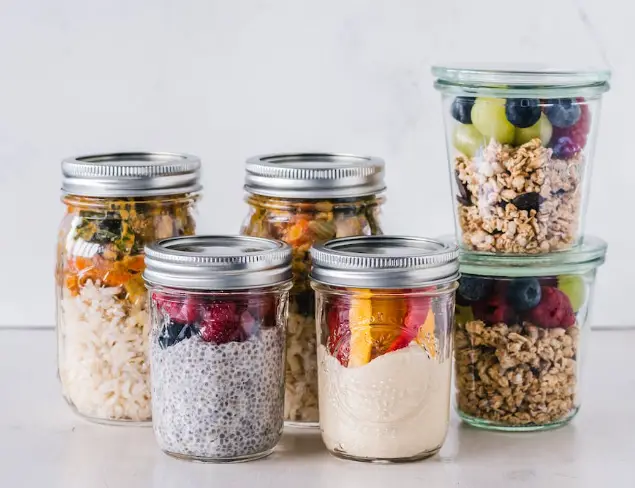 6. Use Shower Caps Around Bowls to Protect Against Bugs
New shower caps are an easy way to store any leftovers in larger bowls. Oddly enough, shower caps have an innate ability to maintain any cold temperatures. Its unstretched ends will keep the food safe from any outside conditions or bugs. Trust me you don't want flies in your food. You also want to keep moisture from the cooler of your food. Shower caps provide an inexpensive way of keeping your food ready in the cooler and bug-free on the table.
7. Mesh Bag to Dry Dishes
When cleaning dishes, one major question is to decide how to dry your dishes when you are done cleaning them. With little to no counter space that is clean and sanitized, it can be complicated to find the right answer. One answer is purchasing a mesh bag to stuff wet dishes in and hang them from a high place. All the water will run out of the bag leaving you with clean and dry dishes within a few hours.
These bags are relatively inexpensive. Just make sure you aren't reusing your dirty gym bag for your clean dishes! That would be a dirty camp cooking hacks.
8. Omelets in a Zip-Top Bag
Omelets are another breakfast staple that you can also have during your camping vacation. Before you leave on your trip, crack and mash up your desired amount of eggs for one portion into a zip-top bag, then add your seasonings and toppings. Once you get to your campgrounds to cook your omelet, all you have to do is empty your single portion of egg and toppings into your heated pan, and you'll be ready to cook. Check out this AllRecipes instruction.
9. S'mores Cones, Not Just S'mores
S'mores are a staple with camping, but they are ridiculously messy. Make it easier on yourself by warming chocolate chips and marshmallows in a waffle cone. The chocolate and marshmallows will melt properly and the cone will act as if the graham cracker without the mess. You can also do these in foil. So bring extra from your foil-pack meals!
Need some out-of-the-box S'more ideas? We have those too!
10. Craft Boxes to Organize Utensils and Resources
Plastic craft boxes that you would usually store beads in, are a great way to create a makeshift first aid kit, or a utensil box for when you are eating. The nice thing about craft boxes is that they come in a multitude of sizes. So whether you need to keep track of small easily lost items or larger ones, there is always a size for you. Not to mention, crafting items come in weird shapes. Lucky for us these odd combinations make storage while camping a quick camp storage hack. A little hint that tackle boxes serve a similar purpose too! Think outside the box!
11. Store Cracked and Mixed Eggs in Used Creamer Bottles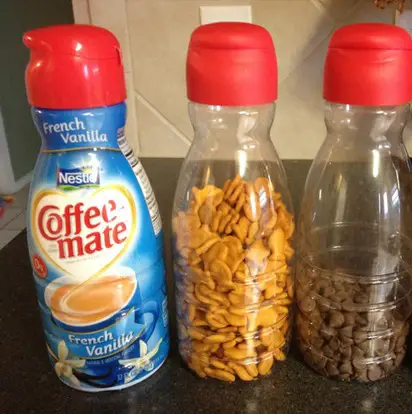 This is similar to the omelet in a bag. However, you may not always want to make omelets. You may want to have scrambled eggs or need eggs for a recipe. Storing cracked eggs in a used creamer bottle will allow you to save space in your RV fridge or cooler. It will also save you the hassle of cracking the eggs while you are camping and getting rid of the shells. Make sure to put marks on the sides of the creamer bottle in order to measure how many eggs are at what level.
12. Overnight Oats
These are easy recipes that you can make however you like. There are hundreds of recipes online to choose from. By prepping this recipe at home, you can eliminate the hassle of making one more meal each day. The night before you just add some water or milk and by morning you are all set to go. y favorite part is that I can top them with whatever I want. Nothing like a quick customizable meal before I hit the trail.
13. Learn to Open a Can with No Opener
Just in case you forget your can opener, you can vigorously rub the top of a can on a smooth rock in order to open it. This is good exercise too. So make sure you aren't tired before you start! A can opener is more convenient, but this is a suggestion to try instead of buying a whole new can opener.
14. Coffee without Power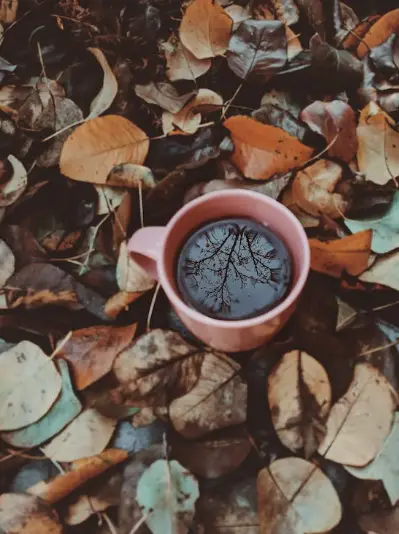 Coffee is a must for most people, so make sure you are prepared with this camp cooking hacks. If you do not have an outlet, you can take your coffee grounds into a coffee filter. Then, take dental floss and tie off the opening so it becomes a tea bag. Now, on your camping trick, you can take a "coffee bag" and dip it in hot water, like you would a regular tea bag.
Remember those cloth storage bags from above? They pull double duties here if you get a smaller size. So grab a package of them and make your coffee tea bags!
15. Crescent Rolls Hot Dog
Instead of a hot dog roll, you can wrap a crescent roll around your hot dog. Pigs in a blanket while camping? Yes, please! This way, you can heat up your bun as you warm up your hot dog. It is a fun and easy way to make your meal a little more unique and less messy. Not to mention that it is an easy way to get the kids involved in cooking during the meal.
---
Try all of our recipes while out camping.
---
Final Thoughts on Camp Cooking Hacks
Needless to say, many of these camp cooking hacks have to do with prepping for your trip, which makes this a seriously vital step in your process to camp. The goal of any camping trip is to decompress from the real world. You don't want to have to put up with the stresses of cooking big meals. So with these camp cooking hacks, you can hopefully make life just a little bit easier. In doing so, you will have a wonderful trip into nature. That is what it is all about anyways.
We hope you try a few of these hacks in order to see what works best for you and makes your vacation a more enjoyable experience.
With so many hacks out there what do you use when you go camping? We would love to hear them so please share your hacks in the comments below or on our Facebook, Twitter, or on Reddit!