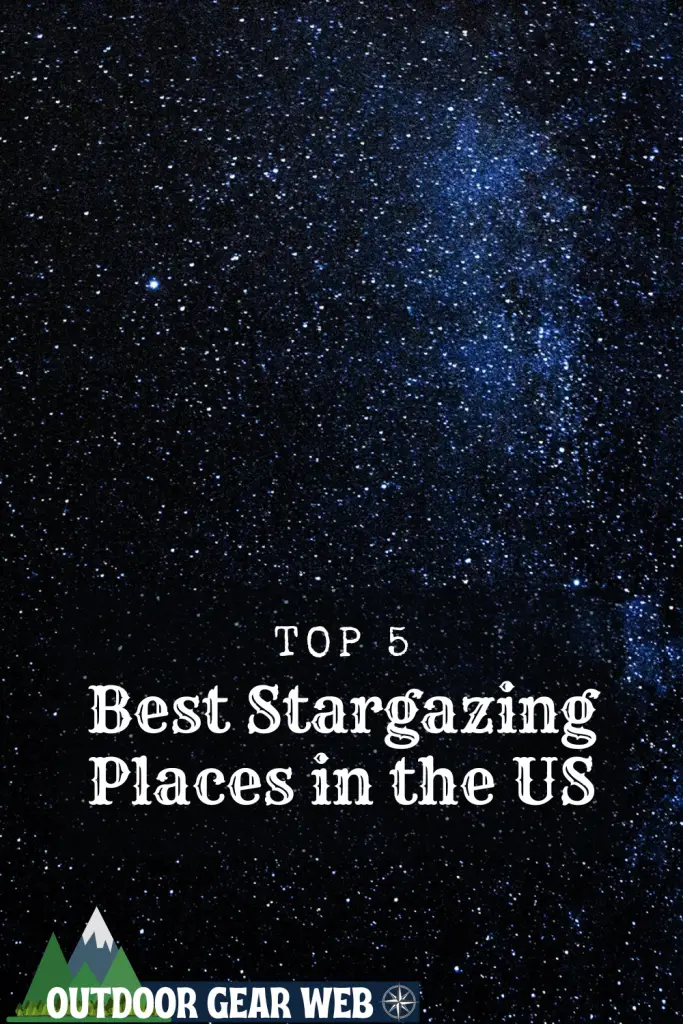 From the North to the South, the East to the West there are many amazing stargazing points. Places with clear skies, away from the cities, away from all the pollution. Where are the best stargazing places in the United States? I was happy to discover that there isn't one part of America that has the best stargazing places. I assumed that places in the southwest would be best. There are places so desolate in Nevada and Utah that light pollution shouldn't be a thing.
However, they're scattered around the country! Some are in the East, West, North, and South including Pennsylvania, California, Texas, and Montana. All are on opposite sides of the country. They are dotted around in different states so everyone can access them. To see the best stars, even constellations if you're lucky, read through our list of top 5 places to stargaze. Which stargazing spot is closest to you?
---
Camping for the first time in the winter? Check out these first-time camping tricks.
---
5. Glacier National Park, Montana
With more than 700 miles of beautiful trails, Glacier National Park is a popular destination for avid hikers. It covers over 1 million acres of land and is on the Canada-USA border. This is a park you need to visit not only because of the amazing stargazing opportunities but the scenic trails and beautiful nature.
Glacier has been certified as an International Dark Sky Park by the International Dark Sky Association (IDA). It is why it is on our list of best stargazing places in the US. They have some of the darkest nights because it's so far away from cities and therefore lacking in city light pollution. The best time to see the stars is in the winter because it gets darker. However, winters in Glacier National Park are too cold for most to even dare venture out. So you might want to schedule your hikes for earlier in the year during the summer. In addition to the darkness, the high elevation and dry atmosphere will make the stars more visible even without a telescope.
You will certainly get a stunning stargazing experience in Glacier no matter what time of year you go. There are a few spots within the park that are best for stargazing. There are numerous Ranger programs throughout the year. Nightly programs take place throughout the summer at St. Mary and Apgar.
---
Looking to plan your trip to Glacier? Then you need our Glacier National Park Quick Guide.
---
4. Cherry Springs State Park, Pennsylvania
Even though this park is quite small with only 82 acres of land it has a lot to offer, stargazing-wise. Cherry Springs State Park is not only one of the best stargazing places on the east coast but one of the best in the world. Furthermore, it is one of the eight parks in the world that has Gold International Dark Sky status which is a very impressive award.
This park is named because of the black cherry trees that line the park but it's known for its amazing views of the wilderness. However, its views of the Milky Way are what make it most popular. The park is both a sanctuary for casual stargazers and established astronomers. They visit for the same reason: the amazing views of planets, galaxies, and other astronomical beauties. Whether you are a professional or amateur make sure to bring your telescope along so that you can get close-up views of the planets and galaxies.
There are multiple places to stay in and around this park. There are campsites and if you want something a little more luxurious they also have lodges and such dotted around. Finding a place to stay to view the stars should not be a problem at this park.
3. Big Bend National Park, Texas
Our next spot on our list of best stargazing places is Big Bend National Park. This park is right on the border with Mexico and is a much-loved favorite of avid stargazers and hikers. Big Bend National Park has little light pollution due to being in a more isolated area and the humidity is also low as it's a desert. This means that there are fewer clouds in the sky. No light, no pollution, no clouds? Sounds like a recipe for successful stargazing to me.
This park is another park with Gold International Dark Sky status which again is very impressive. The park gets its name from the large curved river that surrounds it: the Rio Grande River. The Big Bend National Park offers informative and enjoyable experiences including star parties and moonlight walks. Ranger programs and moonlight walks are available throughout the year.
Visiting in winter is recommended due to darker nights. This is likely the best time to go anyways as the summer days can get quite hot. Wintertime temperatures can get chilly but they are still manageable if you would like to camp during your trip.
---
Camping in the winter can be deadly learn how to protect yourself during winter storms.
---
2. Death Valley National Park, California/Nevada
With an incredible 3.4 million acres of land, this park offers an infinite number of opportunities to see the stars. Most of the park is wilderness and has no development. This means there is little artificial light. This is not only one of the darkest parks in America it's also one of the most remote. It's another park awarded Gold International Dark Sky status.
The conditions couldn't be more ideal for stargazing, dry, clean air, and a seemingly never-ending horizon, what more could you want? It's almost always warm in Death Valley (hence the name) and it rarely goes below 100 in the summer. So once again winter is the ideal time of year to go – the temperature won't be a problem and neither will the sky. If you do want to explore in the summer, make sure to check in with the Rangers and get all of the tips you need to be safe and explore at night.
---
Consider a night hike on one of these California trails.
---
1. Voyageurs National Park, Minnesota
Voyageurs National Park is a water-based park where you can do normal things like hiking but also water-based activities such as kayaking, fishing, and boating. At night you can stay at one of their many campsites dotted around the park and view the stars from there.
To optimize your trip and the starry skies check ahead at NASA's sky calendar to work out when's the best time to go. You want to know the right time to increase the chance of seeing the northern lights. Trust me it will make your trip just that much better. This is one of the best places to stargaze in the midwest as each year it welcomes over 230,000 visitors to its stunning forestry and beautiful lakes.
---
When stargazing you may have lots of gear. Use one of these great wagons to haul your gear!
---
Final Thoughts on the Best Stargazing Places in the United States
As you can see there are an infinite number of stargazing viewpoints but there are only a few exceptional ones. Don't doubt Any park awarded Gold International Dark Sky status in its sights and view. Only a handful of parks in the world achieve this award. So they're all worth checking out if you're an avid stargazer.
Some of these places on the list are visited by stargazers, amateurs, and professionals. Others are visited by astronomers because the views are so great. The best stargazing places can provide sites ranging from stars to planets. Even beautiful mysteries we haven't even discovered yet. So get out there today and explore these parks and their exceptional views!
Even if you're new to stargazing, don't be discouraged by others who are more advanced than you. Just get out there and enjoy yourself with your partner, family, or friends. We hope you enjoy your voyages to parks both big and small.
Have you visited these dark sky parks? We would like to hear about your trips and see your pictures in the comments, on our Facebook, or on Reddit!