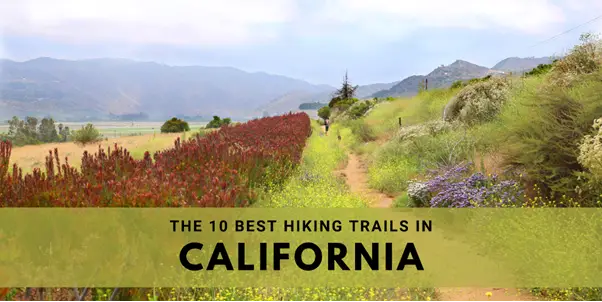 Hiking in California is a right of passage for any outdoorsy person. Every right of passage has to start somewhere. Let's be honest though. California is a giant state with thousands of trails. So how can you know which hikes to add to your bucket list and gain that right of passage? Well, look no further! Here are the 10 BEST Hiking Trails In All Of California!
Whether you're a native or just visiting, there are some trails that every Californian should experience at least once in their life. 
We've compiled a list of 10 of our favorites, so pack your bags and get ready to go! 
---
Learn how to pick the right hiking trail for you now.
---
1. Lower Yosemite Falls Trail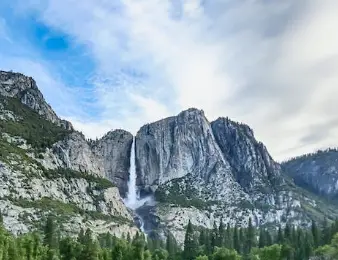 The first trail on our list of the 10 BEST Hiking Trails In All Of California is in the popular Yosemite National Park, where you can see the tallest waterfall in Northern America, Yosemite Falls. 
The paved loop trail takes 24 minutes to complete, not including stops to admire the beauty. Families with young children should take advantage of this family-friendly hike. 
After a short, easy hike you'll be rewarded with spectacular views of one of the world's tallest waterfalls, including Upper, Lower, and even Middle Cascade. 
Visitors can scramble on the boulders at the base of the falls and even cool off in an amazing swimming spot! 
It is one of the only dog-friendly trails in Yosemite, so this Loop Trail is worth it just for the chance to experience the area with your best friend. 
This waterfall is often dry from late July through October and is especially dramatic in spring when winter snow is melting and the upper lakes are full. 
Difficulty: Easy  
Length: 1.9 km  
Wheelchair & Stroller Friendly  
Dog Friendly  
2. Half Dome via the John Muir Trail  
This out-and-back hike is one of California's most famous and is truly a once-in-a-lifetime experience.  Luckily you don't have to travel very far from our first hike on the list!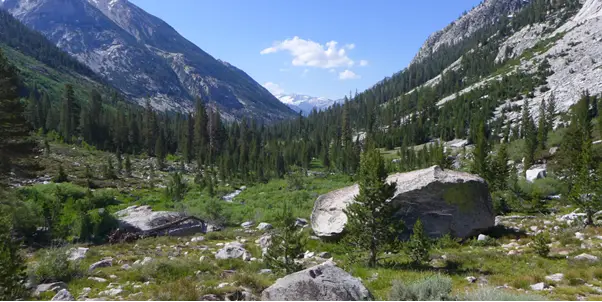 It is a very strenuous hike taking around 9 hours and 47 minutes to complete and rising 4800 feet above the Yosemite Valley. It offers spectacular views of Vernal and Nevada Falls, Liberty Cap, the Yosemite Valley, and the High Sierra. 
The hike is steep and difficult most of the way, but beautiful. Once you reach Little Yosemite Valley, the terrain flattens out for a while. 
The most famous part of the Half Dome ascent is the cable route, a pair of steel cables that allow hikers to climb the last 400 feet to the summit without rock climbing equipment. 
Many hikers report that the chained section is absolutely incredible and the thrill of completing it is incomparable! 
Once you reach the summit, you can take some time to enjoy the incredible views, rest, and take some photos. 
For anyone who considers themselves a hardcore hiker, this is one of the toughest but most rewarding trails around, and a must-do! You can do it as a day hike or make it a longer adventure. 
Difficulty: Hard 
Length: 24.1 km  
No Dogs Allowed  
---
Can't get enough of Yosemite on our 10 BEST Hiking Trails In All Of California? Then check out our Yosemite National Park Quick Guide.
---
3. Fern Falls via Boy Scout Tree Trail  
For the tree-loving hiker, this is an out-and-back hike unlike any other. The trail is a really magical and scenic one, taking an average of three hours to complete. 
The trail follows a canopy-covered path, with both directions revealing a constant supply of beautiful sights.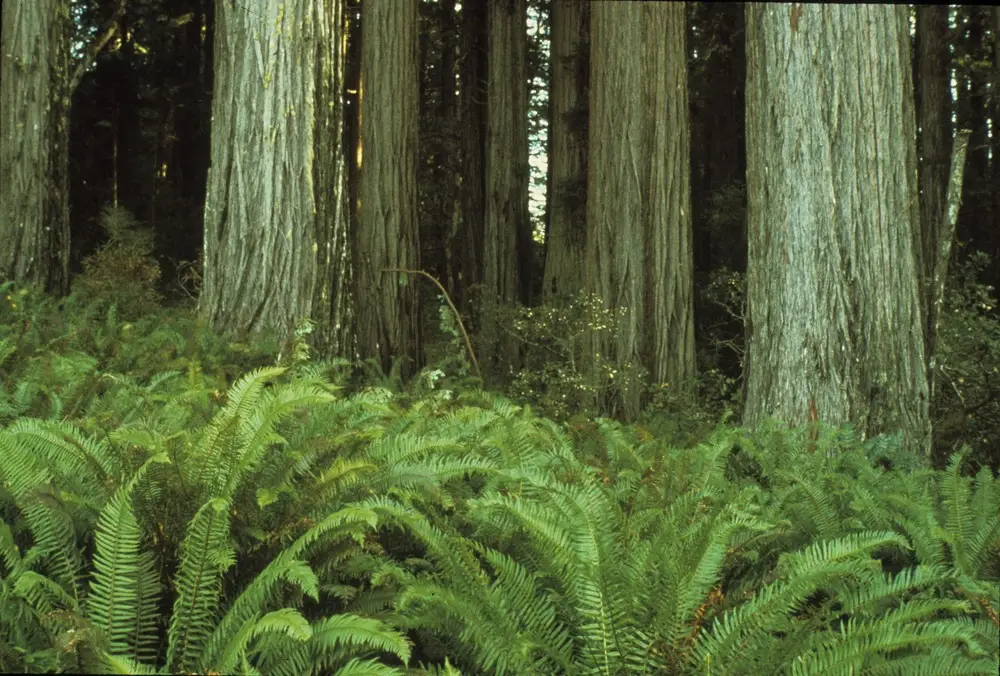 The Boy Scout Tree Trail is one of the most exciting redwood forest adventures in existence. It features truly huge trees and several distinct redwood forest types. 
The Boy Scout tree is a highlight you shouldn't miss! The tree is located off the path, marked by pink tape on a tree and an arrow carved into it. 
Fern Falls, at the end of the trail, is smaller than some other waterfalls in the area but nonetheless a stunning sight. 
This hike is great for families that like to explore. As expected, there are a lot of roots to maneuver around, so keep your eyes open! 
Difficulty: Moderate  
Length: 11.4 km  
Family-friendly  
No Dogs Allowed  
4. Lost Coast Trail: Mattole to Black Sands Beach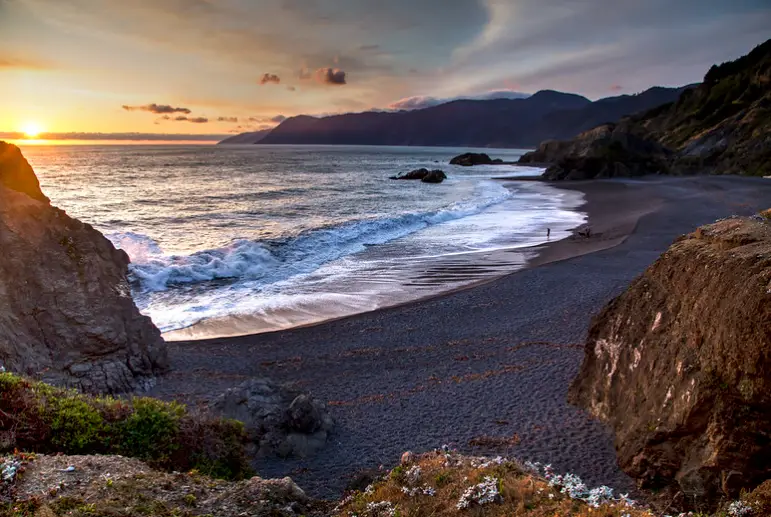 This next epic point-to-point coastal trail in California takes an average of 8 hours and 48 minutes to hike. 
The Lost Coast Trail Mattole to Black Sands Beach is a moderately difficult backpacking trip through the King Range Wilderness area, California's most undeveloped stretch of shoreline. 
It is a trail like no other! The wildlife is particularly incredible with regular sightings of molting elephant seals, sea lions, whales, bears, foxes, lizards, and playful river otters. There are also plenty of freshwater streams and great campsites with spectacular views. 
Previous visitors have highly recommended this moderate hike through 'gorgeous paradise' to see the diverse, stunning coastal landscapes of California. 
However, if you take this trail remember to be mindful of rattlesnakes in the tall grass and to bear-proof your food. 
Difficulty: Moderate 
Length: 40.7 km  
Backpacking & Camping  
Dog Friendly  
---
Need a place to stay with all this hiking? Well, check out these family campgrounds in California.
---
5. Potato Chip Rock via Mt. Woodsen Trail 
We have made it halfway through our list of the 10 BEST Hiking Trails In All Of California. This trail is one of the most popular trails in all of California. It's easy to see why. It provides incredible photo opportunities and breathtaking views of the Pacific Ocean. 
Potato Chip Rock is famous for its unusual formation and has drawn scores of hikers who want to stand on its topmost point. However, with fame comes crowds.
The hike to Potato Chip Rock on Mt. Woodson and the peak's summit takes an average of 4 hours 20 minutes to complete. The trail is steep and narrow, but the jaw-dropping photo you'll get at the summit is worth every step. 
However, if you don't think you're brave enough, you might be surprised to know that Potato Chip Rock is not as scary as it looks. There's actually ground 40 feet beneath you. So, you're not hanging out over a vast emptiness! 
Hiking this trail on a weekday allows you to avoid large crowds. 
Difficulty: Moderate  
Length: 11.9 km  
Dog friendly  
6. Cathedral Lakes Trail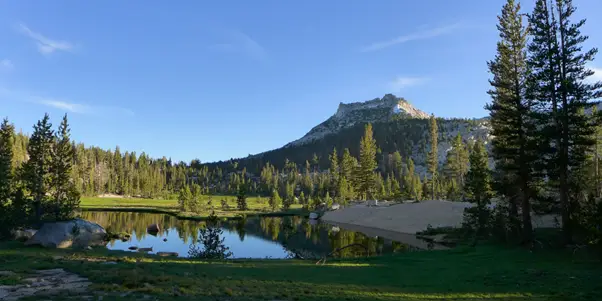 This out-and-back trail takes around 4 hours and 7 minutes to complete, and it might please those looking for fewer crowds than our previous trails. This is because the route really feels like you're out in the wilderness with lots of beautiful open space. 
Hiking this trail will take you to two beautiful lakes, and along the way, you'll enjoy views of the surrounding mountains from every direction. 
Near the top of the climb, the route passes a spur trail to Lower Cathedral Lake where you can stop for a swim or take in the view before heading up to Upper Cathedral Lake for an, even more, epic view. 
Alongside Upper Cathedral Lake, a meadow full of wildflowers adds color and beauty to the landscape. It is just one of many things that make Yosemite National Park a place of wonder. 
The Cathedral Lakes Trail rises 1,000 feet in about 3.5 miles and is located at a high elevation, so it's important to take the altitude into account when planning this moderately strenuous hike. 
This trail can be done as a day hike, but it is a wonderful area to stay and enjoy the surroundings. Wilderness Permits are required for overnight stays at the lakes as well as bear boxes to store all food. 
---
Learn proper food storage with these tips.
---
Previous visitors advise packing bug spray for this hike, the mosquitoes in Tuolumne Meadows can be a nuisance, but they are worth enduring for the spectacular views. 
Difficulty: Moderate 
Length: 13.7 km  
Best for: Backpacking & Camping 
No Dogs Allowed  
7. Mount Dana Summit Trail  
Another one of the best hiking trails in California is this out-and-back trail to Mt Dana, taking roughly 5 hours and 18 minutes. 
Mt. Dana is the second-highest peak in Yosemite National Park, and its rugged terrain makes for an exciting mountain to climb, but it is not for the inexperienced hiker! 
There are no trail markers or maps leading to the summit, but an unofficial use trail has been forged by frequent hikers and is easy to follow. 
The trail begins with a gentle walk through the lush Dana Meadows, full of wildflowers and roaming deer. It then becomes progressively more challenging as hikers face a series of switchbacks leading to the summit. 
When you reach the flat area and see the peak come into view, you have reached the halfway point. This is when the serious climb begins, and why this trail is rated hard. 
The climb to the peak requires you to follow your instincts. You will be hiking up loose rock and need to be careful with your footing. 
Once you reach the top, you will be rewarded with panoramic views of Yosemite, Mono Lake, and Tenaya Lake.
It's an achievement that will truly make you feel like you're standing on top of the world! 
Difficulty: Hard 
Length: 11.3 km  
No Dogs Allowed  
8. Monterey Bay Coastal Trail – Best For Road Biking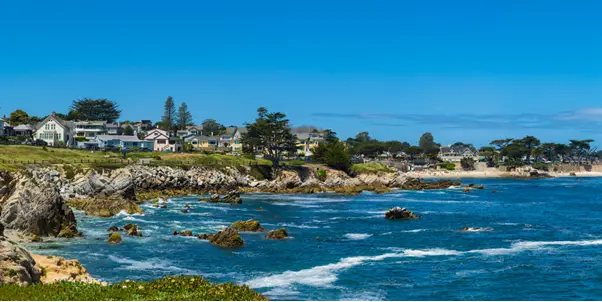 This point-to-point trail is one of the best in California if you're looking for a hike and bike trail. The trail takes around 5 hours and 41 minutes to complete, and it's well maintained. However, there is never a shortage of bikers taking advantage of it. 
The trail will break from time to time, requiring you to use some bike lanes to reconnect with other portions of the trail. Eventually, it will take you up and down the rolling dunes near the ocean where you'll have breathtaking views of the sandy shoreline. 
The trail is dotted with signs and plaques that share fascinating historical and environmental information. Don't worry, restrooms and benches are in abundance. There are also plenty of outstanding places to eat along the way. Can you say Glamp Hike!!
The trail is open year-round and makes a great place to visit anytime. Dogs are welcome but must be leashed. 
Difficulty: Moderate  
Length: 28.8 
Best for: Road Biking  
Family Friendly
9. Solstice Canyon Loop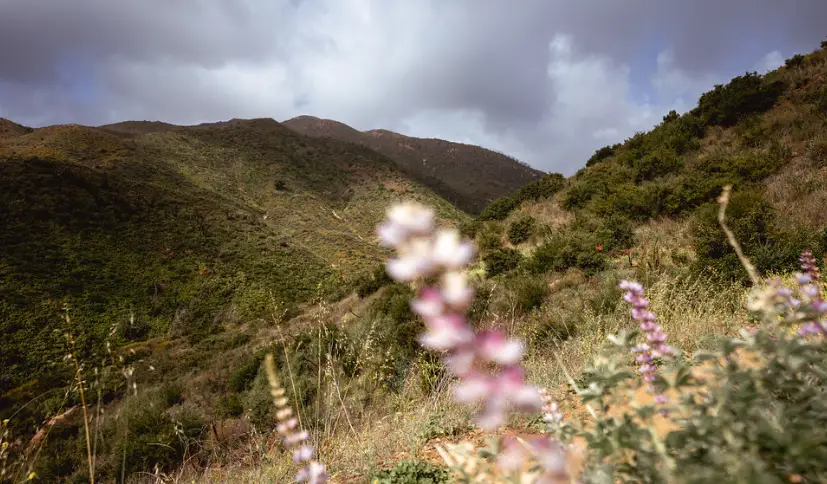 We are near the end of our list of the 10 best hiking trails in all of California. This next trail takes on average 1 hour and 34 minutes to complete and is one of the most interesting trails in the area, with a waterfall and ruins along the way. 
This popular, well-maintained trail meanders through beautiful terrain and will take you up and over the Rising Sun Trail. It is easy to moderate in difficulty and offers incredible views of the canyon that are well worth the climbs you'll encounter along the way. 
The Solstice Canyon Loop hike includes a trek through the popular Roberts Ranch and Keller House ruins, views of a waterfall, and even a couple of small creek crossings along the way. 
This trail is a different and fun experience. However, visitors should consider hiking it counterclockwise to allow for an easier paved road back. 
Difficulty: Moderate  
Length: 4.8 km 
Dog Friendly 
10. Mono Hot Springs Trail  
We saved one of the best trails on our list for last, a great visit for hot springs seekers. 
This loop trail in Sierra National Forest takes an average of 21 minutes to complete. It hits most of the main springs in the area and is such a wonderful escape from the world. 
The trail meanders through hot springs of various temperatures, mixing mud bottom pools with outdoor stone tubs, and if you are splurging, you can also go to the campground's spa. 
There is a river nearby where the water is colder and full of fish, as well as plenty of places to hike and explore off-road. 
The John Muir Wilderness has many access points from the springs, which makes it an ideal place to hike. You can have a wilderness experience without the crowds that come with Yosemite National Park. 
Previous visitors say it's the best place in the Sierras to visit, and we agree; there is no getting closer to Mother Nature than a nighttime dip in hot water under the stars.   
Difficulty: Easy 
Length: 1.4 km  
Family Friendly 
Dog Friendly 
Take along some binoculars with you to enjoy those wonderful mountain views!
Final Thoughts on the 10 Best Hiking Trails in all of California
We've reached the end of the 10 BEST Hiking Trails In All Of California That You MUST Visit—and we hope you've found some to add to your bucket list! 
Now that you've read about these hikes, we want to know: Which is YOUR favorite? Are there any on this list that we missed? Let us know by commenting below, on our Facebook, or on Reddit!
So, what are you waiting for? Get out there and start exploring!