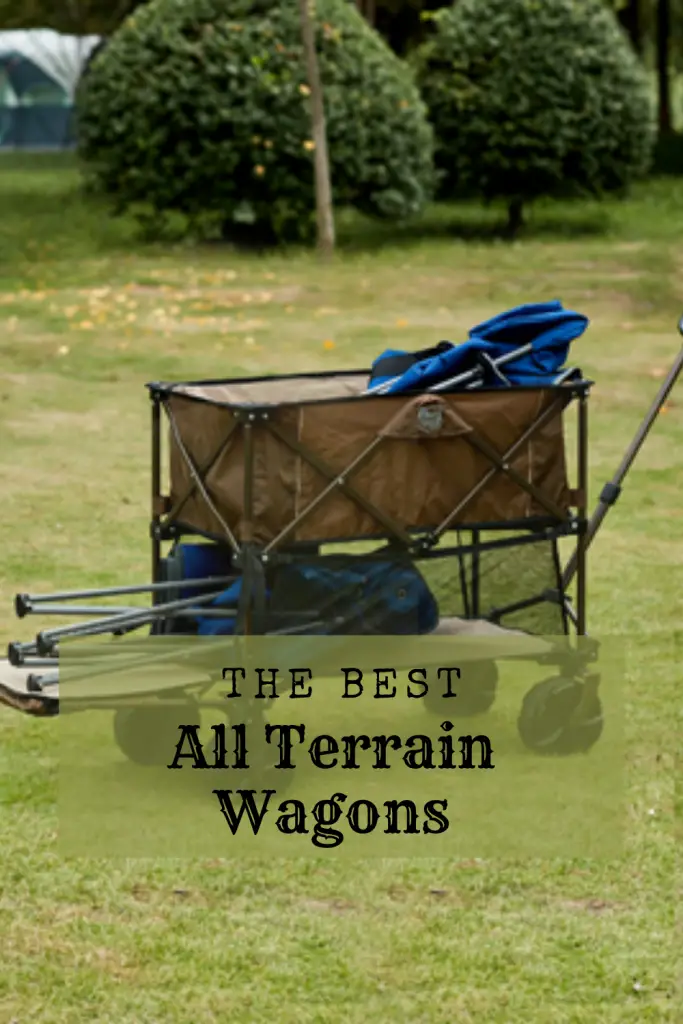 Most of us enjoy camping right from our cars. Places like KOA have made camping super simple to achieve for just about anyone. In fact, they are littered with amenities that make camping so easy. On the other hand, others of us like to go camping in the backcountry. This means lugging all of our gear on our backs for miles. Did you know that there is a third option that can be found at both state and national parks? This third option blends backcountry seclusion with the ease of car camping. However, it requires that you head to a walk-in campsite. In order to get your gear to that campsite though may take multiple trips from the car. That is where our list of the best all-terrain wagon will help!
---
What type of camping is right for you? Find your camping style now!
---
Best All-Terrain Wagon Considerations
There are many things that you should consider when it comes to choosing the best all-terrain wagon.
Consider the capacity for what you will be able to carry.
Think about the space that it will take up once collapsed in your car. You may have to give up taking other gear in order to store the wagon.
How much the wagon weighs may also be of concern if you have limitations on lifting.
The wheels are critical for going to more remote campsites.
Any additional features such as the handle design, storage pockets, brakes, or wheel locks.
Cost is always important to consider and for a well constructed and reliable wagon expect to pay between $100 – $200.
Okay, okay. I know that you came for the list so let's dive right into it! A quick note is that these items are reviewed based on user experience and reviews. All prices are at time of writing and subject to change. Also, please take note of our affiliate disclosure.
Capacity: The wagon's inside size is 31″Lx17.7″Wx10.6″H. Ground to the top of the handle is 38.6″.
Weight: 27 pounds
Wheels: Heavy-duty 7″x 4″ thick wide solid wheels.
Extras: Two Cupholders, Telescoping Handle
Cost: $159.99
The number 3 best all-terrain wagon is the Beau Jardin Heavy Duty Wagon. While there are some fantastic reviews this one is at the top of the list due to its cost and hard wheels. The wheel material can cause the wheels to bog down in softer material. However, the easy transport and set up in seconds meaning you can be unloading your car in no time. Once folded this wagon will fit in the trunk of a standard-sized car! This is a perfect option for hauling your gear to the walk-in campsite. The heavy-duty powder-coated steel frame is sturdy enough to carry your heavy tent or other bulky loads. The fabric is also durable and comes in four different colors.
Capacity: The wagon's inside size is 36.6″x22.4″x15.3″(L*W*H). Ground to the top of the handle is 42.1″.
Weight: 31 pounds
Wheels: Heavy-duty 6.3″x 3.9″ thick wide solid wheels.
Extras: Two mesh cupholders, Adjustable Handle, optional carry on bag
Cost: $135.99
The number 2 best all-terrain wagon on our list is the Moon Lence Wagon. While there are many options this one provides added depth for transporting more goods to your campsite at once. The strong steel frame construction holds up to 220 pounds! That is a lot of gear per trip from your car! One of the best features of this wagon is the handle. The handle of the cart can be extended to 31.5". It also can be fixed to your preferred length. This customizability will make it comfortable for anyone you are camping with to easily pull the wagon. You can also adjust the handle angle back and forth, making your push and pull effortless.
This collapsible wagon is made of 600D Oxford fabric and PVC material that are durable, waterproof, and won't tear when you put something sharp in it. We also noted that this wagon is easy to disassemble and clean. The wheels are a bit narrow but these could help you navigate the trail a little easier.
Capacity: The wagon's inside size is 54″L x 18 1/2″W x 34 1/2″H (with an extended shelf).
Weight: 27 pounds
Wheels: 8″ Diameter Wheels Swivel 360 degrees
Extras: Extendable lower shelf, manufacturers warranty, double-decker design
Cost: $169.99
Our number one best all-terrain wagon is the Timber Ridge Double Decker Wagon. This is because of the sheer capacity of this beast. It can hold up to 225 pounds. On top of that, there are two storage areas. The top can help transport food while the bottom transports camp necessities like your tent. What, you don't think a tent can fit in a wagon? You would be incorrect on this one! With the extendable bottom shelf, you can now easily place your tent securely in the wagon. No awkward overhang is necessary!
Beyond the capacity benefits the wheels are actually some of the largest in the industry. At eight inches you likely will not find another set of wheels that can help you navigate over large rocks. The sturdy frame also helps to keep your gear secure as the wheels navigate any obstructions. Even with the larger wheels and carrying capacity it still folds up small enough to place into a standard-size car trunk.
Finally, the Timber Ridge Double Decker Wagon comes with a one-year manufacturer's warranty. It is always nice to see a company stand behind its product.
Final thoughts on the Best All-Terrain Wagon
Making life easy at the campsite is all about finding little ways to ease the stress. When you want a more remote experience but don't want to go backpacking a walk-in campsite could be a really good option. You don't want the stress of lugging all that gear though. Worse, multiple trips back and forth for you or your children will get old quickly. Therefore, you should consider getting an all-terrain wagon. Not only will it reduce stress for campsite setup, but it will reduce stress on your back. Finding one for our list of the best all-terrain wagon will set you on the right track for your next walk-in camping experience.
Have you tried one of these best all-terrain wagons? We would love to hear about it. Tell us in the comments below, on our Facebook, or on Reddit!