When I first got into camping as a young person I used to love cooking around the campfire. As I got older and my tastes changed I realized that camp cooking could be so much more. I found that I was eating less and less meat and really craved veggie meals while out on the trail. This posed a problem for me. Some of the easiest meals to eat are simply the ones that are prepackaged. Unfortunately, most of these come with meat in them. So what is a veggie-loving girl to do? Adapt and overcome by finding fantastic vegetarian camping recipe options that are trail-worthy. Below are my Top 5 go-to vegetarian camping recipes that even my children love to eat! They are easy to make, store well, and liven up boring hot dogs and beans.
Being a vegetarian or enjoying vegetarian foods is more than just eating salads. There are so many home-based options out there. I wondered why I couldn't enjoy the same type of food when out camping. I am sure that you will find these recipes help challenge the concept of traditional camp foods. They do this all while providing your family with healthy veggie-based options.
---
If you need other great recipe options then check out this full list of camping recipes!
---
5. Fire Ring Stuffed Pumpkins
This is a wonderfully easy stuffed pumpkin dish to start our Top 5 vegetarian camping recipe list off with. While the main theme here is to have some fall flavors while camping, it definitely helps to get away from hot dogs! In fact, if you are out with some friends or extended family, this meal will be quite exceptional. The best part is that it takes little to no work. You can even do all of the work at home in preparation for the trip. So let's class up our fall camping trip with these fire ring stuffed pumpkins! Now in this recipe, you will see that there is Italian Sausage included. I modify this recipe to use chopped portabella mushrooms instead. These work out fantastic to give the stuffing a meaty texture while remaining vegetarian.
This is a seasonal dish as you likely won't be able to find these small pumpkins year-round. Give it a shot by trying to stuff other gourds as well. However, I love making this around the fall campfire and I know that you will as well.
Fire Ring Stuffed Pumpkins
This stuffed pumpkin is a delicious dish that can be made right in your campsite to help you get in that Halloween or fall spirit. With the addition of rice and sausage, it will be filling and festive.
Check out this recipe

4. Fireside Shakshuka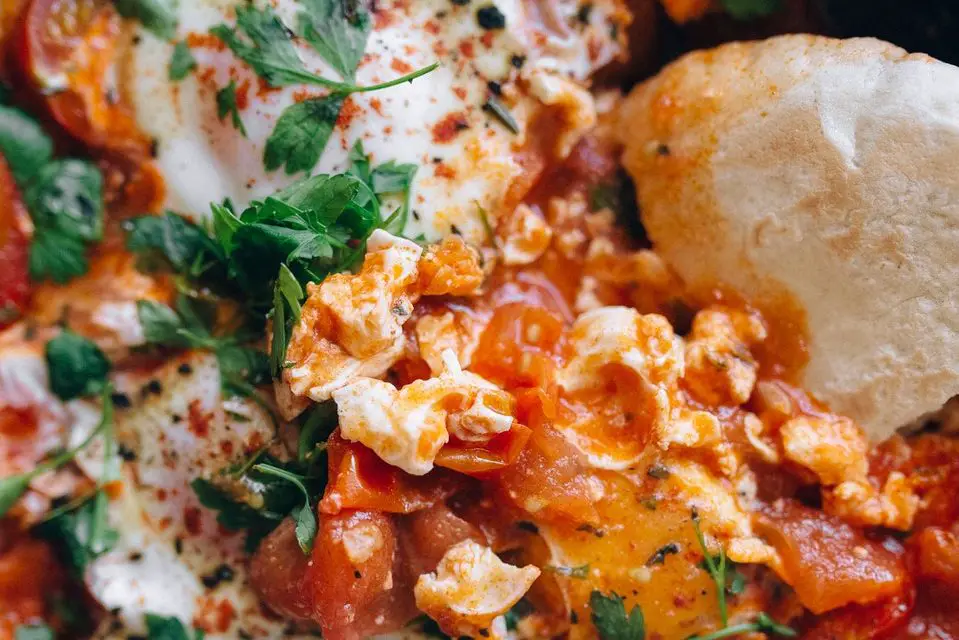 Here is another fantastic vegetarian camping recipe to kick your campsite cooking up to the next level. It takes your boring egg breakfast to the Mediterranean. This Fireside Shakshuka is a traditional Shakshuka but modified for use around the campfire. It is likely that this is the way Shakshuka was first enjoyed. The best part about the Fireside Shakshuka isn't even that it is delicious. It isn't that it is quick and easy as a one-pot meal that even serves as your plate! Truly the best part is that this is a community-type meal! First let's talk about the mixture of tomato, paprika, cumin, red pepper, onions, and peppers. All of these flavors meld together over the campfire with a hint of smokiness not just from the paprika but also from the fire. It is an explosion of flavor that likely you have never had while camping!
There are so many ways to enjoy this wonderful breakfast. I enjoy eating it for lunch as well because it is so filling. I also have a picky eater who avoids eggs. Luckily this vegetarian camping recipe creates a wonderful sauce that is good for mopping up with some toast. I like to call this a win-win! Everyone gets fed with something healthy and delicious while avoiding instant oatmeal!
Fireside Shakshuka
Fireside Shakshuka (Shahk-Shoo-kah) is an easy breakfast, lunch, or dinner meal that is made with poached eggs, simmered in tomatoes, bell peppers, onions, garlic, and spices. While this dish originates in the Mediterranean it is fantastically at home around the campfire. Not only do you get the heat and flavor from the fire but you will also enjoy the warming spices that meld into this dish. So pull out that cast iron skillet and say it with me while you dance and crack some eggs Shahk-Shoooooooo-Kah!
Check out this recipe

---
Become an expert Campfire Chef with these tips now!
---
3. Fireside Cinnamon Apples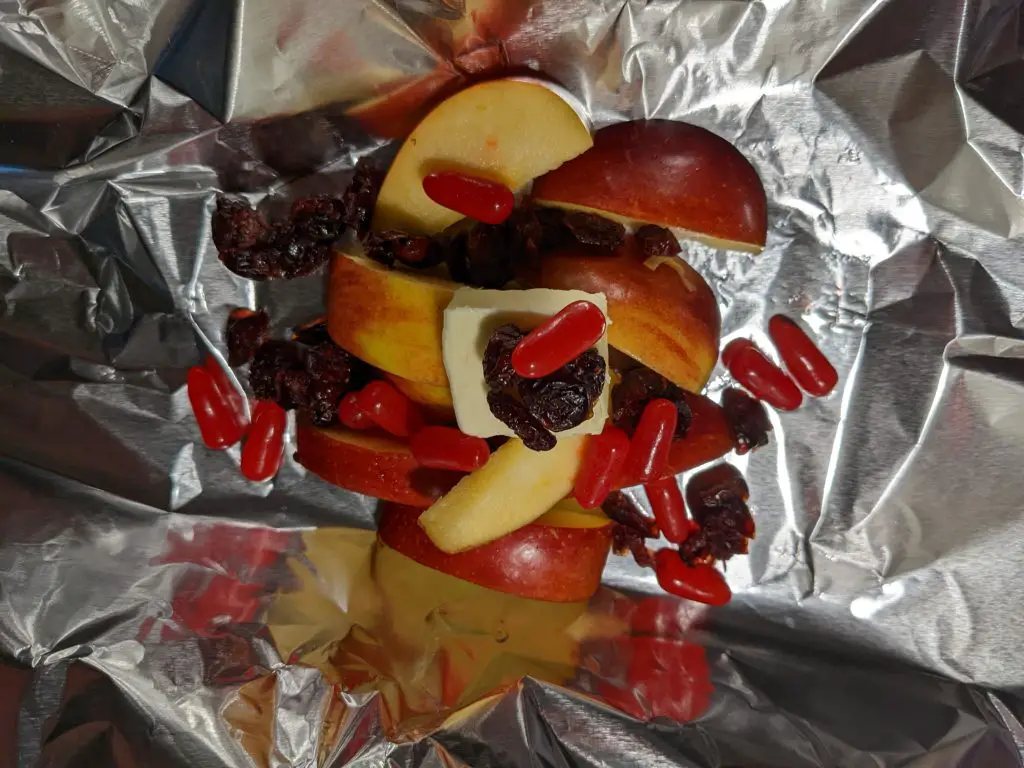 We can't forget about a vegetarian camping recipe for dessert on this list! Camping desserts generally range into two categories. The first is the s'more. We all love the combination of chocolate, marshmallow, and graham cracker and it screams campfire. Or we hit the banana boats! This also combines overly sweet ingredients together. Don't get me wrong. I love a good banana boat or s'more. In fact, I am sure that, like you, they are family favorites on camping trips. Sometimes though I need a break from chocolate. Let's be honest, not everyone even likes chocolate and both of those recipes depend on chocolate to carry them home. That is where these delicious fireside cinnamon apples come into the dessert mix.
Now we can have a fruit-based dessert like a banana boat, coupled with the deliciousness of spicy candies. All cooked right by the campfire. They are a simple prep and lay by the fire kind of meal. So let's tuck into this delicious dessert!
Cinnamon Apples
Tired of the same old smore's around the campfire? Well, I can't say that this dessert is any healthier but having apples sure doesn't help. The spicy cinnamon flavor coupled with sweet apples and dried cranberries will make this campfire dessert your go to!
Check out this recipe

2. Mediterranean Camp Mix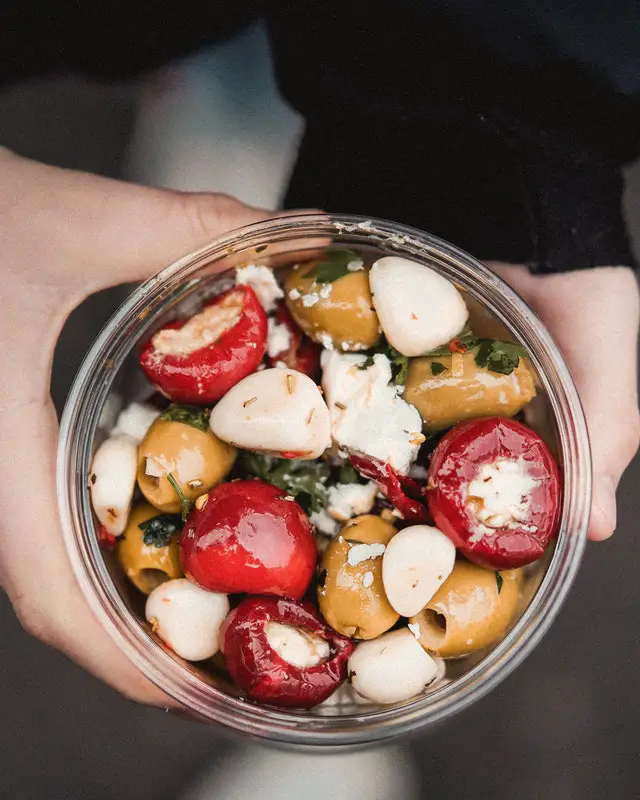 While I am not a vegetarian by any sense of the word. I do love veggies though and sometimes prefer to eat vegetarian-style meals. This vegetarian camping recipe especially persuades me. I also like it when I come across a recipe that I can love for its simplicity. Vegetables tend to provide easy recipes. Especially this one. I can have it made in under 20 mins and the vast majority of that effort is opening packages and waiting a bit to let the flavors meld! The Mediterranean camp mix is a great way to introduce some new flavors into your camp cooking repertoire. It combines sweet peppers, roasted garlic, tangy olives, and two kinds of cheese together for a flavor explosion. Wait till you see how easy it is to make this recipe!
I struggle to even call this a recipe. There is no actual cooking that is involved here. In fact, this is one of the things that I love the most about this. I can completely make the Mediterranean camp mix at home. The flavors only get better over time as they all mix together into a wonderful little side salad.
Mediterranean Camp Mix
This wonderful mix of sweet peppers, green olives, cheeses, and garlic will make a great addition to any lunchtime meal. Use as a side dish to accompany a great sandwich or eat it by itself. The Mediterranean Greek Camp Mix can be made ahead to marinate and is quite a filling little burst of flavor out on the trail.
Check out this recipe

1. Campfire Corn Fritters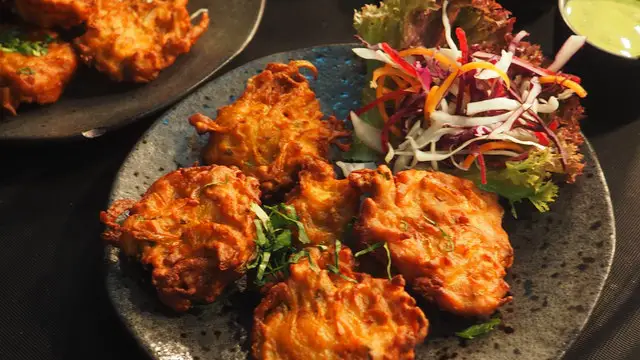 I love eating stews with cornbread. However, I have found that cornbread is pretty finicky when it comes to cooking over the campfire. Sure it can be done. Is it delicious? Absolutely. However, I have found that it takes a watchful eye. That is where this vegetarian camping recipe for campfire corn fritters comes to play though. I get the taste of delicious cornbread with the ease of a fried fritter. This is also a very versatile dish because it can be used in so many ways. So let's see, easy to prepare, tasty, and versatile. Check, check, and check. For me having all three in a camping meal means that I can please more people, more often!
I mentioned that the campfire corn fritters were versatile. I don't want to leave you in suspense for too long so let's start there. My favorite part about making these fritters is that I can make them at any time of the day. They are wonderful accompanying scrambled eggs in the morning. I have even added a bit more sugar so that they are more doughnut-like. At lunchtime, I like to make them, split them in half, and eat them with deli meat and cheese. At dinner, they make a great side dish. However, if I make extra they are a hearty meal all on their own. Being great for three different meals means I can use it whenever.
Campfire Corn Fritters
These campfire corn fritters are a delicious side dish or a meal all on their own. With limited ingredients, you can have a filling meal that will delight everyone. Or better yet pair this with an amazing Thai or Indian-inspired dish to elevate your campground cooking!
Check out this recipe

Final Thoughts on Vegetarian Camping Recipes
I hope that you have found at least one vegetarian camping recipe that you are excited to try on your next camping trip. Each of these options would do well in feeding your crew a healthy plant-based alternative. So don't get stuck in the rut of hot dogs and beans. Take some of these recipes along with you and I know you will enjoy them! I know that you can be like me and be well fed on the trail. Adapting home-based recipes to be trail worthy is fun. It gives me new foods to try with my family and fulfills the veggie needs that I crave. Not to mention it is better than munching on carrot sticks for my meals!
What vegetarian camping recipe are you going to try first? Tell us in the comments below or on our Facebook and Reddit communities!