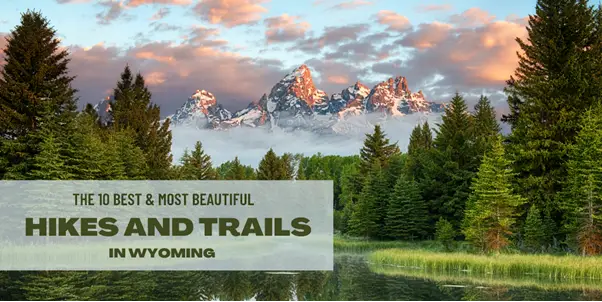 Wyoming is a state that's often overlooked. It gets overshadowed by its much bigger neighbors, Colorado and Utah. But Wyoming has some of the most beautiful natural landscapes in the country, including national parks like Yellowstone and Grand Teton. Its low population helps to keep this one of the wildest and rugged places in the lower 48 states. With so much open country how can you know what the best and most beautiful hikes and trails in Wyoming are?
There are many hikes and trails to choose from, but we have narrowed down our list to the ten best and most beautiful hikes in Wyoming. You will find a little something from all over this large state. So let's dive in! Here are 10 hikes to add to your bucket list! 
---
Check-in on our trail talk for some helpful hiking hints.
---
1. Taggart Lake Loop  
We are starting this list with a popular easy hike, which takes an average of 1 hour and 31 minutes to complete. 
It is one of the most popular trails in Grand Teton National Park, offering spectacular views of the Teton Range. Like this one from the National Park Service!
This trail is an excellent choice for families with small children and visitors looking for a hike with water. It has streams, mountain views, and of course views of the lake. The trail is easy to walk and well-maintained, with maximum views for minimum effort. 
The hike is well-marked, with plenty of bathroom facilities. Previous visitors suggest hiking the trail counterclockwise as well as taking time to swim in the lake. 
Wildlife enthusiasts can also catch a glimpse of moose and deer, as well as the occasional bear. 
Difficulty: Easy  
Length: 6.1 km  
Family-friendly 
2. Surprise and Amphitheater Lakes Trail  
We started off easy but the best and most beautiful hikes and trails in Wyoming are not all easy! This trail is a strenuous out-and-back hike averaging 6 hours to complete. It takes you through similar terrain as the Taggart Lake Loop but offers more of a challenge. 
This trail offers stunning views of the Teton Range, along with views of several alpine lakes in the area, including Delta Lake and Bradley Lake. It also offers spectacular valley views with beautiful wildflowers sprinkled throughout. 
The hike begins at the Lupine Meadows trailhead and is considered one of the toughest day hikes in Grand Teton National Park. Hikers should be prepared for a challenge, but the views and lakes are worth it. 
The area is home to a variety of wildlife including bears, elk, marmot, deer, beavers, and more. So be prepared for some animal sitings as you go. 
Previous visitors recommend carrying microspikes and poles for this tough Wyoming trail. 
Difficulty: Hard  
Length: 16.3 km  
No Dogs Allowed  
3. Leigh Lake Trail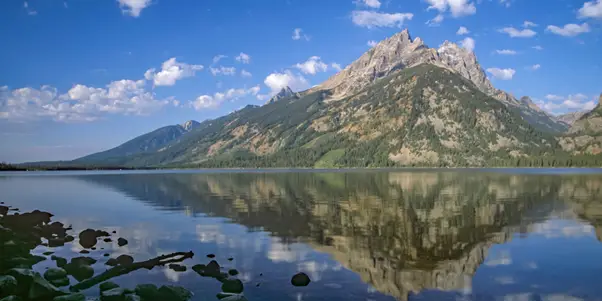 Hikers looking for an easy trail with lots of water should try out Leigh Lake, which features a beautiful mountain backdrop. It is an out-and-back trail, averaging 2 hours from start to finish. 
The Leigh Lake Trail offers a chance to hike through a beautiful wooded area while enjoying the scenery afforded by its location between Mount Woodring, Mount Mora, and Leigh Lake. The trail ends at Bearpaw/Trapper Lakes to the north. 
It's a flat, well-maintained path that provides the best view of Leigh Lake and the Tetons. It's perfect for children, and really anyone who loves the great outdoors. 
There are many places to enjoy a picnic or just relax along the lake, and you can even swim at Spring Lake at the trail's end! 
As you hike, the trail is lined with wildflowers and huckleberries, and if you go in the morning, the water is so clear that it looks like a mirror. You can see the Tetons reflected in it. 
Visitors who've been on this trail before say it's worth hiking the extra half-mile to see Bearpaw Lake too! 
Difficulty: Easy  
Length: 11.3 km  
Family-friendly  
4. Red Beds Trail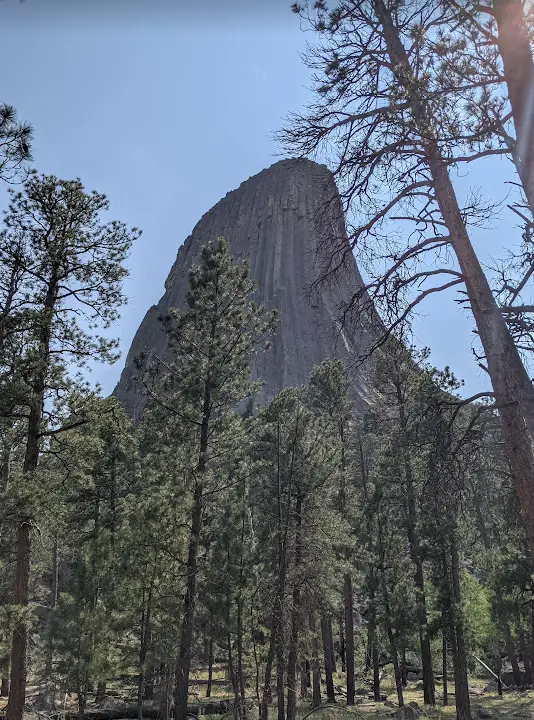 We're changing things up for our next trail. All of the best and most beautiful hikes and trails in Wyoming aren't just in the Grand Tetons! Instead of a lake, this trail offers breathtaking views of Devils Tower, a unique rock formation in the center of the state. The trail leads through rugged terrain and offers beautiful vistas of the surrounding valley, too. 
The first national monument declared in the United States, Devils Tower, was formed when a volcano clogged up with cooling molten lava. Over time, the surrounding earth and debris eroded away, leaving behind only the formation. There is a spookier less scientific rationale as well. Find out more about Devil's Tower lore.
To preserve the surrounding areas, only a handful of hikes are permitted inside Devils Tower National Monument so this trail is well worth seeing if you have the opportunity to visit this area. 
Hikers who have done this trail before recommend going counterclockwise to avoid climbing at the end of the trail. The trail is magnificent and provides stunning views of the river and red beds too. 
The trail is marked, but you should download a map before you arrive in case you lose service on your phone. Also, make sure to watch out for snakes along the way! 
Difficulty: Moderate 
Length: 4.5 km  
Family-friendly  
No Dogs Allowed  
---
You may want to see these dollar store camping hacks for your next trip.
---
5. Paintbrush Canyon – Cascade Canyon Loop  
This loop trail near Moran, Wyoming is not for the faint of heart or the inexperienced hiker. It takes an average of 10 hours and 42 minutes to complete, but its rugged beauty of it makes it one of the best hikes in Wyoming. 
A strenuous loop hiking trail starting and ending at String Lake that goes up Paintbrush Canyon and down Cascade Canyon, visiting Holly Lake, breathtaking Lake Solitude midway, Inspiration Point, and even Hidden Falls along the way.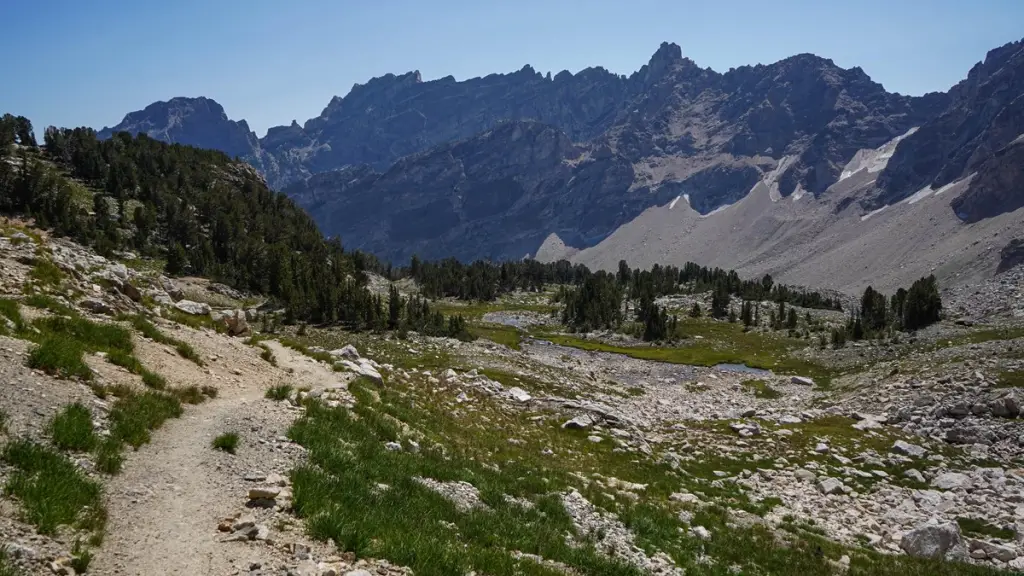 The trail is astonishingly beautiful, well-graded and signposted, and enjoyable throughout, providing majestic views, abundant water in the form of waterfalls, lakes, rivers and creeks, wildflowers, and challenging inclines as well as restful declines. 
If you choose to go counterclockwise, you'll face the steepest part of the trail uphill, but if you choose to go clockwise, you'll have the steep part downhill. 
Doable in one day, but many opt to spread the excursion over several days. 
The trail is hot and exposed, but splashing in the lake and creeks along the way offers a refreshingly cool reprieve. 
Difficulty: Hard 
Length: 35.2 km  
Best for: Backpacking & Camping  
No Dog Allowed  
6. Grand Prismatic Hot Spring   
If you're visiting Wyoming and Yellowstone National Park, this trail should be on your to-do list. 
The Grand Prismatic Hot Spring in Yellowstone National Park is the largest hot spring in the United States. Its surreal colors and enormous size are best appreciated by visiting it in person. 
This is a hike along Fountain Flat Drive to the Grand Prismatic Spring Overlook, which provides better views of the hot springs from above than if you approach them from below. 
Visitors report this is a popular, family-friendly route with crowds that get large in the early afternoon. However, if you arrive too early, you may find the steam so thick that it will obstruct your view. 
Difficulty: Easy  
Length: 2.4 km  
Wheelchair & Stroller Friendly  
No Dogs Allowed  
---
Want to know how to visit Yellowstone? Check out our Yellowstone Park Quick Guide!
---
7. Dubois Badlands Trail  
This is a must-do short hike with plenty of flexibility. The trail is quiet and secluded, and you'll most likely have the entire, calming route to yourself. 
The Painted Hills of Dubois are beautiful and an experience to behold. The hills take on a range of colors with the sun and are even more vivid in the rainy season. 
The trail offers some awesome scenery with little effort for amazing 360 views and gives you the chance to explore without getting lost. 
Wildlife is abundant in the area; visitors should keep their eyes peeled for deer and bighorn sheep in particular. They may not be up close and personal. So consider taking some binoculars along with you on this trip so you can view the hills and wildlife at a distance.
Take along some binoculars with you to enjoy those wonderful mountain views!
Previous visitors highly recommend continuing on to the Dubois area after taking this trail. 
Difficulty: Moderate  
Length: 6.1 km  
Dogs Allowed 
8. Mistymoon Trail  
The Bighorn trail runs for around 5 h 19 min and is considered the most popular in the Bighorn Forest, as well as one of the most beautiful and awe-inspiring trails in the region. 
The Mistymoon Trailhead begins along the lake and meadow at West Ten Sleep Lake and follows Ten Sleep Creek north past wildflowers and trees to Mistymoon Lake. 
Be prepared to get your feet wet crossing West Tensleep Creek less than a mile from the trailhead. 
The trail is popular with campers who enjoy camping halfway at the alpine lake, Mistymoon. 
---
Wyoming can get downright cold at elevation! Check out these layer tips for your clothing.
---
The wildlife on this trail includes moose, deer, elk, and marmots. Visitors also tell of its superb fishing spots. 
Difficulty: Moderate  
Length: 20.1 km  
Dogs Allowed  
9. Middle Teton Southwest Couloir 
The Middle Teton is the third-highest peak in the Teton Range, in the U.S. state of Wyoming. This is the most popular route on the Middle Teton, and most parties opt for this route due to its incredible scenery. 
You may be thinking that the Grand Tetons are over-represented on this list. You may be right. However, it is one of the most overwhelming places on Earth. You will find pieces of more than just nature as you hike in this location. Even if you are not spiritual, nature will touch you on the best and most beautiful hikes and trails in Wyoming if you extend your stay in the Grand Tetons.
The trail is clear as you head up through the meadows but becomes rocky when you reach the saddle overlooking Iceflo Lake. It's a good idea to download the map and know the general route before setting off, as it will prevent you from getting lost in the middle of your adventure. 
Couloir has extremely loose rock, so a helmet is mandatory. Approach the route carefully and keep plenty of distance from others to avoid rock falls. The payoff is an unforgettable adventure with the most amazing feeling of accomplishment. 
The completion of this peak will inspire you to take on the Grand! 
Difficulty: Hard  
Length: 20.4 km  
Best for: Camping & Backpacking  
No Dogs Allowed  
10. Colter Bay Lakeshore Trail  
Last on the list of the best and most beautiful hikes in Wyoming is this easy loop trail that will take you 48 minutes to complete. 
It's a very well-maintained trail, suitable for all ages and experience levels, that gives outstanding views with almost no effort. 
Views include some epic mountain scenery courtesy of the Tetons, and you will get to experience the wonderful smells of nature from various pines. 
Kids had fun looking through the rocks next to the lake. Families especially enjoy the rocky beach, which offers the opportunity to swim, play with the rocks, or just sit and soak up the spectacular views. 
The route has lots of species of birds and animals, great for birdwatching and wildlife. You may even spot a bear! 
Difficulty: Easy  
Length: 4.0 km  
Family-friendly 
Final Thoughts on the 10 Best Hikes and Trails in Wyoming
And that's a wrap! 
We've reached the end of the 10 best and most beautiful hikes and trails in Wyoming. We know there are quite a few Grand Teton hikes. Trust us you will never want to leave once you enter the park! We hope you've found some other trails to add to your bucket list too! While they range from easy to hard there is something for everyone. Remember that Wyoming is more than just desolate wilderness. There are mountains, waterfalls, and wildlife galore. It is time to make your reservation to explore the great wilds of Wyoming.
Now that you've read about these hikes, we want to know: Which is YOUR favorite? Are there any on this list that we missed? Let us know by commenting below, on our Facebook, or on Reddit!
We hope you enjoyed our list of The 10 Best & Most Beautiful Hikes and Trails in Wyoming! And maybe even got a little bit inspired! So, what are you waiting for? Get out there and start exploring!