Just because the summertime comes to a close does not mean that you need to stop camping. Worse don't end your outdoor activities altogether. The fall brings cooler weather and more opportunities to experience nature in a different way. If you have never gone camping in the fall then you may be a bit nervous. You needn't worry any further though. In this post, I am going to share the fall camping gear essentials.
Hopefully, this quick guide and checklist will help to make sure that you have the clothing you need.
---
Don't forget that in fall you have all of the spooky events of Halloween camping!
---
Planning your Fall Camping Trip
Planning is the most important thing that you can do when you go fall camping. Well, honestly, planning is the most important part of camping any time of year. However, in the fall things can change rapidly. You need to be prepared and planning gives you the competitive edge that you will need.
By laying out everything that you will need beforehand you can make sure that it really is everything you need. The fall camping gear essentials below are not the only planning that you need to take into consideration though. You also need to consider your clothing, the weather, your campsite location, and an exit strategy.
Fall is one of those times a year when the weather can be unpredictable. So having everything set up front and being knowledgeable will ensure that you come out of the trip with happy memories and not tales of survival.
---
Check out our fall clothing tips and checklist and use it as you pack.
---
Fall Camping Gear Essentials
Luckily the way you camp in the fall is similar to that of summer. In fact, many of the things that you need are the same! That makes packing a little easier. However, the evenings and mornings will be cooler than summer. So, you will need to prepare with these fall camping gear essentials.
Tent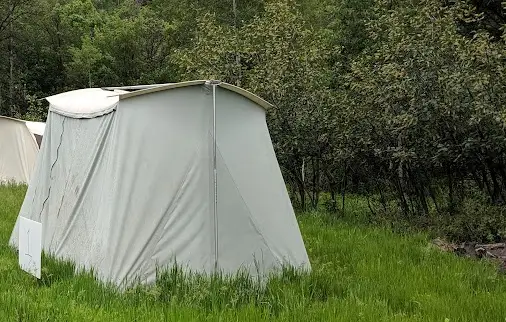 If you love camping as much as I do though, you are going to want to extend your camping season as long as possible. Unless you have an RV a tent will be critical for fall camping. Make sure that you select one with enough space. As the weather can change rapidly you will be happy to have some additional interior space to live in. Don't forget to lay down that tarp!
Check out these tent recommendations that will work great in the fall!
Sleeping Bag
The hardest thing about going on camping trips is getting a good night's sleep. Between the hard ground, sticks in your back, or mice scurrying below you it can be a bit rough. Being out in the woods on the trail will certainly expose you to nature's worst. While you shelter yourself against the elements with a good tent, only a proper sleeping bag with a camping pad will help give you a good night's rest to power you up for the next day of activities.
In some cases, you may be able to use your same sleeping bag. Generally, though make sure that your sleeping bag is rated for about ten degrees below the lows you are expecting to sleep through. Here are four options that may continue to work in the fall.
Insulated Sleeping Pad
Sleeping mats provide a comfortable, insulated place to sleep for the night. They give extra padding under your sleeping bag and help keep your body temperature regulated throughout the night.
---
Check out our Top 3 Sleeping Pad Options Now!
---
They provide a layer of comfort between you and the earth below so that your body is protected from rocks and other sharp objects that may be in the area where you're camping.
You want to make sure that you have at least an R-5 sleeping pad for fall camping. However, the higher the better when it comes to keeping you warm.
Overall, they make sure that you'll get some restful sleep!
Blankets
Blankets are a wonderful addition. Sometimes you need something to help improve the warmth of your sleeping bag. Having an extra blanket can do this. They can also help if you are just looking to cover up around the fire to extend your evening. A nice fleece blanket has many uses and can dry quickly if it gets wet. It is a fall camping gear essential due to its many uses. I have also found that in a pinch you can use a good blanket to help add extra insulation under your sleeping pad.
Picnic Table Shelter
Having a picnic shelter is fantastic in the summer because it can help to keep the bugs away. It can do the same in early fall. However, in the heart of fall, it is important to have it because of the changing weather. You do not want to have to take your food into your tent to eat it. Instead, if you have a good camp shelter set up around your picnic table you can eat even if the weather goes from sunny to rainy.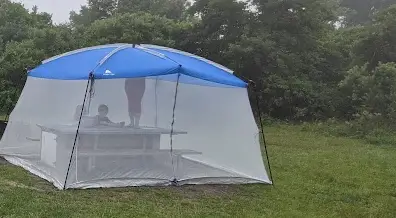 Camp Chair
You certainly need a place to rest after a long day of hiking. Picnic table benches can be quite hard. Luckily there are many options of folding camp chairs that have padding. Heck, you can even get rocking camp chairs now! No matter what you decide to take along having a camp chair will make the family time around the evening fire comfortable. That is why it is a fall camping gear essential.
You really don't need anything fancy here. Picking up a few cheap chairs the next time you are out will work!
Camp stove 
Your camp stove is an essential piece of camping gear and choosing a brand or type is very important to your camping trips. Your investment in your stove will be well worth the price in the long run when it is reliable, easy to use, easy to clean, and eco-friendly. Take your time to investigate the possibilities and find the one that will meet your needs for camping. Besides cost, there are no rules to say why you should not have more than one stove!
Whether you enjoy car camping or backpacking selecting a camp stove should be based on how you will be using it, the number of people in your party, and what type of fuel to use. Make an investment in your camp stove that will last visit and select a camp stove that will be used on your next adventure. Camping and outdoor activities have been a part of my life. I appreciate the time spent with family and friends and sharing memorable experiences. Especially, creating and cooking delicious meals at our favorite campground in the great outdoors.
Multi-tool/Hatchet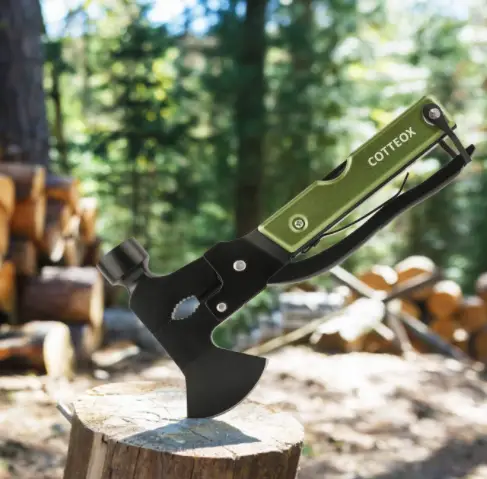 A camper is only as good as the tools that they bring with them. This means that you need to be prepared and ready for anything that may come your way. Like many things in life, preparation can be quite expensive. However, when you need a sharp edge (see what I did there) you don't have to break the bank. In fact, there are many multi-tools under $25 that you can keep handy in your camping bag. These will provide things like bottle openers, pliers, knives, files, or maybe even that trusty reusable toothpick!
However, having a multi-tool with a hatchet built-in can be even more of an advantage. This is because the hatchet can provide to you a means of making firewood. Evening fires in the fall are a mainstay. So having the ability to quickly make the wood you need is critical. The Cotteox in the picture is a great option and it is inexpensive for its quality!
Fire Starter
What says camping like a warm campfire to roast marshmallows at? Nothing! This is exactly why you never forget to pack everything you need to start a fire. Learn how to become an expert at building campfires. This could be whichever type of fire starter you choose, options include things like flint and steel, matches (make sure they're waterproof), or a cigarette lighter.
This is a fantastic way to get your fire going quickly.
Additionally, pack some kindling for the fire as well because you don't want to leave it to chance and try to find all of it in the woods. Use a waterproof container and pack it with dry tree bark, strips of newspaper, or other types of kindling.
Just make sure that there are no lingering fire bans and always follow campsite rules for starting fires.
Headlamps or a lantern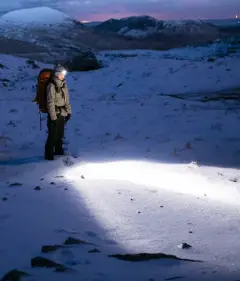 The thing about campfires is that although they're charming, they're not exactly portable. So you'll also want to pack other types of lighting for your camping trip, to make sure you can get around at night safely. This is especially true in the fall as the sun will start to set earlier in the evening.
Some people use flashlights, others use lanterns, and a popular option is headlamps as these allow you to move around and still be able to use both hands for other tasks instead of having one busy with the light.
Clothing
Camping in the fall will require you to have the right clothing so that you can be prepared for anything the weather throws at you. Because of this, it is important to have layers on hand. You will also need gear to protect you from rain and moisture. Maybe even snow in the higher elevations. This is my detailed checklist on fall clothing for camping.
First Aid Kit
There are many small injuries that you could obtain while camping, especially if you're doing so as a family with small kids. In this case, you're going to need the supplies on hand to treat these injuries while they're still minor, you wouldn't want any infections forming while you're on your trip. This is one of those fall camping gear essentials that is also an every-trip essential!
Things to put in your first aid kit would be bandages, antiseptic, scissors, adhesive, gauze, soap, and even things like an emergency whistle and CPR mouth barrier just to be safe. Check out these other top camp safety items to bring with you.
Clean Water Source
Even if your plan is to camp near a source of fresh water, that water could still be contaminated with countless dangerous bacteria in it. So it's always best to avoid those sources of water unless you have some way to filter and purify it.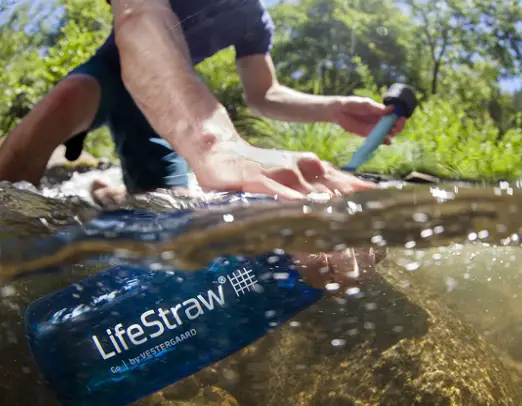 It's for this reason that you should always bring enough clean water with you to last you the duration of your trip. Bring packs of water, a large container full, etc. Whatever your method of water transportation, just be sure to have plenty on hand.
Toiletries
Our last item on this list is… toilet paper. Like it or not, we really can't live without going to the bathroom even in the woods. We as humans, like to have what we need to do our business comfortably. So bring some toilet paper.
Some people will use whatever is available to them in the woods, but this is far from hygienic and we wouldn't suggest it. Furthermore, even if you're going to be in a campground that has toilet facilities, don't count on them to always have what you need. It's better to be prepared on your own. Beyond toilet paper, do not forget to bring earth-friendly soaps, sanitizers, toothpaste, and deodorant. Just make sure you store them properly to prevent animal intrusion!
Practice with your Fall Camping Gear Essentials
Always remember that you should set up and use your gear before you head out. If it is single-use buy two. This is the most important step because you want to be able to know how to use each and every piece of your gear. You also want to make sure that everything is in working order. Trust me there is nothing worse than realizing you no longer have the rain fly for your tent as you are setting it up!
It will also help you to identify any gaps in your gear. Doing a dry run in the backyard or living room is a great way to get kids comfortable with prepping for camping as well. So don't forget to practice!
---
When you are ready fall is a wonderful time to experience the changing color of the leaves. Check out these fall leaf viewing locations as you start your trip planning!
---
Fall Camping Gear Essentials Final Thoughts
Fall camping isn't just about the gear essentials. While the list above will ensure you are well supplied to make camping easier, it doesn't help you get where you need to go. Worse they can help you be safe but you need the skills to use them to stay safe. So make sure that you test out everything and know how it works before you head out.
Now that is out of the way! Use the checklist provided as you start to pack for your fall camping trip. You are sure to find that you are prepared for anything that comes your way. As I mentioned, fall can be a time when things change rapidly, like the weather. So having the things you need packed and ready will make it more comfortable and easier to adjust.
Use my checklist to make sure that you have the fall camping gear essentials you need. Don't forget that having a few extra items will ensure that if things get wet you can stay warm and safe. The evenings may be crisp and inviting but having those extra layers at night time will be good. You can always double up late at night in your tent where no one can see! In any case, enjoy those fall days and evenings.
What are your favorite parts of fall camping? We would like to hear about them in the comments, on our
Facebook
, or on
Reddit
!