If you love to go camping during Halloween as much as I do then this post is for you. It is not too late to make Halloween a little different this year! Make Halloween a little more special and celebrate it while camping! Not sure what you can do while camping on Halloween? Well, we can help turn it into a Halloween camping extravaganza with our top 10 activities for Halloween camping. Which one do you think is best? We would love to hear your thoughts on our top 10 activities for Halloween camping on our Facebook Page!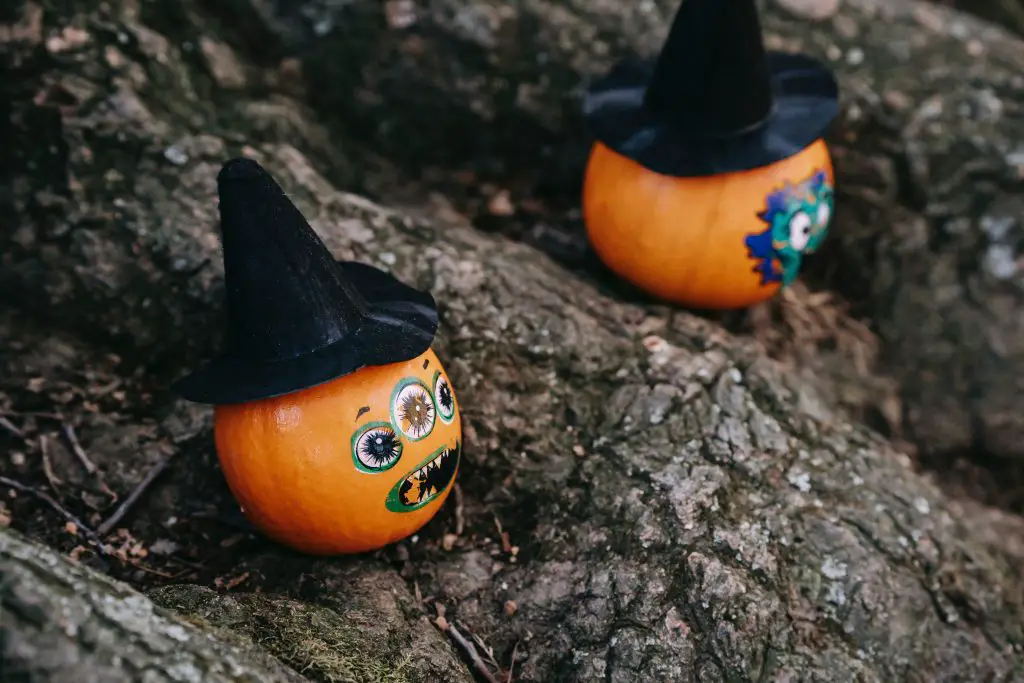 ---
For ideas on how to select the best campsite, find read our best tips!
---
Top 10 Activties for Halloween
1. Visit a Campground with Halloween Activities
The easiest thing to do is find a campground that has fantastic Halloween plans already. You can take part in the activities that they have. You will likely find that these campgrounds will be filled with others who are seeking the Halloween spirit and have come prepared with candy and other things to help spookify the area. Additionally, many of these campgrounds will have activities throughout October to allow multiple weekends of fun! Your kids will love this because they will also be able to still participate in Halloween back at home.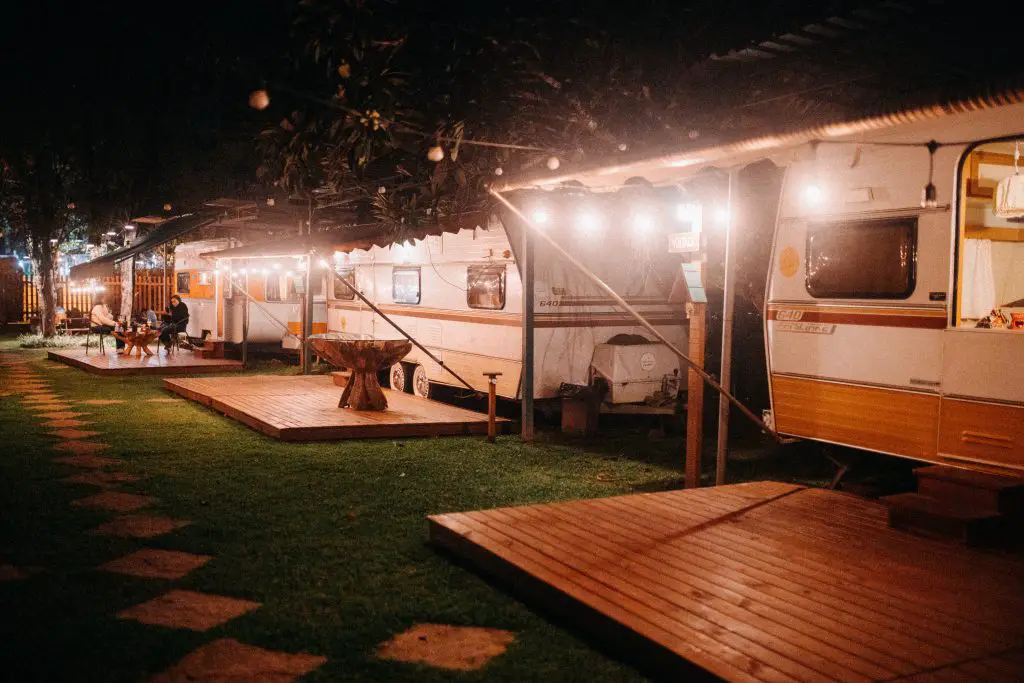 2. Go to a Farm or Apple Picking
The good thing about doing campground camping is that they are normally locating in rural areas and are near farms. This is fantastic during the fall time and especially Halloween. You will likely be able to find a nearby farm or orchard that has some Halloween activities that you can take part in during the daytime. For instance, a working corn farm may have a corn maze, pumpkin picking, or even corn cannons. Nothing says fall to me like picking apples and taking them home. I love to make applesauce and eat it warm. The kids will love to pick them and eat them right from the tree. Try to look for campgrounds that are near these types of venues to give yourself a break from the tent or the RV. Apple picking and corn mazes will make you scream with enjoyment and that is why it is one of the best activities for Halloween camping.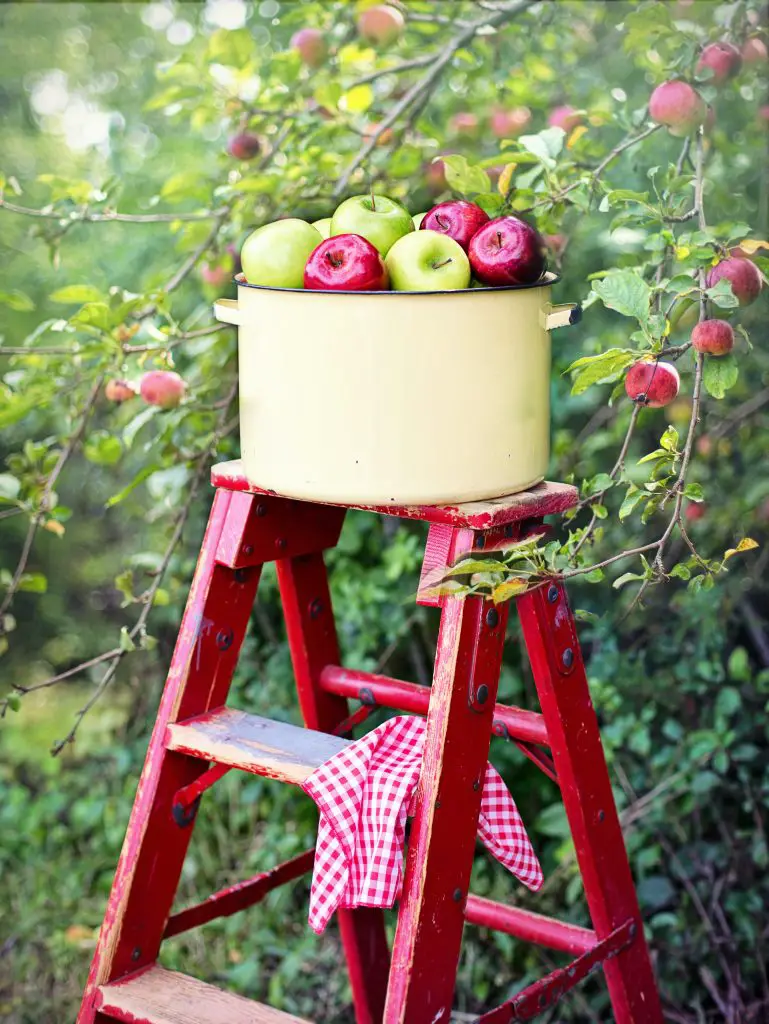 3. Decorate Your Campsite
Once you are at your campsite it is time to add some flair. Our next activity for Halloween camping is to decorate your campsite. You can add some quick store-bought or premade decorations to your site to bring in that spooky vibe. You will want to make sure that you are packing things that do not add lots of weight or take up too much space. Also, please consider decorations that will not easily blow away or cause damage to the campground or surrounding natural area. We have some great decoration ideas that can give you some ideas! Consider things like spider webs, fake insects, small hanging ghouls, or inflatable displays. many campgrounds will also have decorating contests. So really get into decorating because you may when a scary prize!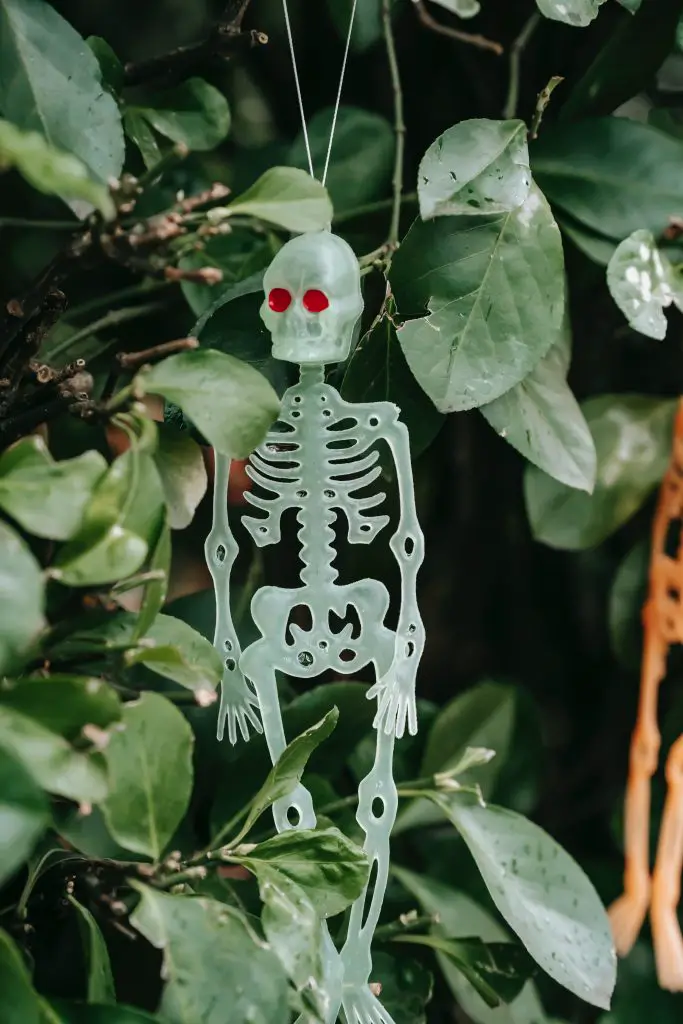 ---
As a bonus you should go on one of these 10 haunted hikes.
---
4. Carve Pumpkins
The Halloween season is not really here unless you have a carved pumpkin hanging out somewhere on your site! This is a great decoration that you can make to add to the showcase of your spooky site. How do you like to carve your pumpkins? Do you freestyle or use a carving kit? The carving kits can be pretty handy when it comes to designs especially if you use one like this. Don't forget to bring the tea lights with you to make them jack-o-lanterns really glow!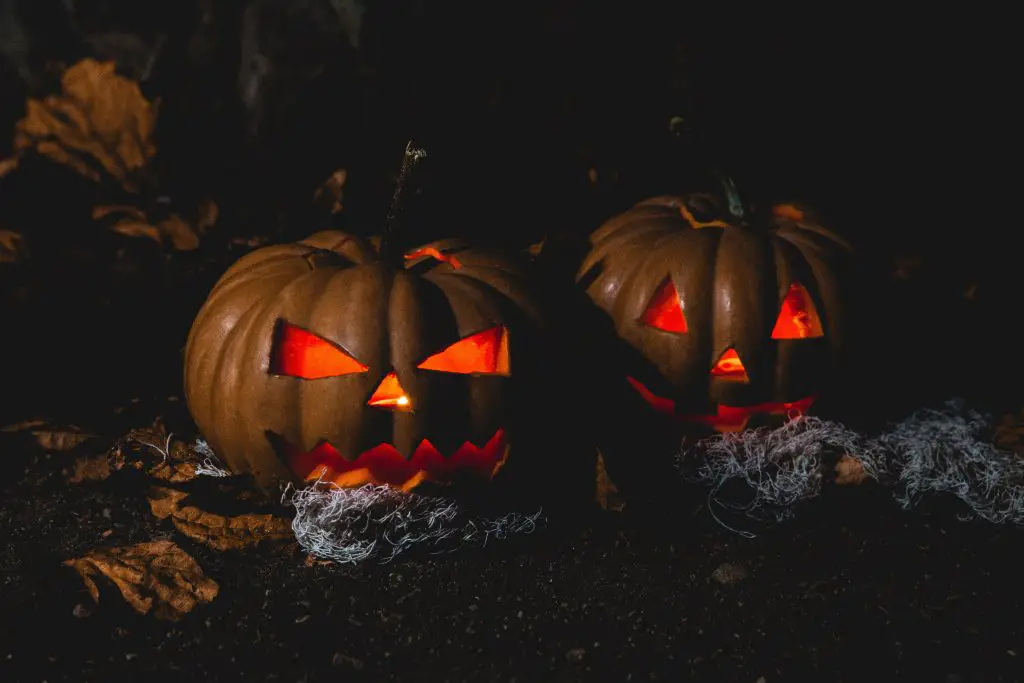 5. Make Halloween Decorations
Arts and crafts are fun any time of year and are especially fun activities for Halloween camping with smaller children. Make sure that you plan ahead to make things a little easier. You want to have a craft that does not require too many tools or different supplies. You could always make decorations in preparation for the trip to get your little ones excited. When you are out camping on the fun project is to make Rock Monsters. This is so fun and quick because the kids can hunt for rocks around the campsite, paint on their monster face, and then go crazy with other design elements. Bring things like googly eyes, funny noses, silly mouths, stickers, mustaches, and fake fur. Then they can make their monsters as scary as they please.
if you are looking to make something at home before you head out then tombstones are so easy to make. Take some of those old Amazon boxes you have laying around and cut them out into the shape of a tombstone. Spray paint them with some gray paint and use a marker to add some cracks and the names of the dearly departed. Make sure that anyone that can't leave your campsite out of fright has a place to rest in peace. Don't worry about packing these carefully because the more damage they get in transit the scary they will look.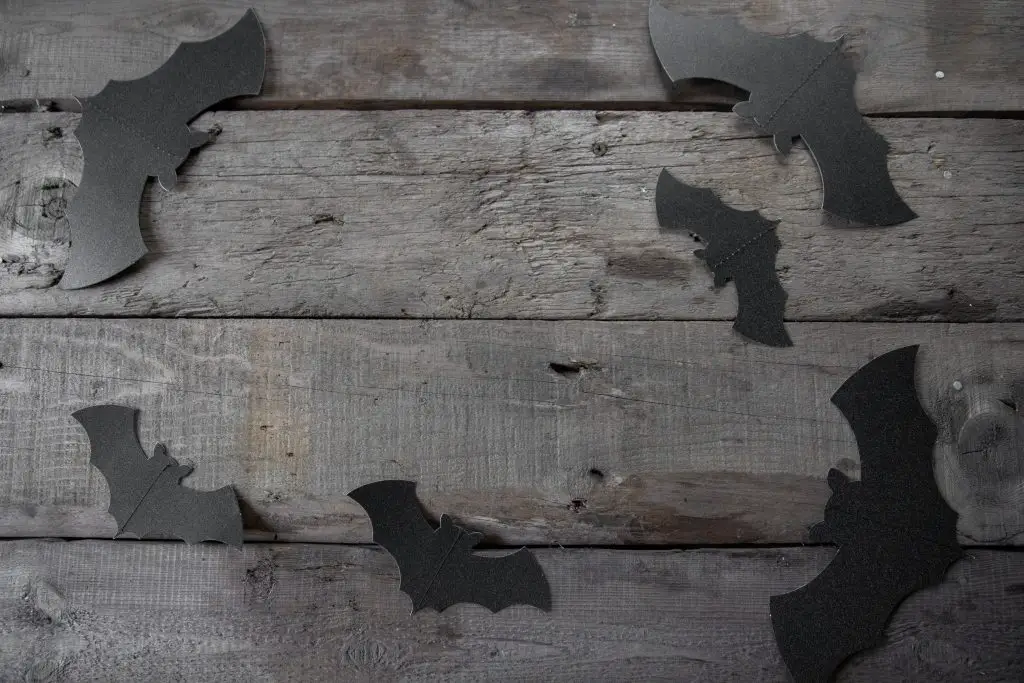 6. Costume Parade
Let's be honest. The single best part of Halloween that everyone looks forward to is putting on their costume. Costumes for trick-or-treating and parties get everyone in the Halloween spirit. So dress up as your favorite superhero or ghoul! Make it interesting with your family and have a prize. Take a look at the campground too because they may already have a costume party planned with prizes for the children.
Make it easy on yourself though. Remember you are still roughing it and may not have the same amenities you have at home. So make-up can be difficult to take off, instead take a mask. It may be chilly out so consider the amount of coverage you will need beneath the costume so you can remain comfortable. We don't want the Halloween spirit to turn you into a spirit!
---
Stay warm during your activities for Halloween Camping with our Meatball Skillet Stew
---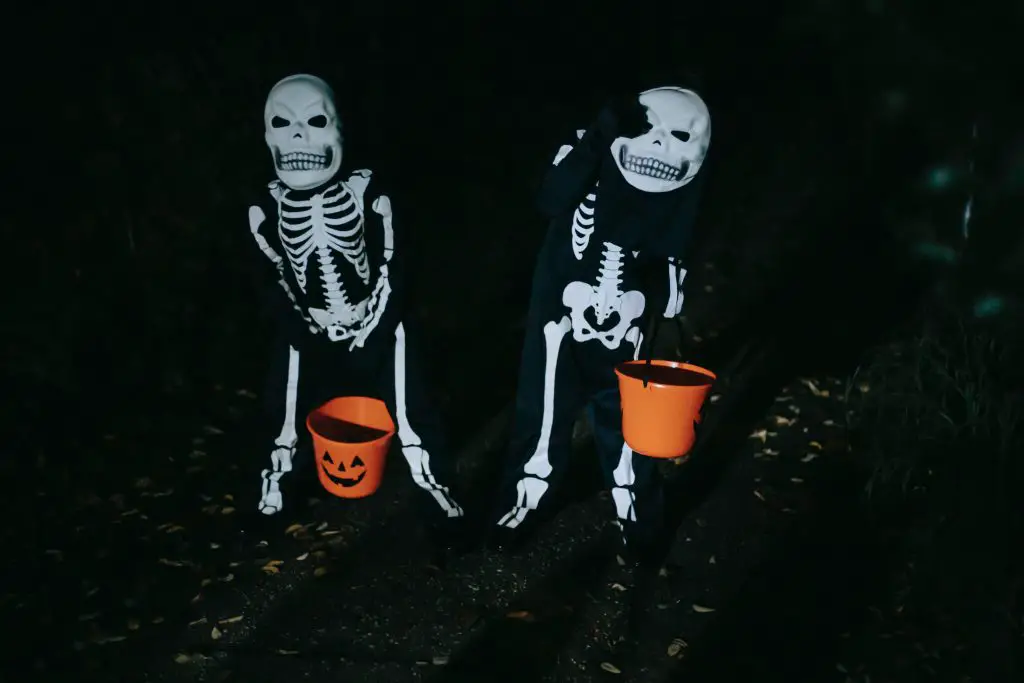 7. Trick or Treat at your Campground
Now that you are all dressed up it's time to reap the rewards. So for this activity for Halloween camping, it is time to go knock on some RV doors! Make sure to ask at the campground office if trick-or-treating is allowed and if there are any rules. That way you know who in the campground is participating and who is being a real ghoul! Many campers will have a bowl of candy waiting on the picnic table. Or if you see them sitting around their fire you could jump up behind them and give them a real trick! Be a good neighbor though and bring your own candy to share as well!
8. Bring a Halloween Pinata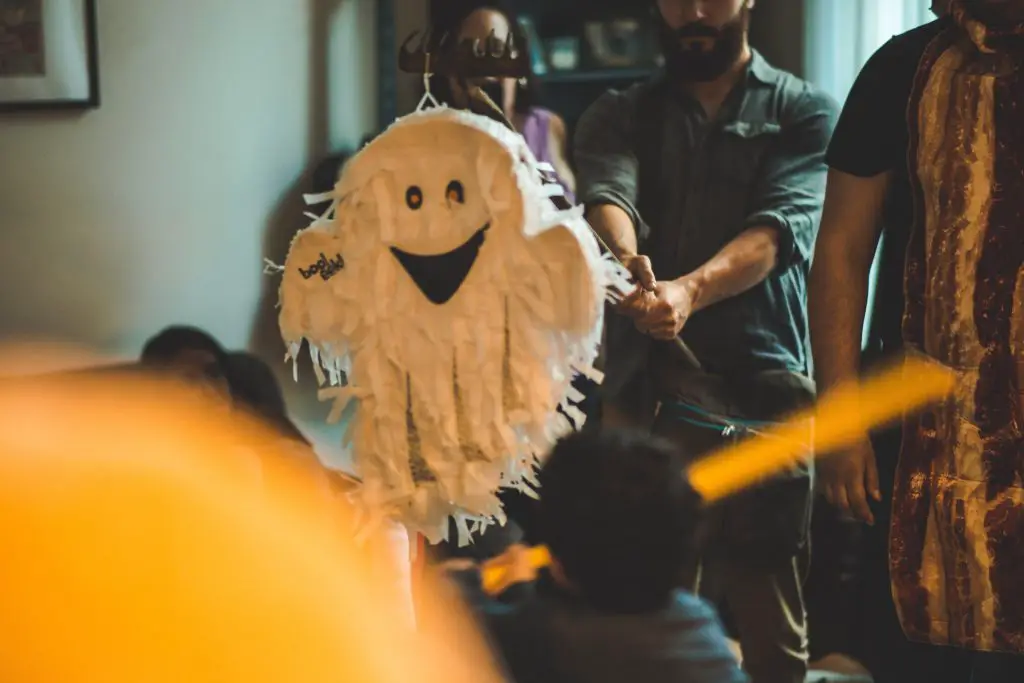 If the campground you are at has limitations or is more remote then you may not be able to trick-or-treat. Well, you will be covered for all those Halloween candy fiends if you bring a Halloween-themed pinata. There are plenty of styles to choose from such as a Frankenstein head, spider, ghost, or werewolf. It will just depend on what your local party store has available for you. You will again want to ask in the office whether or not you are allowed to hang this type of thing from a tree. The best part about this is while you are hanging it up you can send the kids to find a good bat to use. Have them search for a solid stick to swing at the pinata. You will also want to make sure that you do an excellent job of policing the area when you are done. Streamers and candy wrappers can be dangerous to the animals and ecosystem. So have fun responsibly!
9. Swap Scary Tales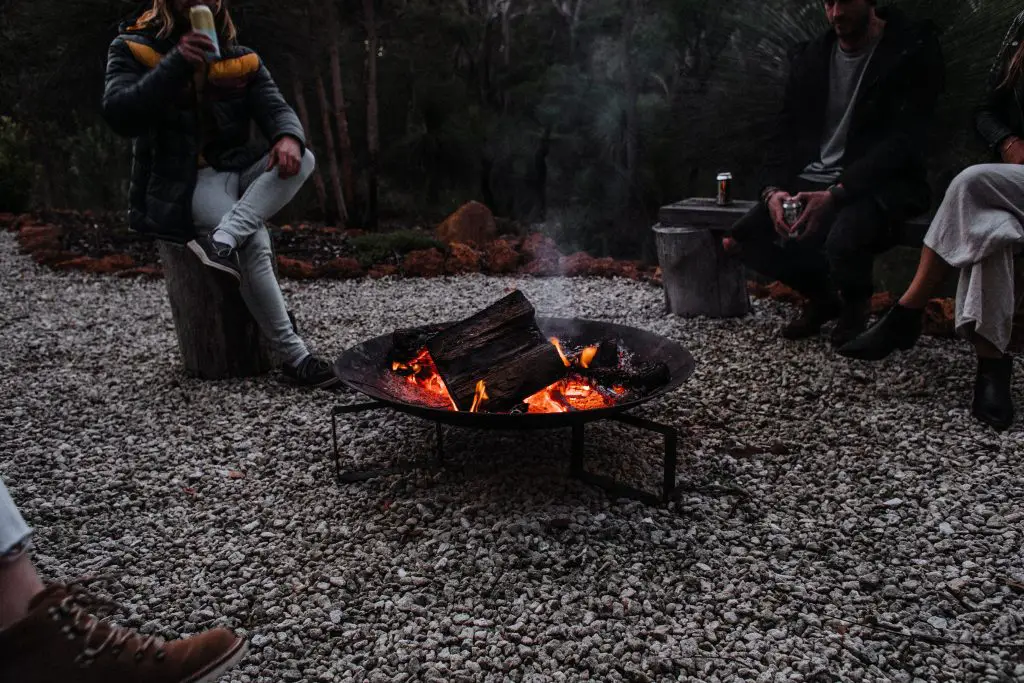 The cooler evenings that come in fall make campfires a real special place to be. For generations, families have gathered around the campfire to tell each other stories. The scariest ones get our heart pumping and our adrenaline flowing. It is always fun to bring a book of scary stories with you to have a few to choose from. Tell your favorite scary story from memory, or maybe your memory is the scary story! We have a few campfire stories already made for you to bring to the campsite. These include some spooky sound effects to help get everyone in the mood. Don't forget to have other adults add some real sound effects from the bushes!
10. Smashing Pumpkins
When the camping trip is over there is no reason the fun has to end! In fact, this next activity for Halloween can be the kid's last hurrah. It is likely that you are not going to want to truck those carved jack-o-lanterns home with you. Instead, let the kids jump on them, throw them, or wack them with a stick. It may cause a little clean-up on your part to make sure the campsite is ready for the next guest. However, your children will always have a core memory of being able to decimate those poor pumpkins. It may also help to get their minds off those scary stories you told them the night before! If you didn't carve the pumpkins and are taking them home from the farm then give our Pumpkin Delight recipe a try!