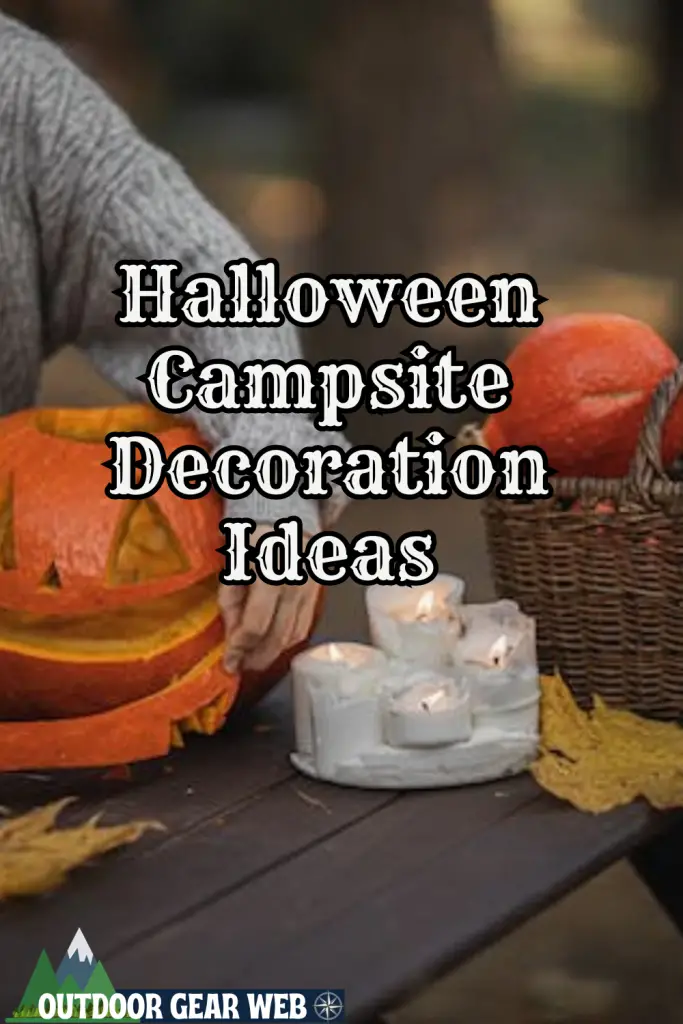 Setting up camp in the fall is one of the things we love the most. It is so fun to see the numerous campsites each with its own Halloween traditions. Our favorite tradition is Halloween campsite decoration. Though you will find at most campgrounds other activities. During the Halloween season, you are sure to find something fun for you and the kiddos to see. Some of these include trick-or-treating, carving pumpkins, costume contests, hayrides, and our favorite site decoration contests! Camping is a fantastic way to get into the spooky Halloween spirit!
There truly are so many ways that you can decorate your site, car, or golf cart! Below are a few ways that you can knock your Halloween Campsite Decoration out of the park.
---
Read on for our Campfire Stories and S'more ideas to get even more in the Halloween spirit.
---
Halloween Campsite Decoration Ideas
To start you need to ask yourself, do I go all out or do I need something small and easy? If you are tent-caming and weight is a concern then focus on our Take it Easy list. However, if you are pulling that travel trailer or driving that RV then take a look at our Go Big list. In either case, we know that spookifying your campsite will give young and old something to smile about this October. While we are providing some of the best ways we have found to decorate for Halloween, this is not an exhaustive list. We would love to hear about the spooktacular ways you have decorated.
Take it Easy
Mums, Hay Bales, and Pumpkins – While these simple decorations are not only for Halloween they signal the harvest. they also are not very spooky but boy they get us in the fall spirit. Not only that but how easy is it to throw these out for the campground to see?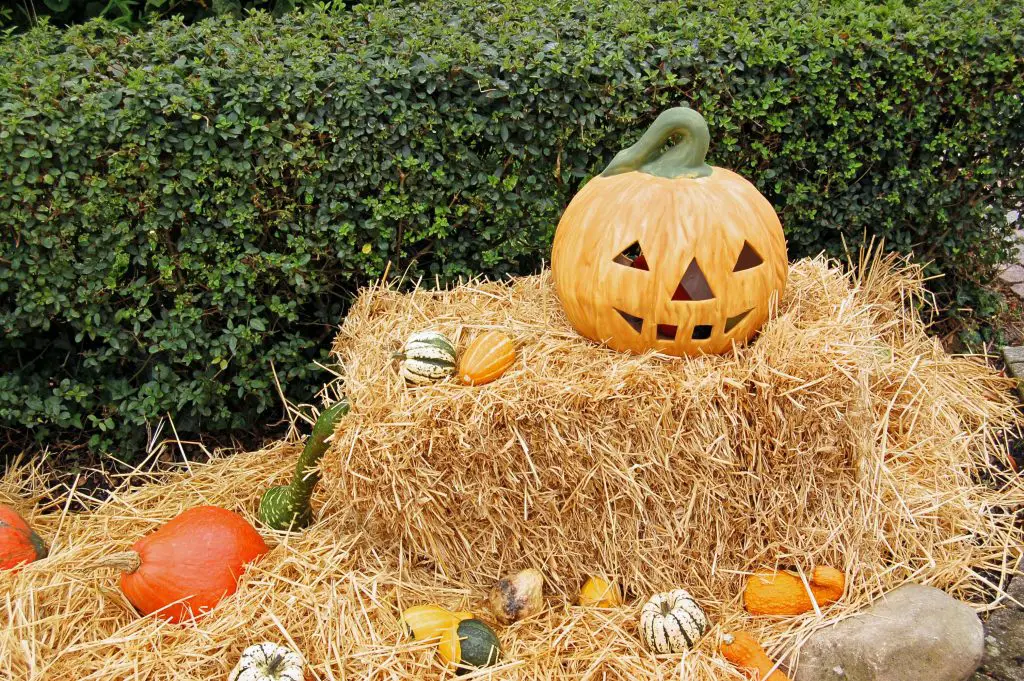 Giant Eyeballs in Trees – Some say that the hills have eyes, but what about the trees? Get yourself a few pairs of large googly eyes to attach to the trees. Bonus points if you hang them at night facing the campsite next to you! You can also do something like this from The DingaLinges. They used beach balls and colored them to look like eyes. That is a lot of hot air for a cool night!
Witches Galore – Put the witch legs under the camper. This is better if you are camping outside of Kansas, but just as good there too. Grab this pair of witch legs and set it underneath your tent or camper. Maybe you could even close them in one of your cargo areas. Either way, it will remind all those wild witches to stay away!
You can always have a witch crash into a tree! They do have difficulty flying through those thick woods at night!
Halloween tablecloths and decals – Simply the easiest way to get that campsite in the Halloween Spirit. All you need to do is find the decals or the tablecloths that you like the most and set them out as you are setting up camp. As a bonus get some Halloween plates and napkins to set out for the kids!
Carved Pumpkins – The Halloween season is not really here unless you have a carved pumpkin hanging out somewhere on your site! How do you like to carve your pumpkins? Do you freestyle or use a carving kit? The carving kits can be pretty handy when it comes to designs especially if you use one like this. Don't forget to bring the tea lights with you to make them jack-o-lanterns really glow!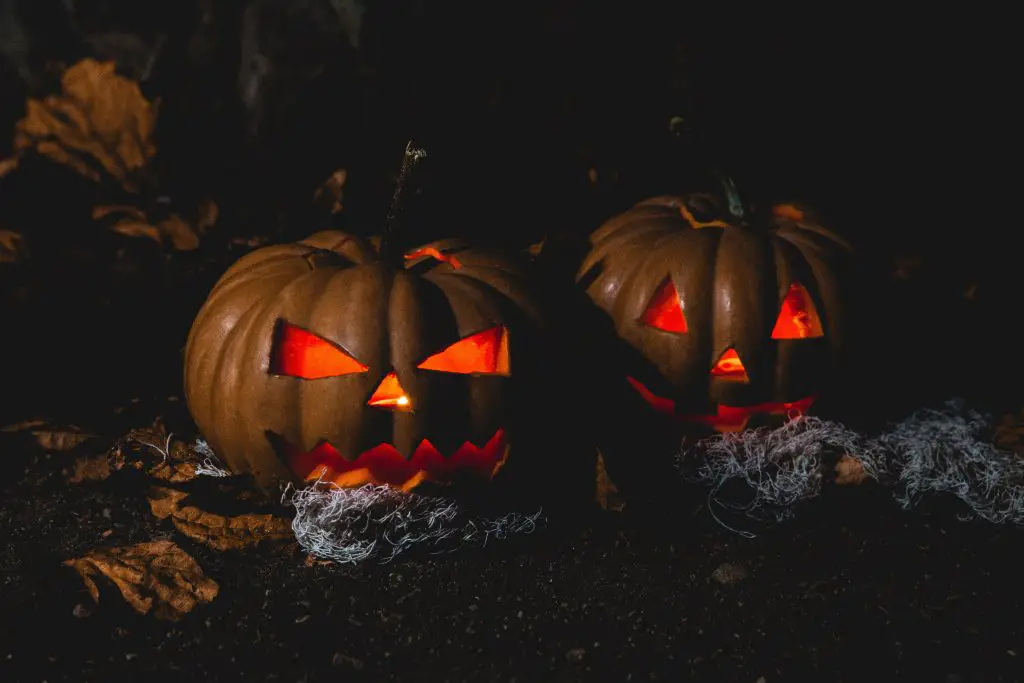 Halloween LED lamps – Hang some of these lamps up around your awning to get into that spooky spirit.
Give it to the Skeletons!
There are so many different skeleton decorations that you can do. The best part about this one is that you can grab a few skeleton decorations and have them move around your campsite each day. Think about how scary it would be to catch a skeleton moving around the campsite. Not to mention how much fun you could have by easily hiding these guys and having them peek around the trees. If you want to be a bit more ambitious here are some ideas for posing your skeletons!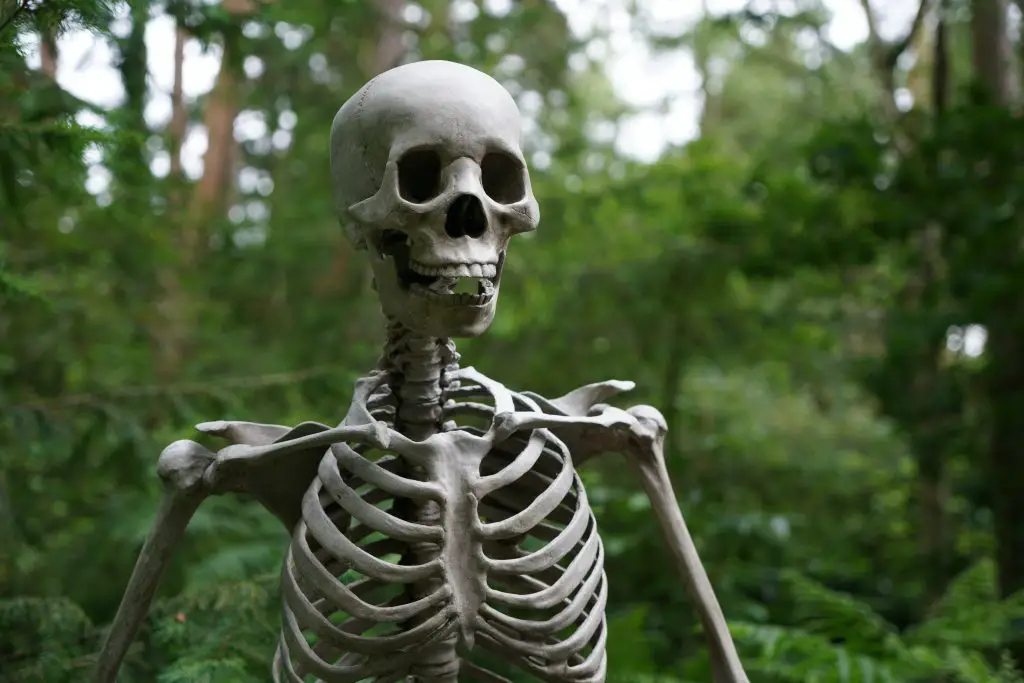 Skeleton in Cooler – Sometimes after long hikes we feel so dehydrated but this guy really takes dehydration to the next level! He isn't even skin and bones but just bones! Here we have a sample from Happy Camper Studio.
Skeletons Playing Poker – This is a classic scene and works so well on a picnic table. Set this one up after eating and let it stay all night with a flickering LED. This is sure to spook your neighbors!
Skeletons Roasting S'mores – As we mentioned above we love s'mores this time of year. More so than others. Do you know who else does? The skeletons! So place them around the fire with the roasting sticks and have a fun Halloween s'more.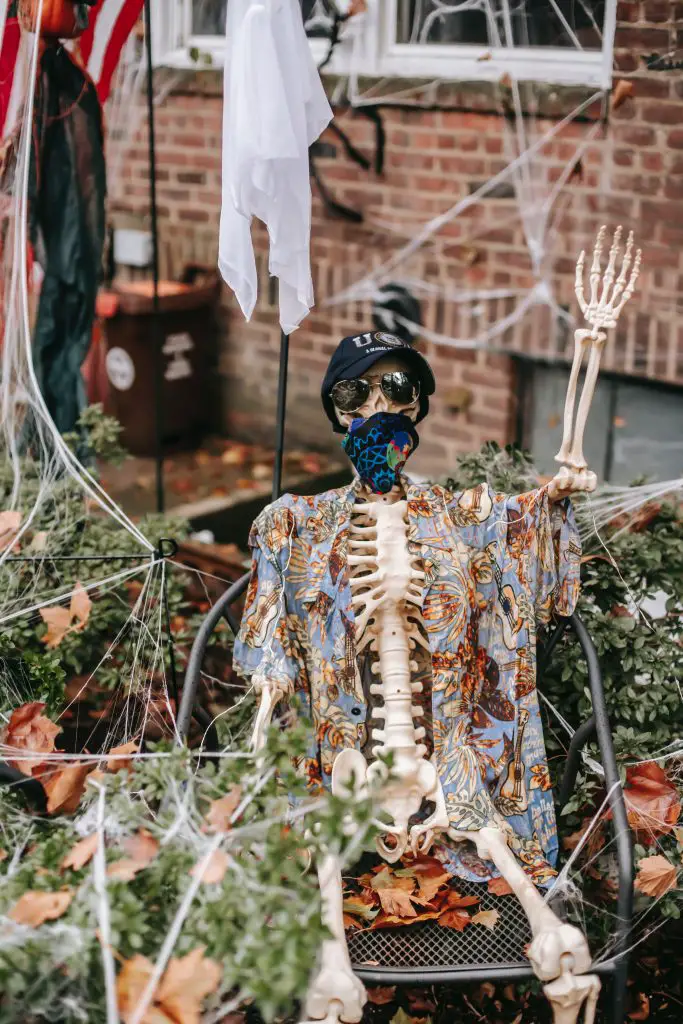 Skeletons Climbing RV – We have seen skeletons climbing on people's homes so why not do it on your RV. How fun would it be to see a few skeletons scaling the front and sides? This will take some preparation so make sure to find some good attaching points that won't cause damage to the RV.
Go Big!
Hanging Creature Cages – These cages are a great find and can make things quite scary around the site. Placing simple led flickering candles inside will make it feel like Halloween. However, if you can find some small scary creatures you could mix and match the contents inside the cages to really give a fright!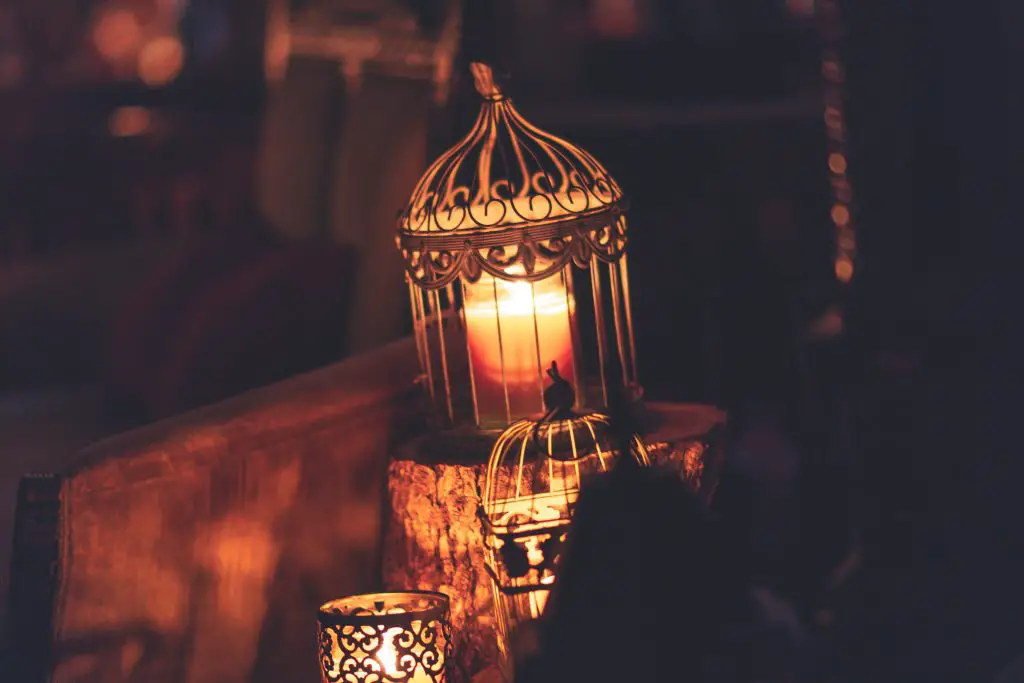 Pop-Up Camper Monster – Monster wraps are so fun on houses. Just like the climbing skeletons this is a big Halloween improvement that you can do but will take some advanced planning. There are many different kinds of wraps available but think how fun seeing a Frankenstein's Monster RV would be! The trick here is to be creative. If you have a pop-up camper then cut out some large eyes and teeth to attach to the tent portion placing the teeth in the tent window. If you have a fifth wheel then find some green stretch material to act as skin followed by cutouts for a classic monster look. The sky is the limit! Share your designs with us in the comments, or on our Facebook Page!
Green Bubbling Cauldron – If you are going with a witch-themed site with some of the ideas above then you should add this one in too. Any time you can add sound and motion to a decoration it is sure to get you some points with the campground decoration judges! Here is an idea from Instructables that can help to set you on the right path!
Glow Stick Eyes – This is a fun craft to get the kids involved with as it is super easy! Really all this takes is cutting some creative eyes into some toilet paper rolls and inserting a glow stick. You can make them hide a bit easier in the trees and bushes if you paint the tubes black first. It will be just like a big hooting owl is watching your every move.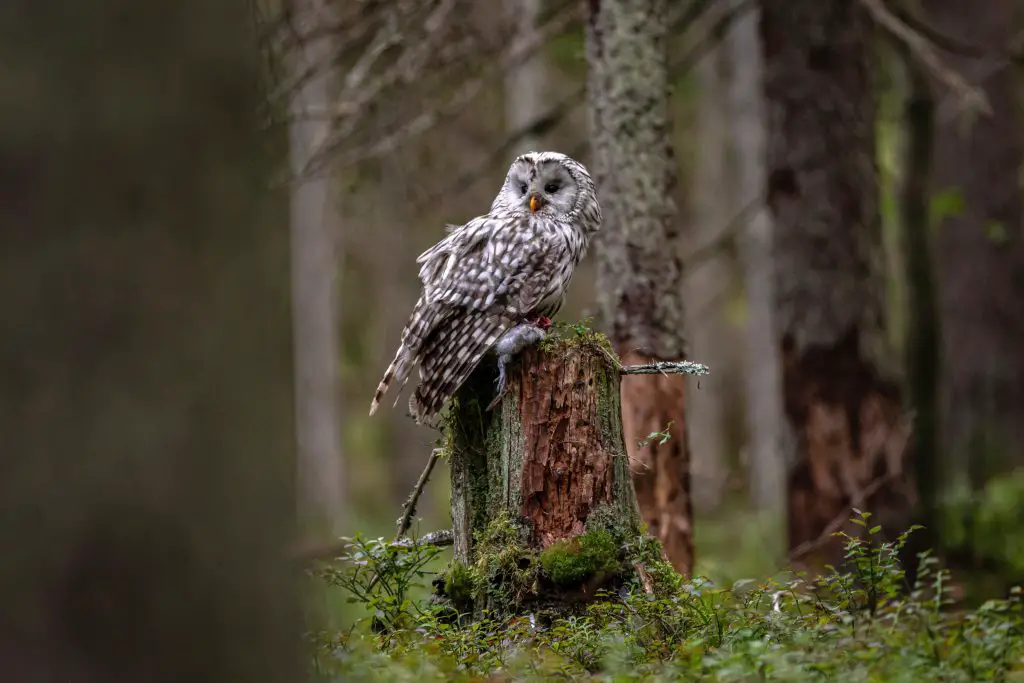 So what will be your Halloween Campsite Decoration?
Halloween is such a wonderful time to go camping. The cooler evenings and the sun setting earlier make the campsite more pleasant. Not to mention getting into the spooky feeling of the year. So on your next October camping trip take along a few decorations and really spruce up your site. We promise that it will get everyone in the campground talking! Don't forget to bring that Halloween candy with you to share when the ghouls come knocking!
Please join us on our Facebook Page and share your Halloween campsite decoration ideas!