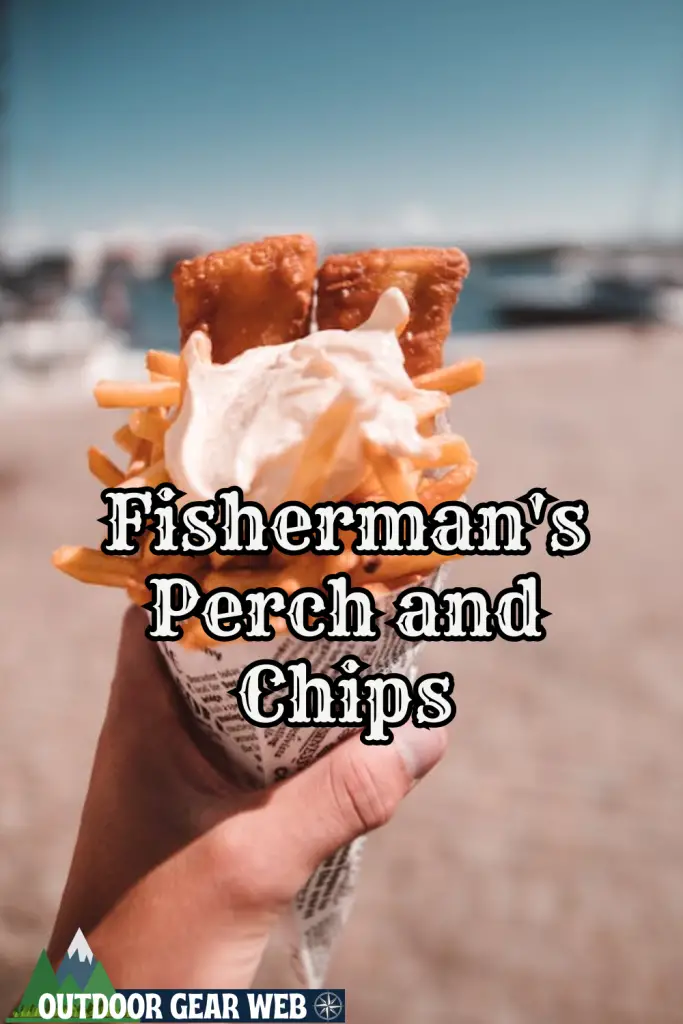 Now we love fantastic Fish and chips. Most people search high and low to recreate that delicious British seaside meal and staple. Here in the States, there are few places that truly capture the deliciousness of that flaky fish wrapped in newspaper that our British friends get across the pond. We have found at least one place near us where it is as close as it can be. How are we to fill that fish and chips desire while out camping? Well, with the Fisherman's Perch and Chips of course!
While this recipe does not use the traditional cod or haddock, we find that the perch holds up well. This coupled with the seasoning mix provides a delicious fireside meal to enjoy with your fishing buddies. Finally, add in your favorite french fries to complete the meal!
---
Not into fried fish? Try our Foiled Fish Recipe!
---
So get out on the lake. Reel in those perch. Then get to cooking this delicious Fisherman's Perch and Chips!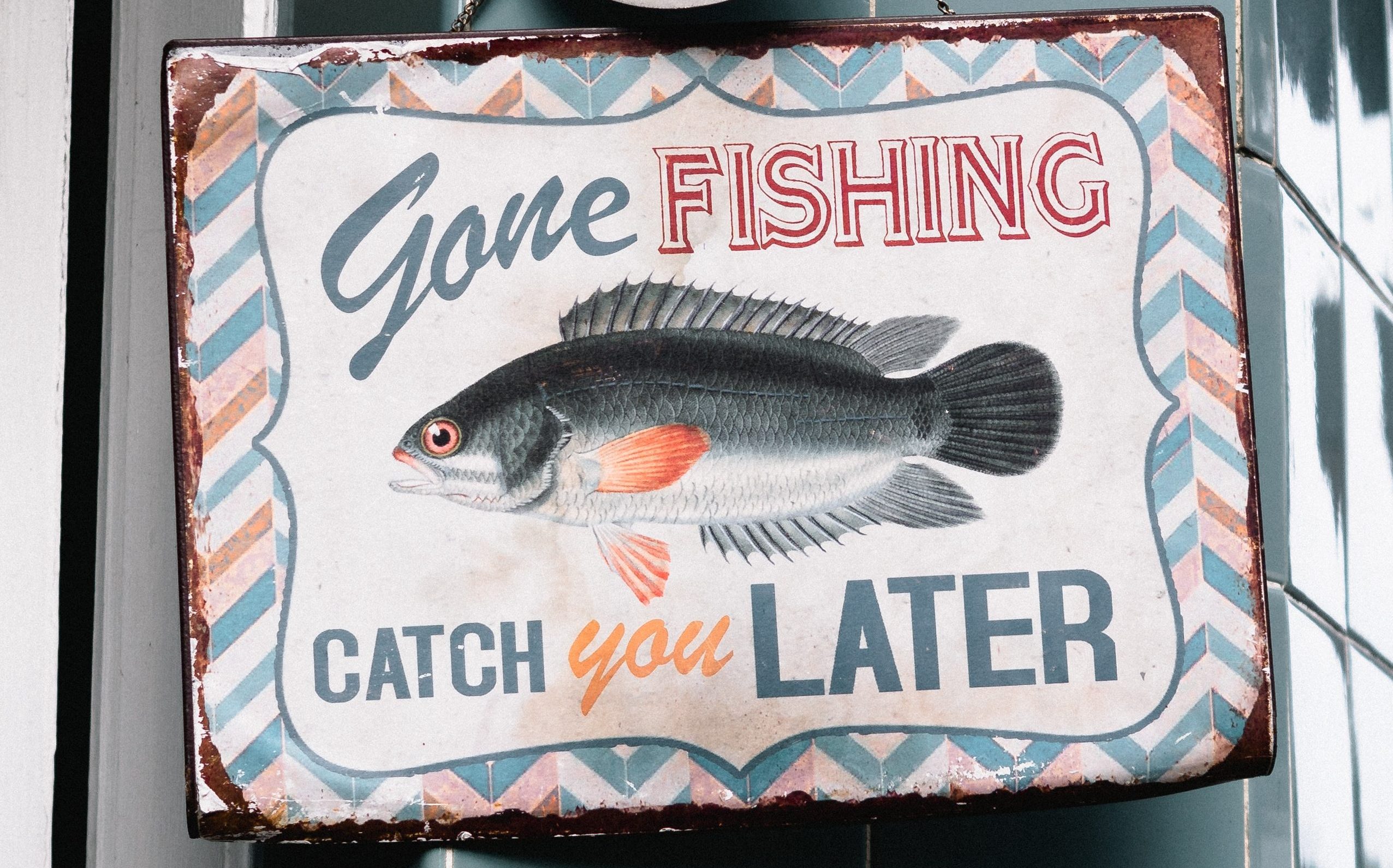 A Seaside Epiphany
Growing up inland, I always heard tales of the coastal delicacy known as fish and chips, but it remained a distant mystery, a dish I'd only glimpsed in movies and heard about from friends who'd ventured to the seaside. That was until the summer of my fourteenth year when my family decided to take a vacation to a quaint coastal town. As we strolled along the bustling harbor, the scent of salty sea air intermingled with the unmistakable aroma of frying fish. It was here, on that sun-soaked afternoon by the sea, that I had my first taste of the iconic Fisherman's Perch and Chips.
The Art of Fish and Chips
Nestled in a picturesque seaside shack, I placed my order and watched as the chef deftly dipped a fillet of fresh-caught perch into a frothy beer batter. With a practiced hand, he lowered it into bubbling hot oil, and the sizzle and pop that followed were music to my ears. As I waited, I couldn't help but admire the view: fishing boats rocking gently on the waves, seagulls soaring overhead, and the tantalizing scent of fried fish growing stronger by the second.
The First Bite of Heaven
When my plate arrived, the sight was as impressive as the smell. A generous portion of golden-brown, crispy fish was nestled beside a heap of thick-cut chips. I picked up a piece of the succulent perch, its exterior crackling as I bit into it. The taste was nothing short of a revelation – the fish was tender, the batter crisp and lightly seasoned, and a spritz of lemon juice added a zesty kick. It was a medley of flavors and textures that danced on my taste buds, the salty sea breeze contrasting perfectly with the warmth of the dish.
Seaside Serenity
As I savored each mouthful, the world seemed to melt away. The hustle and bustle of daily life faded, replaced by the soothing symphony of lapping waves and the cries of distant seagulls. Time slowed, and I lost myself in the simplicity of the moment, a seaside serenity that I'd longed for without even realizing it. The combination of the fresh sea air, the sound of the waves, and the sublime taste of Fisherman's Perch and Chips created a sensory experience that was nothing short of magical.
A Lifelong Love Affair
That first encounter with fish and chips by the sea marked the beginning of a lifelong love affair. It was more than just a meal; it was a sensory journey, a connection to the sea, and a memory etched into my soul. Since that day, I've sought out fish and chips wherever I go, but none can quite capture the enchantment of that seaside discovery. It taught me that food has the power to transcend mere sustenance; it can be a portal to moments of pure joy and serenity. And every time I savor the taste of Fisherman's Perch and Chips, I'm transported back to that sun-soaked afternoon, where the sea met the sky, and the world felt perfect for a while.
The Tools
You will need a Dutch oven and a cast-iron skillet for this recipe. Having both of these well-seasoned will add some delicious flavor to the fish and french fries as well. Take your time and season your cast iron products before heading out to the lake. The time put in upfront will pay off multiple times in the food you cook and eat. This is especially the case in the Fisherman's Perch and Chips!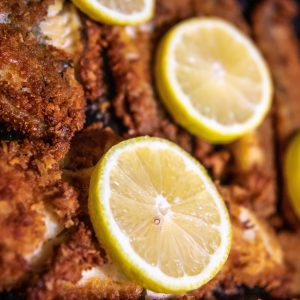 Fisherman's Perch and Chips
Everyone loves classic fish and chips but with our Fisherman's Perch and Chips you are sure to find a new camping favorite. We use freshly caught perch from your day out on the lake to make the flakiest and most delicious dutch oven fried fish and chips. We combine that with our mix of delicious spices to get the most flavorful and crunchy crust. Top it off with your favorite french fries and you wll have an instant hit!
Equipment
12" Cast Iron Skillet

12" Dutch Oven

Campfire or Camp Stove

Tongs

Heat resistant gloves
Ingredients  
2

eggs

Large or Extra Large

3/4

cup

all-purpose flour

1/2

cup

cornmeal

1

tsp

salt

2

tsp

paprika

3

tsp

garlic powder

2

tsp

Old Bay Seasoning

1

bottle

canola oil

You will need enough oil to just cover the fish. If frying at same time bring enough oil to cover the fish and the french fries

3

lbs

perch

Feel free to use any lake fish that you have caught

1

bag

french fries

Your favorite brand and style

1

small

wedged or thinly sliced lemon

tartar sauce

or your favorite fish dipping sauce
Instructions 
Prep your freshly caught Perch and create filets

In a shallow bowl, whisk egg

In a large resealable plastic bag, combine the flour, cornmeal, salt, paprika, garlic powder and old bay seasoning.

3/4 cup all-purpose flour,

1/2 cup cornmeal,

1 tsp salt,

2 tsp paprika,

3 tsp garlic powder,

2 tsp Old Bay Seasoning

Add oil to dutch oven and heat in prep for cooking french fries.

Dip fillets in eggs, then roll in flour mixture. Use the two hand method hear so that you do not get a clumpy hand!

Cook french fries to package instructions in the pre-heated dutch oven.

Add 1/4 inch of oil to a cast iron skillet.

Fry fillets in oil for 3 to 4 minutes on each side. When it flakes into sections, it is completely cooked.

Serve with completed fries, lemon, and dipping sauce of your choice! We prefer to slice our lemon thinly and lay it on the top of the fish.
Notes
Camp Hero Tip: Mix your flour, cornmeal, and seasonings before the trip and have them ready to go. This will save you time at the campsite!