Nothing says the fall time like the re-introduction of all things pumpkin flavored. You really don't have to forego the pumpkin treats just because you are camping. In fact, with our Dutch Oven Pumpkin Delight, you will find such a delicious treat you may want to make it all year long! This recipe is super easy those it does take a bit of time to prepare and cool the pie. We like to make this on our first night out and enjoy it all throughout the camping trip.
If you are looking for a classic pumpkin pie you may be surprised, and if we may, delighted. The truth is this will not be like a pumpkin pie. Instead, it will be lighter and fluffier due to the whipped egg whites that are folded in. We do try and find some ways to make it a little easier. We like to use the pre-mixed pumpkin pie spice. Feel free to season this the way you would season your pie at home. There is really no bound to the cinnamon, nutmeg, ginger, or other spices you choose to add. Top this Dutch oven pumpkin delight with some whipped cream and you will have fall in ya mouth.
Join our Facebook Page and tell us what you think about this recipe
The tools
Can you guess what the main tool is here in our Dutch Oven Pumpkin Delight? I'll wait…okay you got it a Dutch oven! While you will also use a mixing bowl, spoons, and parchment paper the Dutch oven is the star of this show. Prepare as we have recommended and the clean-up will be a breeze.
Learn more about Dutch Ovens tools.
However, we do need to warn you that the actual baking of this pie can be tricky. You will want to start out pre-cooking the shell with direct heat underneath. So make sure you have your coals nice and hot. Then once the filling is added you will need to place the lid on top. The top will get coals now and the bottom will have indirect heat. You will want to try and maintain about 350 degrees Fahrenheit throughout the cooking process. Using a temperature gauge like this one can help you to make sure that you hit that constant temperature.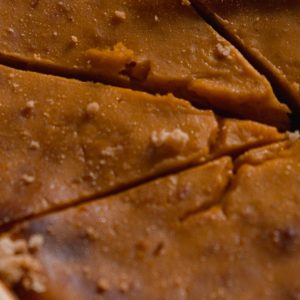 Dutch Oven Pumpkin Delight
When fall is in the air and you are heading out to the campsite there is no reason to leave behind the pumpkin pie! While this isn't exactly like traditional pumpkin pie it is sure to delight!
Equipment
12" Dutch Oven

Parchment Paper
Ingredients  
2

cups

gingersnap cookie crumbs

1

stick

butter

1

egg

separated into white and yolk

3/4

cup

brown sugar

1/2

cup

sweetened condensed milk

1

can

pumpkin puree

15 oz can. Homemade pumpkin you canned would be fantastic here!

1/4

tsp

salt

1

tsp

vanilla

1

tbsp

pumpkin pie spice mix

You can buy premixed seasoning but if you are making your own use 1tsp nutmeg, 1tsp ginger, and 2 tsp cinnamon. Experiment and adjust these to your own taste!

Whipped cream

Only if you want to…I know I do.
Instructions 
Get your coals nice and hot in your fire.

While you are waiting for these to heat up place your parchment paper into the dutch oven so that it is covering the sides and bottom. Your pie is going to come out very rough but that is okay because we are roughing it!

Mix the gingersnap crumbs and the butter together until they start to clump together and are moldable.

2 cups gingersnap cookie crumbs,

1 stick butter

Press gingersnap mixture into the bottom of the dutch oven and up the sides as far as you can. Keep it even around the outside.

Place dutch oven over coals and cook from bottom heat only for 10 minutes. Try to maintain about 350 degrees.

While the crust is cooking beat the egg white until fluffy and set aside.

Mix egg yolk, pumpkin, sugar, milk, salt, pumpkin pie seasoning, and vanilla together until smooth.

1 egg,

3/4 cup brown sugar,

1/2 cup sweetened condensed milk,

1 can pumpkin puree,

1/4 tsp salt,

1 tsp vanilla,

1 tbsp pumpkin pie spice mix

Next fold in the egg whites being careful not to knock out too much of the air.

Pour pumpkin mixture into the prepared gingersnap crust. Place dutch oven lid on top. Place coals on top of the dutch oven lid and maintain indirect heat to the bottom. The goal here is to maintain about 350 but not to burn the crust!

Cool and enjoy with some whipped cream.
Notes
Camp Hero Note – It is very easy to burn the crust in this recipe. Keep your eye on the heat that is being applied to the bottom. It should be there but you don't want to blast the crust!