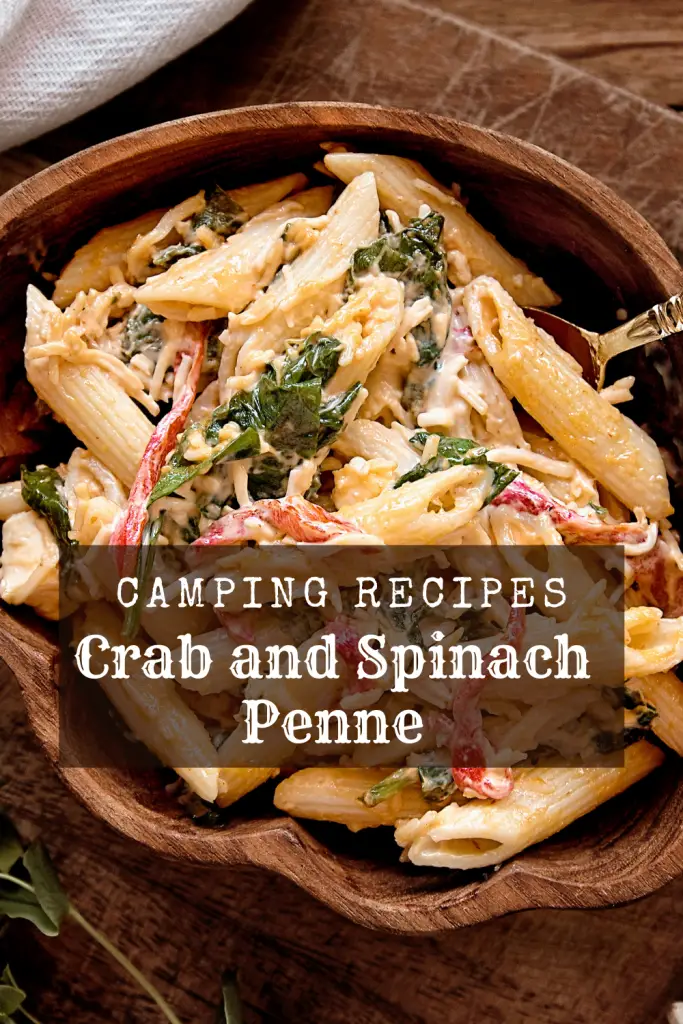 I love to make delicious meals whether I am at home or at the campsite. My children simply adore pasta of any kind. This meal provides a little bit of class around the campfire while still giving them something they love. That coupled with the fact that it is crazy simple to make, just gets me all food crazy! I am sure that you will agree when you taste the garlicky sauce that is created around the spinach and crab. That sauce permeates into the inside of the penne giving little pops of flavor with every bite. If you are looking for a different kind of campfire meal then the crab and spinach penne is a dish you should try.
---
After carb-loading with this meal, you better take a hike! Which hike is best for you?
---
Imitation or Real Crab
I know that I am going to get a lot of comments about using imitation crab in this recipe. Let me state my case upfront! I 100% agree with you that imitation crab is not as delicious as the real thing. It is, however, handily packed in my cooler and does not take up much space. Additionally, there is a significant price difference between imitation and the real thing that I can't ignore. Is it a perfect substitution? No! however, for the flavor mix in this dish and the ease of packing and preparing it is certainly worth it.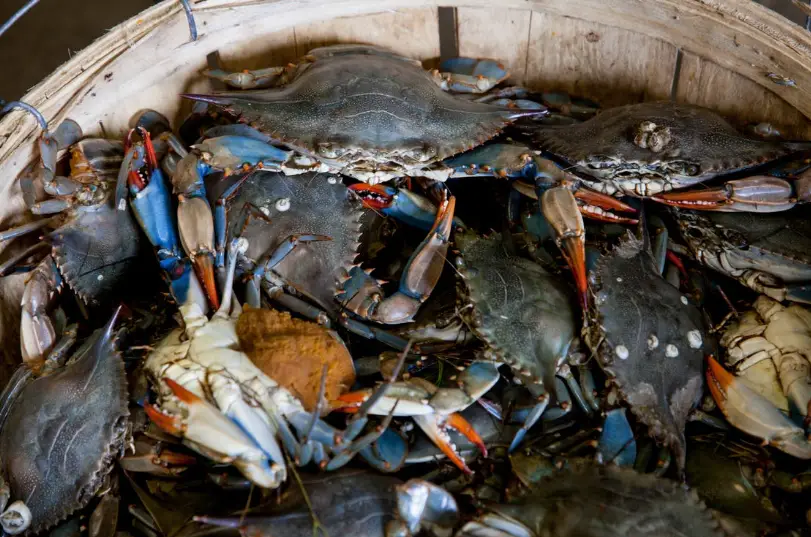 That being said. I have been out camping along the shores of the Chesapeake Bay in both Virginia and Maryland with friends. On these occasions when we often go crabbing. Having fresh, right from the sea crab certainly makes this even more amazing. So if you are able to have fresh crab, then that should be the default for this recipe. Otherwise, enjoy the ease (and cost) of imitation and think of it as a vehicle for the rest of this delicious dish!
Speaking of Grocery Savings
My local supermarket often runs sales on pasta. At a dollar a box, it is a no-brainer. Pasta is generally shelf-stable for a while, so having a few extra boxes around is pretty easy. I like to also time the making of this dish around when the grocery store has a sale on the imitation crab. I have seen that for as low as a dollar as well.
In any event, I highly recommend that you peruse your local shopping ad to time your shopping with potential sales. Just because you are going camping doesn't mean your food should break the bank! As you shop, consider sticking to the perimeter of the store. Not only are the healthiest foods in these areas but the store also displays its sale items on the outside aisles. Further, don't just look at eye level. Often times you can find less expensive versions of the same thing on the lower shelves just out of eye-line. This could save you quite a bit on your shopping bill.
Make-Ahead Crab and Spinach Penne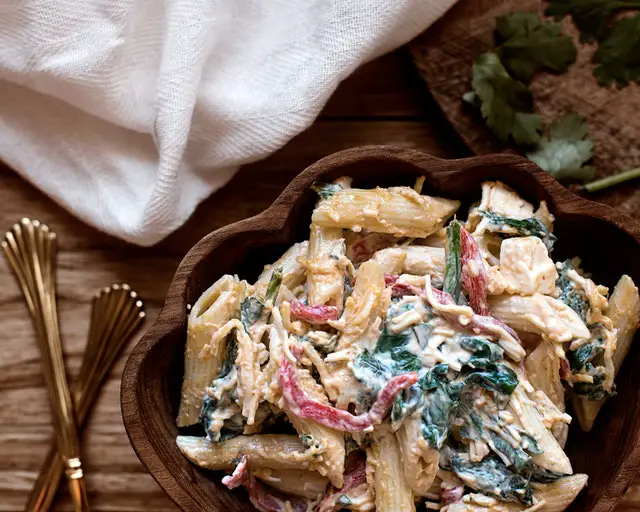 Another thing that I truly love about this recipe is that it is good both hot and cold. When it comes to the summertime I find that I enjoy cool foods during the daytime to cut the heat of the day. This recipe is one of those that I like to toss into the mix just for this purpose. I can cook everything at home and let it chill in the fridge. I can pull it out of the cooler or RV fridge and have a ready meal. The freshness of the spinach comes through a little better in my opinion when the dish is served cold.
---
What season of camping is best for you? Pair your cold or hot crab and spinach penne with your favorite camping season!
---
If you do decide to serve this cold it would make a perfect side dish or one that you eat on its own. I have paired this crab and spinach penne with sandwiches, burgers, and even grilled chicken. That being said, if you do have any leftovers they are wonderful the next day as the garlic has time to meld with the other ingredients!
The Tools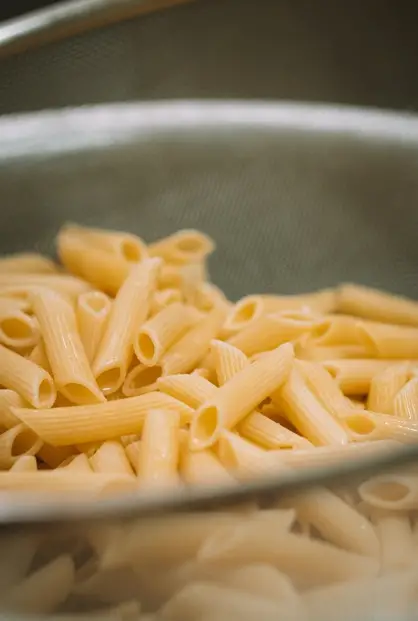 Well, the flavor isn't the only thing that makes this meal stand out! In fact, the tools you will need on this job are pretty simple too! It is a one-pot dish. I know I appreciate less cleaning up at the end of a long hiking day. The tools will be the same whether you are preparing ahead of time or at the campground. You will need a camp stove, a pot, and a spoon. You may also want to consider a strainer or colander but I have found that I am pretty successful with the pot lid when camping. The colander is one less thing to carry.
I don't know if I can stress enough how wonderfully easy this meal is. On top of that, the tools are simple to use and clean. You will have a gourmet meal in no time and your camping buddies will be wowed with this crab and spinach penne.
Did you make the crab and spinach penne on your camping trip? Tell us how it went and what you thought in the comments below, on our Facebook, or on Reddit!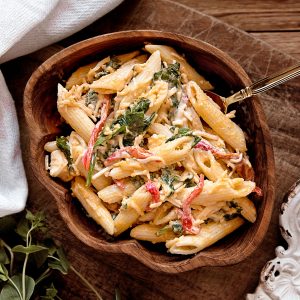 Crab and Spinach Penne
This is a quick and easy dish that you are sure to love. It adds a little flair with some crab. Feel free to use fresh caught if you are on the banks of the Chesapeake. Most camping trips I use imitation crab. The creaminess really comes through in the sauce and is a unique meal for a summer camping trip! I have actually enjoyed this meal both hot and cold!
Ingredients  
1

box

Penne

16 oz box

8

oz

Spinach

Coarsely chopped

8

oz

Imatation Crab

Larger packages can be used

3

Tbsp

Butter

3

Cloves of Garlic

Minced

4

Tbsp

Olive Oil

1

Tbsp

Lemon juice

1/2

tsp

Dried Rosemary

Salt and Pepper

to taste
Instructions 
Light and prep your camp stove for cooking

Cook pasta according to the package directions on the box. Drain, but save one cup of the pasta water. You'll use it to thicken the buttery sauce.

Heat olive oil and butter in pot and warm over medium heat.

3 Tbsp Butter,

4 Tbsp Olive Oil

Add the garlic and rosemary to the pot and cook until you just start to smell that deliciousness.

3 Cloves of Garlic,

1/2 tsp Dried Rosemary

Pour in the reserved pasta water and stir until it slightly thickens.

Shred the crab meat into the oil mixture in the pot. Once completed, add the lemon juice. Mix it all together.

8 oz Imatation Crab,

1 Tbsp Lemon juice

Once combined, stir in the spinach and cook until the spinach just begins to wilt.

Mix the pasta in and season with salt and pepper.
Notes
Camp Hero Notes
Bring along some Parmesan Cheese to sprinkle over the top. It adds a nice zing to the dish.
Consider making it ahead of time and eating it as a cold pasta salad. It is quite delicious this way too!