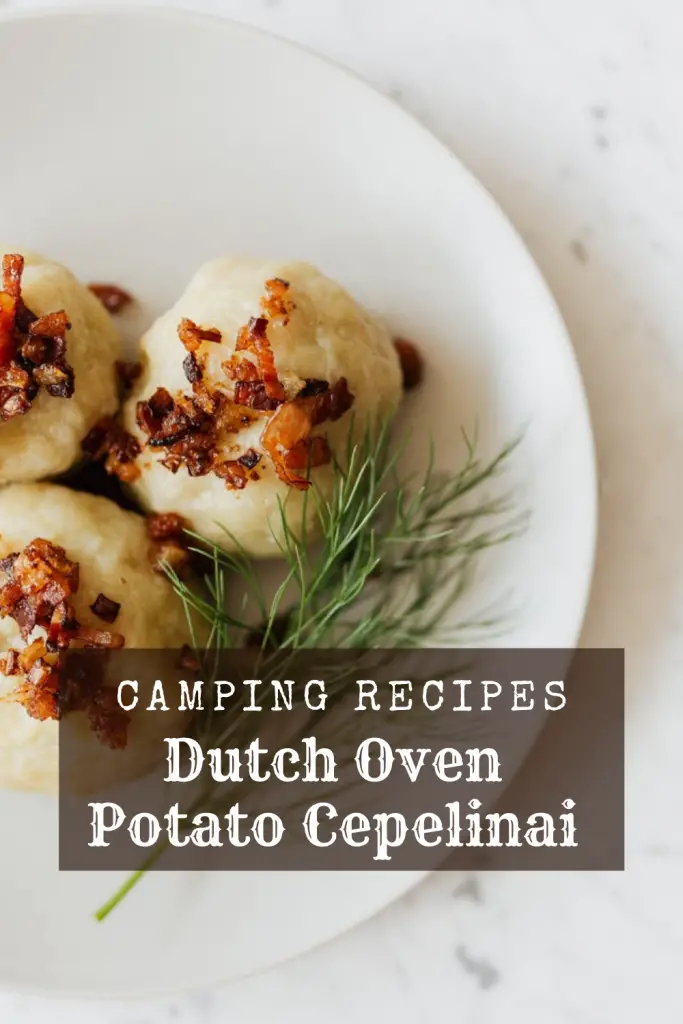 I wanted to try something a little different on the last camping trip that I took. I scoured my brain for foods that I hadn't done in a while and couldn't really come up with anything that excited me. However, while looking at some old pictures with my partner I came across a delicious meal that I had when I was backpacking through Europe. In Eastern Europe, Lithuania to be exact, I stayed with a family who was excited to make the national dish for me. It is called potato cepelinai. I remembered how delicious that was and figured I would give making Dutch oven potato cepelinai a shot!
This recipe is not for the faint of heart. I have to be honest that I actually struggled quite a bit in getting it right and likely you will too. To be fair many Lithuanians choose to eat this at restaurants. However, I was feeling a bit crazy! So, I made the below recipe for you to take a shot at.
Just to note that even if you screw up forming the dumplings just mix it all together and bake in your dutch oven over the fire. It is still delicious and turns out similar to a shepherd's pie! Always have a plan B!
---
Want to try something a little easier on your next camping trip? Try out these sandwich pie iron recipes!
---
What is Potato Cepelinai?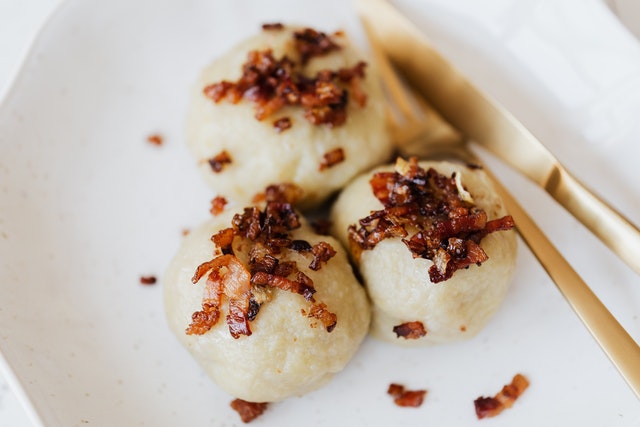 It is simply a dumpling. This is true but it is actually so much more than that! It is the Lithuanian national dish and they are shaped liked little zeppelins. It is made from a mixture of raw and cooked potatoes. Traditionally it is filled with a pork filling and then covered with sour cream and bacon. You may be thinking that this sounds awful heavy and you would be right. Historically, the meal was made to help Lithuanians survive through harsh winters.
As I mentioned above these can be quite difficult to make. Most home cooks in Lithuania therefore only make these on special occasions. Like when a wandering American stumbles in looking for a bed. Glad I was nice to them that night because my belly was nice and full!
A Historical Side Note
Did you know that Cepelinai is the Lithuanian word for Zeppelin? If not, the dish is named after Count Ferdinand von Zeppelin because of the shape that they take. The Count pioneered rigid airship development. The design initially had outstanding success. However, after the Hindenburg disaster 1937 and other political issues at the time made lighter than air crafts like zeppelins go by the wayside. So while we rarely see these marvels of engineering we can still honor them by forming our little potato zeppelins! (Though my first ones turned out more like a baseball!) Learn more about the Zeppelin!
Dutch Oven Potato Cepelinai Process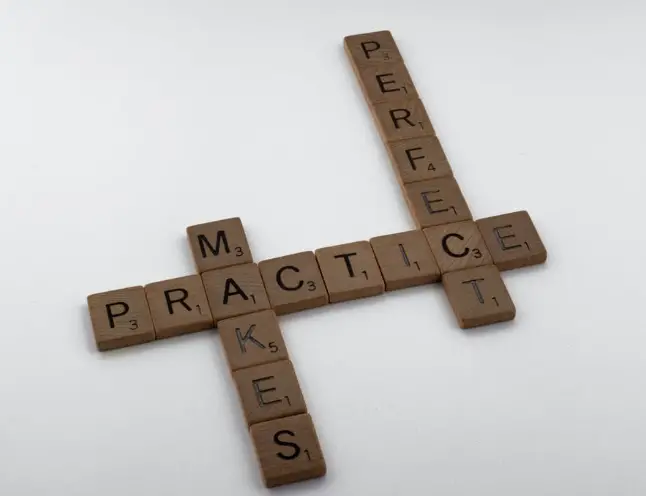 Most of the recipes that I develop or use when camping has some level of prep work that goes on at home. For this recipe, you will specifically need to prep at home. There is just too much that can go wrong while out at the campsite for some of the initial work. Not to mention that it takes time. Therefore, I have tried to separate out the effort that is at home-work vs what is at the campsite. Essentially the construction and boiling are all that goes on at the campsite. However, feel free to form and chill at home too so that all you need to do is boil once you get to the campground.
Additionally, the forming can be difficult the first time. Don't give up! Your first few may not look very good. They are still going to taste amazing. So take your time in flattening out the potato dough. Remember not to overstuff the dumplings, and you will be fine. The fact is that it doesn't have to look pretty just tastes good. While gourmet in nature for a camping trip, you are still on a camping trip! So have fun and enjoy.
Substitutions in the Dutch Oven Potato Cepelinai Filling
Like many traditional foods here in the US, families tend to put their own spin on the potato cepelinai. While the external potato dough stays pretty consistent there are so many different things that you can place into the filling. This can come in handy if you are a vegetarian or have picky eaters in your family. Be creative when you are making your fillings! Below are some examples of things that others have put into the filling.
Ground Meats
Pork
Beef
Chicken
Turkey
Lamb
Duck
Venison
Non Meats
Mushrooms
Cheese Curd
Tarragon
Carrots
Parsnip
Mint
Caramelized Onions
Beet
The sauce also changes from family to family. The sauce that I provided below is a traditional sour cream. However, cheese sauces and mushroom sauces are also fantastic. I would avoid a tomato-based sauce as it will likely overpower the other flavors.
The Tools
This wouldn't be a Dutch oven meal without your trusty Dutch oven. While it is primarily used here as a boiling pot there is some flavor that will still be instilled. So my preference is to make this in the dutch oven over the fire. However, if you have access to a camp stove or an RV kitchen this meal is actually a little easier to control the cooking. Remember it can be difficult to make and the backup is baking the mixtures together in the Dutch oven.
One piece of specialty equipment that you may need to purchase is a potato ricer. This tool will help you get the right consistency for the potatoes that you need. Consistency is key to make sure the dumplings hold together when boiling. You can also use a potato masher but the cooked potatoes need to be very smooth. This can be difficult to do.
You will also need some other tools such as a fine grater for the raw potatoes, cheesecloth, food storage containers, and a ladle for removing the boiled dumplings. Aside from the cheesecloth you likely have these things in your camp kitchen already!
---
More camping recipes that you can shake your stick at!
---
What would you stuff your Dutch Oven potato cepelinai with? Let us know in the comments below or on our Facebook, or on Reddit! Better yet we would love to see a picture! Were you able to make a Zeppelin or were you like me and made a baseball instead?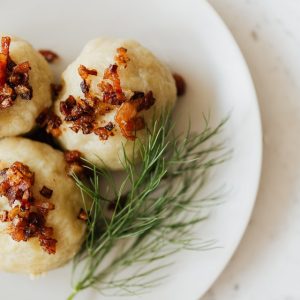 Dutch Oven Potato Cepelinai
A national dish of Lithuania the potato cepelinai makes for great dutch oven food while out camping. It combines your whole dish right in a handy dumpling. It is a great way to get veggies and protein in a few bites. Not to mention that it is simply delicious!
Equipment
Campfire

Dutch Oven or Campstove

Ladle

Potato Ricer/Grater

Cheesecloth
Ingredients  
1/2

lb

Ground Pork

3

Medium Onion

2 chopped and 1 finely grated

1

Egg (beaten)

2

tsp

Salt

1

tsp

Black Pepper

8

Large Russet Potatoes

Peeled, finely grated

2

Large Russet Potatoes

Boiled and Riced

1/2

lb

bacon

2

cup

Sour Cream
Instructions 
At Home Prep
If you have not done so already. Wash and peel 2 potatoes. Place the two of them in a pot of cold water. Bring to a boil for 15 minutes or until tender. Rice the potatoes with a potato ricer or mash until there are no lumps. Allow to cool.

Peel 8 potatoes and finely grate them into a bowl lined with cheesecloth. Once grated squeeze all excess liquid from the potatoes. Reserve liquid and allow to settle for 5 minutes.

In a mixing bowl combine the riced potatoes and the squeezed raw potatoes together.

After letting the liquid settle, scoop the potato starch that has settled at the bottom and add it to the potato mixture.

Mix in the finely grated onion and 1 tsp of salt into the potato mixture. Stir until well combined.

Place mixture in an air-tight food storage container and refrigerate.

As the potatoes chill prepare the filling. In a bowl mix the ground pork, one finely chopped onion, egg, salt, and pepper together. Place in a separate food storage container.

1/2 lb Ground Pork,

3 Medium Onion,

1 Egg (beaten),

2 tsp Salt,

1 tsp Black Pepper
Campsite Prep
Once at the campsite and meal time prepare a pot of boiling water on the camp stove or over the fire with your Dutch oven.

Form the Cepelinai by taking about a cup of the potato dough and flattening it into your hand.

Scoop a 1/4 cup of the meat filling into the center.

Fold the potato dough around the filling pushing the sides together. Do not leave any gaps for filling to escape.

Place Cepelinai into the pot of boiling water for 25 min. You can also salt the water if you prefer but it is not necessary.

While Cepelinai are boiling, make your sauce. Fry the bacon until crispy and chop into little bits. Cook one remaining chopped onion in bacon grease. Onions should be translucent and soft when ready. Mix onions and 3/4 of the bacon bits together in the sour cream. Reserve 1/4 of the bacon bits for garnish, or if not being fancy through them all into the sauce.

3 Medium Onion,

1/2 lb bacon,

2 cup Sour Cream

Remove Cepelinai from the boiling water and top with sauce and remaining bacon bits.