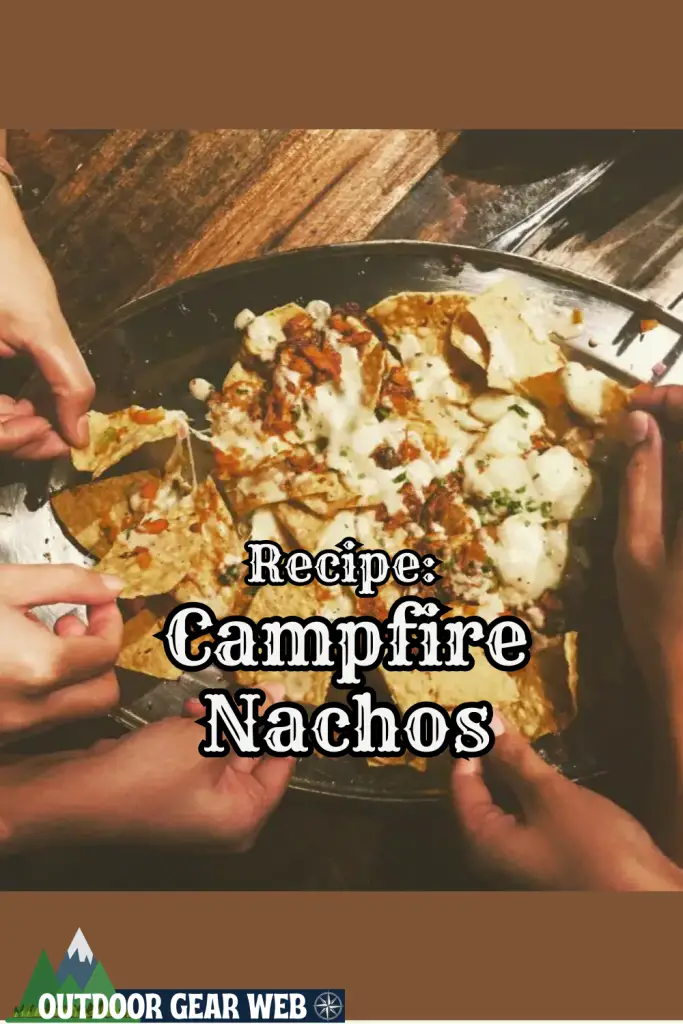 You don't have to leave behind your Friday night faves when you head out camping. Why not treat yourself to these delicious campfire nachos either as an afternoon snack or as a full meal? The prep and cook times are quick which makes for a full meal for your group or family after a long day out and about. Not to mention that the delicious smell may bring some of your camping neighbors to your site! It is always fun to make new friends while out camping.
---
Nachos are best shared with someone you love. These sleeping bag options let you share as well.
---
The First Taste of Freedom
As a young teenager, I remember my first taste of freedom – it came in the form of a camping trip with friends, and it was love at first campfire. We ventured deep into the woods, armed with nothing but a tent, some basic camping gear, and our youthful enthusiasm. Our campsite was a clearing near a babbling brook, and as the sun dipped below the horizon, we decided it was time for dinner. That's when my friend pulled out a bag of tortilla chips and a medley of ingredients that would forever change my perception of campfire cooking – the makings of campfire nachos.
Uncharted Territories and Culinary Surprises
Camping in the heart of nature has a way of working up an appetite, and after a day of hiking and exploring, the prospect of nachos over the campfire sounded like a revelation. We gathered around the fire, improvising a makeshift grill with a metal grate, and set to work. Layering tortilla chips with gooey cheese, salsa, jalapeños, and whatever other toppings we could scrounge up, we created a mountain of nachos on our improvised grill. The anticipation grew as the cheese began to melt, and the air filled with the mouthwatering aroma of our creation. Little did we know, those campfire nachos would become a staple of our camping trips, an anticipated tradition we'd cherish for years to come.
---
Enjoy your nachos in one of these Top 5 Family Campgrounds in Georgia.
---
A Bond Forged by Campfire Flames
Over the years, our camping trips evolved. Friends came and went, but the core group remained, and our love for campfire nachos never wavered. We experimented with different ingredients, swapping out jalapeños for bell peppers or adding a dollop of sour cream. Each camping adventure brought new experiences, from encountering wildlife to navigating thunderstorms. Through it all, the one constant was our campfire camaraderie, fueled by laughter, stories, and of course, those mouthwatering nachos.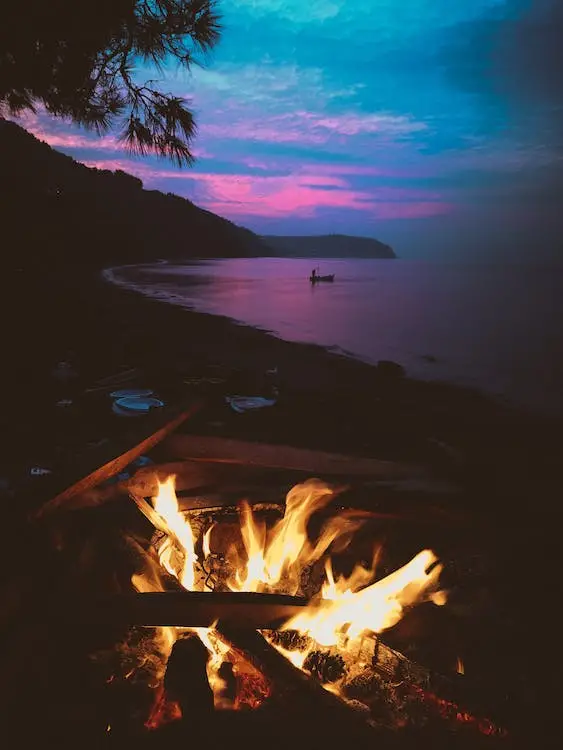 A Celebration of Milestones
Camping and nachos became synonymous with celebrating milestones in our lives. We marked graduations, promotions, and birthdays in the great outdoors, each occasion accompanied by a hearty batch of campfire nachos. The crackling firelight illuminated our faces as we raised our nacho-laden hands in cheers, celebrating not just the moment, but the enduring friendships we'd forged over countless camping trips.
The Legacy Lives On
Today, years after that first taste of campfire nachos, I find myself reminiscing about those unforgettable camping adventures. Life has taken us all in different directions, but the bond forged by those flickering campfire flames and the shared love of nachos remains unbreakable. And while our camping trips have become less frequent, the tradition of campfire nachos is a legacy that lives on, passed down to the next generation of adventurers – proof that the simple pleasures of the great outdoors and a shared meal around the campfire can create memories that last a lifetime.
---
Nachos are great all year but amazing in the fall. Check out these fall camping tips.
---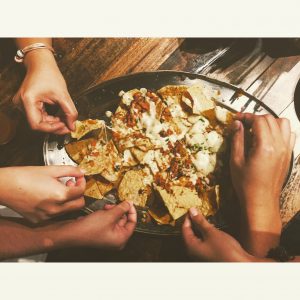 Campfire Nachos
A fantastic, quick way to make a campfire snack or meal. This recipe uses fresh, cooler and pantry items that you can easily take camping with you. Remember if the chips are connected it is a single bite!
Equipment
Campfire or Grill

Dutch Oven

Holding Bowl

Parchment Paper
Ingredients  
Pantry
1

bag

Tortilla chips

Your preference on flour or corn!

1

tbsp

Vegetable oil

1

pkg

Taco Seasoning

1

bottle

hot sauce

Your choice but Tapatillo or Cholula work great!

1/4

cup

water
Cooler Items
8

oz

Shredded cheese

Your choice on cheese but cheddar, Mexican blend, pepper jack, or monterey jack are delicious.

1

lb

Ground beef

Trade for turkey, pork, or chicken

1

pkg

Sour cream

1

pkg

Salsa

Salsa of your choice or Pico de Gallo
Fresh Items
1

Onion

Diced

1

Bell pepper

Red, Green, Yellow, or Orange diced

1

bunch

Cilantro

Rough chop

1

Lime

Small and in wedges

2

Avocados

Cubed
Instructions 
Start your fire and place your Dutch oven over coals to bring to temperature

Lightly oil the bottom of a large dutch oven, to prevent the onions from sticking.

Place diced onions into the heated dutch oven and cook until translucent. After about three minutes add diced peppers to dutch oven.

After another four minutes add ground beef to the dutch oven and brown. When complete add the taco seasoning and water per package directions.

1 pkg Taco Seasoning,

1 lb Ground beef,

1/4 cup water

Once meat, onions, and peppers have been properly seasoned remove from Dutch Oven and place in holding bowl.

Place parchment in bottom of Dutch Oven. Then layer tortilla chips, meat/veggie mixture, and cheese till all of the chips and cheese have been used.

Place the Dutch Oven back on the coals of the fire with the lid on. Place a few coals on the top of the Dutch Oven to heat from the top. Let sit for 10 minutes or until cheese is melted.

Remove the Dutch oven from the fire and spread hot sauce, cilantro, lime, sour cream, avocados over the top of the chips.

1 bottle hot sauce,

1 pkg Sour cream,

1 bunch Cilantro,

1 Lime,

2 Avocados

Devour while hot and serve with your choice of pico de gallo or salsa.
Notes
A quick tip here is to complete all of your prep work at home. Dice the onions and the peppers at home and store them in a zip-top bag so that they are ready for use when the time comes. A little bit of prep at home will save you time at the campground after a full day of activities.
Feel free to mix and match your toppings to be exactly what you like. The possibilities are endless!