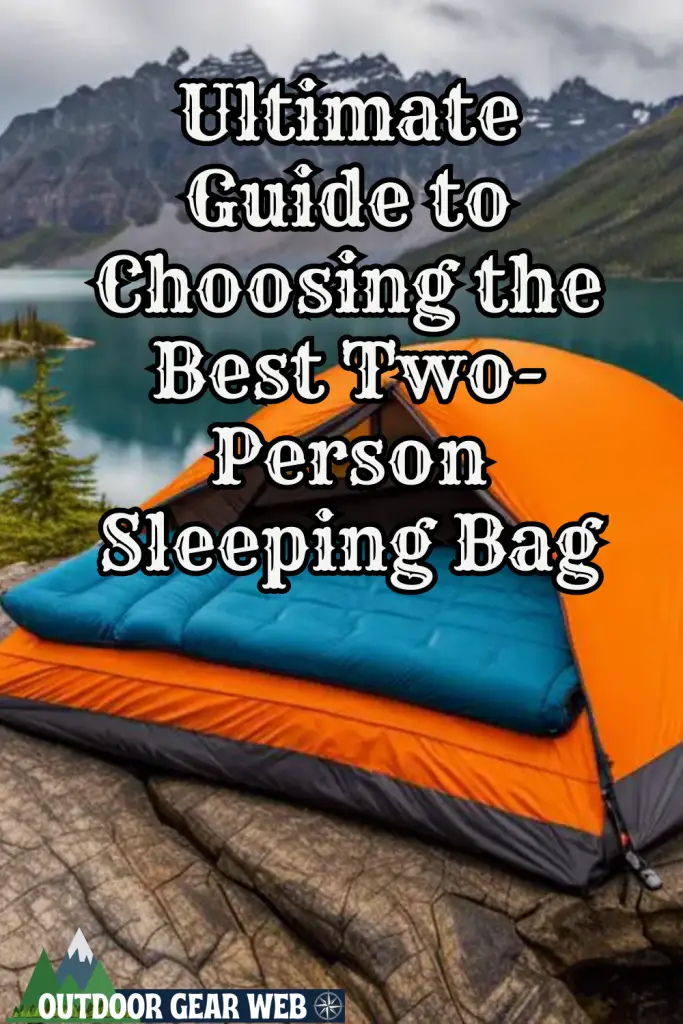 As a camping enthusiast, getting a good night's sleep can make the difference between an exciting adventure and a torturous experience. The importance of a good sleeping bag cannot be overstated. When it comes to flexibility, shared warmth, and lighter carry weights, the two-person sleeping bag is a strong contender. Our ultimate guide brings to the forefront the numerous advantages of such sleeping bags. This includes their warmth and comfort as well as their price and packability. We also delve into the key features to look out for when purchasing one. Then, we will explain how each element can be beneficial in different camping environments.
Finally, we will provide an overview of some of the top-rated two-person sleeping bags currently available in the market. This will give you a thorough understanding of what each bag offers in terms of functionality and value. Because having to carry one two-person sleeping bag may be more efficient than two sleeping bags in your packs.
---
Single and ready for something a little smaller? Check out our ultimate guide to all sleeping bags.
---
Benefits of a Two-Person Sleeping Bag
Efficiency in Warmth
Investing in a two-person sleeping bag can be a wise choice for those who enjoy camping with a partner. A key benefit of a two-person sleeping bag is its ability to provide enhanced warmth. This is because it is based on the simple idea that two bodies generate more heat than one. Sharing this enclosed space allows the heat produced by two bodies to circulate and retain, maintaining a warm and cozy atmosphere inside the sleeping bag. This is particularly beneficial in colder camping conditions or seasons.
Optimum Comfort
Comfort is another critical factor that makes two-person sleeping bags a popular choice for camping enthusiasts. These bags are significantly larger and offer more roving space than a single model. The amplified space allows users to sleep in their preferred positions without restricting their movements or causing discomfort. Therefore, despite both individuals sharing the same bag, each has adequate personal space, contributing to a comfortable night's sleep. Just remember that using a larger bag for one person may not be as efficient in heat retention.
Reduced Weight and Enhanced Packability
If you're concerned about the weight and space while packing for an outdoor adventure, a two-person sleeping bag could be your solution. When compared to the weight and size of two individual sleeping bags, a two-person option can be considerably lighter and less space-consuming. This crucial factor makes the two-person sleeping bag the perfect option. Especially for those who love hiking or traveling to distant camping locations with minimum equipment. Moreover, many modern dual sleeping bags come with compression sacks that allow users to pack them down, enhancing their portability.
Situational Advantages
The usage of a two-person sleeping bag is not just restricted to couples or pairs. In fact, it can serve as an efficient sleeping solution in many scenarios. For instance, in remote locations with harsh weather conditions, sharing a sleeping bag can be lifesaving. Definitely when the temperature drops and you need increased heat conservation. Similarly, while camping with young children or individuals with special needs, a two-person sleeping bag could provide the required comfort and convenience.
---
Speaking of children, try out your two-person sleeping bag at one of these great Connecticut family campgrounds!
---
A two-person sleeping bag serves as a versatile piece of camping gear. It promises to improve your overall outdoor experience in numerous situations and environments. Providing abundant space, these sleeping bags go beyond enhancing comfort and warmth. They also bring efficiency in terms of weight and packability, proving them to be an optimal investment for outdoor enthusiasts.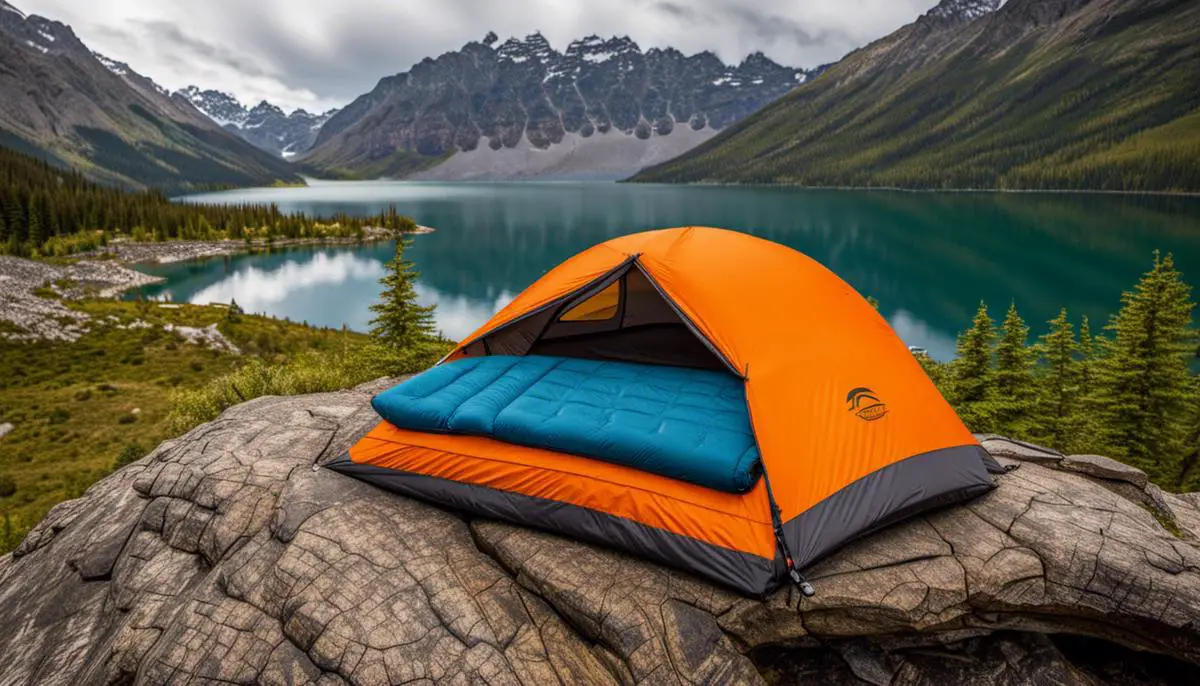 Features to Consider When Purchasing a Two-Person Sleeping Bag
Understanding Insulation: A Key Aspect of Comfort & Warmth
As you venture into purchasing a two-person sleeping bag, a vital factor to consider is the type of insulation the bag offers. The two main types you will encounter are down and synthetic. Down insulation boasts excellent compressibility and a significant warmth-to-weight ratio, making it a popular choice. However, its insulating attributes decrease dramatically when wet and it can take quite some time to dry. Conversely, synthetic insulation retains much of its insulating ability when exposed to moisture and dries more rapidly. The downside with synthetic is that it tends to be heavier and less compact compared to down.
Shape: Your Personal Comfort Zone
The shape of a two-person sleeping bag is another critical consideration. Classic rectangular bags offer plenty of space for two people to sleep comfortably but may not provide the heat retention of a mummy-shaped bag, designed to prevent heat loss with a closer fit. Semi-rectangular or "barrel" shapes offer a compromise between roominess and warmth. The rectangle shape is going to be the most common when it comes to two-person sleeping bags.
Weight: Carrying Comfort
Weight is always a key factor for hikers and backpackers. While two-person sleeping bags are inherently heavier due to their size, the weight can still vary based on the bag's insulation type, material, and additional features. Understanding this trade-off is crucial for figuring out what you are willing to carry versus the comfort and warmth you desire. Remember that if one of you is carrying that sleeping bag for two that frees up space for the second person. Free space means less weight for them!
Size: Spacious or Snug
The size and fit of a two-person sleeping bag can significantly impact your comfort. For instance, a bag that's too small will be restrictive and could impact heat retention, whereas too large of a bag can create cold air pockets. Also, make sure to consider whether there's enough room for both occupants to sleep comfortably.
---
Be prepared for any camping trip with our beginner tips for camping.
---
Temperature Rating: Weather Compatibility
Another important feature is the temperature rating, which indicates the lowest temperature at which the sleeping bag will keep you warm. This rating is not standard across brands, but a general rule is to opt for a sleeping bag rated for the coldest temperature you expect to face. Take into account whether your sleeping partner is a hot sleeper or not. You will have added benefit of additional body heat within the bag.
Additional Features: Enhancing Functionality
Additional features should not be overlooked as they can elevate comfort, functionality, and usability. Consider whether the sleeping bag has zippers on both sides for easy access, a hood to seal in heat around your head, or built-in pockets for storing essentials. All these aspects might seem insignificant at first but contribute to the overall user experience.
When it comes to picking a two-person sleeping bag, there are several key considerations you need to take into account. These include the bag's type of insulation, shape, weight, dimensions, temperature rating, as well as any additional features. It's critical to make sure all these parameters are in sync with your specific needs, intended usage, and anticipated camping conditions.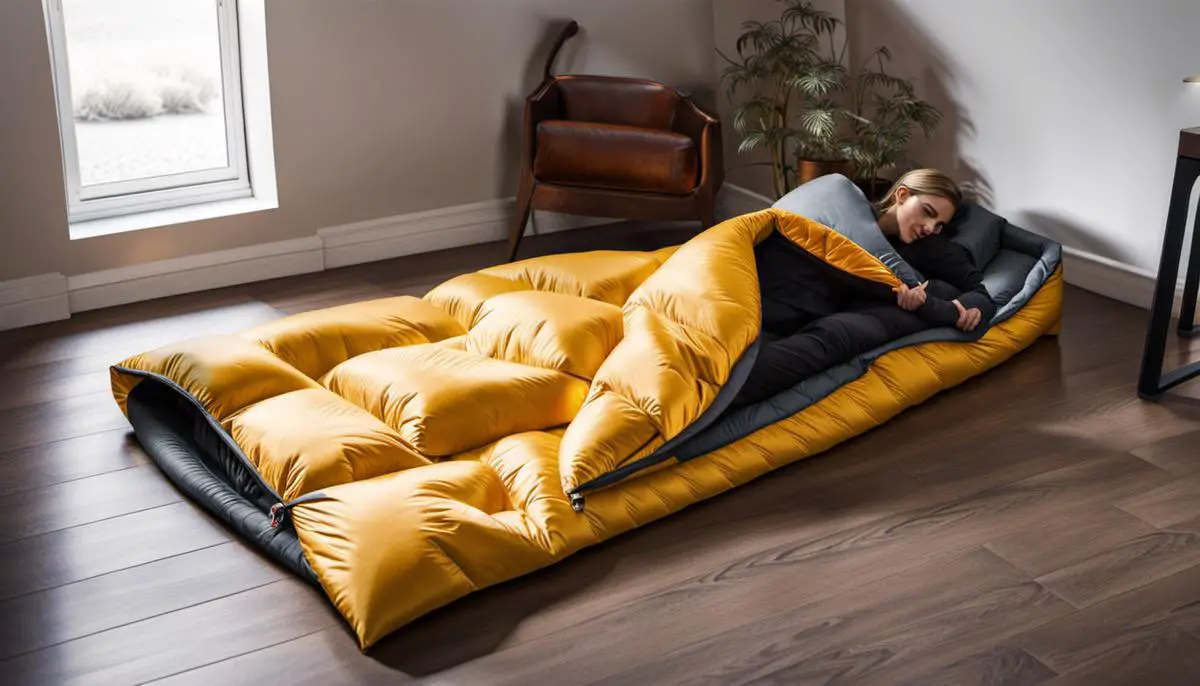 Top Two-Person Sleeping Bags in the Market
A Peek Into Topnotch Two-Person Sleeping Bags
Two-person sleeping bags bear the stamp of popularity among outdoor enthusiasts, be it couples or friends relishing their camping adventures. These superior gear items bring together the best of comfort and insulation, thereby turning out to be perfect for taking advantage of shared body warmth on chilly nights. Here are a few of the top two-person sleeping bags widely available in today's market.
The Sleepingo Double Sleeping Bag is an affordable, yet high-quality two-person sleeping bag. It is filled with synthetic materials that provide excellent insulation, even in colder weather. The double-layer construction of the Sleepingo prevents cold spots from appearing. This quality, portable, queen-size sleeping bag is perfect. Super sturdy, durable, and extremely comfortable. This 2 person sleeping bag is designed to be used as one large queen-size sleeping bag or as two individual sleeping bags. This sleeping bag comes with two travel pillows. However, it is bulky to carry.
Big Agnes Dream Island is a premium sleeping bag that focuses on comfort and roominess. Its unique insulation type, the FireLine™ ECO synthetic insulation, maintains warmth and repels moisture effectively. Designed with a double mummy hood, this sleeping bag allows users to lift their heads without any restrictions. The double zippers can create individual spaces if required. Ultimate comfort and additional hand warmth are achieved with hand-tuck pockets at the top of the bag. Seal out drafts by cinching the insulated tube along the upper hood opening. Easily un-cinch the hood with one hand using a low-profile cord lock. The self-equalizing drawstring easily connects the bag to the pad, and the middle securement strap provides extra stability. Its inherent downside is its price, higher than other bags in its category; however, the comfortable experience it offers makes it worth the investment.
The TETON Sports Mammoth Queen-Size Double Sleeping Bag stands out from the crowd due to its unusual dimensions. It is broader than most two-person sleeping bags, offering extra space that is greatly appreciated by users who prefer not feeling confined. Its SuperLoft Elite 4-channel hollow fiber fill traps air to provide maximum warmth. However, it's also the heaviest on this list, meaning it might not be the best choice for backpacking campaigns involving long treks.
The North Face Dolomite Double 20/-7 is a high-end sleeping bag well-regarded for its durability and build quality. It is filled with Heatseeker™ Eco synthetic insulation that helps maintain a comfortable temperature. The full-length zippers on both sides allow easy entry and exit, and the bag can be unzipped to lie flat for use as a blanket. Slide into comfort with a fleece-lined mid-layer while a double-size rectangular shape offers plenty of room for you and your partner. Does your partner sleep warm? Zippers open from the bottom to allow for extra ventilation. It is, however, among the more expensive options.
Each of these sleeping bags has its distinct strengths and drawbacks. The best one for you will depend on your specific needs and preferences concerning comfort, insulation, weight, and budget. By considering these factors, you can make a well-informed decision and choose a two-person sleeping bag that offers the best blend of comfort, convenience, and affordability.
---
Check out our top sleeping pad recommendations to go with these sleeping bags.
---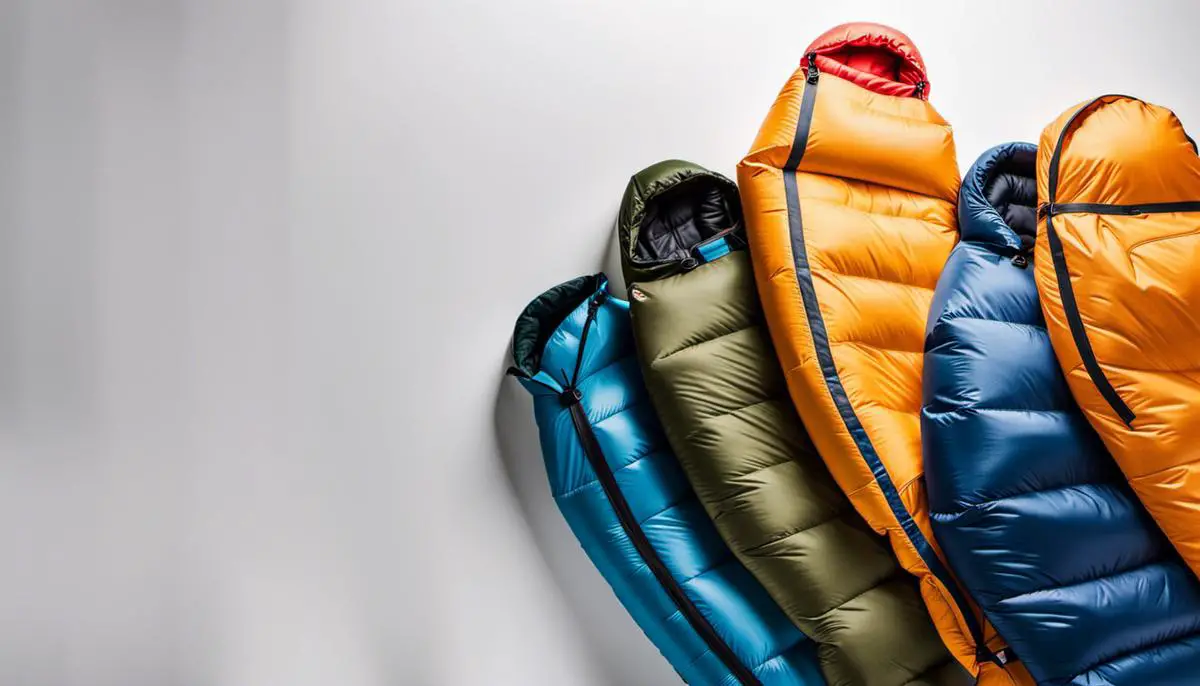 Final Thoughts on Two-Person Sleeping Bags
Through an understanding of the features and benefits of two-person sleeping bags, we hope that you, the buyer, are better equipped to make a decision best suited to your unique camping needs. By comparing the various top-rated sleeping bags in the market, and considering factors such as insulation type, weight, size, temperature rating, and other additional features, you should be able to make an informed purchase. It is essential to remember that the right bag can not only reduce the weight of your backpack but also provides a wonderful experience of shared warmth on your camping adventures. So, why wait? Grab a two-person sleeping bag today and enjoy a cozy, comfortable outdoor experience with your camping partner.