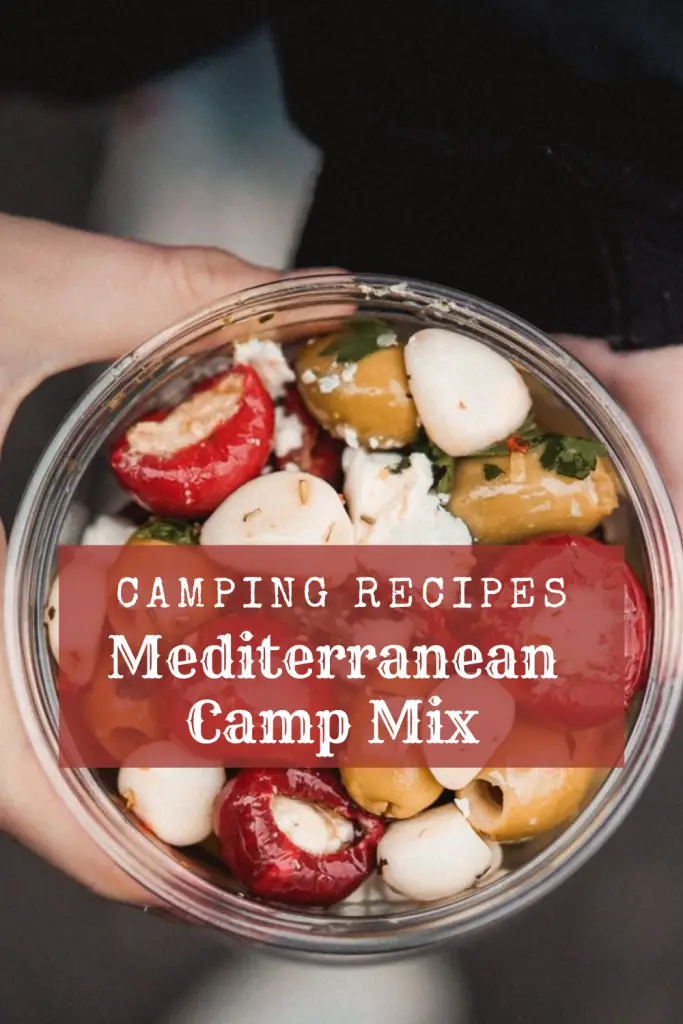 I am not a vegetarian by any sense of the word. This gal loves her some meat. However, occasionally I come across a recipe that I love for its simplicity. Vegetables tend to provide easy recipes. Especially this one. I can have it made in under 20 mins and the vast majority of that effort is opening packages and waiting a bit to let the flavors meld! The Mediterranean camp mix is a great way to introduce some new flavors into your camp cooking repertoire. It combines sweet peppers, roasted garlic, tangy olives, and two kinds of cheese together for a flavor explosion. Wait till you see how easy it is to make this recipe!
---
Try this with a fantastic sandwich from your pie iron!
---
Why I Love This Recipe
I struggle to even call this a recipe. There is no actual cooking that is involved here. In fact, this is one of the things that I love the most about this. I can completely make the Mediterranean camp mix at home. The flavors only get better over time as they all mix together into a wonderful little side salad.
Easy Ingredients
The fact is that all of these ingredients I can pick up from my local grocery store, pre-made! I am not sure about your store, but near the deli, we have a fantastic cheese assortment. They are all of those individually wrapped blocks of cheeses. Between that cheese counter and the sliced deli meats a kiosk exists. Pre-Covid you could mix and match the kiosk's contents in a single container. We like to lovingly refer to this as olive heaven. Though there are many other items in olive heaven!
If you haven't cruised around this area to see what olive heaven has to offer I recommend you do so. At this kiosk, you will find nearly all of the ingredients you need. Olives, roasted garlic, and stuffed sweet peppers will all be included! I always buy a little extra for snacking.
Side Dish or Meal
Another reason that I love this so much is that it can literally be a meal all on its own. When I am with my family I tend to serve this as a side dish to accompany sandwiches or meals from our pie irons. However, if I am looking to do a quick day hike, then I will make this and store it right in my bag for a quick and healthy meal right on the trail. It gives me everything I need to keep going. A bit of protein from the cheese helps with stamina. Some sugar from the sweet peppers for a bit of pep. Healthy fats from olive oil. Finally, just enough garlic to make my breath scary enough to keep others on the trail at a distance. Need to stay safe, am I right!
Substitutions
If it is your first trip to olive heaven you may be overwhelmed. My grocer has dozens of types of olives to choose from. The nice thing about this recipe is that you can use any kind of olive that you prefer. My family loves the tangy taste of green olives to counter the sweet peppers. However, if you like kalamata olives or black olives then give those a shot! My only caution is to ensure that whichever olives you select, make sure that they are pitted!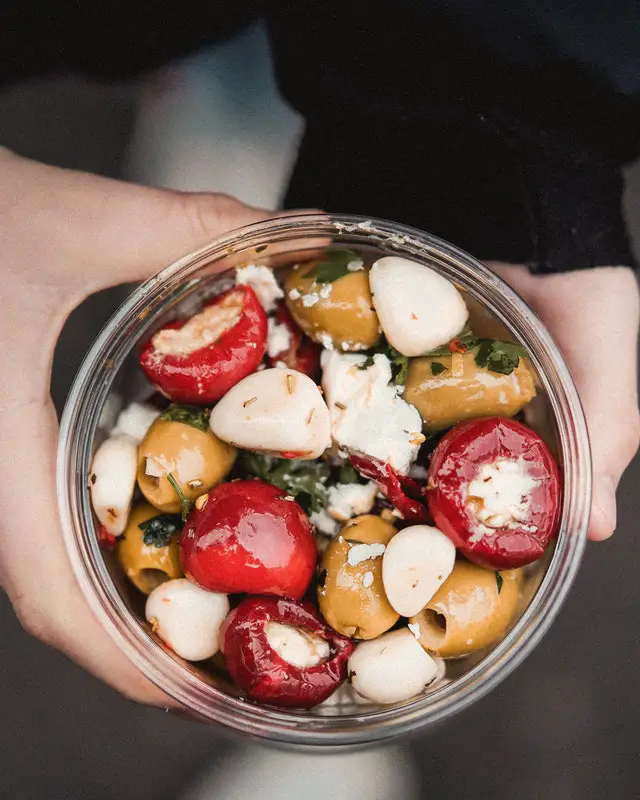 Beyond the olives, you will be able to find the stuffed sweet peppers, commonly peppadews. the ones at my grocer have feta stuffed in them. Yours may have blue cheese or other stuffings. It is okay to try them with these as well. It will only help to diversify the flavor profile. Additionally, I like to find containers with a bit extra of the oil that they are coated in. This way when I combine ingredients the pepper's marinade is already helping to carry flavors to my mouth!
I also find the roasted garlic here. However, if you cannot find roasted garlic, you can make your own. Follow this Simply Recipes Garlic Roasting method!
Finally, if you absolutely must have meat, then you can add in some sliced prosciutto or other Italian meat. This adds even more depth to the dish but it isn't really necessary. I would also caution that if you choose to take this on a day hike make sure it is nice and cold to protect the meat.
The Tools
You know what! There are no tools here. Well, I shouldn't say no tools. You will need a spoon and likely a bowl. However, if you are planning to store this in Tupperware on the way to the campsite then go ahead and just mix it right in the container. It will save you some time and clean up. As I mentioned before, when I am camping with my family I use this as a side dish as the kids need a bit more than just a quick salad to eat. So I will keep it all together.
However, if it is just myself, or if I am with my partner then I will divvy it up into one-pint mason jars. I love using mason jars for this type of trail meal. I get a full portion of the Mediterranean Camp Mix every time. This helps me with ensuring that I don't overeat. Plus, the mason jars are watertight and can seal everything in to protect them. Further, it is easy to store in a side pouch of my pack with a fork so it is in reach. Finally, it doesn't add that much more weight for a day trip. So when I find that amazing waterfall or scenic view, I can plop myself down and dig in really easily. If you don't have any mason jars, I highly recommend at least buying a view just for this kind of occasion!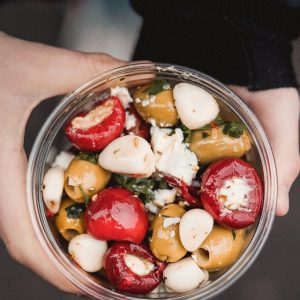 Mediterranean Camp Mix
This wonderful mix of sweet peppers, green olives, cheeses, and garlic will make a great addition to any lunchtime meal. Use as a side dish to accompany a great sandwich or eat it by itself. The Mediterranean Greek Camp Mix can be made ahead to marinate and is quite a filling little burst of flavor out on the trail.
Ingredients  
1

cup

Roasted Garlic Cloves

8

oz

Stuffed red sweet peppers

1

jar

Green Olives

1

pkg

Pearl Mozzarella balls

6

oz

Feta cheese

Crumble

1

stalk

Cilantro

Chopped finely

1/8

cup

Olive Oil

Salt and Pepper

To taste
Instructions 
Mix all ingredients together in a mixing bowl.

1 cup Roasted Garlic Cloves,

8 oz Stuffed red sweet peppers,

1 jar Green Olives,

1 pkg Pearl Mozzarella balls,

6 oz Feta cheese,

1 stalk Cilantro,

1/8 cup Olive Oil,

Salt and Pepper

Store in a tupperware container or in mason jars for a trail meal
Notes
Camp Hero Notes:
My local grocery store has pre-roasted garlic that I use for this recipe but you can roast your own. I purchase one container of garlic near the deli section.
Some grocers, in their deli section, also carry the stuffed red sweet peppers. The ones I purchase have feta in them and are coated in oil. If yours are similar you can reduce the amount of olive oil and just use the oil the peppers come in.
While I recommend a jar of green olives, the deli section of your grocer likely has different assortments of greek olives. Give all of them a try!
Make ahead and store in mason jars. These are water-tight and make it easy to toss in your day pack for a lunch on the trail. 
You could also slice up some prosciutto or other Italian meats into this if serving at camp.