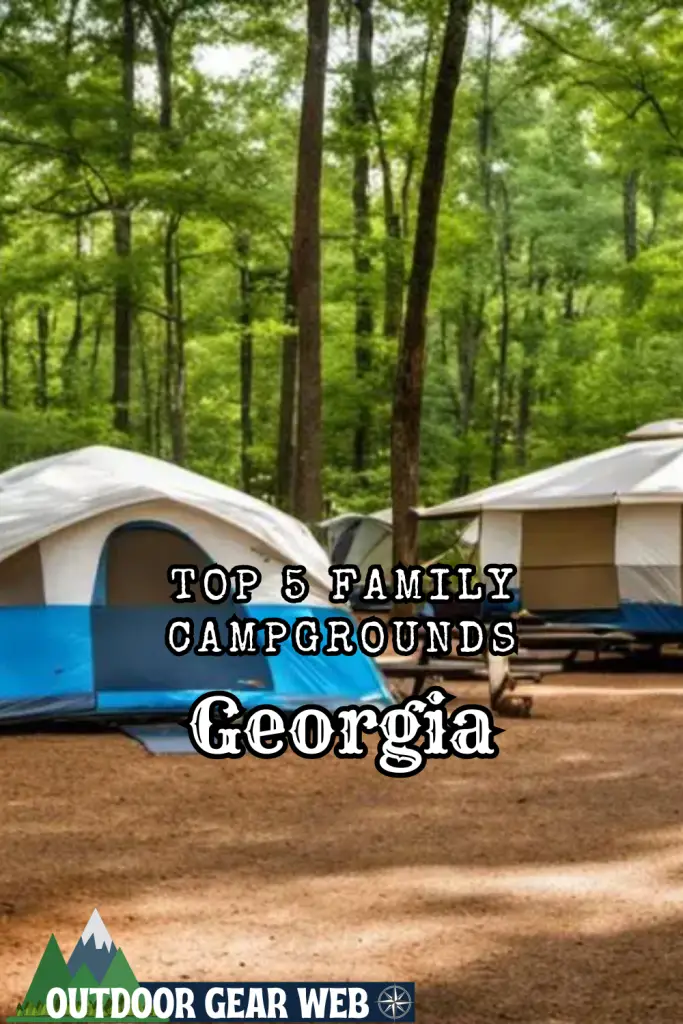 Immerse yourself in Georgia's great outdoors and make everlasting family memories by exploring the state's top family campgrounds. Whether you prefer pitching a tent under the star-studded skies, retreating in an RV with all the home comforts, or finding a midpoint with a yurt, Georgia's campgrounds offer plenty of options. Expose your children to diverse natural environments while experiencing adventures together. From mountainous landscapes to serene lakeside spots, these campgrounds in Georgia offer varied experiences based on location and the facilities provided. So let's check out these top five family campgrounds in Georgia!
---
Here is how to prevent boredom and keep your passengers occupied on your drive!
---
A Unique Camping Experience: Stone Mountain Park Campground
Situated just on Atlanta's outskirts, the Stone Mountain Park Campground presents an ideal location for family camping adventures. With a multitude of accommodation offerings to fit each family's unique preferences, visitors can choose between equipped tent spots, RV hookups, or even comfortable yurts.
Stone Mountain Campground: Not Just Camping
Stone Mountain Park Campground isn't just about camping. It's a hub of various engaging activities that cater to all age groups. Daytime activities range from morning hikes across the miles of trails that meander through the park, to swinging golf clubs or taking in the stunning views with the cable car rides. During the hotter summer months, families can cool off in the refreshing water park. So whether you want to hike or swim the options are endless.
Enriched Camping Experience
The camping sites at the Stone Mountain Park Campground are well-prepared to ensure a hassle-free camping experience. Each site features a fire pit, perfect for those story-telling sessions and marshmallow roasts. There's a picnic table for family meals and a grill for cooking up dinners under the open sky.
Nightly Entertainment – Laser Show Spectacular
Post-dinner, the families camped out can enjoy the unique spectacle of a nightly laser show projected onto the mountain face. This much-awaited event combines powerful lasers, synchronized music, and fabulous fireworks. This makes it a highlight of any family camping trip at Stone Mountain Park. Plus, it is something out of the ordinary you won't see in many other places.
Stone Mountain Park: A Complete Family Retreat
With all of these elements combined, the Stone Mountain Park Campground offers a splendid camping retreat. It is more than just sleeping under the stars. It provides a refreshing break filled with nature, adventure, and entertainment. Overall these options make it an ideal camping destination for families in Georgia.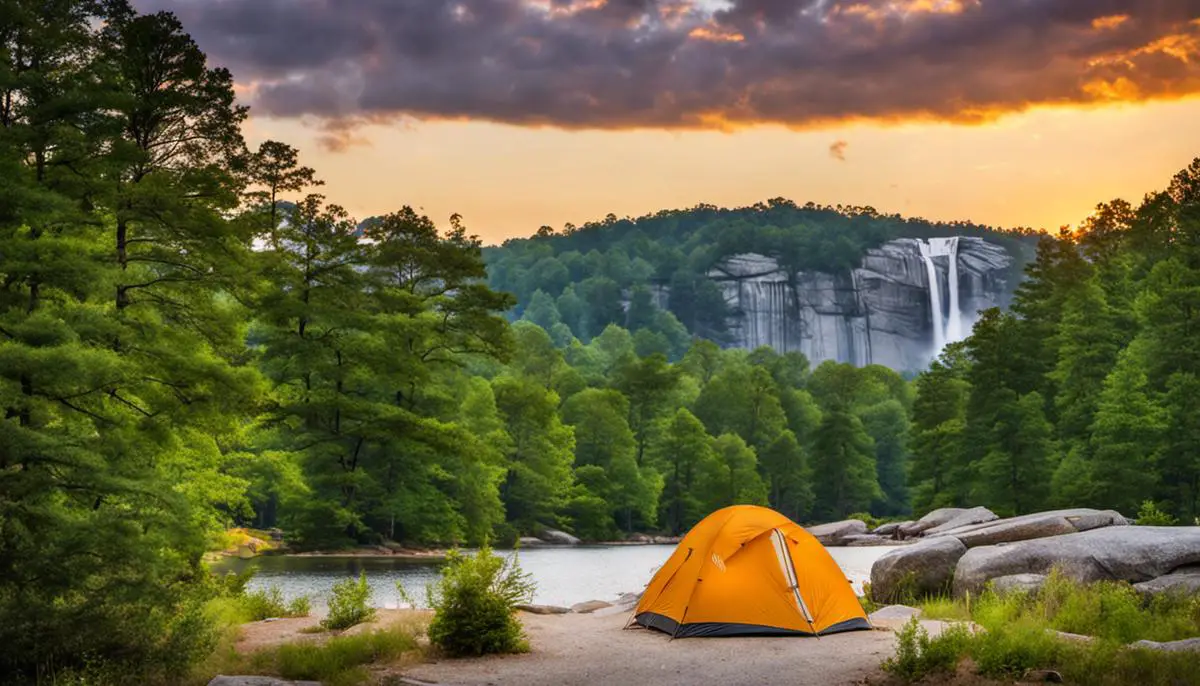 ---
Check out these great family tents to take with you.
---
Uncover the Marvels of Vogel State Park
Venturing to the base of Blood Mountain in the Chattahoochee National Forest, you will uncover a gem. What is this gem? Well, it is in Georgia's park system and is called Vogel State Park. It's among the oldest state parks in Georgia! The warmth it exudes has not faded away with time but rather intensified, enhancing its reputation as a beloved destination for family camping in Georgia.
Camping Underneath Starry Skies
Offering 103 well-facilitated campsites, Vogel is ready to welcome campers bringing tents, trailers, or RVs. Each campsite is conveniently equipped with both water and electric hookups. The family-friendly layout and amenities provide a comfort zone that's only a few feet away from the great outdoors. This makes the transition to rugged living smooth for all ages.
Splashy Fun and Tranquil Paddling Adventures
In the heart of Vogel State Park, families can find joy in a beach swim area. Many find it to be a perfect spot to cool off and make some splashy memories under the Georgian sun. In addition, paddle boat rental services are available in the park. Cruising on the lake and taking in the serenity of the surrounding woodland is a beautiful way to bond with family or find peaceful solitude.
Relish in Sporting Activities and Nature Treks
Vogel is not lacking in family fun activities. The park includes a mini-golf course that could spark some friendly competition between family members. Its greens are the perfect spot for both amateur putters and miniature golf wizards. To add a nature exploration twist to your visit, the park boasts several hiking trails. Each trail offers a unique perspective of the park's beautiful scenery. It even becomes a classroom under the sky where kids and adults alike can learn about local flora and fauna.
Vogel: A Family Destination Where Outdoors Thrives
In conclusion, Vogel State Park is a true star among family campgrounds in Georgia. Its thoughtful amenities, water fun, alluring natural beauty, and outdoor recreational activities make it a must-visit destination for families. So if you are seeking to create remarkable camping memories surrounded by nature this is the place.
---
Get your family prepared for camping in Florida.
---
Location and amenities: Red Top Mountain State Park, a rejuvenating escape.
Nestled just off the shore of Lake Allatoona in Cartersville, Georgia, lies the resplendent Red Top Mountain State Park. An expansive area, the park houses over 50 campsites that cater to a variety of camping preferences. These options range from serene backcountry sites to convenient RV pull-through slots.
This versatile park takes pride in its host of recreational offerings. Lake Allatoona amplifies the aesthetic appeal of the campground. It also presents a myriad of watersport opportunities for both novice and experienced athletes. Park visitors can make the most of their vacations by indulging in swimming, boating, and fishing on the sparkling lake.
Interactive Exploration: Trails and History at Red Top Mountain State Park.
Beyond the waterfront, the park is intersected by various hiking trails that allow the explorer in you to experience Georgia's natural allure up close. The trails meander through lush vegetation, offering scenic views, fresh air, and glimpses of local wildlife. There is also a dedicated path that leads to an enchanting overlook of the lake.
Lovers of history, too, have an intriguing visit to look forward to at Red Top Mountain State Park. Encapsulating a bit of the past, the park hosts a reconstructed homestead dating back to the 1860s. This reconstruction offers fascinating insights into the lifestyle and architecture of that time. Visitors can walk through this piece of living history, learning about the region's rich culture and heritage.
In a nutshell: An all-encompassing family campground.
The Red Top Mountain State Park is not merely a campground; it's a comprehensive package offering a gamut of activities and conveniences for the perfect family getaway. Whether you want to relax by the water, engage in recreational activities, hike to your heart's content, or delve into local history, this state park checks all the boxes, assuredly guaranteeing a memorable camping experience in Georgia. All of these reasons are why it is on the top five family campgrounds in Georgia list.
---
If this is your first trip in the RV you better learn these tips for setting up your RV site.
---
A Natural Paradise: Fort Yargo State Park
Situated conveniently between Atlanta and Athens, Fort Yargo State Park serves as a basic yet perfect escape into the arms of nature without requiring a long and tiring journey. A favorite among many, the park offers a refreshing respite from the city's commotion, while maintaining a comfortable proximity to urban conveniences. Visitors can plunge into the man-made 260-acre lake, soak up the sun on the beach, or engage in fishing and boating, making it an ideal spot for adventure lovers and outdoor enthusiasts.
Versatile Camping Options: Tailored to Your Preferences
From fully equipped cottages and adventure cabins to tent, trailer, and RV sites, Fort Yargo State Park is ready to accommodate campers of all kinds. Whether you prefer a conventional camping experience with a tent and a campfire, or you lean more towards glamping, there are options to suit every style and budget. You can choose to make your camping trip as laid-back or as exciting as you prefer.
For Hikers, Bikers, & Nature Walkers: Trails Galore
One of the reasons that Fort Yargo State Park stands out among others is its diverse network of trails which spreads over nearly 20.5 miles. The trails wrap around the lake and provide a picturesque opportunity for hikers, bikers, and nature walkers. Whether you're up for a vigorous hike or just a leisurely walk in nature, these trails offer a serene and safe way to appreciate the natural beauty.
Good Times Await: Recreational Activities
Aside from camping and nature walks, there's plenty the park has to offer to ensure a memorable trip for you and your family. There's a large swimming beach for you to enjoy a playful day or to lounge around for a laid-back picnic. The park offers boat rentals for those who'd like to venture out on the lake. The fishers in your family can cast their lines in the lake, and if fortunate enough, catch several species like bass, catfish, and crappie.
Affordable Escape: A Budget-Friendly Outing
Unquestionably, one of the most appealing aspects of Fort Yargo State Park is its affordability. Affordability is critical for these family campgrounds in Georgia list. Despite its close proximity to urban areas and the multitude of amenities on offer, a family outing here won't break the bank. So, if you're looking for an escape into nature that's both close and affordable, Fort Yargo could be the perfect place.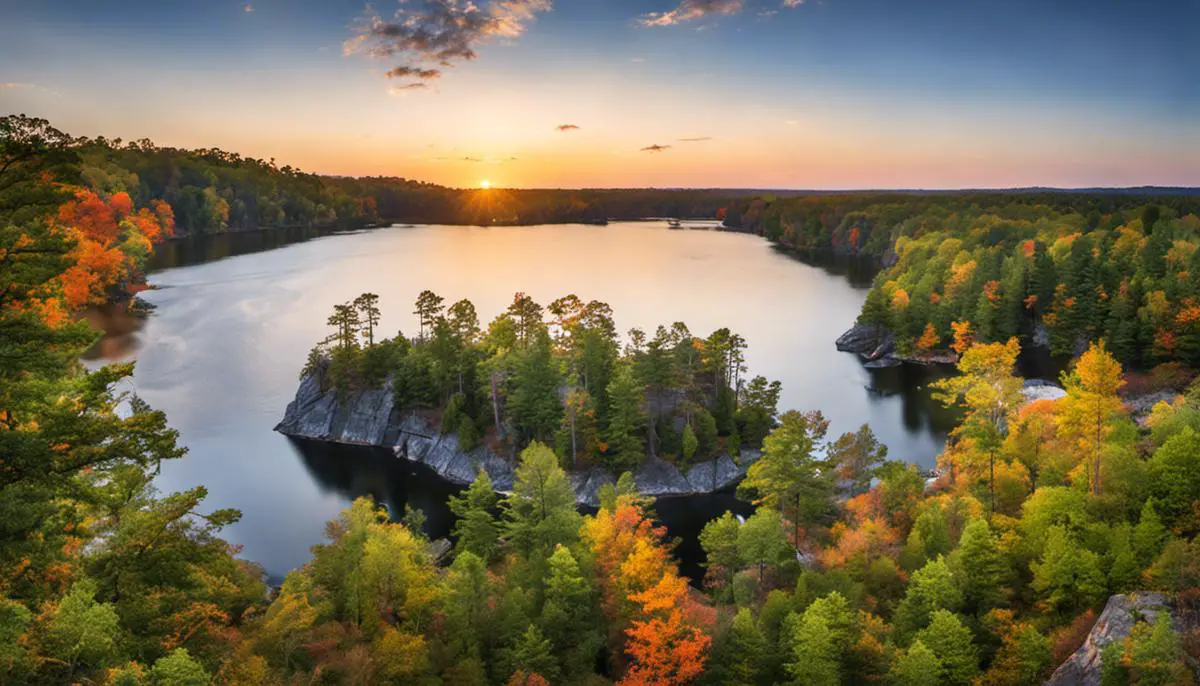 ---
Use this camping checklist before you head out on your adventure.
---
Experience the Adventure at Lake Lanier Islands Campground
Fan of the great outdoors and looking for your next family camping destination in Georgia? Check out this option on the top five family campgrounds in Georgia. You might just find your next adventure spot at Lake Lanier Islands Campground. Sitting gracefully within the lush surroundings and captivating emerald waters of Lake Lanier, this campground is a haven for enthusiastic camping families.
Get ready to step up your camping experience because Lake Lanier Islands offers a diverse range of camping options to fit any preference. Would you like to wake up to the gentle lapping of lake waters? Their waterfront campsites could be your dream camping spot. Looking for a convenient camping experience complete with amenities? Try their serviced campsites equipped with power. And if it's pure, unadulterated communion with nature that you seek, they also offer primitive camp spots for a more rugged, back-to-basics experience.
A Fun-filled Family Camping Destination
But what's camping without some fun and adventure incorporated into the mix? At Lake Lanier Islands Campground, the fun begins right at your campsite. Try your hand at water sports, get the adrenaline going with some ziplining, or bring the family closer together with a delightful session of horseback riding.
There's more! Who says you can't experience the excitement of a water park right in the middle of your camping trip? At Lake Lanier Islands, they've seamlessly integrated a huge water park into the campground, bringing a unique and deliciously refreshing aspect to your camping adventure.
Experience Nature in Style at Lake Lanier Islands Campground
In short, from the moment you pitch your tent to your family's gleeful splashes in the water park, camping at the Lake Lanier Islands Campground is a testament to the beauty of nature combined with fun-filled activities. Whether you're a family of camping veterans or you're just starting out in the world of outdoor adventures, Lake Lanier Islands is a destination that can deliver excitement, relaxation, and stunning natural beauty in one complete package. Expect your camping trip to be filled with memorable experiences that will leave you wanting to return, again and again.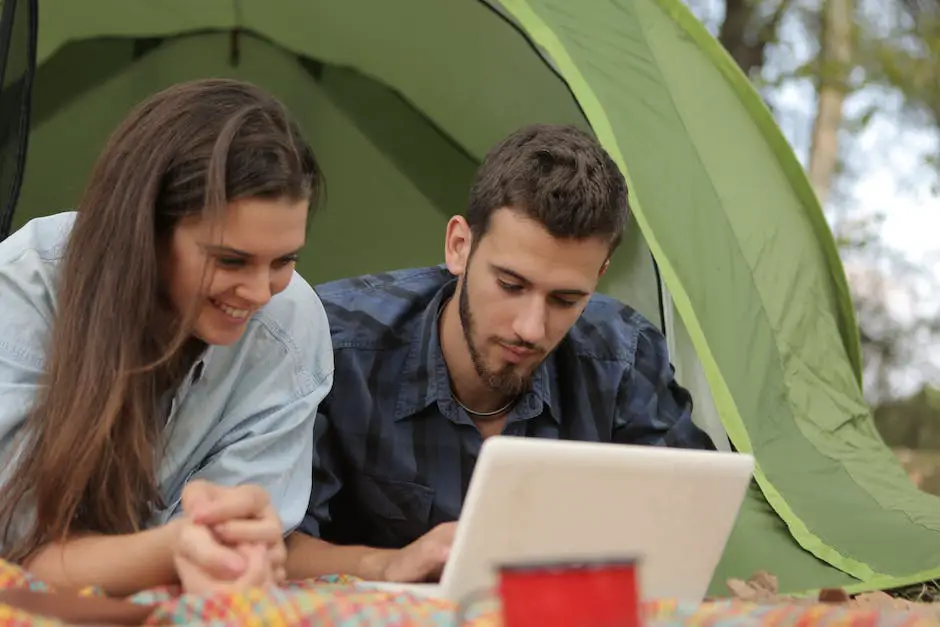 ---
Check out our best car camping kitchen items to take with you on your family trip.
---
Final Thoughts on the Top 5 Family Campgrounds in Georgia
From the artsy Stone Mountain Park Campground to Lake Lanier Islands where family fun never runs out. Georgia's sceneries can fill endless camping trips with distinct experiences. The wide array of family-friendly activities in Vogel State Park, the history-infused Red Top Mountain State Park, and the nature surrounding Fort Yargo State Park provide enriching and enjoyable camping experiences. Each of these options on the top five family campgrounds in Georgia is sure to delight. These memorable open-air experiences where families can spend quality time together provide more than just a place to sleep; they provide spaces where families can connect, create, and celebrate life. Pick your perfect spot, pack your camping gear, and get ready for an unforgettable adventure with your family in Georgia's top campgrounds.