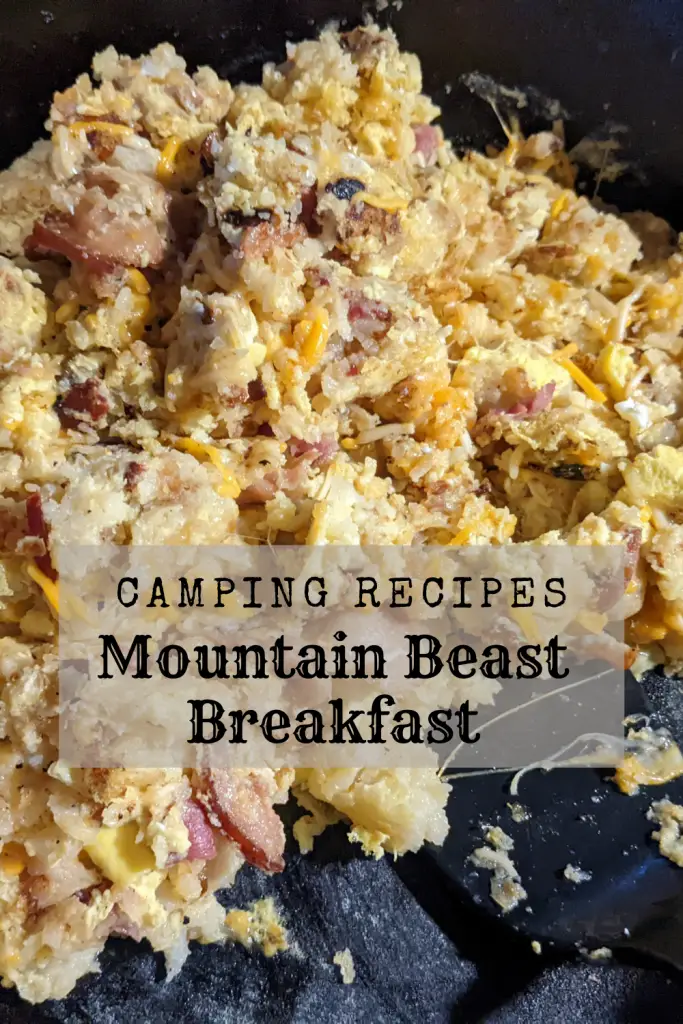 I am always on the hunt for one-pot breakfast meals. I love the Mountain Beast Breakfast because it is simple and gets everything cooked nearly at once. Not to mention that I can roll out of bed, get a fire started, and enjoy my camp coffee while it cooks. My children appreciate waking up to the smell of bacon and hashbrowns as well. Really isn't camping about making your family happy?
So I roll out of bed as the sun starts to rise. I quietly and expertly build my campfire for cooking. I do the minimal amount of prep which is cutting bacon, dicing onions, and beating some eggs. Then I start cooking! I sit by the fire enjoying my coffee and letting the delicious smells waft through the campground. Starting the day off right with this delicious Mountain Beast Breakfast will ensure you have the fuel you need to stay on the trail longer.
---
Delicious breakfast isn't the only meal! Check out our other recipes.
---
Mountain Beast Breakfast
So why do I call this the Mountain Beast Breakfast? Well, to be honest, you may find similar recipes around called the Mountain Man breakfast. As I have noted here and many times in the articles I post, I have children. Do you know what children love to be? Animals! I am positive that they come out expecting to go Lord of the Flies whenever possible. So we rebranded this meal in my family as the Mountain Beast Breakfast. It allows both my daughter and son to feel as though they are a beast that roams the wilderness.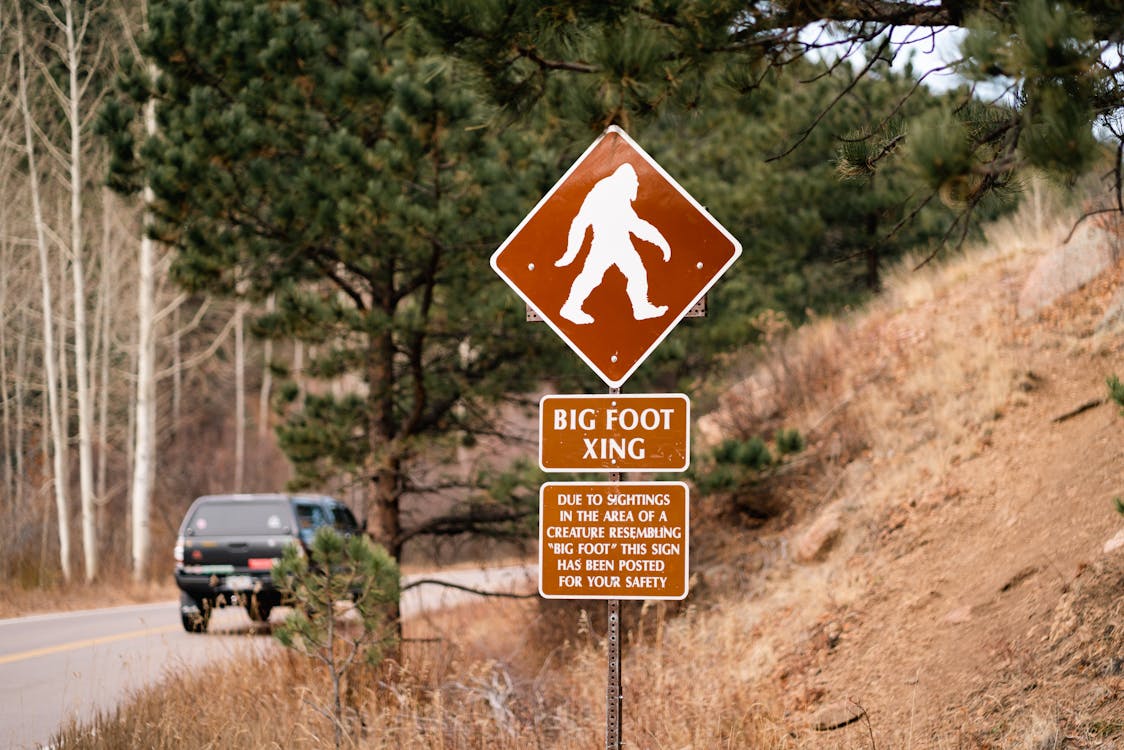 Their love of wild animals has now spread. It may be in part to this meal as they always want to know what beasts lurk in the mountains. This has grown into a love of cryptids. So every camping trip to a new spot we have to learn the local lore and legends. Thank goodness that there is plenty of cryptozoology
shows available on TV these days! We imagine that old Huckleberry and Wild Bill from Mountain Monsters is bellying up to the picnic table with us as we chow down on this hearty breakfast! Though to be honest I am not sure they ever leave the Tygart Valley anymore with so much going on there.
Anyways, back to the point, this meal provides all of us the fuel that we need to go exploring and find our own monsters. Whether real or not the beast is inside of us after fueling up with this protein-rich meal.
Substitutions
We do like to experiment when making our Mountain Man Breakfast. We always start with a base of onions, protein, hashbrowns, and eggs. However, we love to try out different proteins and cheeses that we mix in. For instance, we have done ham, steak, and sausage as our proteins. Each time it changes the flavor just a bit but we are never disappointed. So feel free to use your favorite breakfast meats!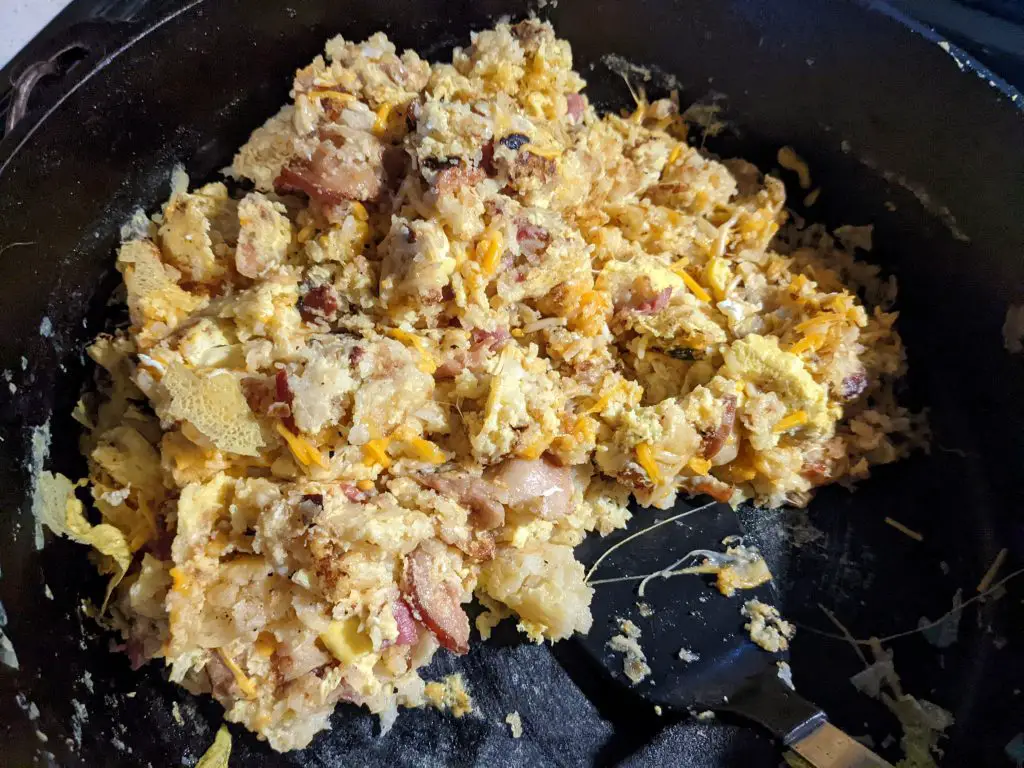 For cheeses, we recommend the base use of cheddar. It is a neutral cheese and won't overpower the dish. However, we love to use Swiss cheese with ham. We also enjoy pepper jack to add a little bit of spicy flavor. With so many cheeses to choose from the sky is really the limit. So pick your favorite cheese!
Get creative when it comes to veggie additions too. Don't tell my children but I will sometimes sneak in things like mushrooms, spinach, bell peppers, or jalapenos. Each of these helps to make the dish even more hearty and changes things up a bit.
Finally, you don't have to stick with the recommended salsa as a topping. I enjoy the contrast between the tomato and the eggs. However, hot sauce can be just as good. If you have made it extra spicy then maybe add some sour cream. Avocados also taste amazing on the top of the Mountain Beast Breakfast. Again the toppings can really be molded to your own preferences with eggs and hashbrowns.
What combination of ingredients are you going to try first? Share it in the comments below or on our Facebook, Twitter, or on Reddit!
The Tools
Can you guess what the main tool is here in our Mountain Beast Breakfast? I'll wait…okay you got it a Dutch oven! I have a 14″ Dutch Oven and honestly, it is overkill for this type of dish. That is unless I am feeding an army which sometimes it feels like. Using a 10″ or 12″ Dutch oven should be sufficient for a family of four. You will also need some mixing spoons and a Dutch oven lid lifter. These will help with cooking and keeping you safe!
---
Learn more about Dutch oven tools.
---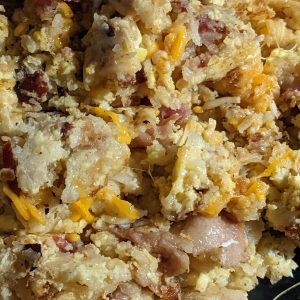 Mountain Beast Breakfast
When I head out to the mountains to camp I want to feel like I am a wild beast. This Mountain Beast Breakfast gives me everything I need to fuel up for a long day on the trails. Not to mention that I feel like I can take on any critter in the woods with so much protein packed in!
Equipment
Campfire

Dutch Oven

Bowel

Whisk
Ingredients  
1

md

Onion

chopped

1/2

lb

Bacon

cut into small pieces. I just use a pound though to make it extra bacony

32

oz

hash brown potatoes

Shredded Hashbrowns

12

Eggs

1.5

lbs

Cheddar cheese

grated

1

jar

salsa
Instructions 
Prepare campfire for indirect medium heat.

Preheat Dutch oven over a prepared campfire. Preheat the lid at the same time to allow for cooking from the top.

Brown bacon in the Dutch oven. Add onion and cook until clear. Remove bacon and onions from the Dutch oven and set to the side.

Wipe excess grease out of the Dutch oven and place back over coals.

Stir in the 32-ounce bag of hash brown potatoes. Fry until potatoes are golden brown, then mix the bacon and onions back in.

32 oz hash brown potatoes

Break 12 eggs into a medium mixing bowl and beat thoroughly.

Pour eggs over potatoes, bacon, and onions. Cover with the hot lid and cook until eggs are almost solid.

Sprinkle with 1 1/2 pounds grated cheddar cheese. Continue cooking until eggs set and cheese melts.

Just before serving, top with hot, medium, or mild salsa, according to taste.
Notes
Camp Hero Notes
Switch up your proteins and use sausage, ham, or steak to give this meal some variety.
When whisking your eggs add in some cream or whole milk to make the eggs even fluffier. 
It is likely you will have leftovers. The leftovers make for delicious sandwiches at lunchtime by adding the mixture onto toast or toasted bagels.