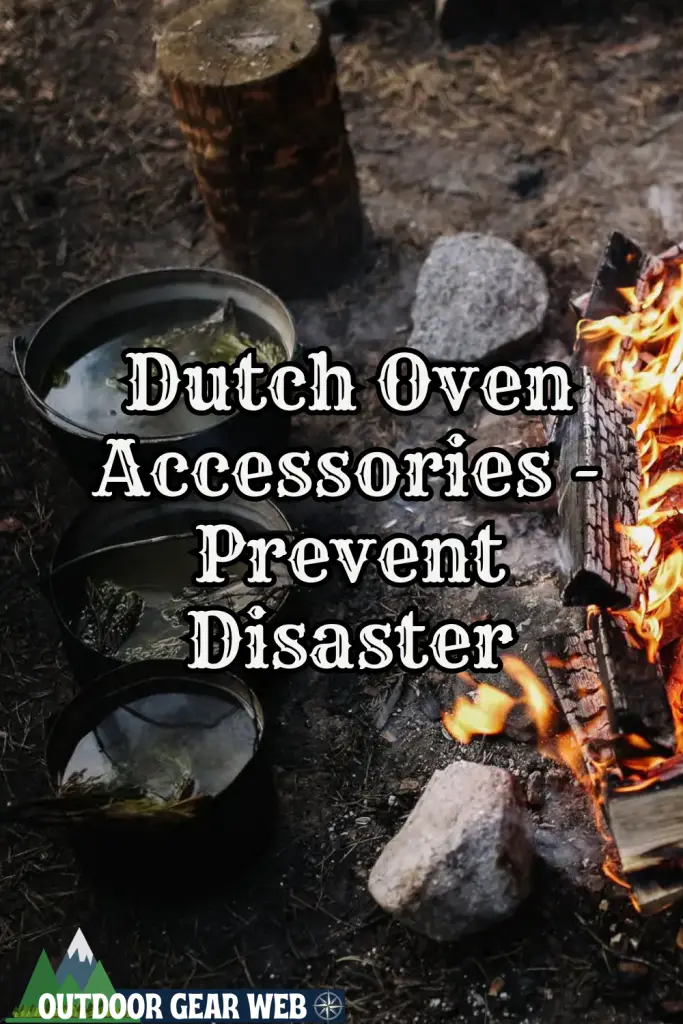 One of the best parts of camping is the use of a traditional cast iron Dutch Oven. Dutch Oven cooking makes a meal without the hassle of switching from pan to pan or the use of too much oil. This oven is multipurpose and so versatile that you don't need extra cooking devices to complete a delicious meal. Whether you are a first-timer or a veteran when it comes to Dutch oven cooking, as long as you have passion when it comes to cooking then you're good to go. In either case, be prepared with our list of Dutch oven accessories to prevent disaster in your camp kitchen. This is to ensure your safety as well as to make the job a lot easier.
---
Check out our posted Dutch oven recipes!
---
Dutch Oven Accessories
Our first Dutch oven accessories on the list are heat-resistant gloves. This Dutch oven accessory will prevent disaster by protecting you from third-degree burns. Thick leather gloves, like the Camp Chef Heat Resistant Gloves, are advisable, not only with Dutch Ovens but also with other cooking vessels. In the first place, you are cooking on an open fire so might as well be careful and wear a pair of gloves. Choose gloves that are made of thick and good quality materials, since some cast iron Dutch Ovens, especially those bigger ones, are too heavy to lift. It will keep your hands and arms away from the flame or the direct heat of the coals. You need the proper gear to refrain from burning yourself. This will help your camp experience be pleasant and prevent you from ending up in the hospital.
The lid lifter is as important as the gloves; you need this to easily lift the lid without hurting yourself. There are quite a few varieties, however, a typical lid lifter is an iron rod, (approx. 15″ long), with a hook on the end that fits into the loop handle on the lid. The purpose of this tool is to keep your hands away from the heat of the coals on top. It means that you will not need to remove the coals in order to stir or check on the food. This is another hand and arm saver by keeping your appendages safely away from the heat of the fire. Use this in conjunction with other Dutch oven accessories to prevent disaster.
One similar to the RAAKARRS Dutch Oven Lid Lifter Stand Set is a good choice because it is long, sturdy, and can make lifting easy with its added features. Additionally, it comes with a stand for your Dutch oven to help make cooking a little easier. This is not 100% necessary but it is nice to have when you are out camping.
Cooking in a Dutch oven can yield some delicious food. For some recipes though you need to stir the food occasionally to prevent it from burning and sticking to the bottom. If this occurs you are not going to enjoy your meal! Therefore, grab a pair of long-handled tongs to frequently turn or stir food in the deep-sided Dutch oven. This is very convenient as you don't need to put your hand too close to the open fire and hot oven pot. Are you sensing a theme here? Keep your hands away from the fire!
Tongs that are made of rigid plastic and Teflon-coated materials are among the best. This is because they will not ruin the coating of your pot, unlike metal spatula that can scrap the oil coating. You may even have a nice set at home that you like to use for your grill out back. If you don't the SKEMIX Long Kitchen Grill Tongs should do the trick at a low cost. These have a silicone coating. In either case, don't forget to pack it in your camping gear!
When your cooking is all done you are going to need to clean your Dutch oven. You don't want to soak it in water though to get that stuck-on food. Instead, use a soft bristle or brush for cleaning your Dutch Oven. Do not buy those hard-type brushes or metal scrapers as they might also ruin the surface of your oven pot. Never use metal utensils or things like steel wool in your Dutch Oven as this will only lead to heartache. Having a simple kitchen brush will save you from that heartache. This is a tool you can take back into your kitchen when back at home. Remember, to avoid Dutch oven disaster! Rinse your Dutch oven thoroughly with water and let it dry first before placing it in storage.
Dutch Oven Accessories to Prevent Disaster
As you start preparing for your next camping trip remember to pack these Dutch oven accessories to prevent disaster. Having a burn will bring your camping trip to a crashing halt. These are the basic cast iron Dutch Oven tools and accessories that you should have included on your shopping list. Having each of these, plus your recipe ingredients, will ensure that your trip will be a success. With the proper gear, you surely will have the best campfire cooking every time. Among the beauty of nature and the delicious meal that you will prepare using your Dutch oven, there will be nothing more satisfying.