Here is another fantastic recipe to kick your campsite cooking up to the next level. It takes you boring egg breakfast to the Mediterranean. This Fireside Shakshuka is a traditional Shakshuka but modified for use around the campfire. It is likely that this is the way Shakshuka was first enjoyed. The best part about the Fireside Shakshuka isn't even that it is delicious. It isn't that it is quick and easy as a one-pot meal that even serves as your plate! Truly the best part is that this is a community-type meal! More on that in a second, though. First let's talk about the mixture of tomato, paprika, cumin, red pepper, onions, and peppers. All of these flavors meld together over the campfire with a hint of smokiness not just from the paprika but also the fire. It is an explosion of flavor that likely you have never had while camping!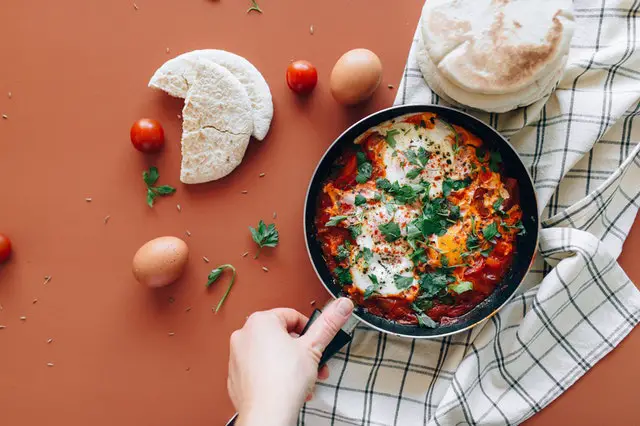 There are many ways to modify this recipe to make it your own. Feel free to add feta to the top. If you are looking for something a little more substantial you can add a ground protein to the recipe. These are just a few options but you could also add additional veggies if you prefer eggplant or squash in the mix. With any addition that you make you will need to adjust the cooking time. That is why the fireside Shakshuka is so versatile at breakfast, lunch, or dinner!
A community meal
Camping is about coming to the outdoors and experiencing nature. Some of us really enjoy heading out to nature with family and friends. This is because nature while grand is so much better when those memories are shared with those we love. Cooking for a group of people does not have to be difficult, especially around a campfire. That is why the use of the Dutch Oven is so popular. It makes for a one-pot meal that everyone can come together around while it is cooking. The fireside Shakshuka takes this one step further. Not only is it a one-pot meal but it is a one-dish meal that is easily scalable to your group size. Place the skillet or the Dutch oven on the table and watch as the whole family crowds around with their pita. Oh sure, you could spoon it out onto plates, but why? Make clean-up a breeze!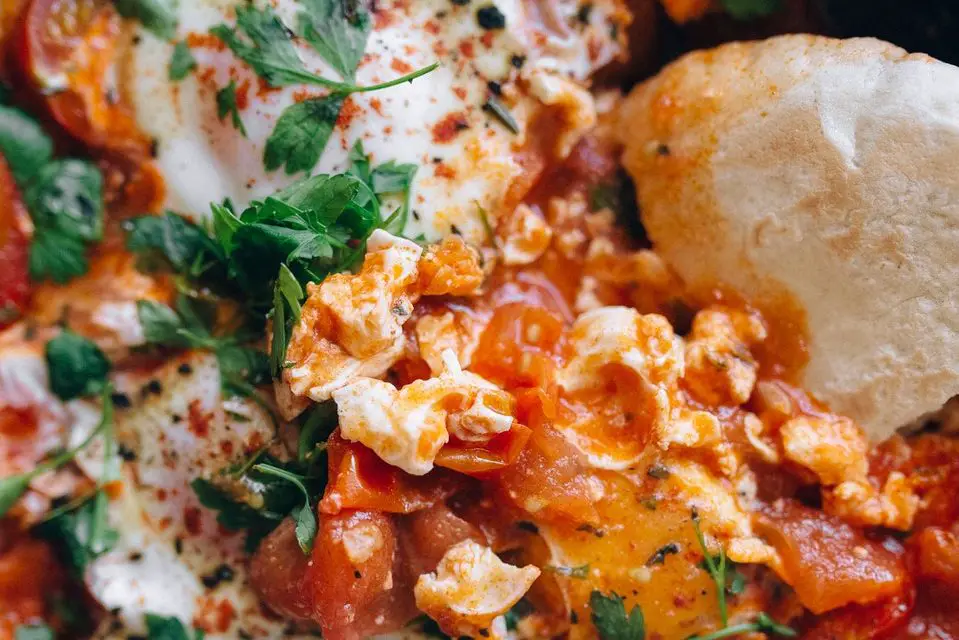 When my family heads out to the campsite we tend to come together over the meal. We do enjoy going out on hikes and exploring together, but there is still something so positive and endearing about being together around a cooking pot. It is where our stories are told. We recant the day's adventures. We build those bonds that we can't really get during the work week. It is why having a meal like this one for dinner makes us come together even more. We all dive into the stories while giggling about the runny yolks dribbling down our chin.
What community cooking meal do you like to do while camping? Tell us on our Facebook Page!
The Tools
There is not much in the way of tools that you need here since this is such a straight forward recipe. You should have basic utensils available such as a large spoon and a knife. These will help with vegetable preparation and stirring your sauce. Additionally, you will need a cast-iron skillet or a Dutch oven. If you are using the cast iron skillet make sure that you have a lid available for it or come prepared with some foil to make a lid.
---
Consider these accessories to accompany your dutch oven cooking
---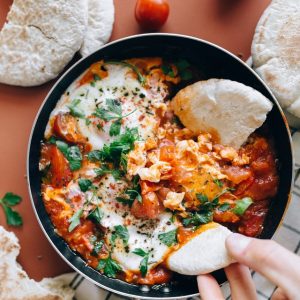 Fireside Shakshuka
Fireside Shakshuka (Shahk-Shoo-kah) is an easy breakfast, lunch, or dinner meal that is made with poached eggs, simmered in tomatoes, bell peppers, onions, garlic, and spices. While this dish originates in the Mediterranean it is fantastically at home around the campfire. Not only do you get the heat and flavor from the fire but you will also enjoy the warming spices that meld into this dish. So pull out that cast iron skillet and say it with me while you dance and crack some eggs Shahk-Shoooooooo-Kah!
Equipment
Cast iron skillet or dutch oven

Foil if using Cast Iron Skillet

Campfire
Ingredients  
3

tbsp

Extra virgin olive oil

1

lg

Yellow onion

Diced

2

Green peppers

Diced

4

Garlic cloves

Minced

1

tsp

Cumin

Red Pepper Flakes

A pinch or if you like it with more heat add to taste

Salt and pepper

To taste

1

can

Chopped or diced Tomatoes

28 oz can

1/2

cup

Tomato Sauce

6 large eggs

1/4

cup

Fresh Parsely

(optional for garnish)

1/4

cup

Mint Leaves

(optional for garnish)
Instructions 
Prepare campfire with direct heating area that would equate to medium heat and a less direct heating area.

While the campfire is warming and you are getting coals built, dice your veggies.

1 lg Yellow onion,

2 Green peppers,

4 Garlic cloves

Heat 3 tablespoon olive oil in a large cast-iron skillet or your Dutch oven.

3 tbsp Extra virgin olive oil

Add your diced onions and green pepper with the garlic, spices (not red pepper flakes yet), and a pinch of salt and pepper. Cook over the coals making sure to move the veggies around to prevent burning. You want the vegetables softened but not charred, about 5 minutes.

1 tsp Ground Corriander,

1 tsp Paprika,

1 tsp Cumin,

Salt and pepper

Add the canned tomatoes and tomato sauce. Cover your skillet with foil or use your Dutch oven lid and let simmer for about 15 minutes. You are really letting the flavors meld here.

1 can Chopped or diced Tomatoes,

1/2 cup Tomato Sauce

Take the cover off and let simmer for an additional 5 minutes to thicken the sauce. (If using foil do not get rid of the foil!) Now is your chance to taste and adjust the seasoning. If you want it a bit spicer add in your red pepper flakes now!

Use your spoon to make 6 indentations in the tomato mixture. Each well should be slightly larger than a golf ball and you should make sure that they are equally spaced around the pan.

Gently crack an egg into each indention. Move off the direct heat so that you are at more of a low heat setting and recover the pan. You will cook like this till the egg white has set (about 5-10 minutes). Check back often!

Cook till the egg white is set and the yolk has reached your desired consistency. Traditionally the yolk would be runny but if you prefer a hard yolk cook it longer.

When the egg is cooked uncover and add the fresh parsley and mint (if using). Season to taste with more salt, black pepper, or crushed red pepper.

1/4 cup Fresh Parsely,

1/4 cup Mint Leaves
Notes
Camp Hero Notes:
Pita Bread is great addition for this meal to scoop up the deliciousness right from the pan.
Make the sauce in advance at home and bring it with you for an even quicker breakfast, lunch, or dinner.
While the eggs provide a great shot of protein in the morning, you can always add in breakfast sausage, ground beef, ground lamb, or your favorite ground protein to make this a more substantial meal. Just cook the meat first and add it in prior to making your indentations in the sauce.