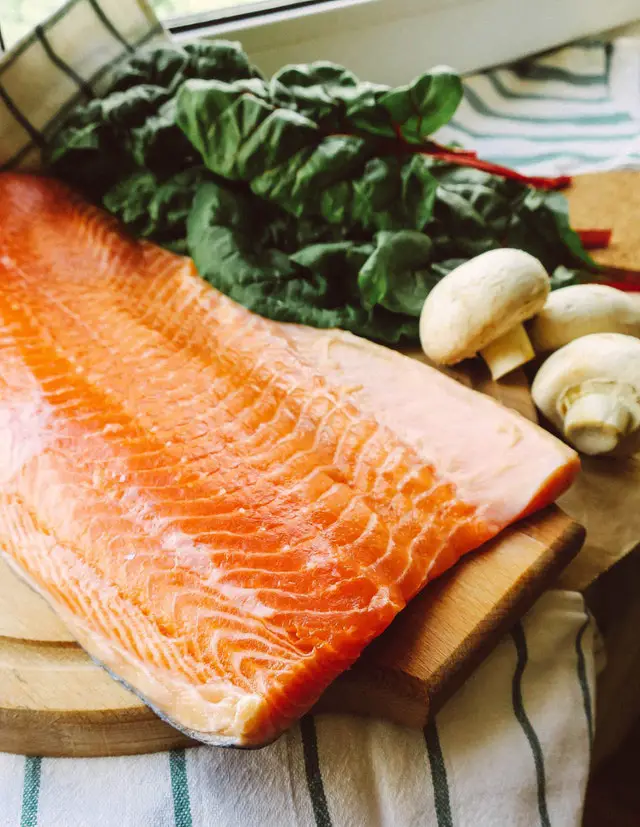 For those of us who enjoy seafood salmon is a very easy fish to enjoy. It is fairly forgiving when it comes to cooking and can be prepared in numerous ways. Well, there is no reason to skip out on the salmon just because you are camping. With my Honey Sriracha Salmon, you can enjoy something that is a little sweet, a little spicy, and quite a bit fancy. All while using some pretty standard campfire cooking techniques. That is right this delicious meal is cooked over the fire to perfection. So not only will you get the sweet notes from the honey, but, depending on your wood use, may get some added notes of sweetness from the smoke. I sometimes like to add applewood charcoal into the fire to get that extra smoky flavor! For a quick and refined campfire meal look no further than this Honey Sriracha Salmon.
Pairings with the Honey Sriracha Salmon
This salmon has a sweet heat thing going on. With the Sriracha it is likely that it will remind you of an Asian-inspired salmon dish. Thinking along these lines I often enjoy the dish with rice. However, I have also had this with some campfire mashed potatoes, mashed cauliflower, and fire-roasted green beans and garlic. Each of these is fantastic to pair with the flavors this dish offers. Not to mention that each of these are super easy to make around the campfire and takes little to no preparation. Stay tuned for us to add these awesome sides to the recipe list!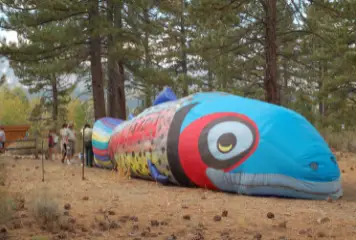 Aside from what to eat with this dish, there is another type of pairing that I want to discuss. That is the activity. You may not realize this but Lake Tahoe has one of the most incredible salmon runs every fall. The salmon swim out of the lake and up Taylor Creek. During the annual Salmon Festival, you are likely to find hundreds of salmon spawning in the creek. The US Forest Service does an amazing job of curating a special event where even the bears come for an easy salmon meal. So while it is not often that I pair a meal with an activity, I simply can not think of a better time or surrounding to eat this meal!
The Tools
Like many camping recipes, we opt to use cast-iron here. There is something so delightful about the added flavor of a well seasoned cast-iron skillet. I will say that not only does cat-iron add flavor it does a tremendous job of evenly heating food especially on campfires where the heat may not be as controlled as on a camp stove. However, since we are using medium heat coals and cooking fish there is no need to use cast iron. Feel free to use any pan that works best for you. Better yet, cook directly on the grill grate for added smoke flavor. You do need to be careful about flare-ups though because your fish may not taste delicious charred to a crisp!
---
Become an expert in campfire cooking!
---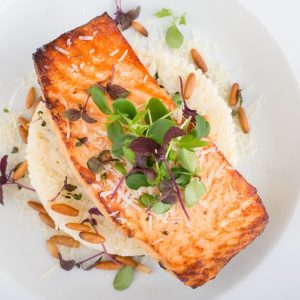 Honey Sriracha Salmon
Salmon doesn't have to be relegated to just when you have time at home or at restaurants. Now you can take a delicious salmon meal out to the campsite with you! The blend of sweet and spicy is sure to kick your grilling game up a few notches and make even the pickiest eaters happy around the campfire.
Equipment
Campfire or Camp Stove

Grill Grate or Grill Pan (if cooking on camp stove)

Basting Brush
Ingredients  
3/4

cup

siracha

1/2

cup

honey

4

6 oz

skin-on salmon fillets

Juice of 2 lemons

Chopped fresh chives

for garnish
Instructions 
Start your campfire and create coals for medium heat. Or preheat your grill pan on the camp stove with medium heat.

Mix the honey, lemon juice, and the siracha together.

3/4 cup siracha,

1/2 cup honey,

Juice of 2 lemons

Using the basting brush rub each piece of salmon with the siracha and honey glaze. Reserve a portion of the glaze to add later.

4 6 oz skin-on salmon fillets

Place salmon on the grill. Grill over medium heat for about 5 minutes per side (time is dependent on heat level and filet thickness).

After you flip the salmon baste with the remaining glaze.

The salmon is done when it flakes easily with a fork.

Garnish with chives (or your other favorite toppings. I like chives, pine nuts, and a tiny bit of greens) and serve with your favorite veggies or rice.
Notes
Camp Hero Notes:
You can make the glaze ahead of time before heading to the campsite. This will make it easier to cleanup while camping!
Salmon is not all going to cook at the same rate. It depends on the thickness and the evenness of your campfire coals. For this reason, keep a close eye on the salmon as it is cooking to ensure that you do not overcook it.
Leave the skin on while grilling as it will add flavor and keep moisture in the slamon.