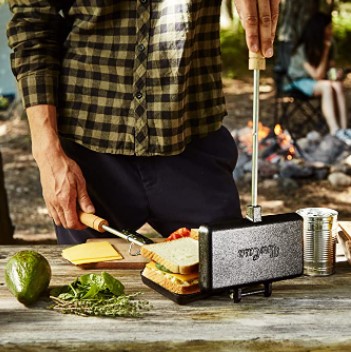 If your family is anything like mine we love having a good pork roast. The unfortunate thing is that the day after we are left with extra pork sitting in our RV refrigerator asking to be eaten. It took us a while to find something that both made the leftovers delicious and still has a camping flair. However, if you love pork as much as we do then the Cuban Sandwich Pie is for you! It layers delicious roasted pork, ham, Swiss cheese, pickles, and a mixture of mayonnaise and yellow mustard. You will take this Cuban sandwich pie to the next level by using your sandwich pie iron over the fire. The bread gets crusty and delicious and plays well against the sweet ham and zingy dill pickles. The problem you are going to face is not having enough leftover pork from the night before for extra sandwiches!
One thing to remember as you assemble your Cuban Sandwich Pie is that layering is very important. This is especially true in the sandwich iron. Without the proper layers of ingredients when it comes out it may not hold together. So layer your sandwich just like you layer your outdoor attire when adventuring away from the campsite in winter. You will start with your sauces, then a slice of cheese, then meats, pickles, and another slice of cheese. This ensures that all the ingredients melt together and hold in the bread as it turns golden brown and crispy.
The Tools
Now we are a fan of using your Dutch oven for every meal that you can. For the Cuban sandwich pie though we don't. Instead, we are using a neat little contraption that was invented over 100 years ago. The sandwich pie iron is made out of cast iron which will impart that delicious flavor that we have come to love. In fact, to us, it feels like it is still something coming out of a mini Dutch oven. The only other tool that you really need to make this recipe a success is a knife to cut open the rolls and spread the mayo and mustard. Once you have your fire going and your sandwiches properly layered, all you need to do is sit around the fire with friends and family! You can toast that sandwich to melty perfection and wonder why you didn't do this sooner!
---
Want to know more about the humble sandwich iron and get more fun ideas?
---
As a note, if you are doing a long day of adventuring you may not want to start your fire up mid-day. Instead, you can pull out your trusty camp stove! This will make the lunch go even quicker as you can easily set up and get the stove going. Since you are cooking in the sandwich iron there is little to no difference in the eat source!
Tell us what you think about this recipe after you make it in the comments below or on our Facebook Page!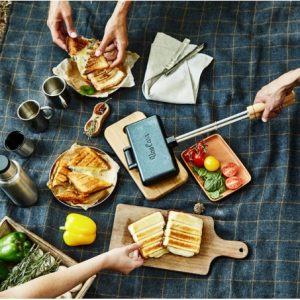 Cuban Sandwich Pie
Lunches around the campfire tend to be pretty dull and straightforward. Lots of people tend to go with the quick and easy so that they can get back out on the trails or the lake. Now you can kick your lunchtime sandwiches up a notch! The use of a pie or sandwich iron will take your recipe to the next level. With the ham, swiss, mustard, and pickle in this recipe, you will think that you are eating at a high-class panini shop in downtown Miami. So grab your sandwich iron and let's get toasting!
Ingredients  
4

Slices

Roast Pork Slices

Plan your evening meal the night before to have extra pork on hand. You should be able to get about one slice per sandwich or use pulled pork!

Bread

Cuban rolls are traditional for this sandwich. You will need to cut them down to fit the iron. However, try with sour dough, ciabatta, or your favorite bread type!

16

slices

Honey Ham Slices

4 slices per sandwich

8

slices

Sliced Swiss Cheese

2 slices per sandwich

Dill Pickles

Thinly sliced

1/4

cup

Yellow Mustard

1/4

cup

Mayonnaise

Non-Stick Spray
Instructions 
Get your campfire going and develop some coals for some indirect heat.

Spray your Sandwich Iron with non-stick spray

Mix mayonnaise and mustard together in a bowl and spread on the inside face of the roll/bread.

Bread,

1/4 cup Yellow Mustard,

1/4 cup Mayonnaise

Place one slice of swiss cheese, one slice of pork, 4 slices of ham, pickles to your taste (but I like to go edge to edge), and one slice of swiss cheese. This order makes sure everything melts together.

4 Slices Roast Pork Slices,

16 slices Honey Ham Slices,

8 slices Sliced Swiss Cheese,

Dill Pickles

Place the top piece of bread or close the roll. Then place the sandwich into the sandwich iron.

Place the iron over the hot coals of your fire and cook for 5-10 minutes turning every minute or two until your bread has turned golden brown and the cheese is melted.