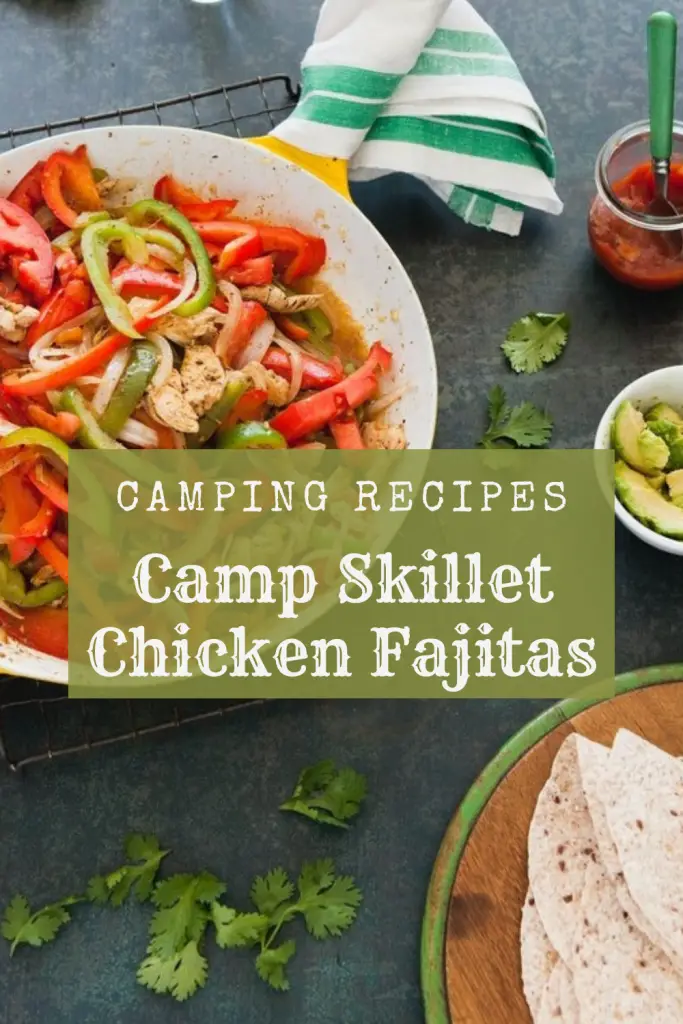 Are you heading out camping this year around Cinco-de-Mayo? If not you can have a fun Latin American-inspired meal any time around the campfire. These camp skillet chicken fajitas are so easy to make. They are a take on a classic Mexican recipe that uses juicy pre-cooked chicken that is seasoned, griddled in cast iron, and mixed with bell peppers and onions. Why I love this recipe so much is that I can do full preparation at home and I don't have to handle raw chicken while out camping. This makes cleanup a breeze and results in full hungry tummies on the first attempt! Oh, and did I mention the fact that there are only a few basic ingredients, well that is unless you want to customize these to your heart's content!
---
Worried about campfire cooking? Become an Expert Campfire Chef now!
---
Fajita Seasoning Mix Buy or Make?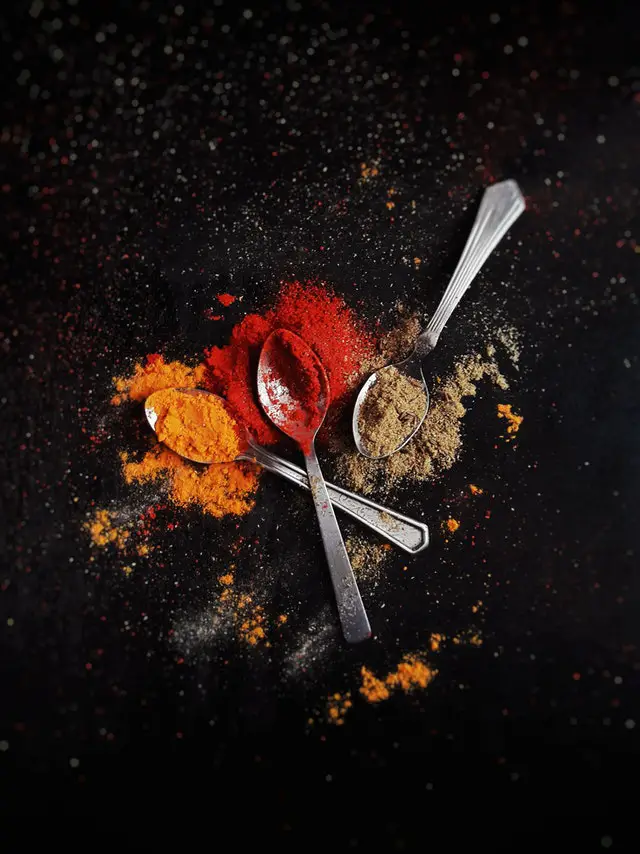 Alright, here is a little debate that my partner and I have all the time. What adds more flavor to this type of dish, using store-bought seasoning packets or homemade ones? Well, I am here to tell you that after doing numerous Google searches to end our debate we have yet to end our debate. Because we have disagreed so much on this we have come to the conclusion that it is likely up to user preference and taste. Personally, while I taste a slight difference between a homemade seasoning mix and a store-bought one it is not enough to outweigh the convenience and cost. Sometimes though, it is about making the partner have a smile on her face!
With that being said, here is our go-to fajita seasoning recipe, (but between us sometimes I sneak in a pre-made packet when I am running behind in the packing schedule!)
Camp Skillet Fajita Seasoning Recipe
Mix all of these ingredients together. I place them all in a mason jar and shake them together and then I have them ready to go camping.
3 tsps Chili Powder
1 tsps Garlic Powder
1/2 tsps Onion Powder
1/4 tsps Black Pepper
3/4 tsps Cumin
1 tsps Paprika
Large Pinch Salt
1 tsps Sugar
1/2 tsps Cayenne Pepper – Sometimes we like to kick up the heat a bit
Camp Skillet Chicken Fajita Toppings
In the recipe below I have included my favorite toppings. These include avocado, shredded cheese, shredded lettuce, diced tomatoes, salsa, sour cream, and hot sauce. This is a lot to take with you in varying quantities on a camping trip. However, each member of my family likes something a little different and this allows us some flexibility. Also, most of these toppings can be used on other dishes as well. Therefore, they pull double duty. However, there are many toppings that could be placed on your fajitas. If you do taco night or fajitas at home sometimes just bring along your favorites!
Here are some ideas on toppings that you may want beyond what I have included.
Pico de Gallo
Guacamole
Spicy Queso
Rotelle Spicy Diced Tomatoes
Jalapenos or other peppers
Adobo Chiles
Squeeze of lemon
Reverse the topping and have lettuce for a fajita salad!
Cilantro
Tell us your favorite fajita toppings in the comments below, on our Facebook, or Reddit! We would love to hear how you top them fajitas!
The Tools
Luckily the camp skillet chicken fajitas are a one-pan meal! So bust out your cast iron skillet and get to sauteing those veggies. Now, do you have to use cast iron? No, however, you will find that the cast iron skillet is best for adding flavor to the meal. It heats evenly and if you are cooking over the fire this can be beneficial to prevent hot spots in the pan that cause burning. You will want to make sure that you season your cast iron well before use though.
No cast iron that is okay! Use the skillet that you have available and the meal will turn out just as tasty. In either case, though, that is really all you need besides some way to prep the veggies and store everything together. I would recommend that you do all your veggie chopping at home and bring it in zip-top bags. This will make prep and clean up after a hard day that much easier!
---
Some of these Dutch oven accessories may come in handy with your cast iron skillet!
---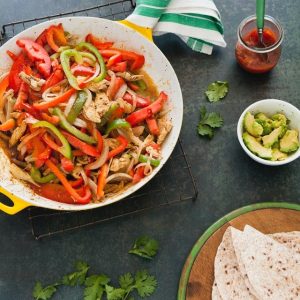 Camp Skillet Chicken Fajitas
This is probably one of the easiest recipes ever created for camping. It may rival hot dogs for being the easiest. It definitely tastes way better and will get you out of that camping rut of the same thing. Using mostly premade items you can have a delicious fajita dinner or lunch the whole family will enjoy!
Equipment
Camp Stove

Cast Iron or Other Skillet

Spoon
Ingredients  
1

package

Pre-cooked grilled chicken Sliced

1

package

Fajita Seasoning

1

cup

Water

Normally the seasoning packet will indicate the specific amount of water you will need.

1

large

Yellow Onion

sliced

2

Green Bell Peppers

sliced, feel free to use other colors of bell peppers as well. I prefer the green because they are less expensive.

1

tbsp

Cooking oil

Vegetable or Olive either will work

8

small

Tortillas

Flour or corn but preference for fajitas is flour.

1

Avocado

For Topping

1

cup

Shredded Cheese

Prefer the Nacho mix but queso cheese works well too.

Shredded lettuce

for topping

1

Tomato

diced, for topping

Salsa

for topping

Sour Cream

for topping

Hot Sauce

for topping
Instructions 
Preheat your skillet on the camp stove over medium-high heat

While warming slice your green bell peppers and onion.

1 large Yellow Onion,

2 Green Bell Peppers

When the skillet is hot add the cooking oil to the pan. Then add the sliced bell peppers and onions.

Cook the onions and peppers until the peppers are soft and the onions are translucent.

Add the pre-cooked chicken to the pan and warm through.

1 package Pre-cooked grilled chicken Sliced

Once the chicken is warm add the fajita seasoning packet and water following the instructions on the packet.

1 package Fajita Seasoning,

1 cup Water

Once the water has been reduced and the fajitas are sizzling hot you are ready to construct your meal!

Place fajita mix onto one tortilla and top with your favorite toppings. I have included some of my favorite here but be creative!

8 small Tortillas,

1 Avocado,

1 cup Shredded Cheese,

Shredded lettuce,

1 Tomato,

Salsa,

Sour Cream,

Hot Sauce
Notes
Camp Hero Notes:
1. The cooked fajita mix is delicious the next morning on top of eggs! If it is just you or you and a friend make the full recipe and enjoy a second meal!