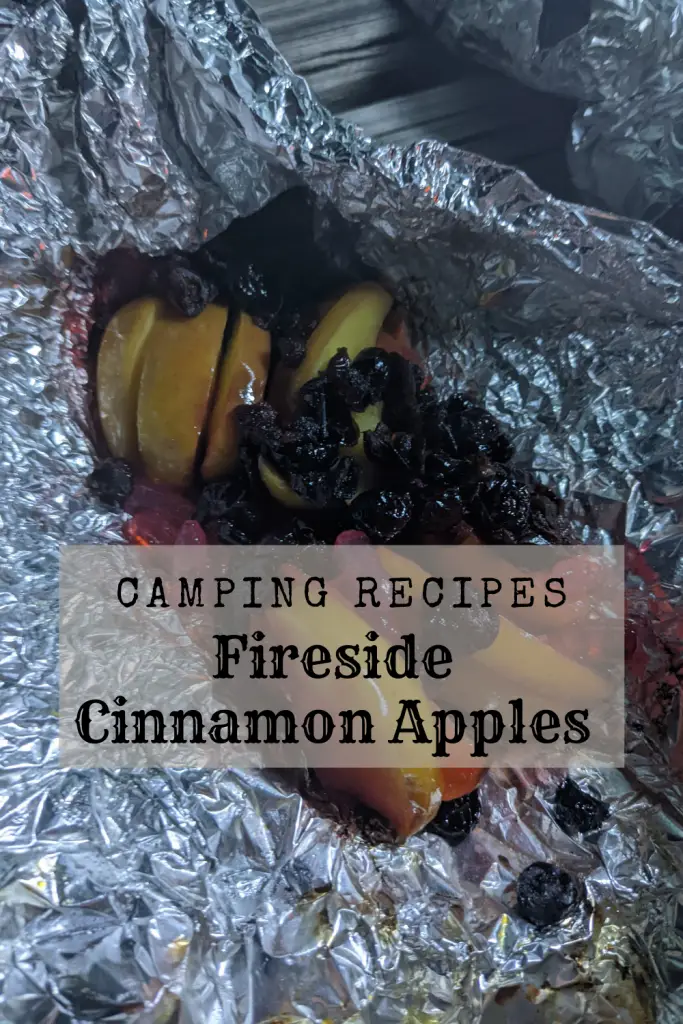 Camping desserts generally range into two categories. The first is the s'more. We all love the combination of chocolate, marshmallow, and graham cracker and it screams campfire. Or we hit the banana boats! This also combines overly sweet ingredients together. Don't get me wrong. I love a good banana boat or s'more. In fact, I am sure that, like you, they are family favorites on camping trips. Sometimes though I need a break from chocolate. Let's be honest, not everyone even likes chocolate and both of those recipes depend on chocolate to carry them home. That is where these delicious fireside cinnamon apples come into the dessert mix.
Now we can have a fruit-based dessert like a banana boat, coupled with the deliciousness of spicy candies. All cooked right by the campfire. They are a simple prep and lay by the fire kind of meal. So let's tuck into this delicious dessert!
---
If you haven't already make sure to expertly build your campfire!
---
Fireside Cinnamon Apples
I love to go camping in the fall time. This is primarily when I make this recipe. To be honest, my family always takes a camping trip to an apple orchard. Each fall we wander from our campsite out into the apple orchard to pick our own. We use these to make homemade apple sauce and jelly that we will use throughout the year. So, whether you have the wonderful Apple Hill just outside of Placerville, CA, or the apple orchards around the Virginia Appalachians to visit, it is always fun to pick your own apples.
This recipe gives you a way to use some of those apples right off the bat while still camping! Mix and match the different apple types you are picking to really customize this recipe.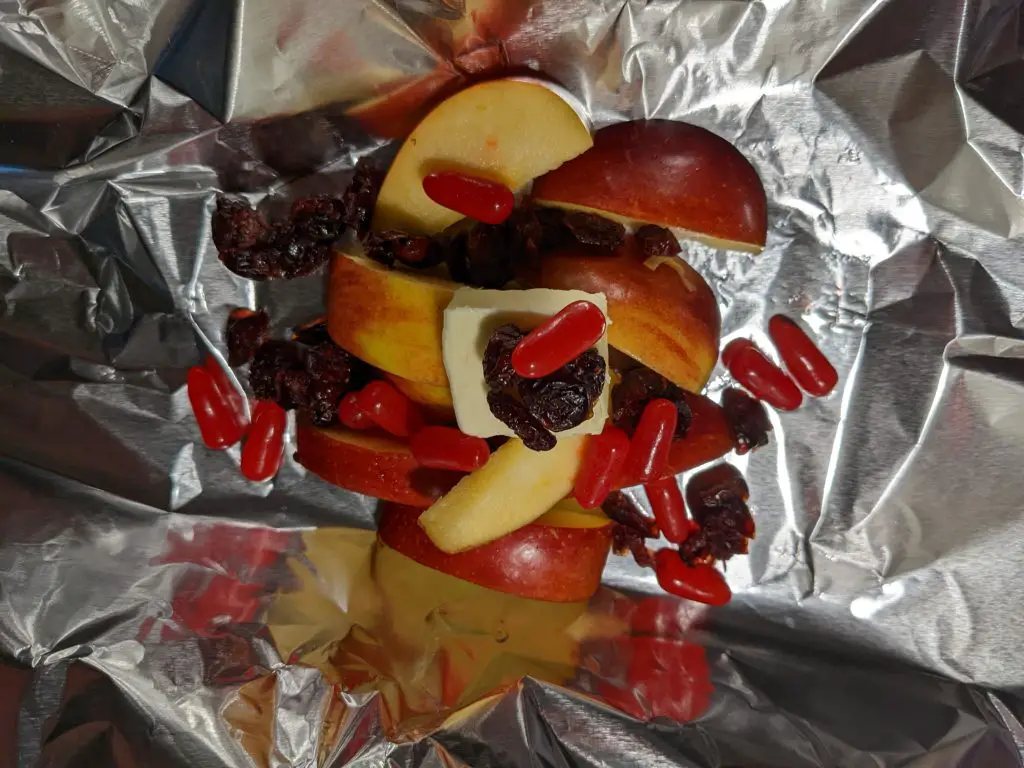 The preparation is fairly easy and even the younger campers can get their hands in the mix. After slicing the apples and removing the cores it is all about assembly. Simply add the slices and other ingredients together on your foil sheet. That is it! Simple and sweet. Since it is so quick you can prep it and have it cooking while you finish your main course. By the time you are done eating your dessert will be ready to pull from the fire!
Substitutions
Now if you are an ardent reader of my recipes you will know that I love to provide some different options on how to modify this recipe. Since the ingredient list is so short you may think that there isn't any way to really substitute anything for the fireside cinnamon apples. However, you would be wrong!
As I mentioned above, I love to go apple picking which means a variety of apple types. Feel free to switch out any of the apple types in this recipe. Try it with tart apples, sweet apples, or a mix of both. It is amazing how each flavor of apple really changes a dish!
Aside from apple swaps. I have also made this recipe with pears. The cooking time will reduce drastically with a soft pear. However, it comes out just as delicious. So give pears a shot in this recipe too. Just remember to check the pears often.
Finally, if you are in an RV or want to make this at home, the final dessert is an amazing topping to vanilla ice cream. You won't need to make one for each person in that case. Generally, two foil packs split across four bowls of ice cream pretty well. The mix of vanilla and cinnamon is really something delicious on a summer's evening! So give it a shot!
The Tools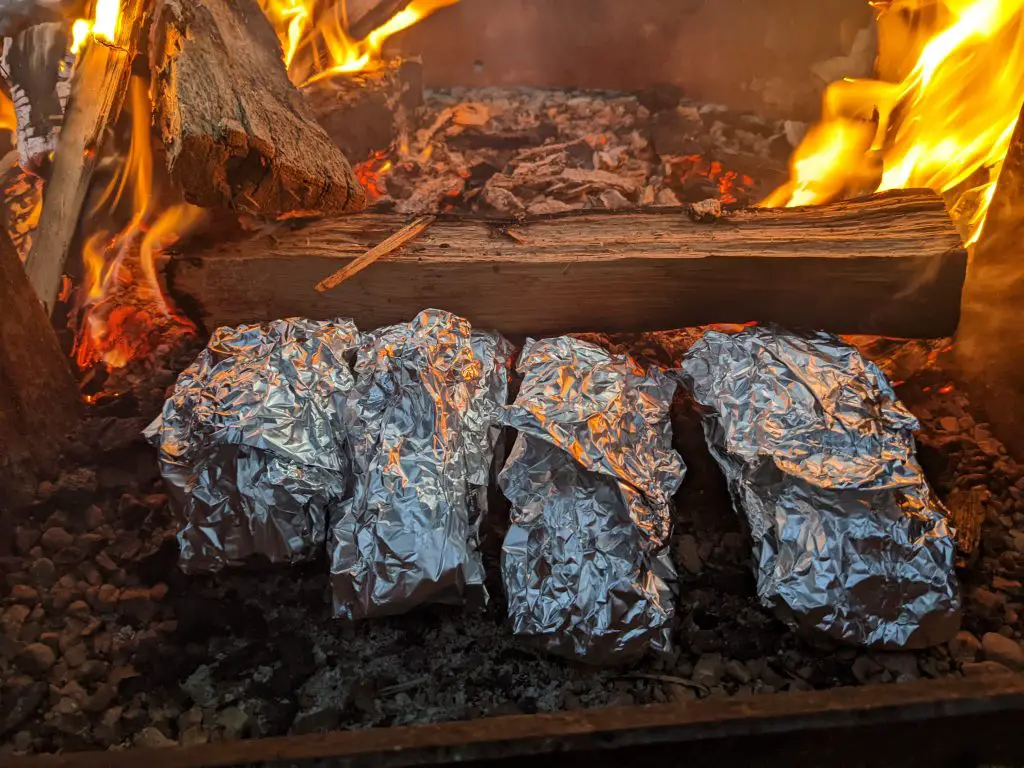 Luckily since this is a foil pack dessert recipe there are not many tools that are necessary. In fact, aside from fire tending and prep utensils you really only need a campfire. You will want to make sure that you prepare your campfire appropriately following our expert campfire cooking guide. This will give you a leg up on making sure that you have the right level of heat and intensity available for cooking your foil chicken. Additionally, make sure that you have proper precautions in place to ensure you are safe around the fire. Things like fire gloves and tongs will save you from singing your hair or worse.
I like recipes like this that use minimal tools. They are put together quickly and I welcome the easy cleanup. Just crumple up the foil and toss it into the trash bag! Especially after a long day of hiking, biking, or kayaking.
---
Want a different kind of campfire meal? These top 8 campfire meals will wow your camping crew!
---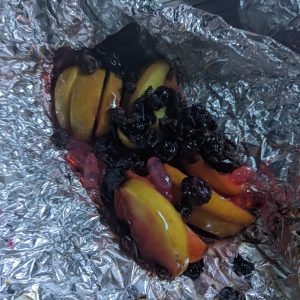 Cinnamon Apples
Tired of the same old smore's around the campfire? Well, I can't say that this dessert is any healthier but having apples sure doesn't help. The spicy cinnamon flavor coupled with sweet apples and dried cranberries will make this campfire dessert your go to!
Equipment
Campfire

4 24-inch length of foil
Ingredients  
1

box

Red cinnamon candies

Mike's Red Hots or similar

4

Tbsp

Dried Cranberries

4

lg

Apple of your choice

Any red variety

1

stick

Butter
Instructions 
Prepare your campfire to provide indirect heat

Core and Slice apples into eight or so slices.

4 lg Apple of your choice

Cut off four 24 inch lengths of heavy-duty foil and fold in half.

Place one cored and sliced apple in the center of each foil square.

Split the box of red cinnamon candies across all foil packs equally, then add 1 Tablespoon of dried cranberries and a quarter stick of butter to each.

1 box Red cinnamon candies,

4 Tbsp Dried Cranberries,

1 stick Butter

Bring foil up loosely over the apple and twist ends together to seal well.

Cook foil package over glowing coals till done.
Notes
Camp Hero Notes
Using any kind of sweet apple for this recipe will blend well with the cinnamon candies. However, feel free to use tart apples as well like a granny smith.
If you don't like dried cranberries you can also use raisins or golden raisins.
You really don't need any sugar for this recipe. It will likely burn as well. So picking a sweet apple will help!
It may seem like a lot of butter but when the butter mixes with the apple's juices and the melting candy it will make a great sauce.
If you want to make this at home away from the campsite, which I highly recommend, make sure to pick up some vanilla ice cream to eat it with!