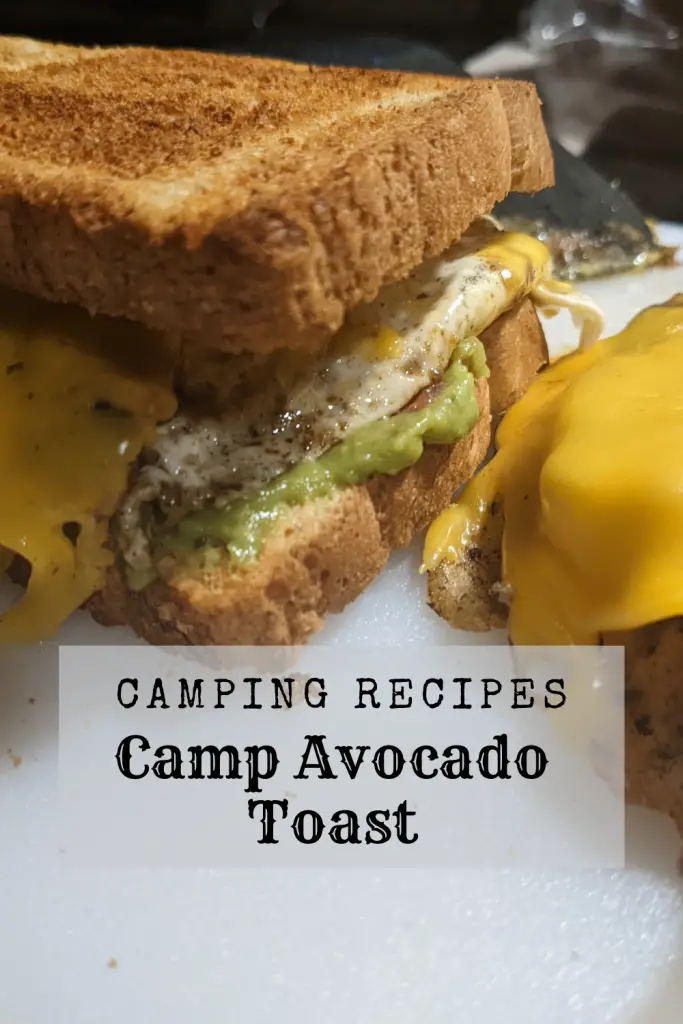 I am going to prove a terrible stereotype true here for just a second. I am wholly a millennial, and I love avocado toast. Whew! Glad I got that off of my chest. It really isn't that bad to love avocado toast and all of those haters out there really need to get over it. There is something just so enticing about the creaminess of the avocado on the crunchy toast. When I head out to the campsite I like to have quick breakfasts like this that are packed with good fats. Not to mention they are pure fuel for the trail! However, I wondered how I could get more protein into the breakfast so that I could feel fuller, longer. So the Camp Avocado Toast was born. It is a mix of traditional avocado toast, breakfast sandwiches, and a little south of the border flair.
---
Want a more traditional breakfast camp breakfast? Give this Mountain Beast Breakfast a shot!
---
The Skinny on Avocado Toast
The concept of avocado toast has been around for a while. The first mention of something similar to avocado toast happened nearly 100 years ago. In the 1990s a restaurant in Australia started selling it for breakfast. However, it really became popular in the 2010s. This is why it gets the wrap as a millennial staple. Not to mention that we are all clearly not paying rent because we can't live without it.
The concept is pretty straightforward. Start with some good bread and toast it up. Then add smashed avocados to the toast just like you would a jam or jelly. From there you can add any kind of toppings that you like. The mixes of different toppings set different restaurants apart. One of the best things about it is the customization that is possible. I love customization! It is a great healthy alternative to an overly sweet sugar-filled jelly on your toast. This is why it is so appealing. The only downside is the ever-increasing cost of avocados.
So Why Make Camp Avocado Toast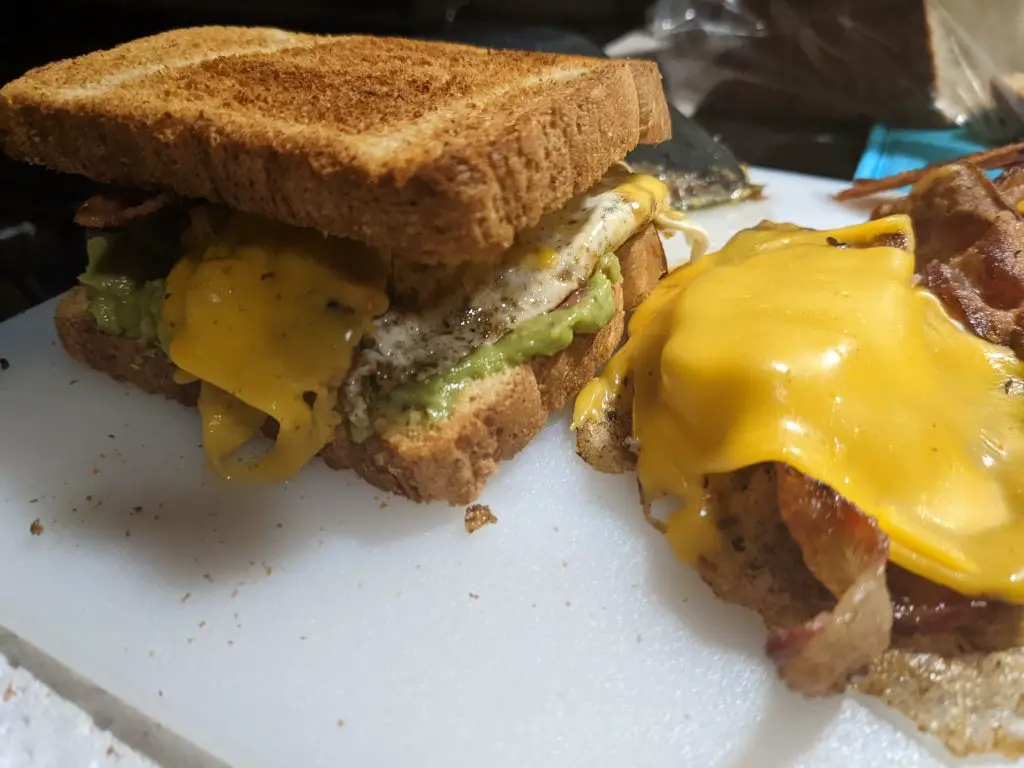 Well, the answer is quite simple. I really like having avocado toast. However, it is not very filling after a few hours out on a trail or carrying a pack. I found that I needed something a little more substantial. We all know that protein tends to take longer to process through our system. Therefore I started thinking of ways that I could inject more protein into the dish. Since we are talking breakfast, the answer was pretty clear. Add some eggs and bacon into the mix. In doing so through the straight avocado simply wasn't enough. It ended up getting lost in the mix. So I went a step further and decided to use guacamole instead.
Having a little flair from the guacamole really livens the sandwich up. It brings in those south-of-the-border flavors that I love while being nearly true to the original avocado toast I also enjoy. Camp Avocado toast blends everything together so well I sometimes just sit and savor the flavor while listening to the morning bird songs.
Camp Avocado Toast Substitutions
If you have been reading my blog and recipes for a while you know how much I love being able to change things up. Normal avocado toast has thousands of different variations available. It really is an art form all unto itself. Just head to any California eatery and they will have their own signature avocado toast. The Camp Avocado Toast is no different. The substitutions in this recipe are fairly conventional. I am guessing that you can already start to think of some of the things that I am going to say. However, I love sharing the different things that you can do with such a simple recipe.
As a note, I am not going to list out the different kinds of bread that you can use. Suffice it to say that there are literally thousands of bread types that you can use. Pick your favorite out and toast away! Instead, I will focus on the different meats and cheeses that work well together.
Meats
Bacon
Sausage Patties
Country Ham
Turkey
Sliced Chicken Breast
Cheese
American
Cheddar
Colby
Pepper-Jack
Swiss
The Tools
Like I said this is a fairly easy breakfast recipe. There are a few tools that you are going to need. Likely, you already have these as part of your camp kitchen. You can attempt this recipe over a campfire, but having a camp stove will make it much easier. Find out why a camp stove is such an important tool to have when camping. Beyond the camp stove having a griddle to cook the bacon and eggs on will make life even easier. However, you can get away with using a frying pan. Finally, you will also need a camp toaster. This is a unique piece of equipment that used to get a lot of love on camping trips. Now I don't think there are many people that use them. It is sad because it is such a quick and easy tool to get some wonderfully toasted carbs into your system!
Looking for a Camp Toaster?
The camp toaster is a very simple contraption. It is essentially a metal plate with some holes to allow heat to rise evenly. The topside has metal supports that hold the toast into place. This allows for one-sided toasting. You will need a pair of tongs or a fork to flip the toast over and toast the second side. All in all, it only takes a few minutes to get crispy and delectable bread. The only downside is that it cannot accommodate larger pieces of bread. It is a versatile tool though as I have used mine for years in many different recipes. Not to mention that it collapses easily down to take up very little space. Finally, it is inexpensive and lightweight gear which I appreciate!
Campstove and Griddle or Blackstone?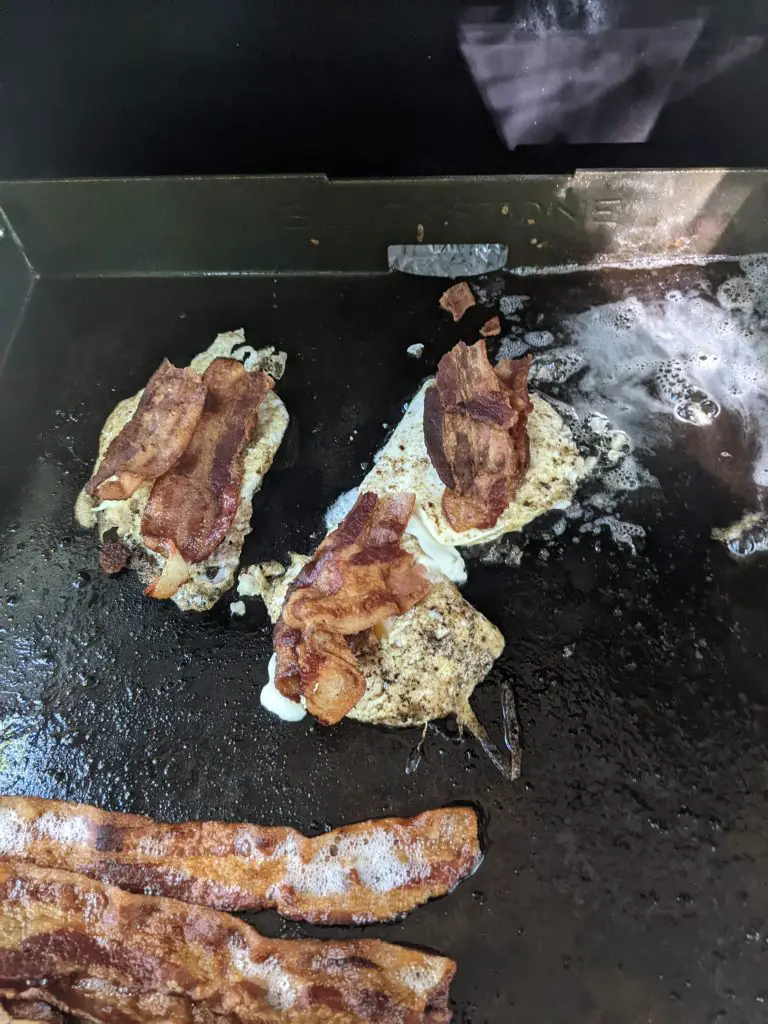 For years I have been using my trusty camp stove and frying pan. The day finally came when I realized I needed to have a griddle so that I could make pancakes just a little easier in the morning. I used that camp stove and griddle combination for many many years. Then finally, I received a Blackstone Griddle as a gift. Now I don't know how I lived without it. (Check out my review of the Blackstone Griddle). It makes cooking things on a flat surface so easy and cleans up a breeze. Now that is not to say that you can't make this recipe in a frying pan or on a camp stove/griddle combination. You can! However, breaking out the Blackstone does make it just that much more simple.
---
More camping recipes that you can shake your stick at!
---
What would you put on your Camp Avocado Toast? Let us know in the comments below or on our Facebook, or on Reddit! Better yet we would love to see a picture!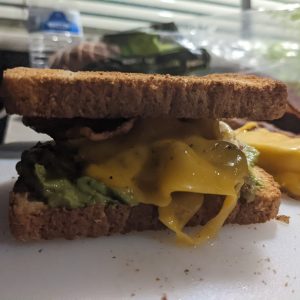 Camp Avocado Toast
Are you looking for something a little different for breakfast? Why not try out this camp avocado toast? We take this to another level by adding eggs, bacon, and cheese. Instead of straight avocado we use guacamole. Trust me on this one your taste buds will thank you!
Equipment
Griddle or Campfire

Spatula

Camp Toaster
Ingredients  
4

Eggs

8

slices

Wheat Bread

Feel free to use your favorite bread here

1/2

pound

Bacon

8

oz

Guacamole

4

slices

Cheese

Use your favorite cheese
Instructions 
Preheat griddle on campfire or camp stove.

Place bacon onto griddle and cook until it reaches your favorite crispiness level.

While bacon is cooking use your camp toaster to start toasting the bread.

When the bacon is nearing perfection move to one side of the griddle and crack four eggs into the bacon grease.

As the eggs are cooking begin spreading guacamole onto the finished toast.

Flip your eggs. Place 1-2 strips of bacon broken in half on top of the egg. Then top with your cheese and let it melt as the egg finishes cooking.

Remove stacked egg, bacon, and cheese from the griddle and place on your prepared avocado toast.
Notes
Camp Hero Notes:
You can use straight avocado in this recipe if you would like. I like guacamole because it adds in some additional flavors and flair.