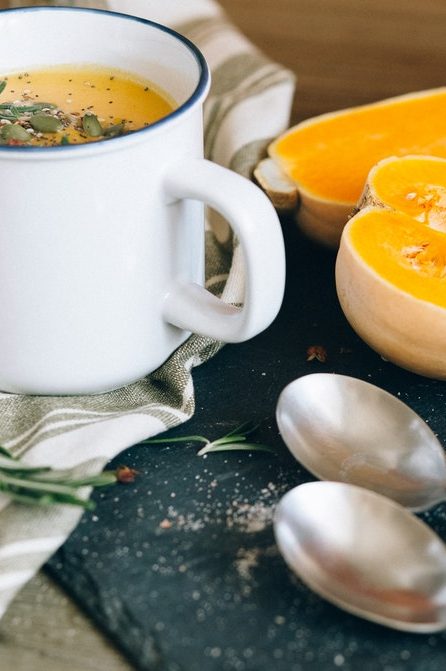 Fall evenings can get downright chilly when you are out camping. We have a different chili in mind though for our Fire-Roasted Chili Butternut Soup. This recipe takes a unique blend of peppers to really kick the standard butternut squash soup to the next level. We don't stop there though! In fact, the four peppers that we are using get fire-roasted right on the campfire while the butternut squash is cooking by the fire. This is not the quickest recipe but it is certainly worth the wonderful flavors that develop right in the fire while you are enjoying your cool evening.
---
This post may contain affiliate links, meaning if you book or buy something through one of these links, we may earn an affiliate commission at no additional cost to you. Learn More Now! Also, please consider subscribing to OutdoorGearWeb
---
The fire-roasted chili butternut soup recipe that we have takes some time in the fire. So you will want to make sure that you have a fire that allows for both direct and indirect heat. You will slow roast the butternut squash and carrots together. Use more direct heat for the peppers and dutch oven. Which reminds me, do not forget to pack that well seasoned dutch oven for this recipe. It's only used for finishing the recipe, but it will be much better ladled from the cast iron.
Tell us what you think about the added peppers in this recipe after you make it in the comments below or on our Facebook Page!
The Tools
There are a few tools for this recipe as there is a lot going on all at once. These tools include your trusty dutch oven, tin foil, tongs, a zip-top bag, a masher, and a grill grate. You may want to consider making this recipe in advance if you prefer a creamier base. We prefer it a bit chunky and thick. If you would like it creamier, then make this in advance and use a blender to puree the veggies together. If you make it at the campsite though your Fire-Roasted Chili Butternut Soup will reward you with a smoky flavor. You really won't beat that added flavor.
Consider these accessories you will need to accompany your dutch oven cooking by reviewing the best tools to have alongside it.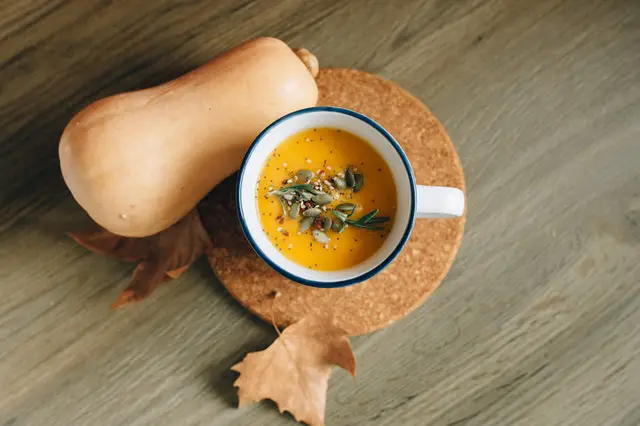 When you get done basking in the warmth of this dish keep the squash party going with ou our Pumpkin Delight Recipe in your Dutch oven for dessert. This will carry your fall-themed camping meal to the max!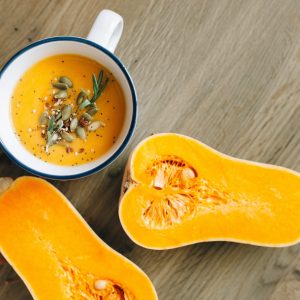 Fire-Roasted Chili Butternut Soup
This delicious spicy campfire soup is sure to provide you with a taste of fall right from the campfire. While this recipe can be made ahead and warmed over the fire there is something about the flavor of fire roasted butternut squash that takes this to the next level. Combine this with the delicious flavor of sage and you have a winning and warming campfire meal!
Equipment
Campfire

Grill Grate

Dutch Oven

Foil

Tongs

Masher

Zip top Bag
Ingredients  
2

Butternut Squash

Small in size, halved, and seeds removed

1

Yellow Onion

2

Poblano Peppers

2

Jalapeno Peppers

2

Anahiem Peppers

To keep the soup's color try and use yellow but any will work.

2

Serrano Peppers

4

Carrots

Large in size or more if using small carrots

10

Sage leaves

1

stick

Butter

24

oz

Vegetable Stock

8

oz

Unfilitered Apple Cider

Olive Oil

Sour Cream

For garnish

Salt and Pepper

To taste
Instructions 
Prep your campfire to have both direct and indirect heat.

Apply a thin coating of olive oil to the halved butternut squash and carrots. Then wrap them in foil. Place foil packet in the indirect heat of the campfire to begin roasting. Depending on size this may take some time. Roast until these become fork tender.

2 Butternut Squash,

4 Carrots,

Olive Oil

While the squash and carrots are roasting, fire roast the peppers and onion over more direct heat using the grill grate. ensuring that there is a good char on the skin of the peppers. Take a moment to start to preheat your dutch oven at this time also.

1 Yellow Onion,

2 Poblano Peppers,

2 Jalapeno Peppers,

2 Anahiem Peppers,

2 Serrano Peppers

Now that all the veggies are roasting melt and then brown butter in the dutch oven.

Add sage leaves once the butter has browned to infuse the sage flavor into the butter.

When peppers have completed getting their char, add them to the zip-top bag to steam for about ten minutes. This will allow you to easily peel the skin off the peppers.

Once the skin has been removed from the peppers, remove the seeds, and finally dice finely. Add to butter in the dutch oven

Dice roasted onion and add to the dutch oven

When squash is done roasting, remove the skin from the squash and add flesh to your dutch oven over the fire.

Once all veggies have been added into the dutch oven use the masher to mash all of the veggies (See Camp Hero Note)

You should have a chunky veggie mash at this time. Add in the apple juice and the vegetable stock.

8 oz Unfilitered Apple Cider,

24 oz Vegetable Stock

Stire everything together and warm through. Make sure to stir somewhat frequently to prevent burning on the bottom of the dutch oven.

Salt and pepper the soup to taste as you stir and serve with a dallop of sour cream.

Salt and Pepper,

Sour Cream
Notes
Camp Here Notes:
This recipe can be made at home beforehand and heated up at the campground. This may allow you better access to electric tools such as the immersion blender in note 2.
If out camping you likely will not have access to a blender or immersion blender so we recommend going with a chunkier soup. If you pre-make the soup at home or are in an RV, then take along with you an immersion blender to make this soup even creamier.