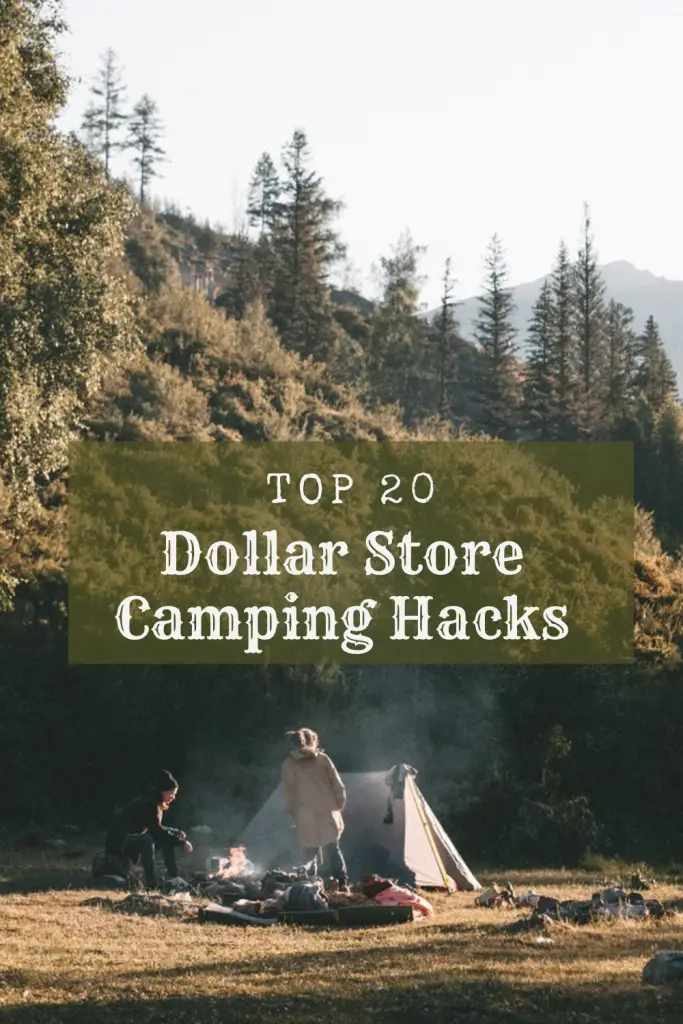 Camping is an expensive activity. At least that is what I hear so often from readers of this site. Especially the new to camping crew. Do you know that it really doesn't have to be! In fact, camping is one trip everyone can afford! So it is important to look for opportunities in places where you can save money. One of these is using dollar store items and hacks in place of more expensive alternatives. Here is the quiet part out loud. With the best Dollar Store camping hacks that I am going to provide below, you don't have to sacrifice functionality or comfort in the outdoors! Likely, you will find that these hacks will make your camping experience more enjoyable for everyone in your family.
So don't overlook the Dollar Store when packing for your next camping trip. Let me save you some time of trudging to multiple stores and oh yeah let's save some money along the way! These twenty Dollar Store camping hacks will help you get the supplies you would buy elsewhere at a much lower cost! So, let's dive in!
---
Why not use these Dollar Store Camping Hacks at one of these Top 5 Alabama Family Campgrounds!
---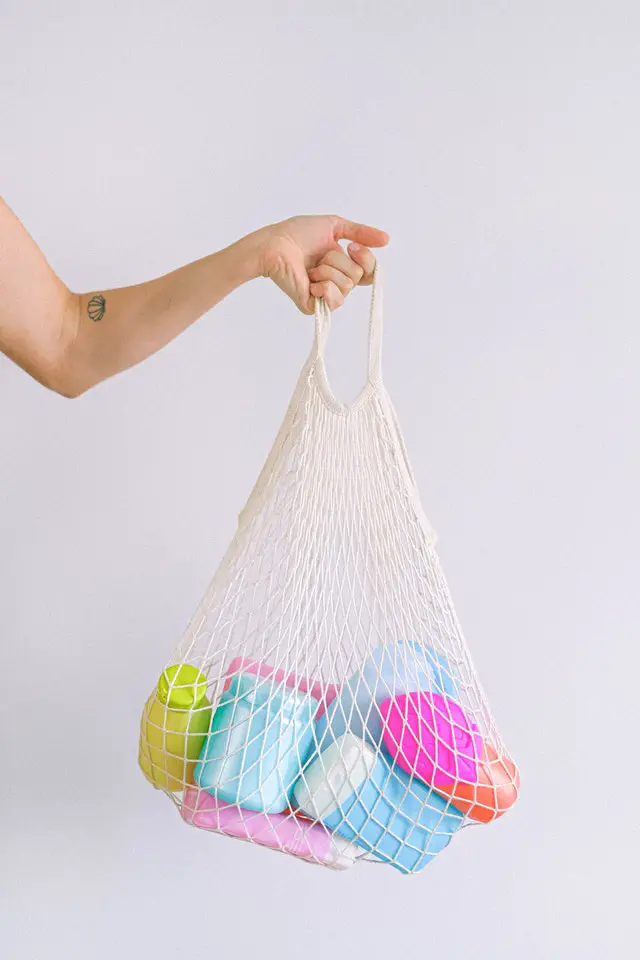 20. Mesh Laundry Bags
Let's face it cleaning up after a meal is the worst job at home. At least that is what my children tell me! Luckily at home, we have nice drying racks that help to get the dishes dry and keep them nicely organized. This isn't something that we can easily take with us camping though. I have found that the best way to dry dishes while camping is to use these mesh laundry bags. They hang easily and are relatively sturdy. Just be careful with placing knives in them! Another great use for these is for carrying your toiletries to the bathhouse. Not only will it keep everything organized but you don't have to worry about it getting wet!
19. Fabric Totes for Organizing the RV
When we first purchased our travel trailer we were faced with how to best organize the limited storage areas. We quickly found that your standard fabric organizers worked fantastically but the number we needed was cost-prohibitive. Normally you would find the expensive ones around our hose holding toys. That is until we found the less expensive option. Admittedly the quality is not as good as some of the more expensive brands but they are low enough in cost to make it justifiable for camping use. These make it easy to arrange small clothing items and even j
18. Long Camping Lighters
Using long camping lighter to help start your campfire or grill sure does make life easier! It allows you to reach into that well-built campfire and get your fire starter going. Or if you have a camp stove that needs lighting then you can easily reach in. Matches work just as well but using a fire stick like this keeps your finger hairs away from the action. Since the no-name brand is so inexpensive it just makes sense to toss one into the trailer and use it all camping season long!
17. Solar Stake Lights

Lighting up the campsite around the travel trailer can get pretty expensive. In fact, there are thousands of options that sellers push which can range into the hundreds. Most travel trailers come with outdoor lighting but these can be intrusive for other campers. Luckily there are less expensive options that you can use! These solar stake lights can help to bring more light around the campsite and can be directed to highlight things like tripping hazards. Occasionally, you can find some interestingly designed versions to give your campsite some extra flair. This is nice when camping at places like Disney's Fort Wilderness!
16. Shoe Organizer Storage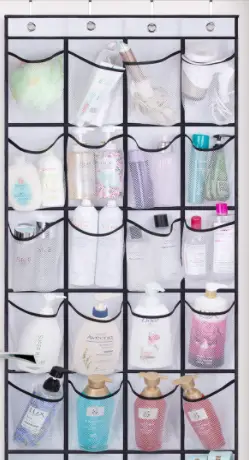 Camp cooking is one of my favorite things to do. However, keeping everything organized around the camp kitchen has been difficult. Instead of fumbling for things that I commonly need I started using a shoe organizer as a kitchen rack. The great thing is that I can pack and fold the shoe rack compactly when not in use. The other great thing is that with some basic labeling I know exactly where everything should go every single time.
So what do I keep in my dollar store camping hacks organizer? Well, It is a place to put all of my cooking utensils. I have a few areas taken up with spices, napkins, cooking oil, condiments, tea bags, and things that are small but necessary for cooking. I have had some organizers in the past where I have even been able to store my propane canisters. The other fantastic thing is that these are meant for hanging. So they hang from a clothesline or right from the picnic table nice and easy. You can get creative with this hack. The key is to put what you need within reach. If you chose to store food in it, make sure you remove the food after every meal and store it so that animals can not get into it.
15. Kitchen Utensils
When first starting with camping you are likely pulling your utensils out of your kitchen drawer and taking them with you. Worse you are using disposable plastic cutlery. If you plan on doing long-term camping as a hobby then you should really look to get some camping utensils. Luckily the Dollar Store has you covered there as well. You don't have to harm the environment anymore or lose your household cutlery. instead of a dollar a piece you can build a decent camping utensil set.
14. Door Mats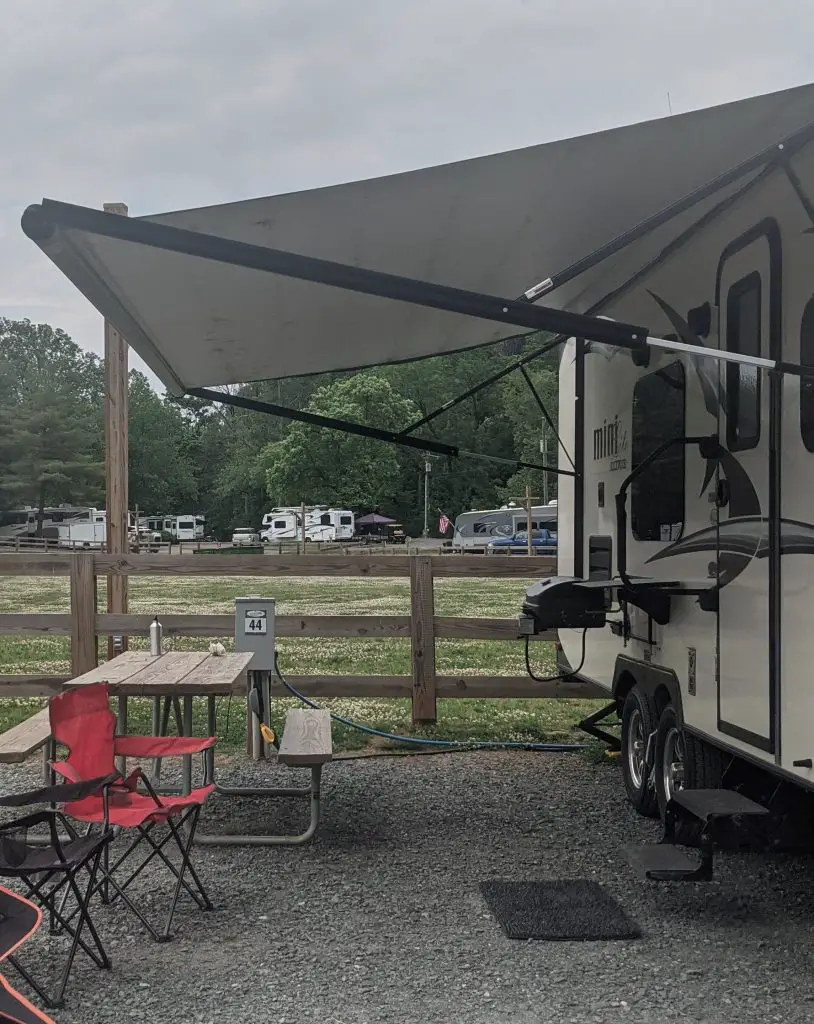 We have carried a doormat with us ever since we were tent camping. It may seem weird to have a doormat outside of your tent but in all honesty, it helps control dirt and sand so well. It also provides a place to take your shoes off before entering the tent. In the travel trailer, we actually have one outside the door and one inside. This helps control dirty feet a little more! It makes sweeping up at the end of each day that much easier!
13. Plastic Cups, Bowls, and Plates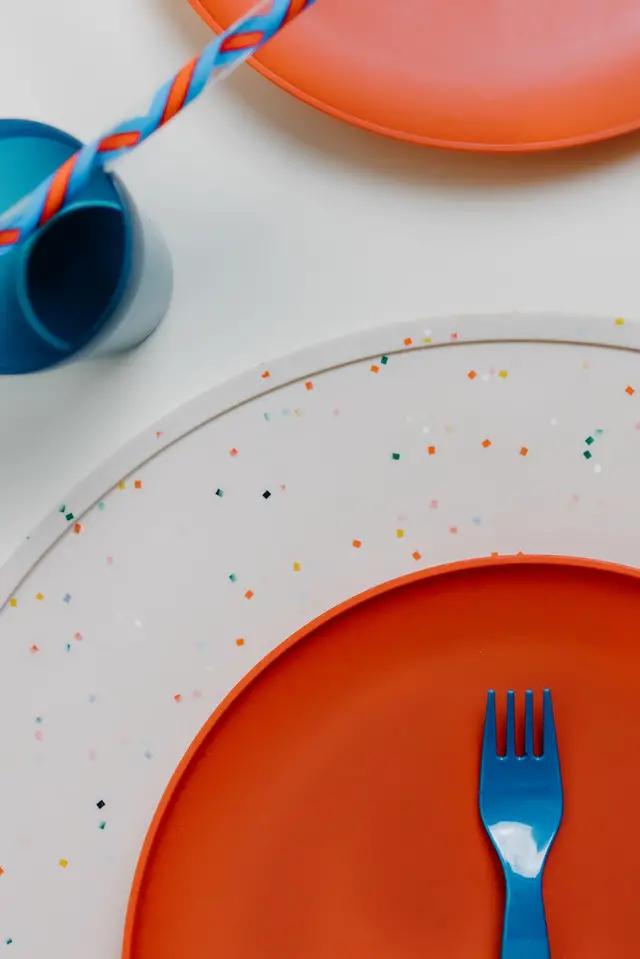 Just like with the utensils and cooking tools above you probably are using paper plates or your home dishes your first few times out. Instead of adding to the trash and waste with paper plates buy some reusable ones from the dollar store. They are not going to be the best in the world but they aren't going to collapse on you. The best part is that these dishes are reusable and should last you a relatively long time. Not to mention that you can still sanitize them when you get home in the dishwasher. So not only can you save money with this tip but you are saving the environment.
A little pro tip here if you have children. Take them with you to buy the plates, bowls, and cups and let them pick out their own color or design. My kids love having their own special camping dishes that are just for them.
---
Eating these delicious chicken fajitas on your plates will bring a smile to everyone's face!
---
12. Tablecloths and Plastic Clothes Pins
Eating on a picnic table in the campground is one of the best family meal experiences that I have ever had. For some reason, it feels more like a dinner table to me than the real table I have at home. I enjoy adding some flair to the picnic table by using some inexpensive table cloths. They are quite sturdy and hold up through at least a few camping trips. In the heavy wind, I like to use the oversized clothes pins from the Dollar Store also to help hold the table cloth down. Did I mention that it makes clean-up a breeze? It really does as things can be easily wiped up. This is also a fun thing for the kids to get in on as they can help to decorate the campsite and they feel engaged in the setup!
11. Shower Caddy Organization
In our trailer, we use a few of these shower caddies. The most obvious use is in the shower. It helps keep everything organized so that it isn't shifting around while we travel. We also have one for cooking and one for bug sprays and sunscreen-type items. In the kitchen, we keep our napkins, utensils, and seasonings in it. When we have condiments we also slip those into place. If we are heading to the beach we take the caddy with us that includes sunscreen, snacks, bug spray, and some small first aid supplies. This makes it easy to get to things we need and they aren't all splayed out in a beach bag.
10. Clothes Line Organization and Cleaning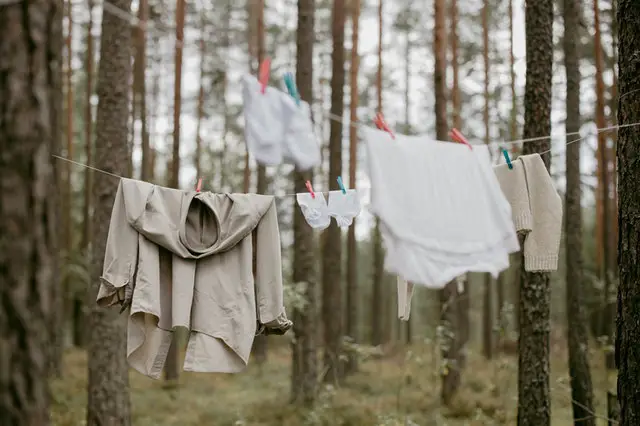 For longer camping trips you may end up needing to wash clothes. More likely though, you will find that the kids have gotten into a mud puddle or fallen into a stream. That is generally what I have found when trying to take my children fishing! Somehow without ever seeing Hillbilly hand fishing they instinctively think getting in the water will help them catch a fish. Luckily having this dollar clothesline and clips makes for drying clothes easy. It is also a good place to hang organizers or other things you need quick access to around the campsite. You should note that some campgrounds do not allow clotheslines so make sure you know the rules where you go!
---
Keep that campsite squeaky clean with these organization tips!
---
9. Candles when camping?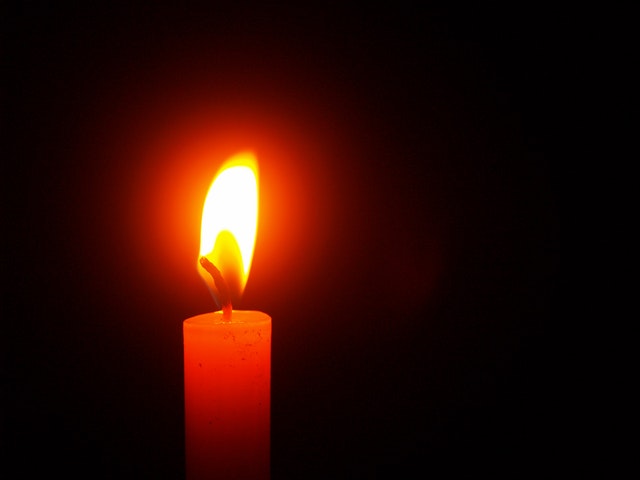 Well, having an open flame near a tent is not really a good idea. Luckily the hack here is more about maintenance of your tent. Well, really any zipper on your camping gear! Packing one or two candles in your gear will help with this easy maintenance step. Simply rub the candle on your zippers and it will provide some lubrication that will keep the zippers functioning the way that they are supposed to. You will also have the candles for emergency light if necessary. This is a two-fer dollar store camping hack since it helps with maintenance and safety.
8. Dry Erase Board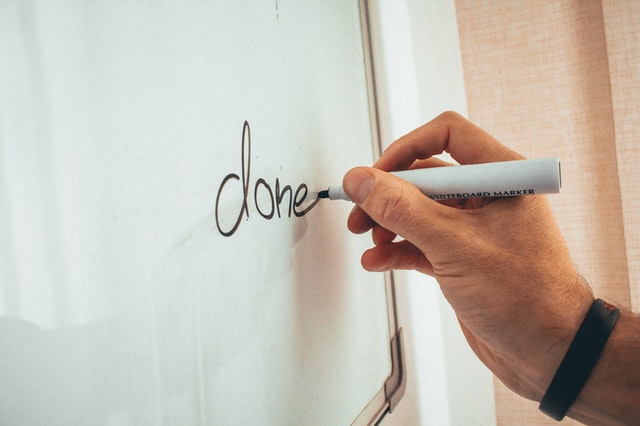 It isn't something that any of us want to think about, but getting lost can happen. Having a dry erase board inside of your tent, car, or RV can be beneficial to helping authorities find you if something happens. Placing your expected itinerary on the dry erase board each day can help to reduce the search area. Not to mention that if you have your schedule up and posted it is likely you will get fewer questions from the kiddos! So add a dry erase board into your list of items to take so that you can organize your life and maybe even help save it!
7. Dollar Store Tarps
Having tarps handy around the campsite is a necessity for any camping hobbyist. They have so many uses. For instance, you can use them as a ground cloth under your tent or as protection over your tent. Also, with some clotheslines or hefty sticks, you can create an awning to protect you from the rain and sun. Having a lightweight and reusable tarp handy can make camp life a little more comfortable. If you really want to get into the bushcraft they also come in quite handy in making makeshift lean-tos and other shelters.
6. Glow Sticks to Prevent Trips
I have to be honest on this hack. I have tried this a few times and I dislike how much waste is associated with glow sticks. However, the kids love it and it does help to prevent tripping. By placing glow sticks on the tent stakes it helps to illuminate them in a non-obtrusive way. That way as the kids are running around the camp at night (please God no!) they can easily avoid the tent stakes and lines. If I had my choice between these and the solar spike lights above I would take the solar spike lights!
5. Hand Wipes
While at the campsite it is likely that you will be able to easily wash your hands. However, when you get out on the trail or are fishing from a dock, it is likely you won't have quick access to a handwashing station. This means dirty hands for snacks or lunchtime. To avoid this grab a few packs of sanitizing hand wipes. They will help to kill bacteria and at least take the top layer of dirt off! I never knew how handy baby wipes actually were until I was using them all over the house and RV!
4. Battery Lanterns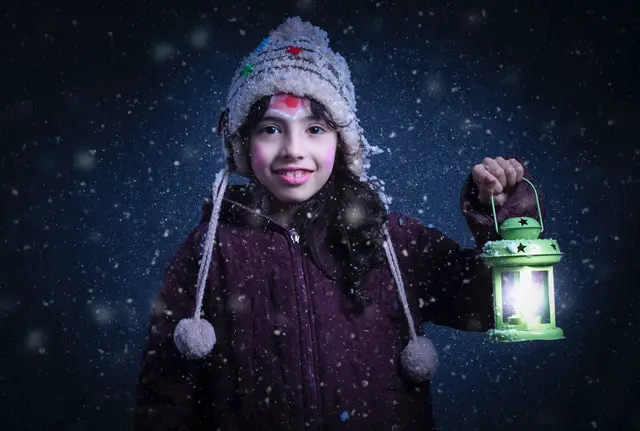 Are you afraid of the dark? Are you children? For mine, I know that they were super excited to have their own lantern that they could keep with them. Especially on their first few trips as they became accustomed to the tent life. Since I knew that it would end up getting lost or destroyed I went with one that was less expensive and provided enough light as a night light. Now I wouldn't expect them to use this for night hiking but it has worked out quite well as a safety net for keeping the midnight monsters away!
3. Collapsible Laundry Hamper Trash Can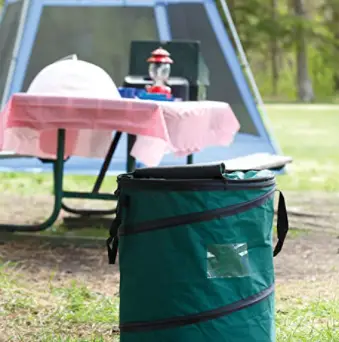 If you are camping in an RV you have the benefit of hard walls and more storage, potentially. This means you can be very prepared by leaving a box of garbage bags right in the camper. Just like car camping in a campground know where the dumpsters are or when the trash pick up is. Luckily, with an RV you may get away with leaving your trash inside overnight meaning that you can fill your bags to capacity before making a trip to the dumpster. I personally also use a collapsible hamper as part of my trash detail in the RV. It doesn't take up much space and makes for keeping things organized easier.
Remember it is all of our responsibility to keep campgrounds and nature free of trash.
2. Camp Toys
Let's be honest. Sitting around a campsite is not going to keep every kid occupied. At the same time, you don't want them bringing their favorite and expensive toys to the campground. It is likely that they will get lost, broken, or so dirty you can't clean them. Luckily there are lots of inexpensive toys that you can purchase on the cheap. These toys will be enough to keep them occupied while not breaking the bank. Also, I know that my kids love exploring their camping toys as new each year when we go out. Adding or replacing as we go keeps things interesting. Don't forget the bubbles!
1. Lint Rollers
Hiking around in the woods all day is a great camping activity. However, it is likely that while you are traipsing around small little critters are going on a hike of their own. Their hike usually will lead to a meal. You are on the menu! Now while you should be using bug spray to help keep the majority of ticks off there are times when you are still going to find them. Make locating the ticks easier by taking along lint rollers. They easily pick ticks and other insects up off of clothing and can help to prevent them from causing any lasting effects.
---
Top 10 Camping First Aid and Safety Items beyond the lint roller!
---
Final Thoughts on the 20 Best Dollar Store Camping Hacks
So don't overlook the Dollar Store when packing for your next camping trip. Let me save you some time of trudging to multiple stores and oh yeah let's save some money along the way! These twenty Dollar Store camping hacks will help you get the supplies you would buy elsewhere at a much lower cost! Remember that camping doesn't have to be expensive or out of range. Be creative and find uses for things that are outside the tent!
What Dollar Store Camping Hacks have you found? Tell us in the comments below, on our Facebook, or on Reddit!