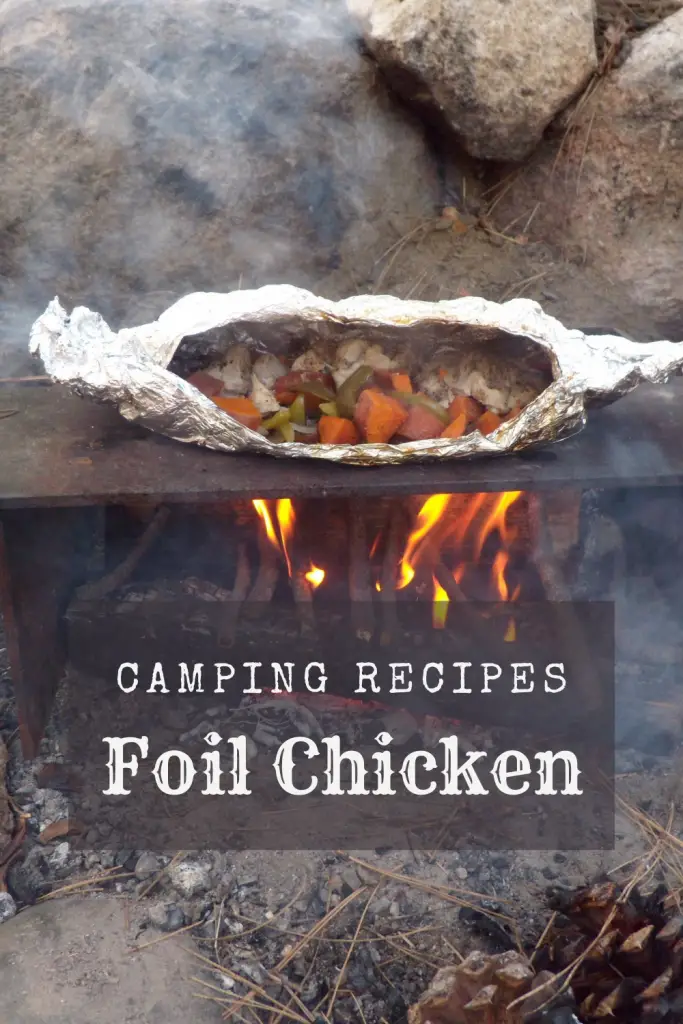 After an enjoyable day out on the trail, it is always nice to have a quick campfire-made meal. This foil chicken dinner provides you with a way to quickly fill your tummy with good food. Let's be honest, you may not even want to wait until after hiking for this one. What I really like about this recipe is all of the different variations that it can take on. Don't limit yourself to my list of ingredients. In fact, we sometimes have a mini prep party with the children so that they can include the veggies, seasonings, and sauces of their choice! Check out some of the different options below of ways you can customize your foil chicken meals.
Between you and I, the first night of hitting the campsite is always the hardest to rally cooking motivation. After driving, sometimes hours, to reach the campsite, then taking the time to set everything up, I am not really looking to cook. However, starting a fire while we get camp set up is a low-difficulty task. In fact, the coals are ready when I am ready to start cooking. This coupled with the fact that I can do the prep at home makes this a no-brainer for a first evening meal. So, let's roll up our sleeves and prepare this easy first-night foil chicken dinner!
Foil Meal Variations
The combinations of different types of foil meals really are limitless. As I cook more and try different combinations I will be sure to share them as new recipes! So make sure to keep coming back for more. However, these are some of the different things that I or members of my family have included in our foil packets in the past. We enjoy doing something a little different every time because it makes camping exciting and different each time. Plus, the children start to take ownership of cooking healthy meals for themselves. There are many long-term benefits of involving kids in cooking. The Hive highlights some of these and references back to a New York Times article that expresses even more detail of the importance of kids in the kitchen. So get children involved by allowing them to make their own creations!
Protiens
Fish – Any variety
Shrimp
Hamburger
Steak
Chicken
Pork Loin
Bacon
Ham
Vegetables and Fruit
Peppers
Onions
Potatoes – Sweet or normal
Carrots
Green Beans
Corn
Pineapple
Apple
Sauces and Seasonings
Salt and Pepper
Garlic
Onion
Premade Season Mixes like Montreal Steak Seasoning
Teriyaki Sauce
Worstershire
Barbeque Sauce
---
Is seafood more of your speed? Try this foil lime shrimp!
---
The Tools
Luckily since this is a foil pack recipe there are not many tools that are necessary. In fact aside from a few mixing utensils you really only need a campfire. You will want to make sure that you prepare your campfire appropriately following our expert campfire cooking guide. This will give you a leg up on making sure that you have the right level of heat and intensity available for cooking your foil chicken. Additionally, make sure that you have proper precautions in place to ensure you are safe around the fire. Things like fire gloves and tongs will save you from singing your hair or worse.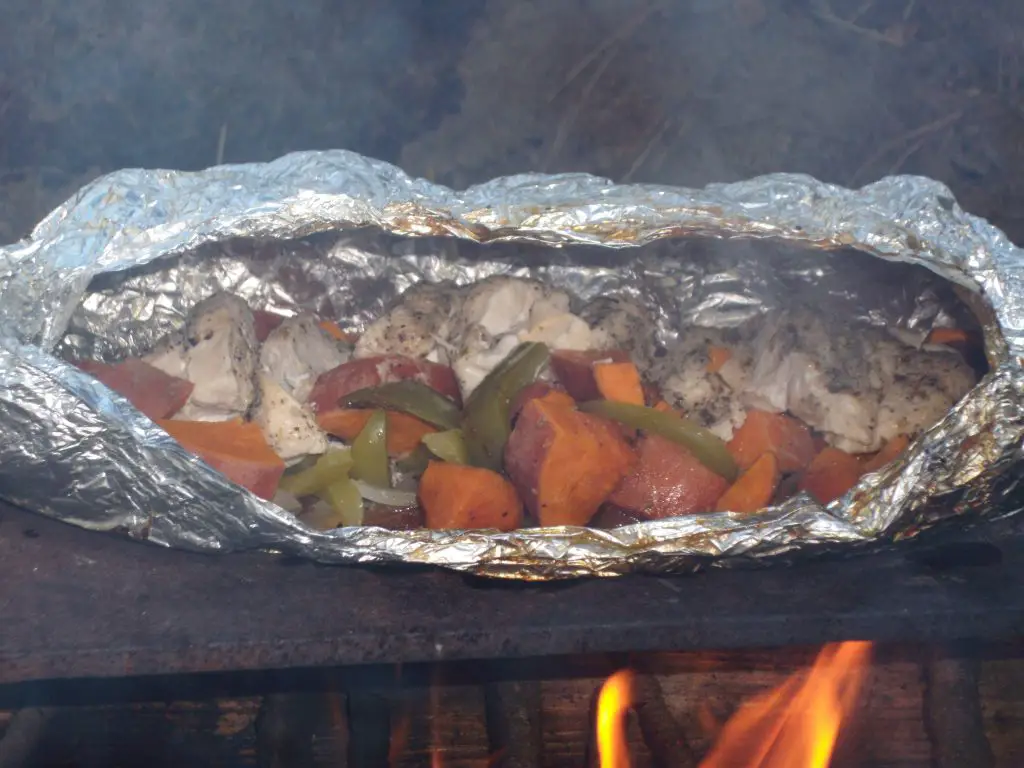 I like recipes like this that use minimal tools. They are put together quickly and I welcome the easy cleanup. Just crumple up the foil and toss it into the trash bag! Especially after a long day of hiking, biking, or kayaking.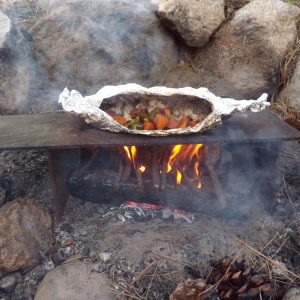 Foil Chicken
This is a fantastically easy campfire meal. As with any foil meal this can be prepared at home and kept in the cooler. The prep is super easy as well with only the need to chop everything, season, and seal! So why not do a little meal prep before heading out to the campsite and enjoy a full meal when you get there.
Equipment
Campfire

4 16 inch squares of aluminum foil

Fire Safety Gear

to be used when cooking
Ingredients  
1

sm

Green bell pepper

chopped

1

sm

Onion

chopped

1

package

Sliced white mushrooms

4

Chicken breast

cut into chunks

4

Sweet Potatoes

4

Tbsp

Butter

or margarine

Cooking Spray

Garlic powder

to taste

Salt and/or pepper

to taste
Instructions 
Start your campfire with hot coals for use in cooking the foil packets.

Cube the chicken and roughly chop all of the veggies except the mushrooms

1 sm Green bell pepper,

1 sm Onion,

1 package Sliced white mushrooms,

4 Chicken breast,

4 Sweet Potatoes

Use the cooking spray to coat the foil sheets

Divide the peppers, onions, sweet potatoes, and mushrooms into four equal parts. and arrange in as close to a single layer as possible on the foil.

Top the veggies with the one cubed chicken breast per foil piece.

Season with garlic powder, salt, and pepper

Garlic powder,

Salt and/or pepper

Fold up the sides of the foil and just before crimping the edges together place one tablespoon of butter or margarine on top of the chicken. Seal the foil packets securely to prevent leaks.

Place on coals for 10 to15 minutes per side. Use fire tools to turn to prevent injury.

Remove from heat and let sit for five minutes to prevent burning.
Notes
Camp Hero Notes:
Save yourself some time at the campsite and chop all of your veggies at home.
Be creative! This works great with any number of veggies, fruits, and seasonings. Try adding some pineapple and teriyaki sauce to the mix for something different.
Always practice safe campfire cooking techniques to prevent injury. Foil meals are great for kids but being safe is more important than the meal.