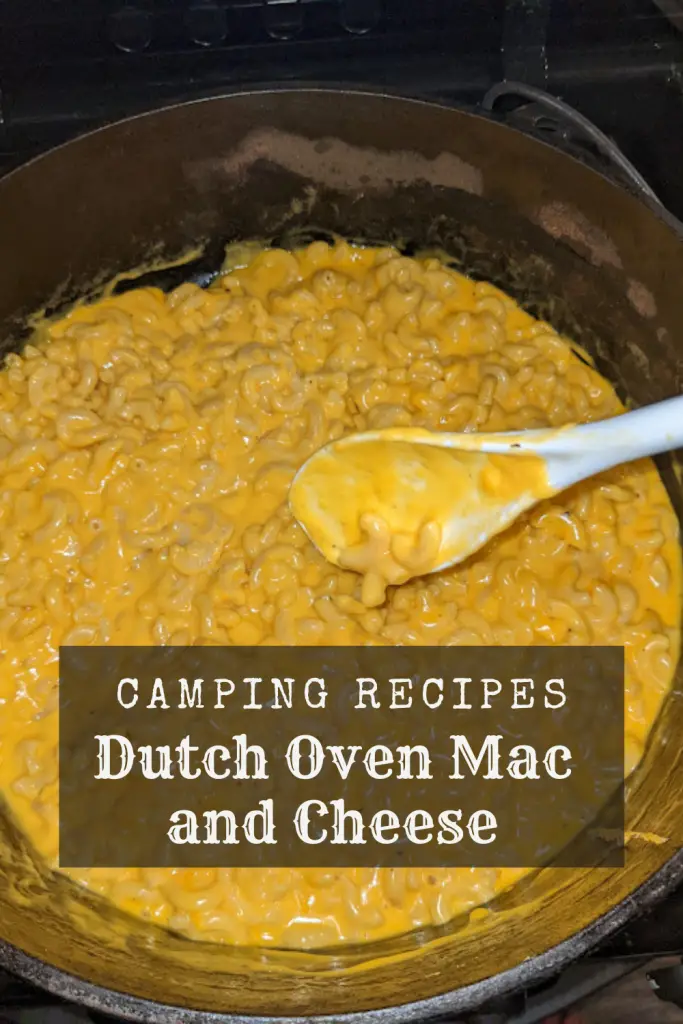 Everyone love's the mac and cheese that comes in the blue box. Well, almost everyone. I have to admit that I find it pretty bland. That is why I enjoy making mac and cheese from scratch at home. I often had the little ones asking for mac and cheese while camping. Confession time again, I have, in the past, cheated and used the pre-packaged stuff. Though honestly, I am not sure why. This Dutch Oven Mac and Cheese recipe is so simple to make. The ingredient list is small and it is ripe with ways to customize. It only takes a little bit of time and the flavor far surpasses that of the boxed stuff. Not to mention that it is so cheesy! My favorite.
---
Try out this other classic Dutch Oven recipe on your next camping trip.
---
Box vs Homemade Mac and Cheese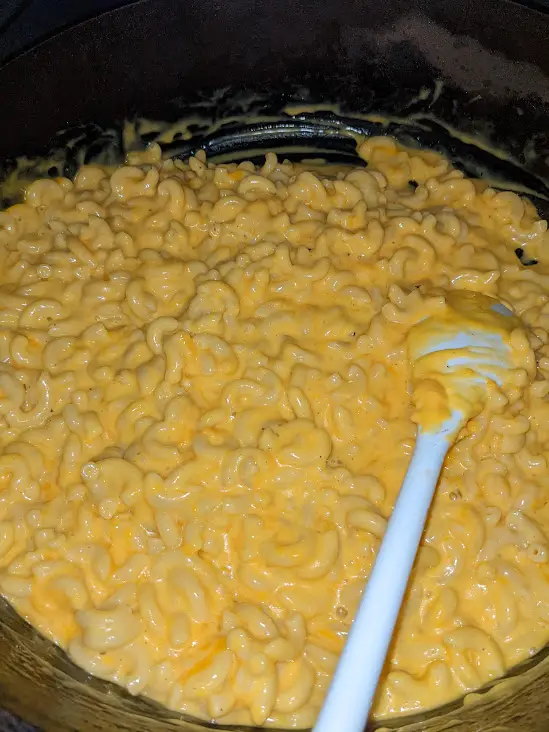 I grew up eating box mac and cheese. It was quick and easy for my parents to make. Not to mention that it was a staple in most homes because of how inexpensive it was.
While these things still hold true today it really lacks in the flavor arena. To me, it has always been fairly bland. Even sliced American cheese has more flavor. This is saying something since the box is just the powdered version of the same processed cheese food. In any case, there really is not that much flavor.
Now when I am at home and I have the time, I spend it shredding different cheese blends to make sure that no two macs are the same. I love experimenting with different cheese combinations. Not all of them have been hits with everyone. However, the fact that I can impart so many different flavors is a real treat.
The added flavor coupled with the fact that you can use different pasta types makes for fun experimentation. In the box, you only get the same thin noodle. It barely holds the cheese sauce. Not to mention that the sauce is thin. With homemade mac and cheese, you can use bigger pasta that can stand up to a thicker sauce. I also enjoy biting down on pasta and having cheese come out! So homemade is always the best in my opinion.
Dutch Oven Mac and Cheese Process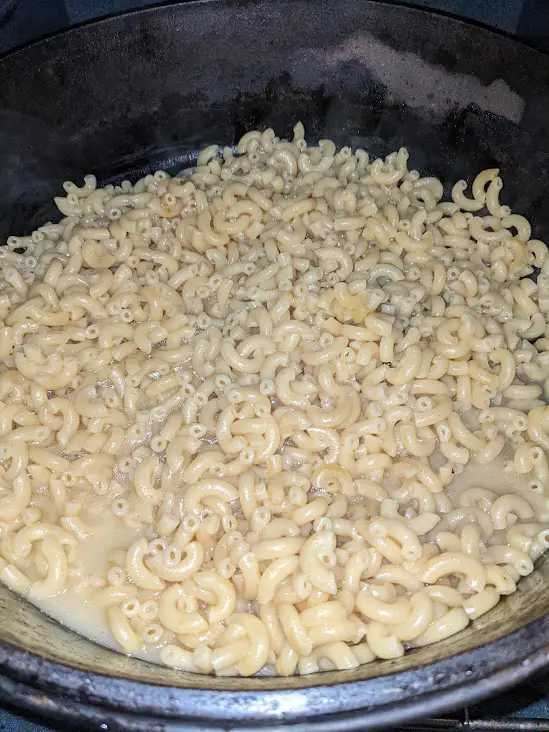 Now when I am making mac and cheese at home in the oven I tend to use a lot of pots and pans. I cook the pasta al dente and separate from the sauce. This is two pans. Then everything gets combined into a casserole dish as it heads for the oven.
Because I like to keep my camping gear to a minimum I had to think about how best to modify this recipe. It took a few attempts but I finally nailed the one-pot approach. That's right! This Dutch Oven Mac and Cheese is a one-pot dish and it still comes out super creamy and cheesy.
Cooking with a Dutch oven has its benefits. Not only can we boil the pasta in the Dutch oven, but we can get a classic crispy top with coals added to the lid.
As you will see in the directions we boil the pasta and the water together until the water is nearly boiled off. The starch that remains in the water will help to thicken our cheese sauce when it is time. It is so nice to make this recipe because I can get everything going and have a meal in less than thirty minutes.
Dutch Oven Mac and Cheese Combinations
As I mentioned before I love mixing and matching different cheeses when I make mac and cheese at home. I tend to make it fairly generically while out camping though. This is simply because there are fewer ingredients to carry. Using some Cheez-Whiz also helps with the shelf stability aspect if we pack in and out.
Anyway, I do occasionally feel adventurous when camping. Especially when we know we are with extended family. Someone has to class up the campfire, am I right?! Below are the cheeses that I have found to work the best, and get the most positive feedback in my family.
Cheddar
Parmesan
Gruyere
Brie
Smoked Gouda
Pepper Jack
Fontina
Mild Blue and Fontina
Goat cheese
Cheese isn't the only thing that you can play with when it comes to mac and cheese. I know that some like to add sliced hot dogs to the mix. I prefer a good sausage or steak bits added to mine. While I tend to keep it pretty traditional overall I do sometimes like to add toppings.
For this recipe, I added jalapeno chips and slices for a little crunch and kick. However, I have tried some of the toppings from Insanely Good Recipes. My favorites are bacon, ham, lobster, jalapenos, and pepperoni. Each of these adds something a little different but they do have other classic combinations with fried chicken and pulled pork.
The Tools
Can you guess what the main tool is here in our venison goulash? I'll wait…okay you got it a Dutch oven! I mean I have only referenced it about twenty times so far! I have a 14″ Dutch Oven and honestly, it is overkill for this type of dish. That is unless I am feeding an army which sometimes it feels like. Using a 10″ or 12″ Dutch oven should be sufficient for a family of four. You will also need some mixing spoons and a Dutch oven lid lifter. These will help with cooking and keeping you safe!
Learn more about Dutch oven tools.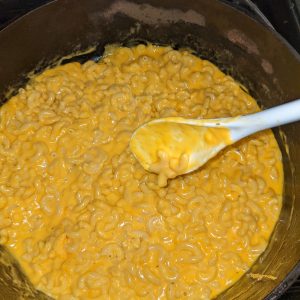 Dutch Oven Mac and Cheese
My children are always looking for their next bowl of mac and cheese. I really dislike taking the blue box with us camping though as I like them to try new things. However, every once in a while we like to give them what they love on a camping trip. I mean anything to push them a little farther on the trail right. So let's get carb-loading on this delicious Dutch Oven Mac and Cheese. You will be glad you went with this recipe over the blue box!
Ingredients  
16

oz

Box of Elbow Macaroni

16

oz

Shredded Cheddar Cheese

4

cups

Water

1

Jar

Cheez-Whiz

Jalapeno slices

The ones from the jar and add to taste.

1

bag

Jalapeno chips
Instructions 
Prepare campfire for medium-high heat.

Place Dutch oven over coals, and pour the entire box of elbow macaroni into the Dutch Oven with water. Put the lid on top and place coals on the Dutch Oven Lid.

16 oz Box of Elbow Macaroni,

4 cups Water

Cook for 10-12 minutes or until most, but not all of the water is absorbed.

Add in all of the shredded cheddar cheese and the jar of Cheez-Whiz. Stir until all shredded cheddar has melted.

16 oz Shredded Cheddar Cheese,

1 Jar Cheez-Whiz

Scoop cheesy goodness into bowls and top with crunchy jalapeno chips and jarred jalapenos.

Jalapeno slices,

1 bag Jalapeno chips