When out camping we really enjoy having a hearty meal that can sustain us through a morning of hiking, fishing, or climbing. Since we have such a diverse set of eaters in our family it is important to have something that hits everyone's needs in the morning. The cast-iron frittata does just that. It is an easy mix of eggs and veggies. However, on days where we need more protein to keep us going longer, we can add some meats to the mix. Not to mention this one recipe also allows us to do some quick subs with veggies, adding in toast or English muffins to make sandwiches, or tortillas for a breakfast burrito. All in all the cast-iron frittata is a versatile breakfast that we run too on most of our outdoor excursions.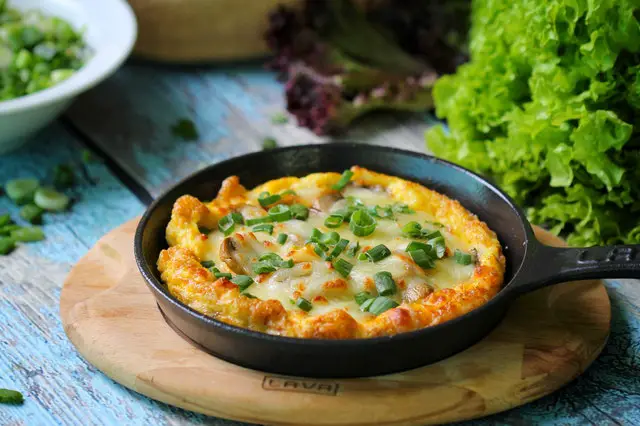 You might ask, what is a frittata. It sounds like a pretty highfalutin meal for camping. Well, it really isn't in all honesty it is essentially a consolidated way of cooking scrambled eggs. It is so tasty though and makes it a one-pan type meal. It sure does look and sound fancy though. The Kitchen Project has a great description of the history of the frittata if you are interested.
Customize Your Cast-Iron Frittata
I know that we tout this quite a bit on our recipes, but versatility is key. When you have kids whose taste buds change on a whim, you need something that can change just as rapidly. That is why the cast-iron frittata is so great on camping trips. If you are meal planning for your trip you can pack some ingredients that can be used here or in other recipes. This will allow you to respond to those pickier eaters as you are creating the dish. So what kinds of things could you put into this recipe to make it your own? The combinations are truly endless but here are some of the things we have included in the past.
Meats
Bacon
Sausage
Ham
Pepperoni
Pork (from left over pork chops)
Crab (from a day of crabbing)
Trout
Veggies
Spinach
Tomato
Onions
Jalapeno
Eggplant
Zuchinni
Garlic
Bell Peppers
Cheeses
Swiss
Grueyre
Mozzerella
Fontina
Cheddar
Smoked Gouda
Pepper Jack
Toppings
Red Pepper Flakes
Sour Cream
Salsa
Green Onions
Ketchup
Maple Syrup
The Tools
Like many camping recipes, we opt to use cast-iron here. There is something so delightful about the added flavor a well seasoned cast-iron skillet or dutch oven adds. Not only does cat-iron add flavor it does a tremendous job of evenly heating food especially on campfires where the heat may not be as controlled as on a camp stove. We will also be using the lid to your cast-iron skillet. Though if you do not have one you can also cover it tightly with foil. So make sure to pack your cast-iron skillet along on the trip for this recipe.
---
Haven't added a cast iron skillet to your camping arsenal yet? Check these cast iron options!
---
Additionally, you will need a zip-top bag and cooking utensils like a spoon or spatula. Feel free to prep the veggies at home before heading out to make preparation a breeze while camping. One reason we prefer the zip-top bag is that it helps to make cleaning up a breeze when scrambling the eggs.
Finally, your campfire is likely the most important tool. Not only does it provide the coals necessary for cooking, but it also provides you with warmth on those cold mornings where a hearty egg dish like this will satiate you. Getting your coals prepared is incredibly important. You will need to coordinate your fire ring to have zones for direct and indirect heating. We will be moving this cast-iron frittata around a bit so get prepared early and have a plan for the different heating zones. If there are burn bans in effect, this can also be made on your camp stove following similar methods. It will be easier to adjust the heat on the camp stove and we promise it will taste just as good!
---
Try our Fireside Shakshuka for another delicious egg meal!
---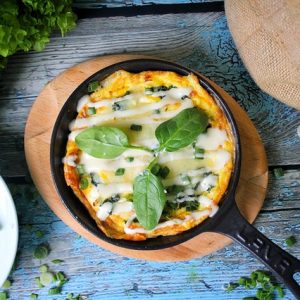 Cast Iron Frittata
This delicious egg dish is sure to bring some smiling faces to the table! The best part is that you can customize this with your favorite meats, veggies, and cheeses. This one recipe can have thousands of variations!!
Equipment
Campfire

Gallon Zip-Top Bag

Cast Iron Skillet

Skillet Lid or Tin Foil

Spatula and Serving Spoon
Ingredients  
8

large

Eggs

1/3

cup

Whole milk

2

tbsp

Olive oil

1

small

Red onion

diced

8-10

Cherry Tomatoes

halved

1

handful

Spinach

chopped

3

cloves

Garlic

Minced

1/3

cup

Swiss Cheese

Shredded

1/3

cup

Mozzarella Cheese

Shredded

1/4

cup

Basil

Chopped

Salt and Pepper

To taste

Sour Cream

for topping

Salsa

for topping

Green Onions

Small pieces for garnish
Instructions 
Start your campfire and develop coals for less intense direct heating.

If you have not done so already at home, dice your red onion, chop the spinach, halve the tomatoes, and mince the garlic.

1 small Red onion,

8-10 Cherry Tomatoes,

1 handful Spinach,

3 cloves Garlic

In the gallon zip-top bag add the eggs, milk, salt, and pepper together and shake until well scrambled and combined.

8 large Eggs,

1/3 cup Whole milk,

Salt and Pepper

Add shredded cheeses to the zip-top bag and mix till distributed.

1/3 cup Swiss Cheese,

1/3 cup Mozzarella Cheese

Heat your cast-iron skillet over your coals that are about medium-high in intensity. When the pan is hot add one tablespoon of olive oil to the pan.

Add the red onion and saute until soft and translucent this should take about 5-8 minutes.

Add in the Garlic and the Spinach and stir just until the spinach begins to wilt.

Pull your cast iron skillet to an indirect heating source in the campfire and reduce the heat to a medium-low.

Add the cherry tomatoes to the cast-iron skillet, pour the egg mixture over top, and sprinkle basil (reserve some for garnish if you would like) over the top of everything. Once done cover with the skillet lid or tinfoil. If using a skillet lid you can preheat the lid or add some additional coals to the top.

Continue to cook over medium-low heat until the eggs are just set and look taller. This may take up to 15 minutes but start checking on it around the 10-minute mark.

When complete serve as pie slices and top with reserved basil, sour cream, green onions, or salsa.
Notes
Camp Hero Notes:
Change this recipe up with different veggies and cheeses. Follow the same basic recipe but sautee your veggies for shorter or longer so that they are still firm to stand in contrast to the eggs.
Add meat to the mix. This is fantastic with sausage, ham, bacon, steak bites, or any meat that you have left over from the previous evening's meal. Saute the meat before adding the veggies.
As you can see in one of our pictures, feel free to get fancy with the presentation. Adding whole basil leaves to the top will wow your camping guests!
You can also serve this with toast, english muffins, or tortillas and use your egg mixture as a base for sandwiches and burritos. Get creative!