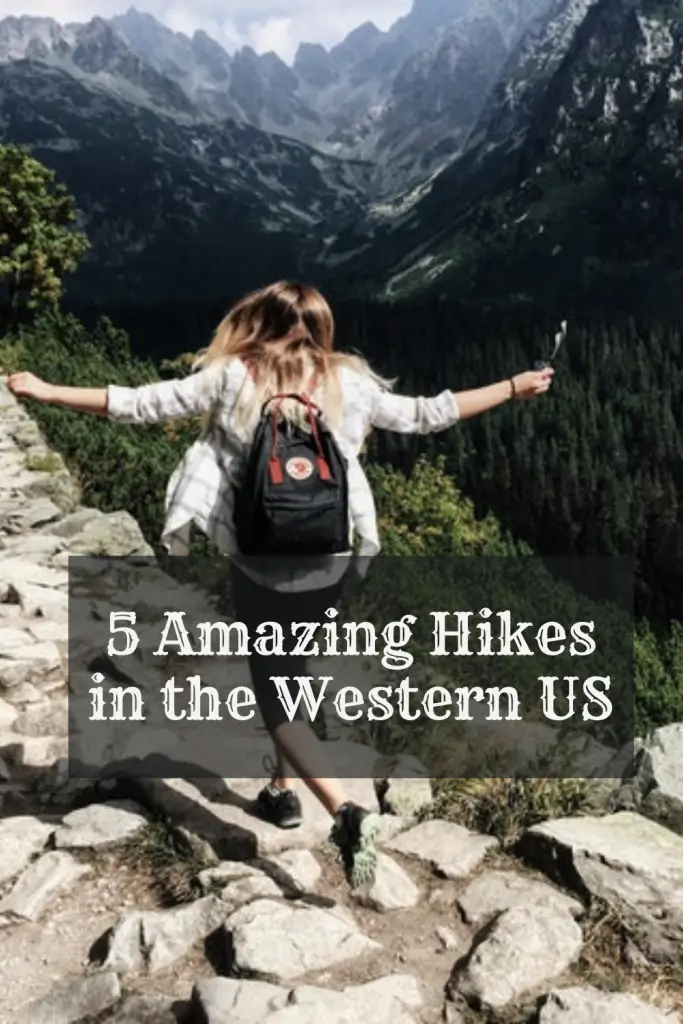 The United States is filled with Amazing hiking locations. Whether you are hiking the Appalachian Trail or the John Muir Trail you can find just about any type of terrain and view that you could want. From rain forest to desert it is all here. The Rocky Mountains in the west sport what seems like a limitless number of trails that you can choose from! I have collected five amazing hikes in the Western US that I think you are going to love.
They each range between one and ten miles round trip. So they should be easy enough for a day trip but still, expose you to some pretty amazing scenery. Not to mention the wildlife viewing that will be available to you. If you are a beginner at hiking you may want to start with some shorter trails. However, even beginners looking for a challenge will find things they like on these amazing hikes in the Western US.
---
Even short hikes need the right hiking boots!
---
I know that I normally write top lists but these are amazing hikes! Therefore, I have not placed them in any order. I think that you will find that these are some great bucket list hikes and you should add them to your trip plan if you are going to any of these places.
1. Rampart Ridge in Mt Rainier National Park (Washington)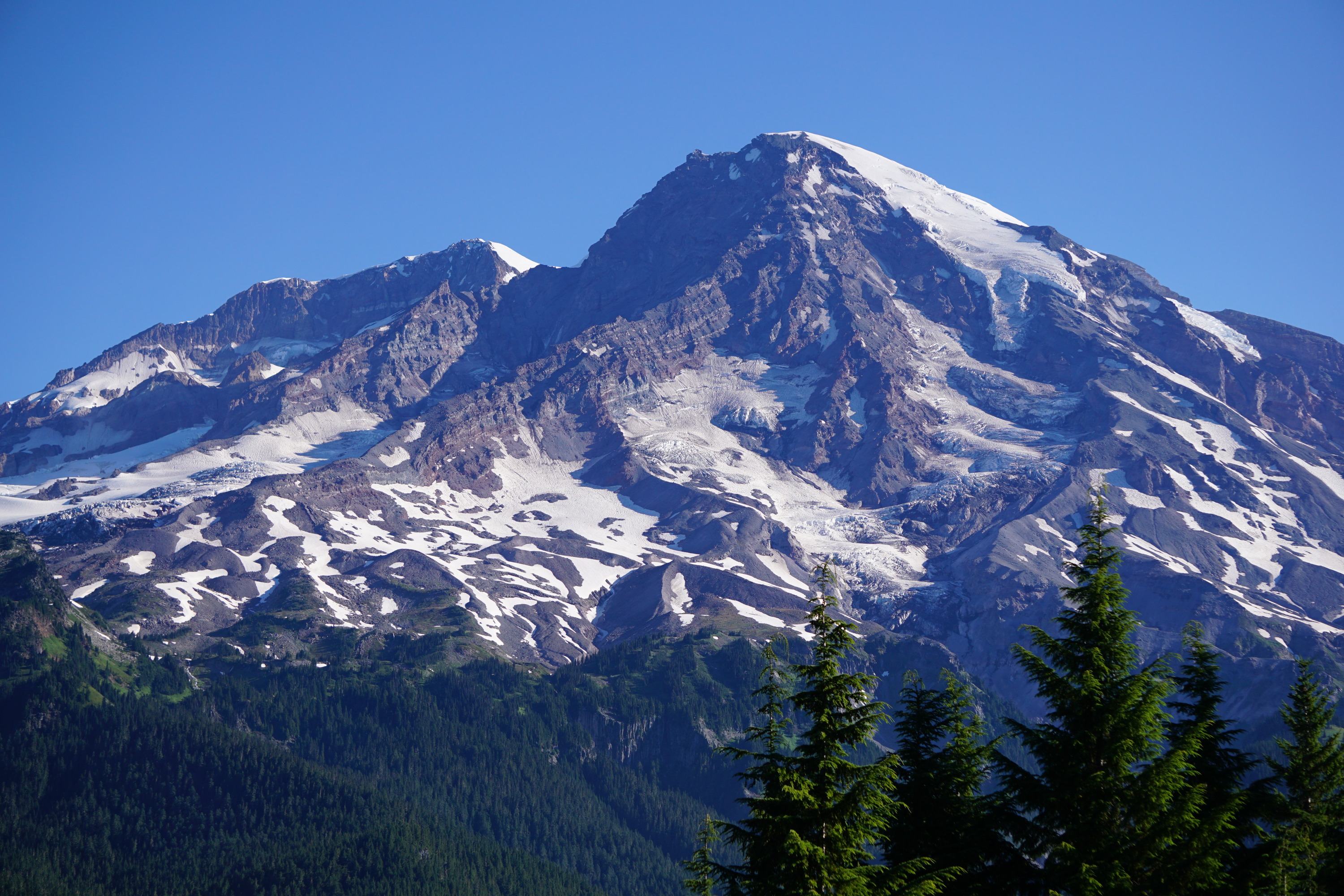 Distance, round trip: 4.6 miles
Elevation gain: 1339 feet
Hiking time, round trip: 2.5 hours
Trail Difficulty: Moderate
Pets: No pets (Service Animals Allowed)
The Rampart Ridge trail or "The Ramparts" is a moderate trail that follows the ridge of an ancient lava flow. The lava flow stemmed from the peak of Mt Rainier. The reason that this is a moderate trail is that there are some steep terrain parts. Especially if you travel in the counterclockwise direction on the loop trail. However, traveling this way makes for stunning views of Mt. Rainier throughout most of the trip. Additionally, you will end the trip with a decent downhill section.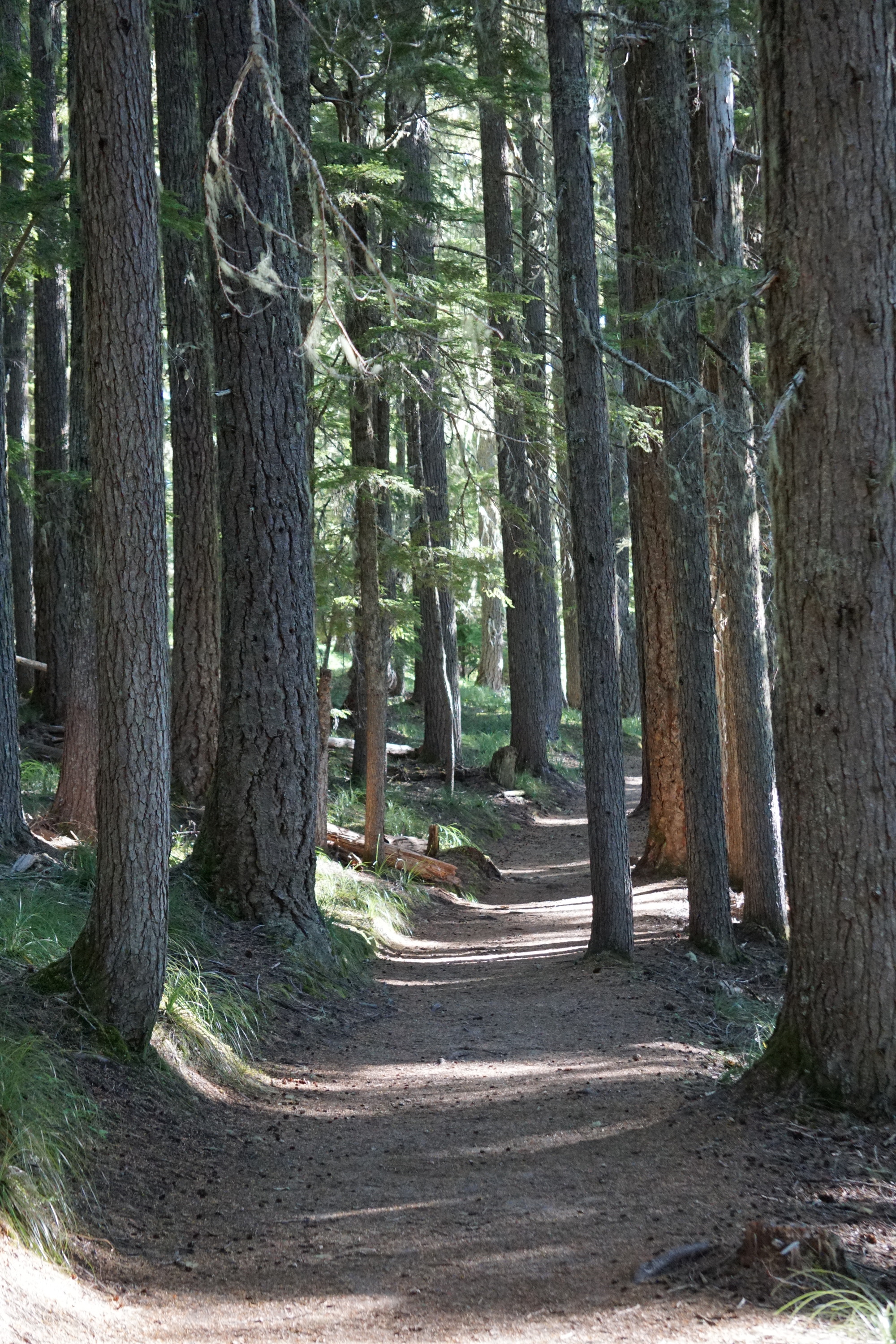 As one of the amazing hikes in the Western US you will take in some grand vistas of the Nisqually River Valley and the jewel of the park Mt. Rainier. Additionally, you will be treated to the sounds of woodpeckers. You will likely also see some deer and other wildlife along the trail. So keep your eyes open! One of my favorite parts of this hike and it screams Washington to me are the tall trees covered in moss in the old-growth forest.
Overall this is a really nice trail to walk. It is an excellent trail if you are looking for an alternative to the crowded trails around Longmire. Even in the wintertime with snow packed down. If you love snowshoeing this is a great hike to do in the wintertime but make sure that you check the trail conditions before you head out! Even when the clouds obscure Mt. Rainier you will still find the hike to be enchanting.
2. Delicate Arch in Arches National Park (Utah)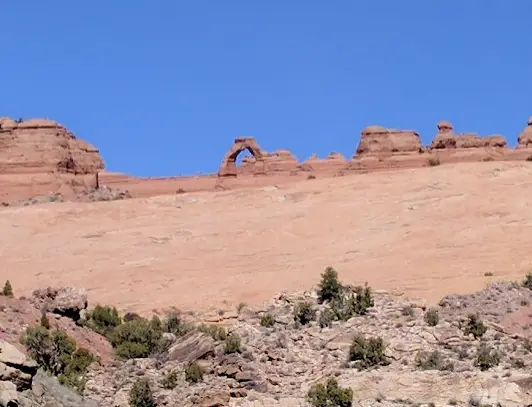 Distance, round trip: 3 miles
Elevation gain: 480 feet
Hiking time, round trip: 2-3 hours
Trail Difficulty: Easy
Pets: No pets (Service Animals Allowed)
I realize that I am going to catch some flack for this one on the list of amazing hikes in the Western US. So let me start by saying that this trail is crowded. As in very crowded, especially during peak times. However, Delicate Arch is one of the most famous arches in all of Arches National Park and the main reason people from all over the world travel to the Park. It is a relatively easy trail for families to take on even with the near-constant uphill grade on the way out. If you don't like crowds, then head out after peak hours or view one of the other 2,000 arches in the park!
The views from the trail are pretty nice. You will be walking on the rock for the vast majority of the trail. While the scenery doesn't change much you can still see for miles in many directions looking out over Arches National Park. At the end of the trail, you are rewarded with the Delicate Arch. The Arch is most popular during sunrise and sunset as it makes for a stunning backdrop. It is certainly one of the places you should take your family to at least once. The trail will not disappoint.
3. Cascade Canyon – Grand Tetons National Park (Wyoming)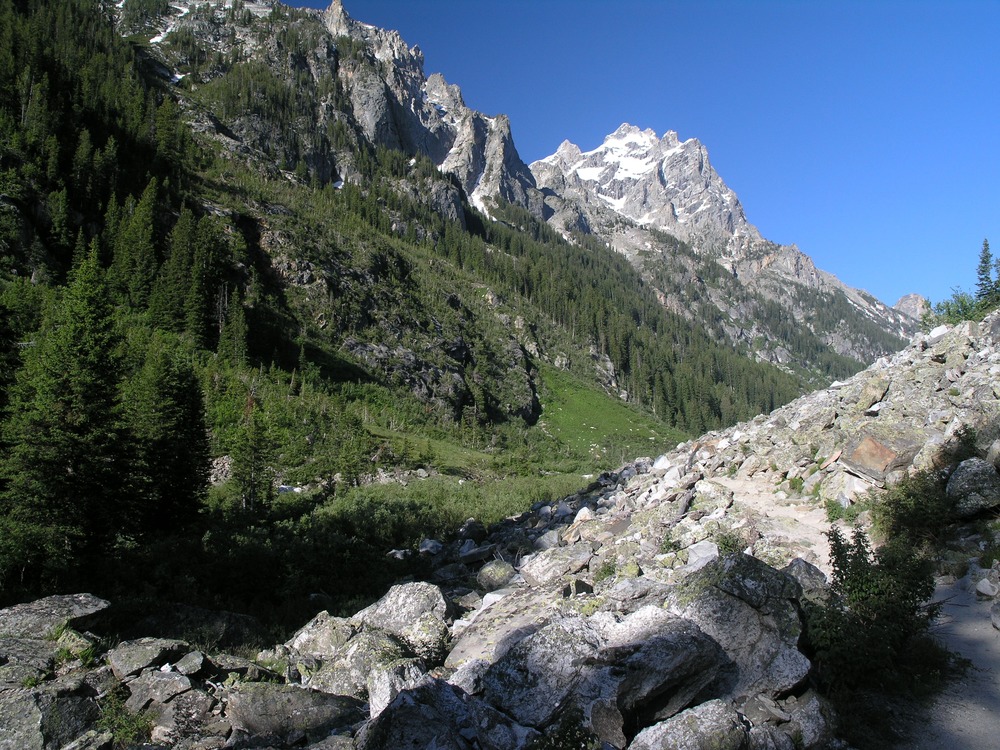 Distance, round trip: 8.8 miles
Elevation gain: 991 feet
Hiking time, round trip: 4-5 hours
Trail Difficulty: Easy
Pets: No pets (Service Animals Allowed)
This amazing trail in the Western US leads you into some of the backcountry of Teton National Park in Wyoming. Specifically, you will see the stunning sites of Cascade Canyon. This canyon was carved by glaciers eons ago. This is not a loop trail and so you have the opportunity to shorten the hike at any point by simply turning around. If you hike the full distance to the trail split it will take you 8.8 miles round trip. The trail can be accessed in two ways. For families, it would be good to take the shuttle boat to and from the trailhead. Otherwise, you can access this trail from the Jenny Lake Loop Trail which will make the total trip 14.6 miles round trip.
As you follow Cascade Creek you will see Mount Owen, Teewinot, and the Grand Teton. You should keep your eyes open to the moose and bears which are plentiful in the backcountry of the park. Make sure that you come prepared with the proper spray. While I was in the park I saw numerous bears along the Jenny Lake Loop Trail. Aside from large wildlife, you may also find the small pika as you hike. These are unique high-altitude mammals and were a favorite for my children. I was wowed by the falls and I know that you will be as well and the views from Inspiration Point.
Many say that the best time of year to hike this trail is as the foliage is changing color. I prefer this trail any time of year as it is not a very strenuous trail and makes for some really incredible views. If you have a single day in the park this is the hike that you don't want to miss.
4. Lake Haiyaha in Rocky Mountain National Park (Colorado)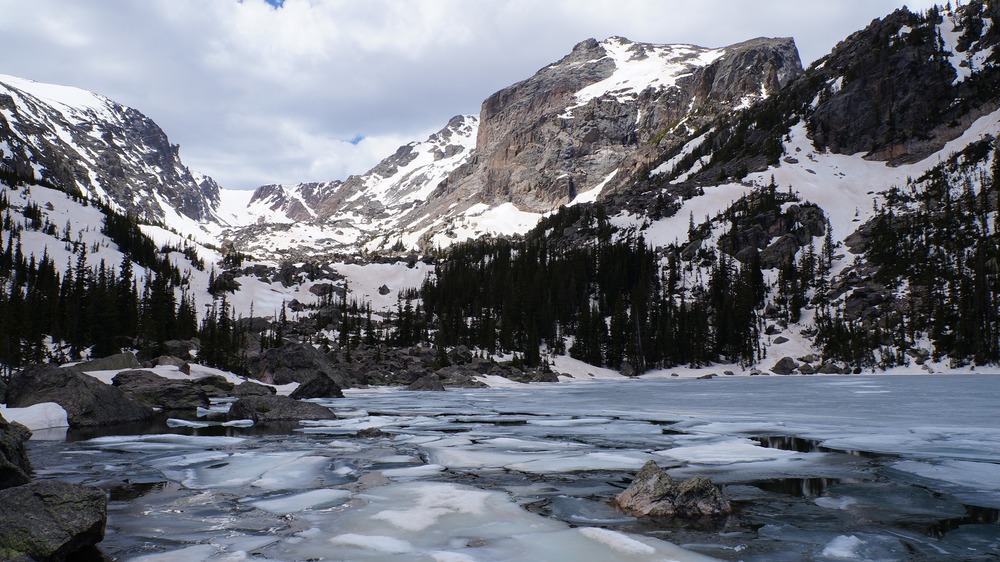 Distance, round trip: 7 miles
Elevation gain: 980 feet
Hiking time, round trip: 4-5 hours
Trail Difficulty: Moderate
Pets: No pets (Service Animals Allowed)
We are sticking with the Rocky Mountain Region in this next amazing hike in the Western US. Lake Haiyaha or "lake of many rocks" is a popular hike that provides incredible views of the Glacier Basin area. As you hike you will have views of Bear Lake, Nymph Lake, and Bierstadt Lake. The trail can be difficult at times as you make your way around rugged boulders. However, by following some of the oldest trees in the park, the twisted pines, you will get to see Lake Haiyaha.
Many say that this is their favorite lake in this area of the park. However, be prepared to scramble on the rocks or encounter ice and snow at the high elevation. If you have more time and are looking to make this into a loop trail you can make connections with the trail to Alberta Falls. Otherwise, this is a great out ab back trip to a special location. There are some steep trail locations but these are short to medium in length. The alpine lake views at over 10,000 feet make this a unique location to hike to. No matter when you go will want to start early as the area is popular. You may even want to consider using the park's free shuttle to reach the trailhead.
---
Consider camping in Rocky Mountain National Park with one of the best family tents of the year!
---
5. Devil's Bridge in Sedona (Arizona)
Distance, round trip: 1.8 miles
Elevation gain: 400 feet
Hiking time, round trip: 1.5 hours
Trail Difficulty: Moderate
Pets: No pets (Service Animals Allowed)
Last but not least on this list of five amazing hikes in the Western US is the hike to Devil's Bridge in Sedona, Arizona. This is the only hike on the list that is not in a National Park. However, it will take you to the largest natural sandstone arch in the Sedona area. This is a fairly short hike. In fact, the hike is less than two miles round trip. So while this is considered moderate due to the rapid elevation change it is not something that is too demanding. In any case, the path is smooth and wide having been an old off-road trail.
There are actually two options for some pretty stunning views on this trail. Once you are out a little way you will need to make a decision. I say, "why not both"! The first option is to head under the Devil's Bridge. Once there you will be looking towards heaven as you crane your neck upwards to view the bridge 50 feet above. The soaring bridge is stunning. don't stop there though. Head back and take the other part of the trail to experience the bridge from the top. On your way, you will get to hike some fantastic stone stairs. This is one of the few instances where you can safely walk across the top of the bridge. That is if you can stomach the drop on both sides. Use extreme caution when walking across.
This is a popular trail to hike so you will want to head out early. If you head out at peak times you will likely need to wait in line for a picture on the bridge. However, it is a very good hike for families and will expose kids to something they may not see normally.
Final Thoughts on the 5 Amazing Hikes in the Western US.
How many of these hikes have you done in the past? I am sure that you would agree that these are some pretty amazing hikes. They have stunning views and scenery. Not to mention the fact that it gets you out into the outdoors. Since they are relatively short in length you and your whole family can really enjoy what each of these trails has to offer. So get out there and explore these amazing hiking trails in the Western US!
What is your favorite amazing hike in the Western US? Did one or more of our five make your list? Tell us in the comments below, on our Facebook, or on Reddit!